Food Feuds: Saizeriya vs Milan Shokudo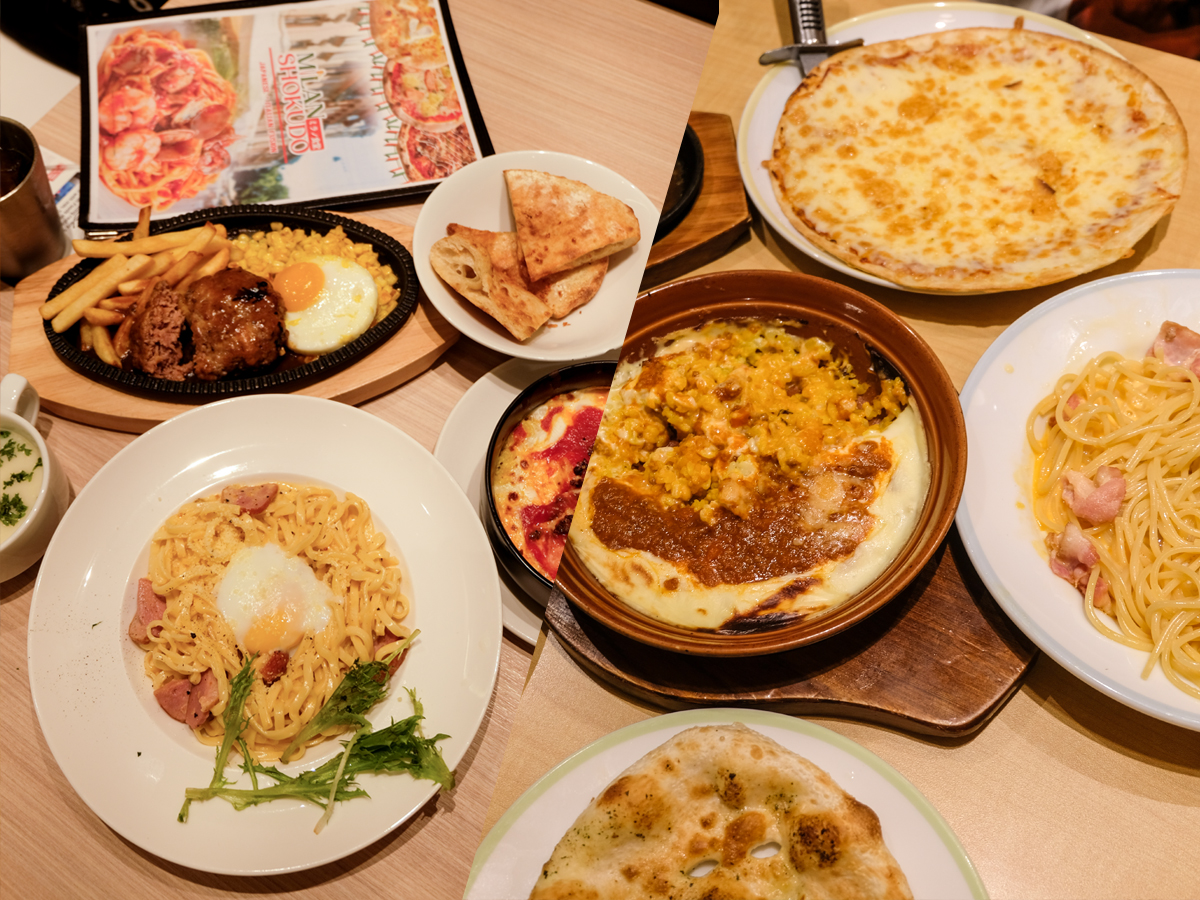 In our new series Food Feuds, we visit competing local food stalls known for their rivalry and try to find out which one does it better.
Let's get this out of the way: Saizeriya isn't fancy food. It's that trusty pal we go to when we're looking for a cheap and filling 'Italian' meal (how can you beat escargot for S$5.90?) and that's likely all it'll ever be. 
It's convenient for families with small kids and people who want to eat a variety of things at low prices — mostly because it's conveniently located in many shopping malls around Singapore. 
Twelve years have passed since the first Saizeriya opened here in Liang Court, and the brand has enjoyed virtually zero competition in that unique category of low-cost Japanese-Italian food — till this quarter, that is.
In September, Japan Foods Holding — the group behind brands such as Afuri, Extra Virgin Pizza, Menya Musashi, and the Shokudo range of restaurants — launched Milan Shokudo in Junction 8. 
It's a restaurant with an uncanny resemblance to Saizeriya, its menu comprising familiar dishes such as doria, hamburgs, pasta, and pizza. Reviews of the restaurant have constantly compared it to Saizeriya, so naturally we had to put that to the test.
The feud
"Saizeriya dupe", "Saizeriya killer" are just some names the online community has used to describe Milan Shokudo. To be fair, the new restaurant has never tried to compare itself to Saizeriya. 
Its essence is Japanese-Italian food, or itameshi as it's known in Japan. Saizeriya, founded in 1997 and now boasting more than 400 outlets in Japan, just happens to be the largest chain for this style of food. 
It's quite possible that Milan Shokudo referenced Saizeriya for its menu (down to the suspiciously similar free-flow drinks bar) and brand design — it's just a suspicion; there's otherwise no direct connection that I'm aware of. 
Milan Shokudo brings its own unique twist and a fresh take on familiar dishes. Plus, the restaurant uses no pork or lard in its food, having received its halal certification last month. 
Saizeriya
Multiple outlets islandwide 
Operating hours vary across stores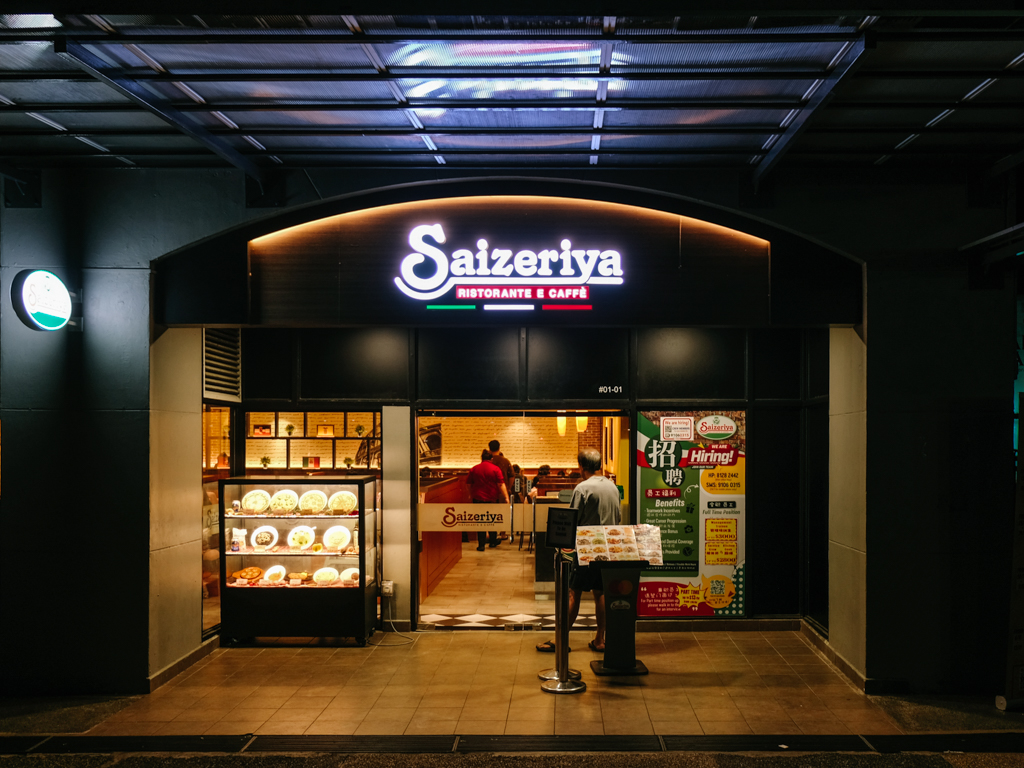 One thing about Saizeriya is that every outlet is very consistent, from the modest 'traditional' decor and lighting fixtures to the tight leatherette booth seats and tiled flooring supposedly inspired by Milan's trattorias. The food is just as dependable, with little to no difference between the different locations.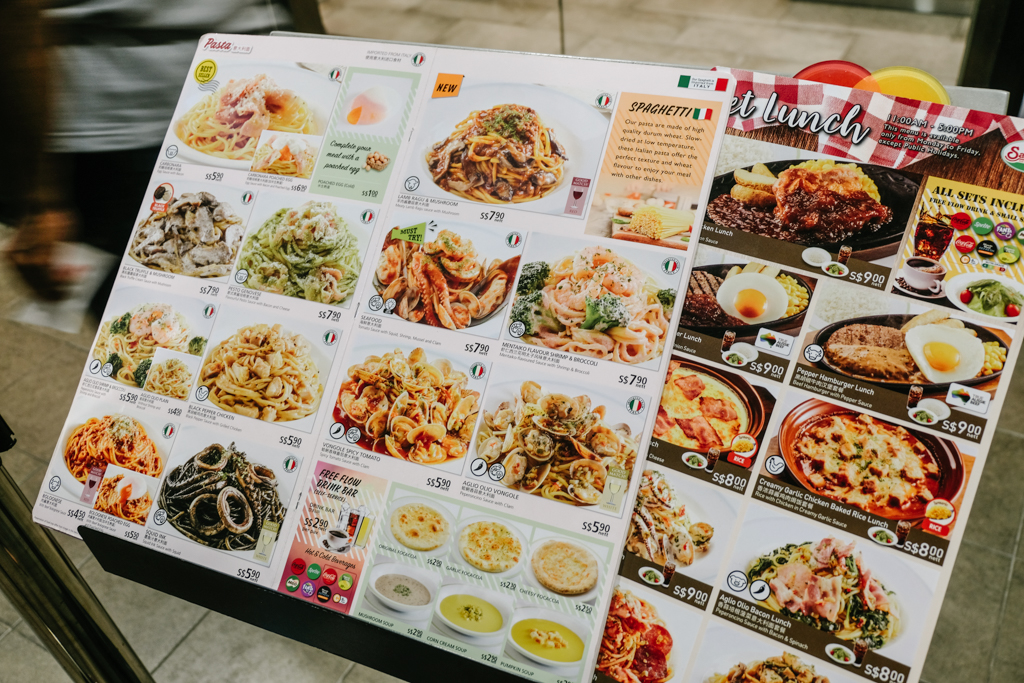 The large laminated menu is extensively filled with cold and hot Italian staples and other fusion dishes, from pasta and pizza to grilled steaks and fish, as well as plenty of appetisers and desserts. The fact that you can get a massive variety of food at low, low prices is what makes this place so incredible.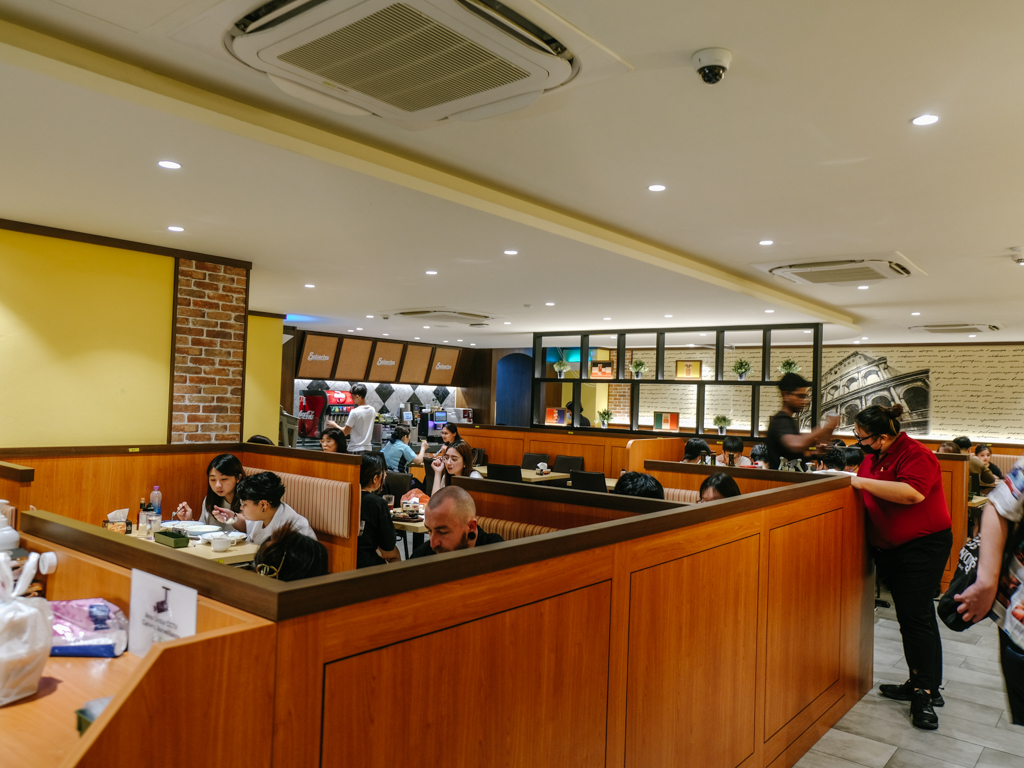 Getting into the restaurant was a breeze and the food arrived very promptly, even during dinner time. There's not much in the way of service, but then again, all prices listed here are nett. In this economy? We're not complaining.
For the sake of this article, we tried dishes that are the same, or very similar, across both restaurants.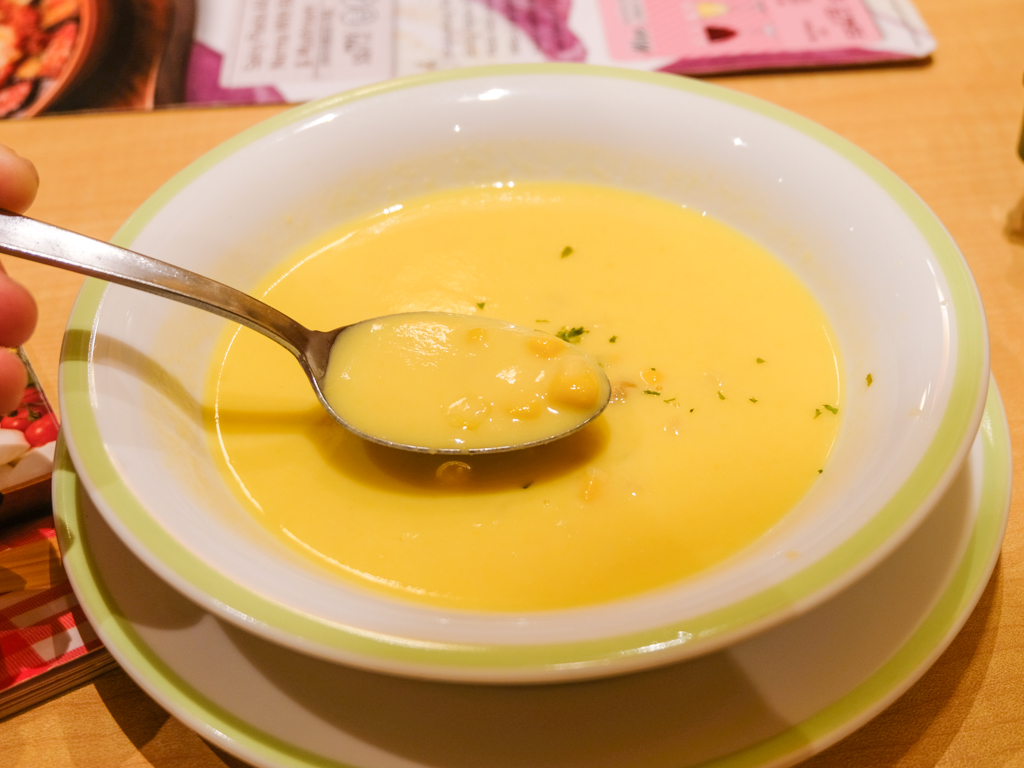 Corn soup (S$2.90): 3/5
The soup here has a light sweet corn flavour with some depth, but it could do with a bit more salt. The corn kernels inside are not very plump and don't have much flavour though, like they've been cooked for too long.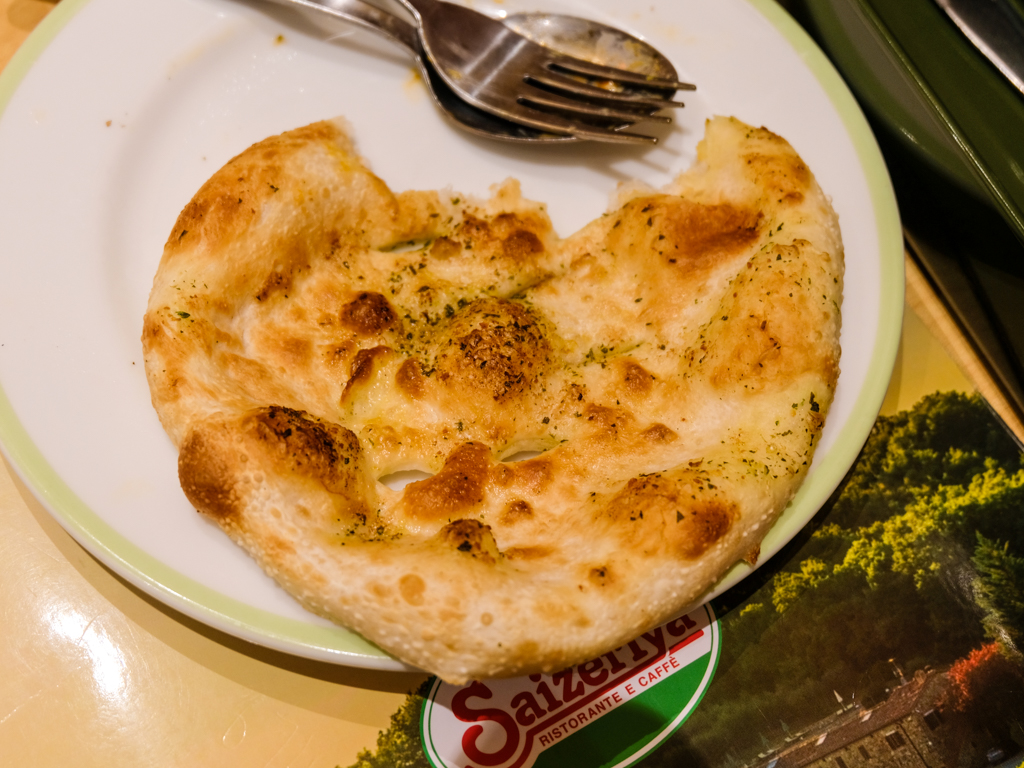 Garlic focaccia (S$2.30): 2/5
I was looking forward to this one, but the focaccia is not as good as I remember. The bread looks good, but is actually cold and limp. There's not much in the way of garlic or salt. Underseasoning seems to be a trend so far.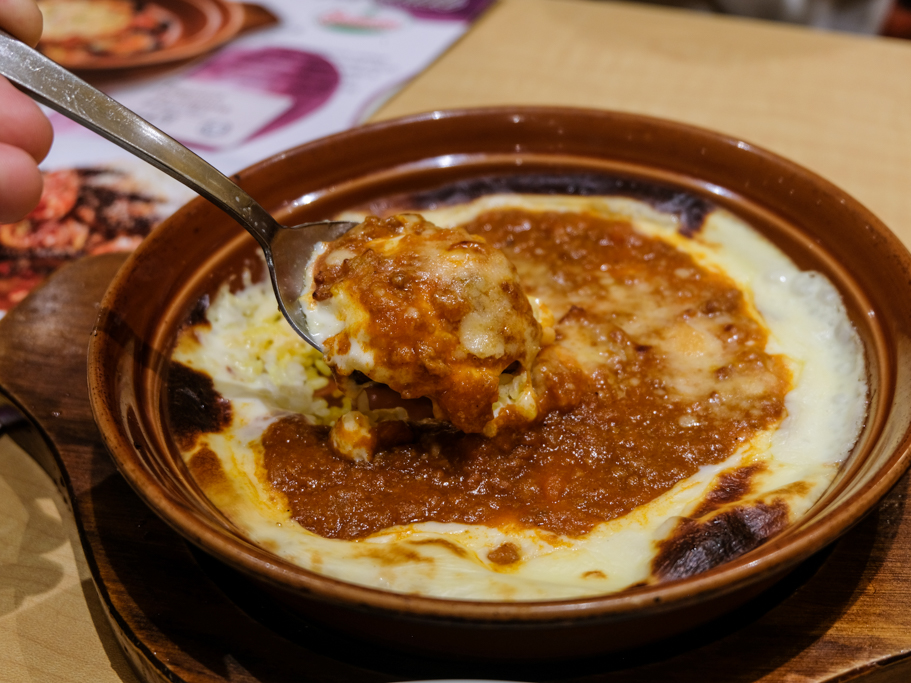 Milanese doria (S$4.90): 3.5/5
Saizeriya's doria is a classic. Japanese short-grain rice is topped by a white cream and Bolognese sauce, then topped with cheese and baked till everything is melted and soaked in. The rice is a tad hard, and could have been soaked longer, but it's otherwise a decent dish.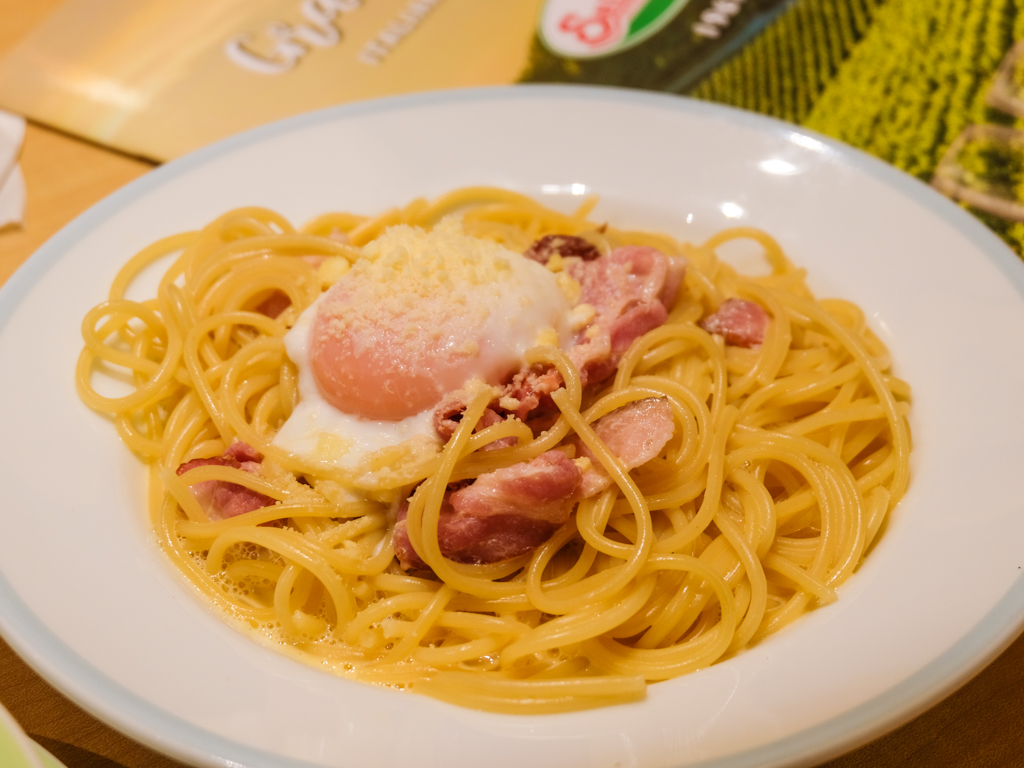 Carbonara (S$5.90): 2.5/5
Saizeriya's pasta is always reliably al dente, but the sauce is hugely lacking in this dish. The carbonara sauce is more like a watery nacho cheese soup so even if you try to mix it together with the spaghetti, it's too wet to cling on properly. 
The thin pieces of bacon are nothing to shout about, and the saving grace is the onsen egg on top, which helps to emulsify the sauce a bit better. There are better pasta dishes at Saizeriya.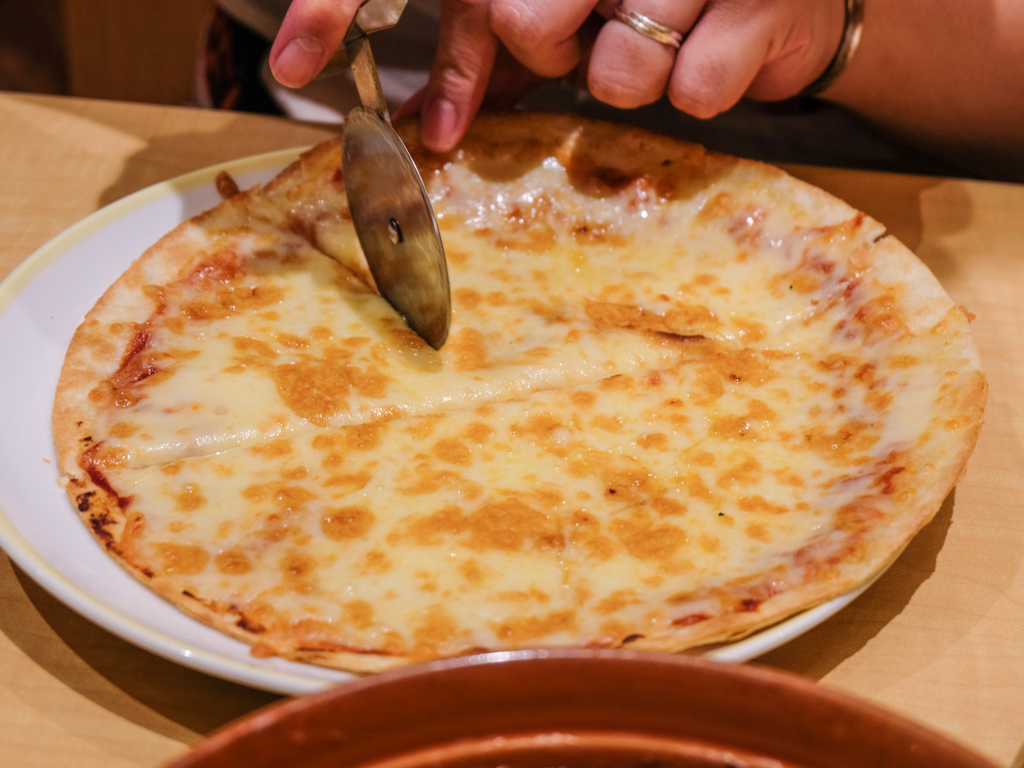 Cheese pizza (S$7.90): 3.5/5
It doesn't get more simple than this mozzarella and cheddar cheese pizza, which tastes exactly how it sounds: Sharp, salty and umami. It's a very commercial taste but we can't complain when it's this cheap. The crust (if you can call it that) is thin and crispy.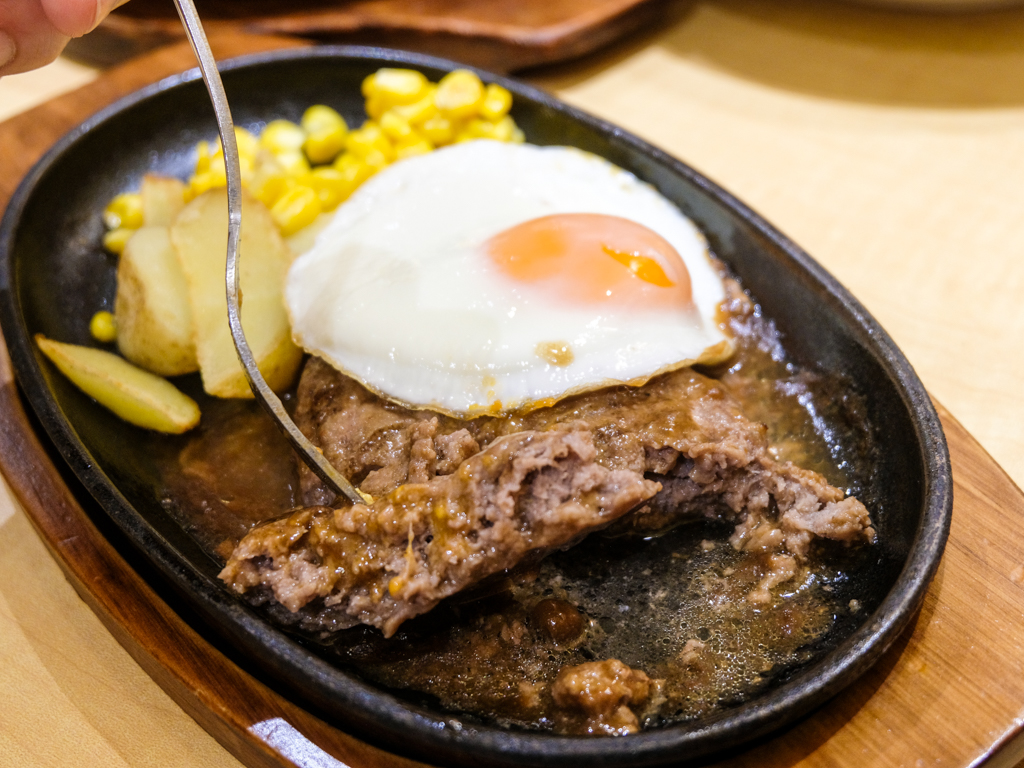 Hamburg (S$6.50): 2.5/5
The beef hamburg patty is on the leaner side, and is a bit more dense and dry than the one from Milan Shokudo, though the sauce is nice and rich with umami, giving this a more Japanese taste. Like the corn soup, the corn kernels are tough and bland rather than soft and buttery, and the wedges are pale and soft — both are not so tasty.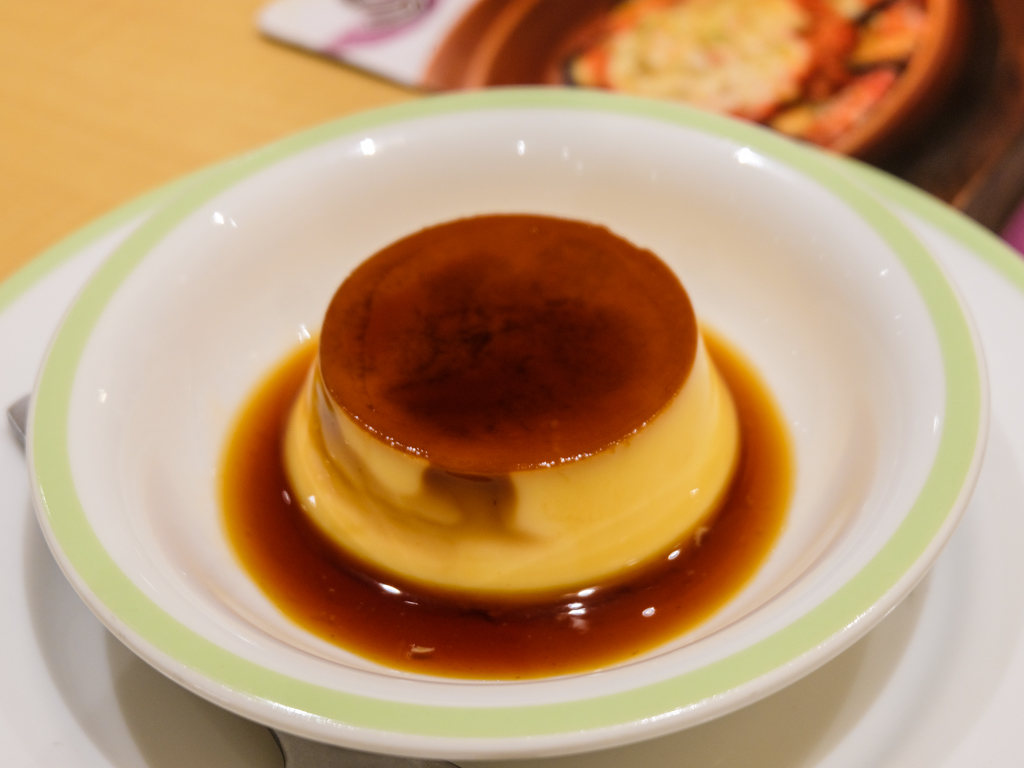 Pudding (S$3.90): 3/5
The pudding here isn't too bad — slightly delicate and custard-y but not until it melts in the mouth. It is extremely sweet when it first hits the tongue, but mellows out to offer a bit of toasty caramel notes.
Value: 3/5
It's great to know that Saizeriya's prices have barely increased over the years and are still nett. I can't think of another air-conditioned and full-service restaurant at this price range, which is cheaper than many coffee shops. The food is just passable, but it's really the price that keeps people, especially families with kids, coming back.
Final score: 58%
Milan Shokudo
Junction 8, 02-34/35, 9 Bishan Place
Open: Daily (11.30am to 10pm)
Northpoint City, 02-128/129, 1 North Point Drive
Open: Daily (11.30am to 10pm)
Westgate, 02-07, 3 Gateway Drive
Open: Daily (11.30am to 10pm)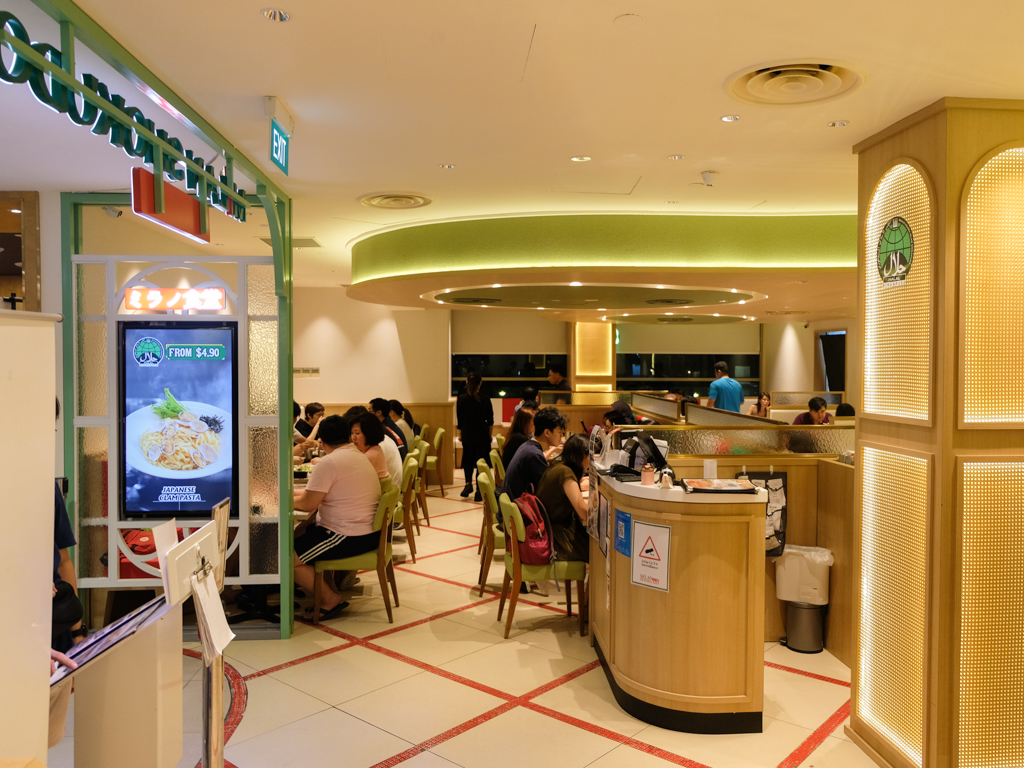 While Saizeriya tries to replicate the vibes of a classic Italian trattoria, Milan Shokudo's interior feels a bit more commercial and upscale, with bright strip lighting and rattan panellings. 
The booth seats have patterns in stripes of red, green, and white (like the Italian flag) and there are vintage-style lamps and pictures of famous Italian landmarks strewn on the walls. 
It's still a warm and inviting ambience, with adequate spacing between tables so you can mostly converse without being overheard, though it can get loud during peak hours. Arriving on a weekday evening, we queued for a good 15 minutes before entering, but service was prompt and cordial once we got in.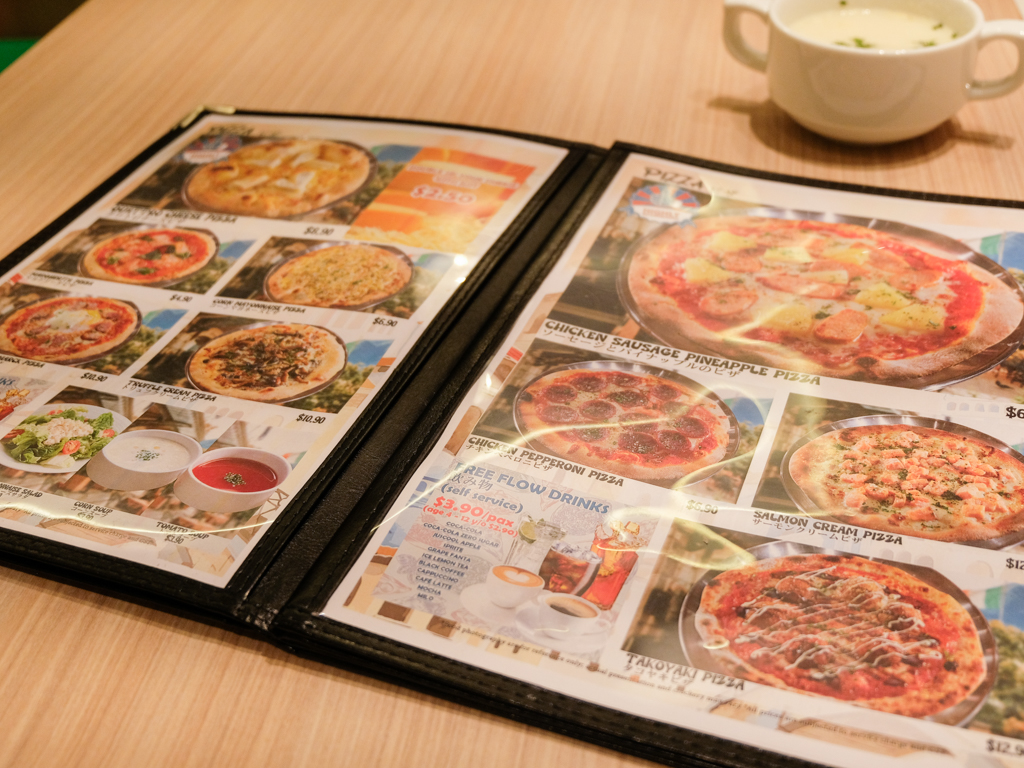 Milan Shokudo's menu is generally smaller than Saizeriya's but you'll find many of the same core items here, with several differences in ingredients and presentation. Muslim friends will be pleased to know that the Junction 8 outlet was recently issued its halal certification in October, with the other two expected to follow suit in coming months.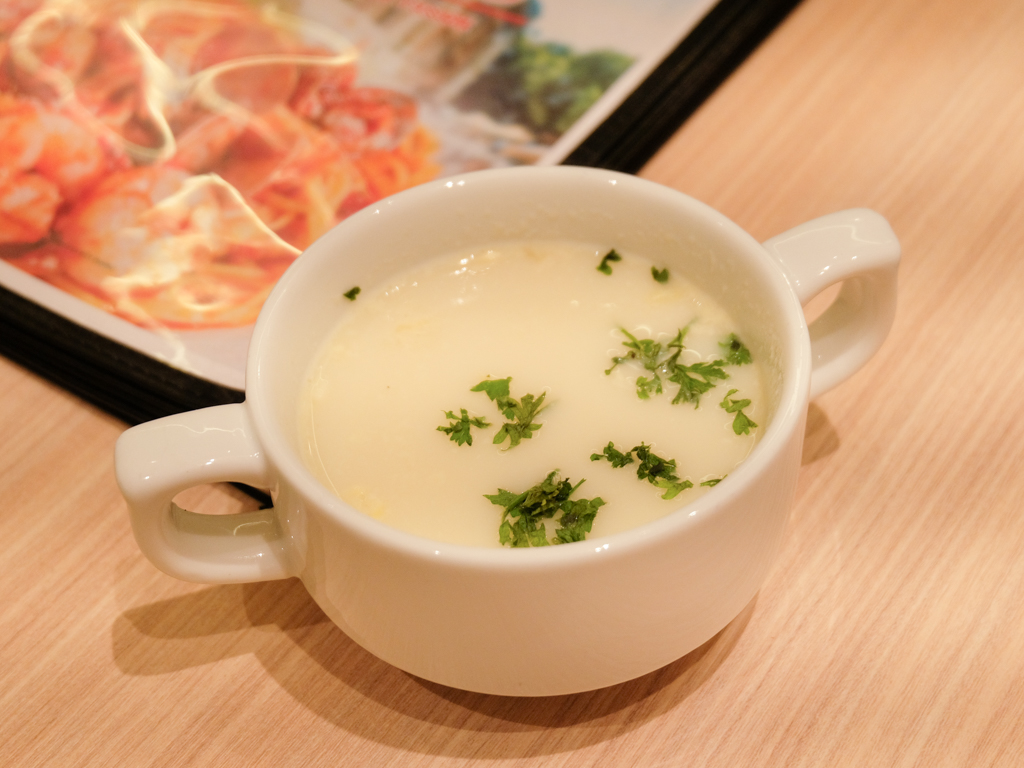 Corn soup (S$3.90++): 2/5
Interestingly, Milan Shokudo's corn soup is the opposite of Saizeriya's: It's pale in colour and taste diluted, with not much in the way of corn flavour. The corn kernels inside are plump and sweet, but doesn't really make up for how lacking in flavour the soup is.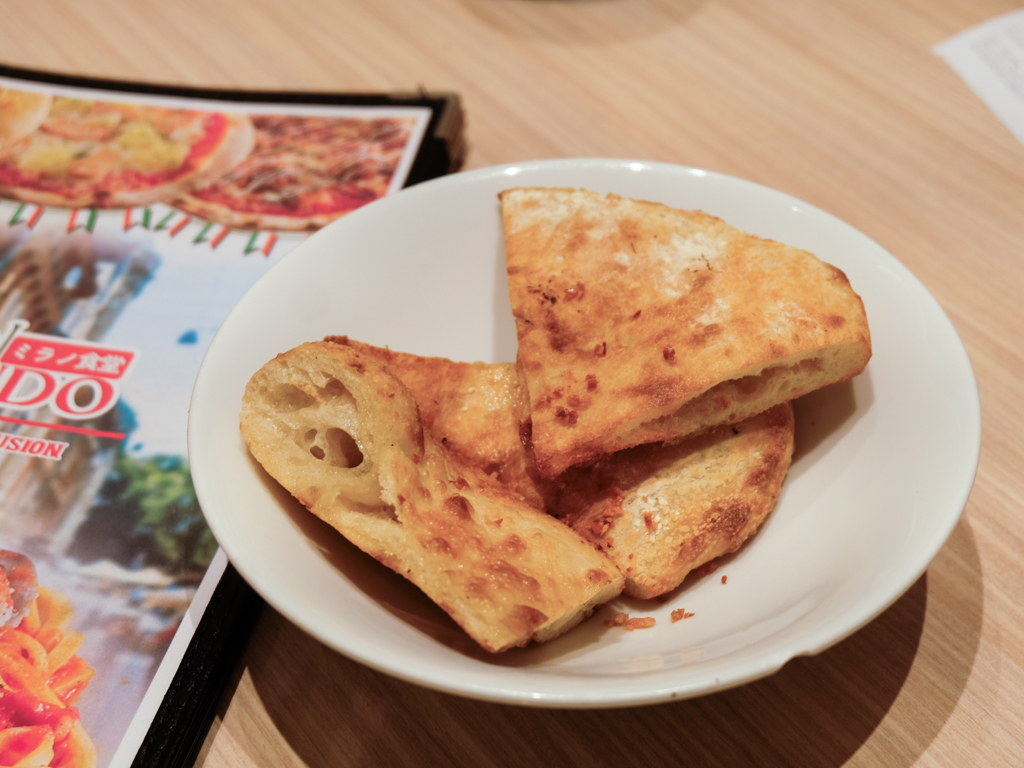 Garlic focaccia (S$3.90++): 3.5/5 
Milan Shokudo serves its garlic focaccia in slices, and it's more fragrant and served partially warm, indicating that it's been recently baked. There are decent air pockets from fermentation and the dough is only slightly chewy. I didn't get much garlic flavour from this, even from the little bits of chopped up garlic spread around the focaccia.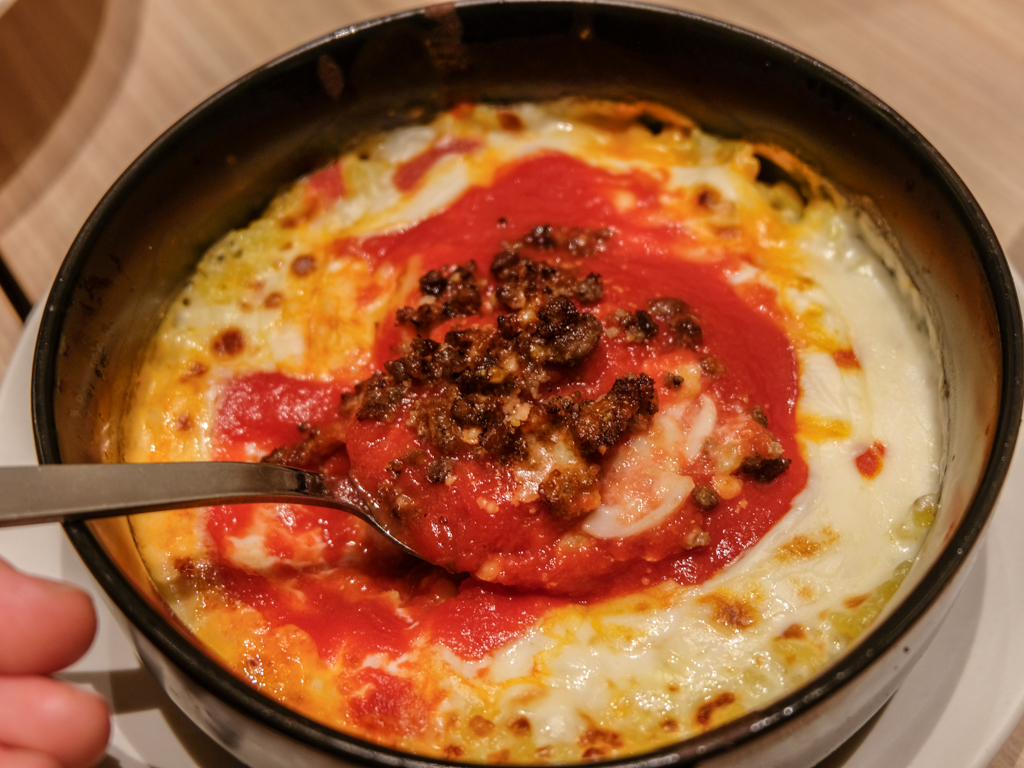 Milanese doria (S$8.90++): 4/5
The doria here is quite different from Saizeriya's. For one, the rice used appears to be arborio or carnaroli, which is rice normally used for risotto. It's similar to Japanese short-grain rice, but has a more toothsome centre. The rice also has a creamier texture.
There's a more distinct separation between the different layers — a tangy tomato paste, white bechamel sauce, and little bits of nicely browned minced beef — and is less cheesy. We prefer this version.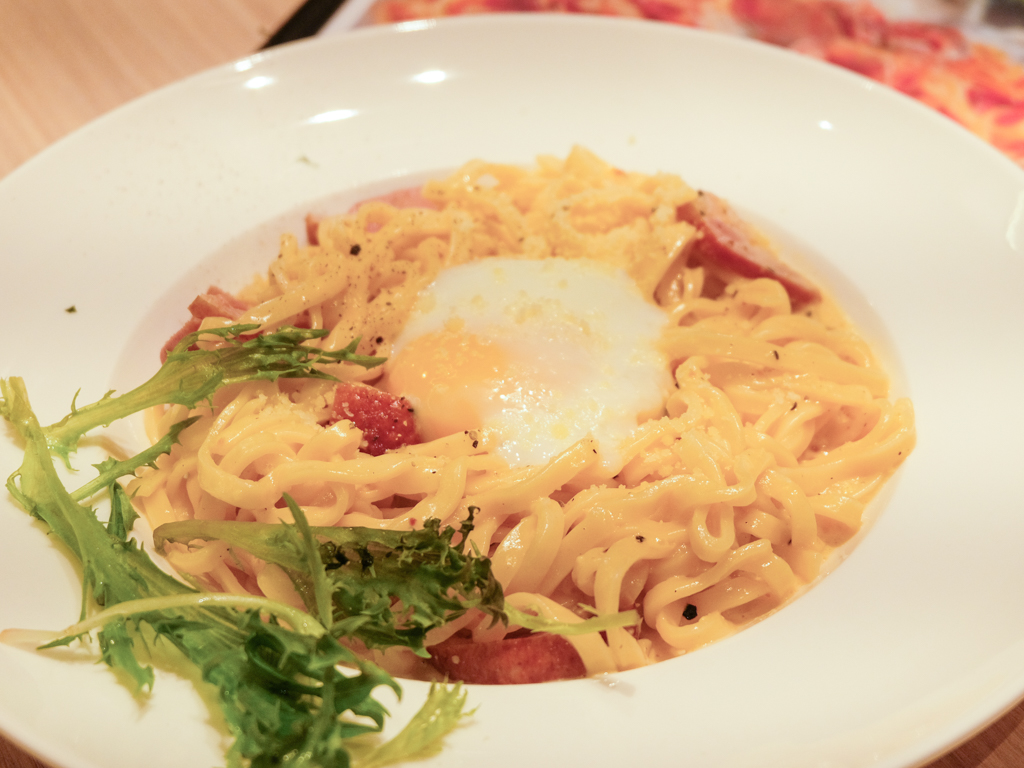 Smoked duck carbonara (S$12.90++): 4/5
Did you know Milan Shokudo uses handmade pasta? That's really good value. The pasta is firm and bouncy, and frankly a lot tastier than the one from Saizeriya — the sleek carbonara sauce coats around each strand. 
But if we're being strict, it's not so much cheesy and peppery (as a traditional carbonara should be) as it is garlicky. The poached egg is cooked perfectly, and the lean smoked duck adds good flavour to the dish.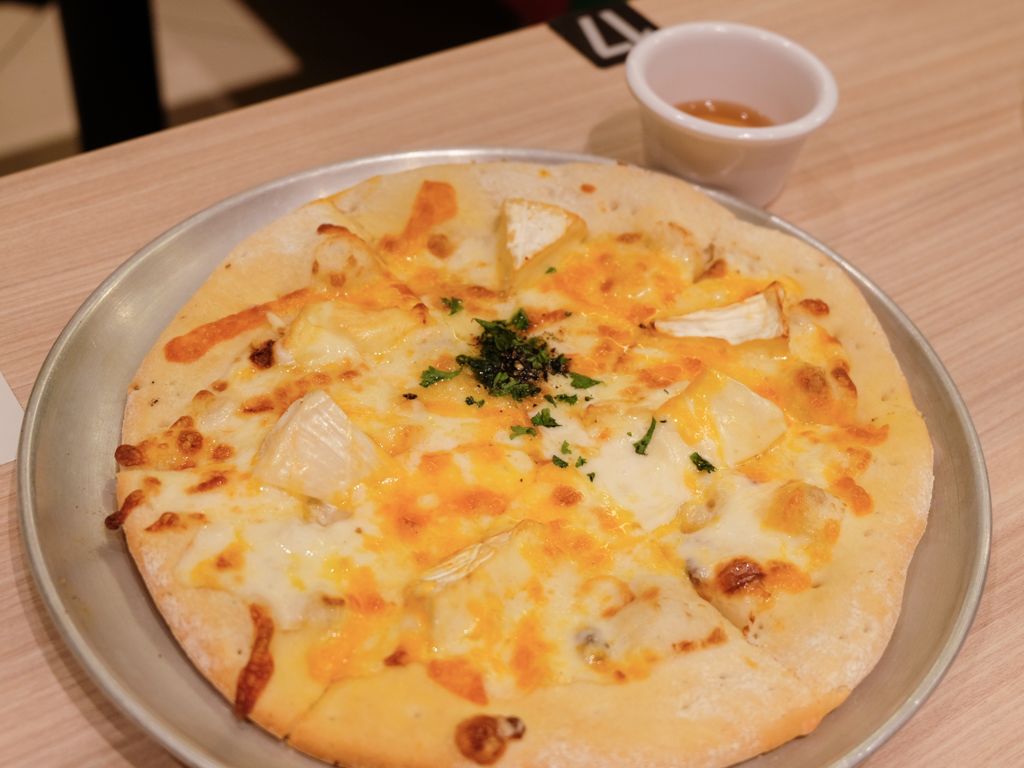 Cheese pizza (S$8.90++): 4/5
The quattro cheese pizza is a lot more interesting than Saizeriya's basic cheese pizza. Using four cheeses — a sharp cheddar, a rich-umami parmesan and melty mozzarella form the base, while several pieces of camembert are strewn around — means you get a whole lot more dimension of flavours. 
There's also a small tub of syrup on the side that balances out the salty and slightly tart flavours with its complementary sweetness. We're docking some points for the lacklustre crust, which is flat and rather biscuit-like.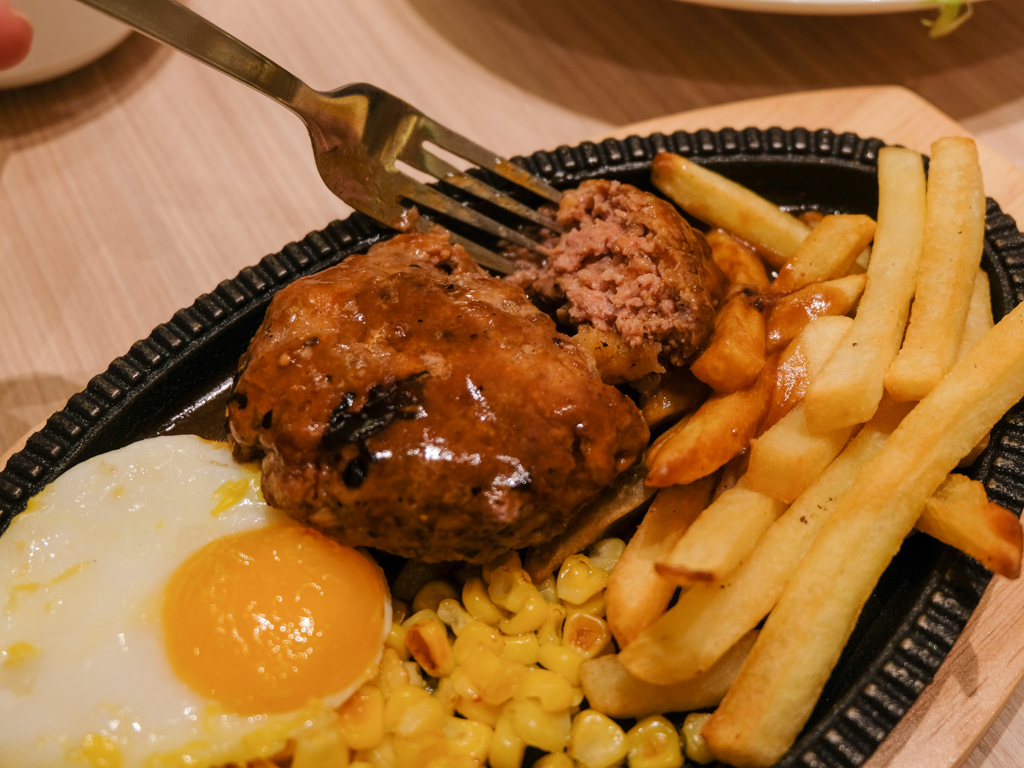 Hamburg (S$10.90++): 4/5
Milan Shokudo's demi glace hamburg puts the spotlight on a very juicy chicken and beef patty that's chunky and well-balanced between lean and fat. The demiglace sauce is quite typical though, like what you'd get at coffee shop Western stalls. The accompanying sides are so much better: Sweet corn that's soft and buttery, and crispy fries that are fluffy inside.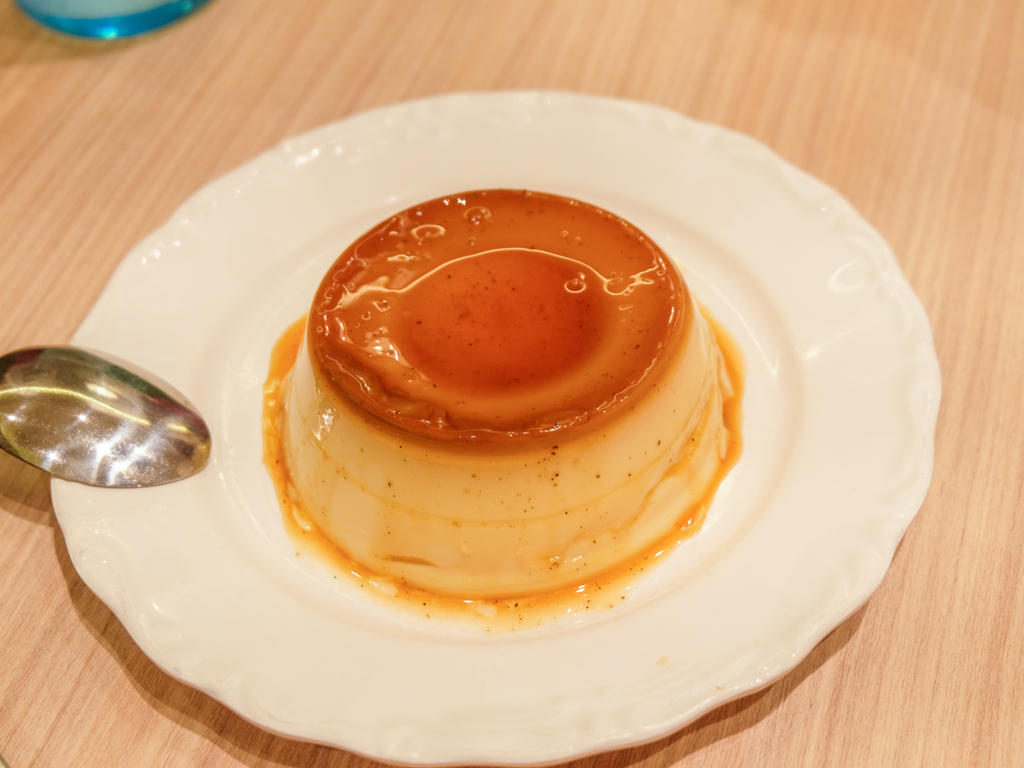 Pudding (S$6.90++): 2/5
I've had pudding in Japan, but this supposedly housemade Japanese pudding is not it. Rather than bouncy, the texture is firm and dense. The pudding itself is also sweeter than the syrup, which tastes watered-down and lacks complexity (plain sugary taste rather than caramel notes).
Value: 3/5
It's not as cheap as Saizeriya, but there's no doubt that Milan Shokudo offers great-tasting casual Italian fare at affordable prices. I think it's great value for the quality and portion of food you get.
Final score: 66%
The winner: Milan Shokudo
It's a clear win for the 'Saizeriya-killer', though it remains to be seen whether the taste and quality will drop in a few months — something that's common among new restaurants.
To be fair, Milan Shokudo commands relatively higher price tags compared to Saizeriya, with many of the dishes going for almost double what you'd pay at the latter. Is that higher level of cooking worth the extra dollars? 
While a meal at Milan Shokudo won't break the bank, there's no doubt Saizeriya is still much cheaper, so it really depends on what you're looking for. 
Saizeriya is the cheaper, more fuss-free fix, while you could perhaps, just maybe, bring a new date to Milan Shokudo (no guarantees though, this is definitely not love advice). Now, if only it could open an outlet in the east, I'd surely pay it a few more visits.
HungryGoWhere paid for its meals at both restaurants for this article.
Saizeriya and Milan Shokudo are on the GrabFood delivery service and offer free delivery (up to S$3 off) with GrabUnlimited.
Do explore the new GrabFood Dine-in service for awesome deals. 
You can book a ride to Saizeriya and Milan Shokudo.
---