Review: Apricus Coffee & Food Co — brunch fit for royalty in Jalan Kayu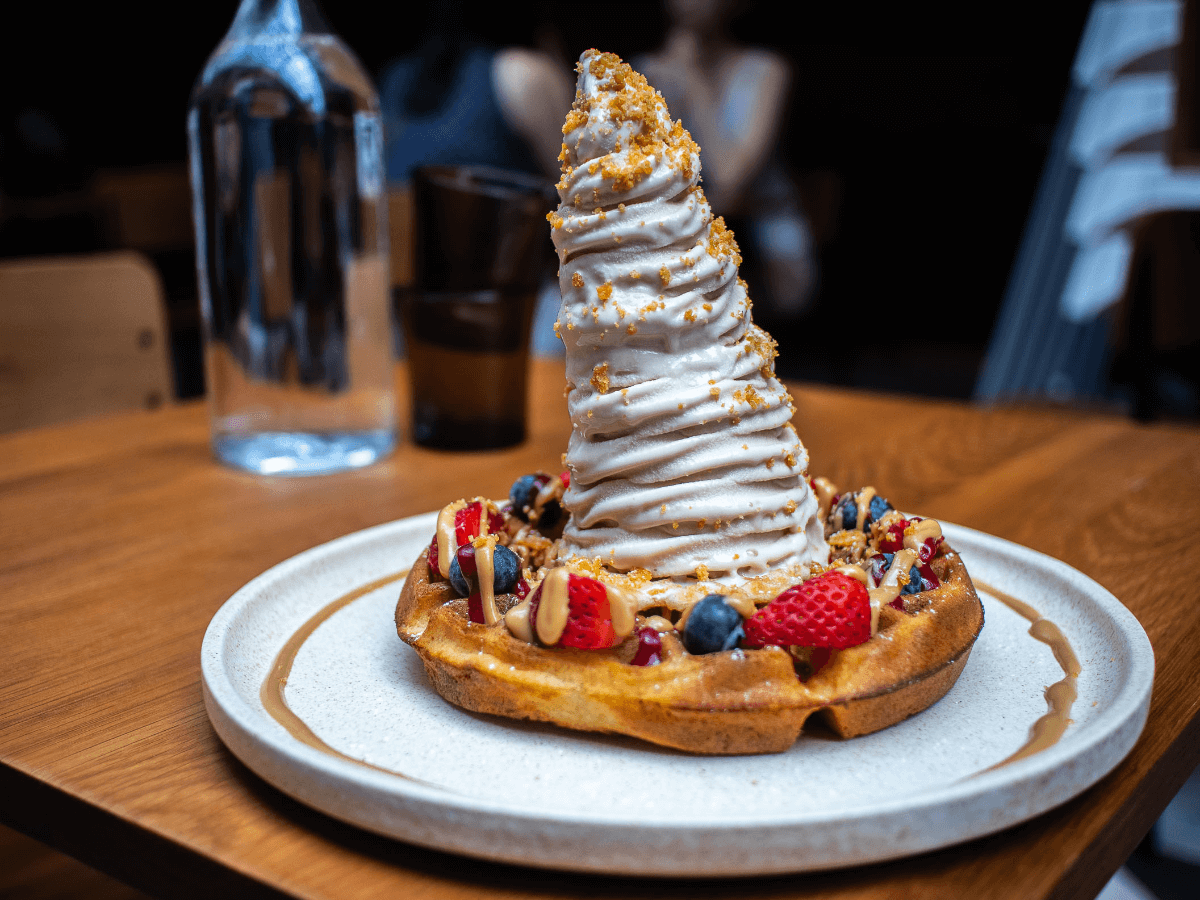 Apricus Coffee & Food Co is opened by one of the co-founders of The Populus cafe on Neil Road 
The cafe serves an all-day brunch menu with substantial vegetarian options
There are clear Mediterranean influences here, used to great effect
If you take your coffee only with oat milk, though, give the hot coffee drinks a miss
As a food destination, Jalan Kayu is quite hard to place. Most Singaporeans know the street fondly for its 24-hour servings of roti prata, teh tarik and other delectable Indian-Muslim fare. The association is famously and stubbornly synonymous. 
This dogged affinity is perhaps why all other entrants find it difficult to establish a foothold along this 300m stretch of road. I would know, having lived at nearby Sengkang for nearly two decades. 
So you must forgive my ambivalence when a friend told me about Apricus Coffee & Food Co. 
"Another cafe?" I wondered aloud. "And at Jalan Kayu?" 
I was convinced it would be a fool's errand. But a leisurely brunch one weekday at Apricus would soon change my mind. 
The backstory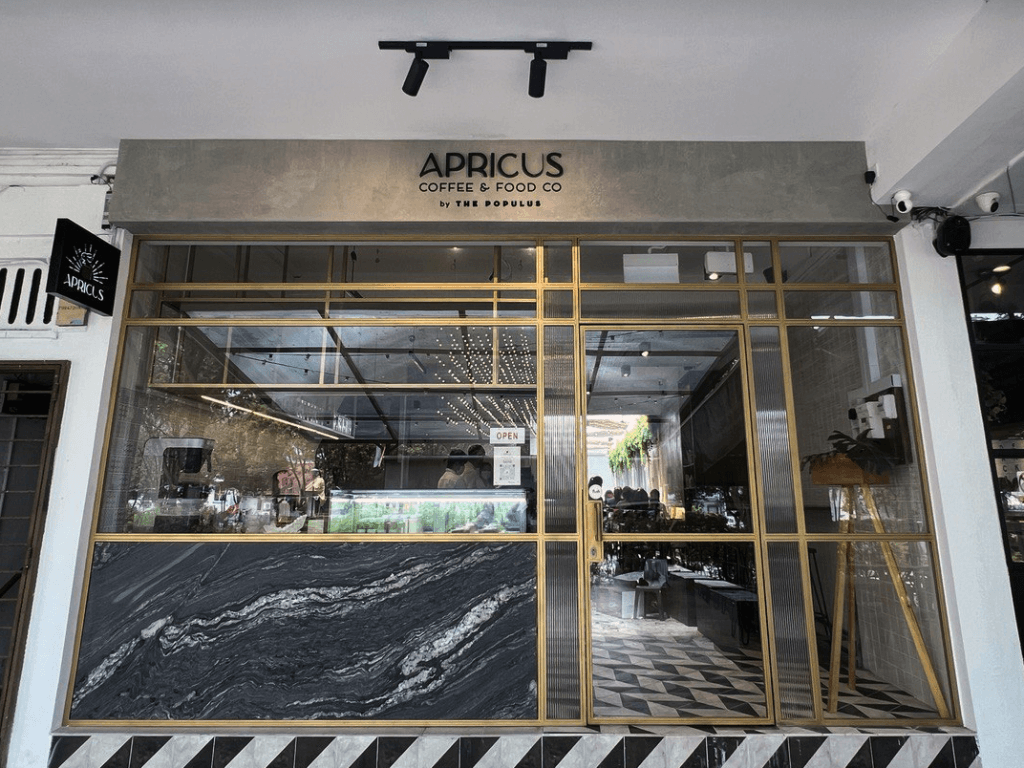 Apricus Coffee & Food Co opened in July, and is the brainchild of Kang Yi Yang and another Muslim co-owner. 
Kang is also the co-owner of The Populus cafe, one of Tanjong Pagar's OG institutions of cafe fare, which opened at the height of Singapore's cafe craze in 2016. 
Many fads and one pandemic later, the outfit still stands — a testament to the owners' ability to evolve when circumstances demand it. Besides, the food's great, too.
Our verdict
What this place is good for
At Apricus, the menu retains an air of familiarity with an all-day brunch menu that's approachable and hearty with a touch of Mediterranean influences. Meats are obtained from a 100% halal-certified source.
There are also enough vegetarian options to convince me that food inclusivity here isn't a mere afterthought. And it shows.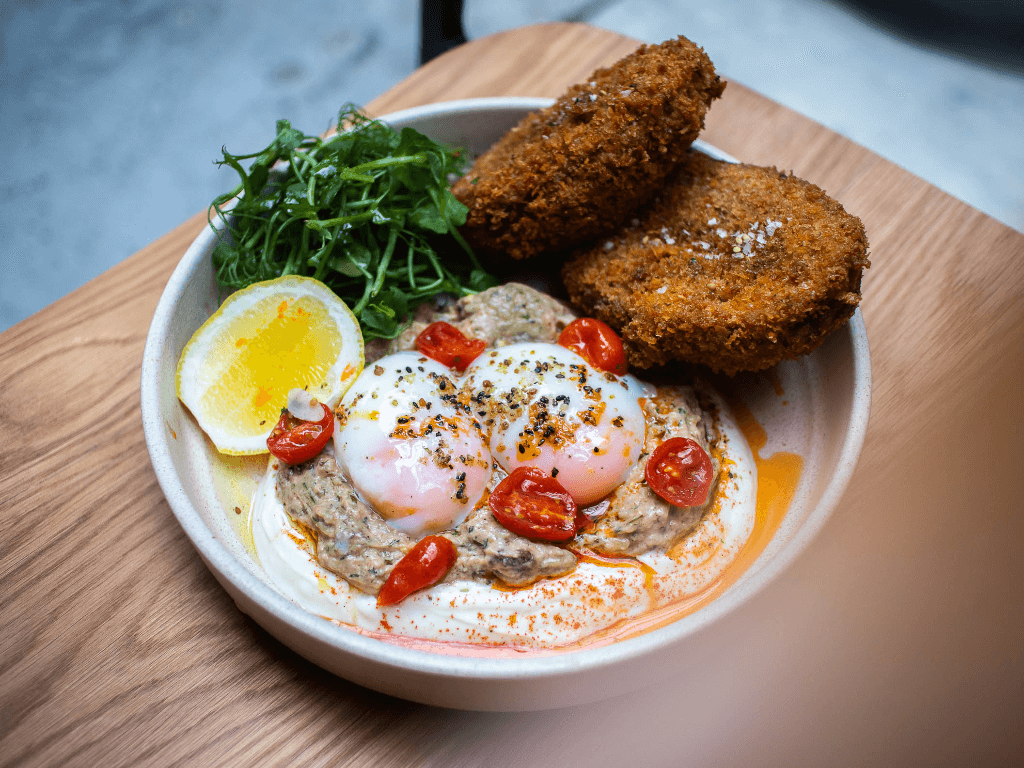 Take the Apricus aubergine & eggs (S$20) — a carefully crafted breakfast that will fill you up as well as a meat dish would. It comes with two panko-crusted thickly cut aubergines that have been carefully cooked so they still retain a satisfying bite. The panko is delicately salted, too.
The Mediterranean influence is most apparent with this plate. The panko-crusted aubergines are served with a side of moreish baba ganoush, a Middle Eastern spread made of roasted eggplants, and creamy labneh (a type of yoghurt).
Throw in two poached 64°C eggs and some locally grown pea tendril salad, and you're guaranteed a great start to the day.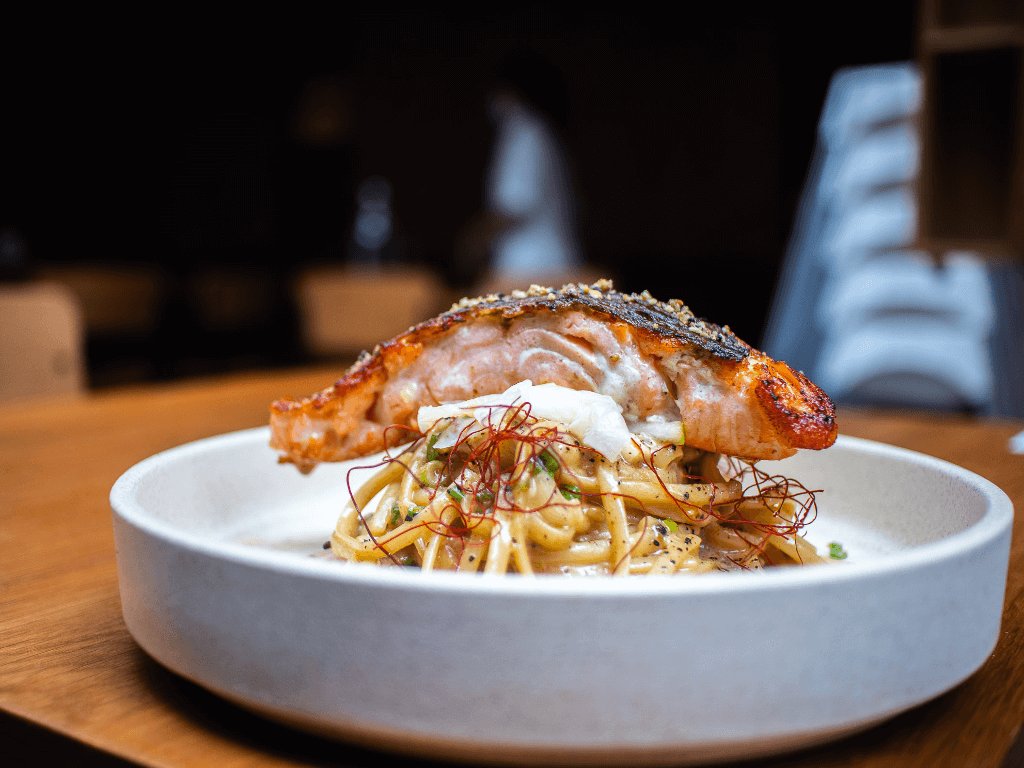 But if you're not on a vegetarian schedule, I insist you order the Norwegian salmon brown butter linguine (S$23) — an elevated classic duly upgraded with modern flavours.
Here, each silky strand of linguine is coated with a toasty and creamy beurre noisette, made by cooking out water from unsalted butter while turning the milk solids brown. It's a rich and deeply intense sauce that pools at the base of the pasta and demands bread to wipe clean. 
Perched on the ridges of the linguine is a slab of dukkah-spiced Norwegian salmon fillet that's assuringly flaky with a pink centre and cooked to perfection. It also comes with a side of fennel and Granny Smith apple slaw for a delicate touch of acidity.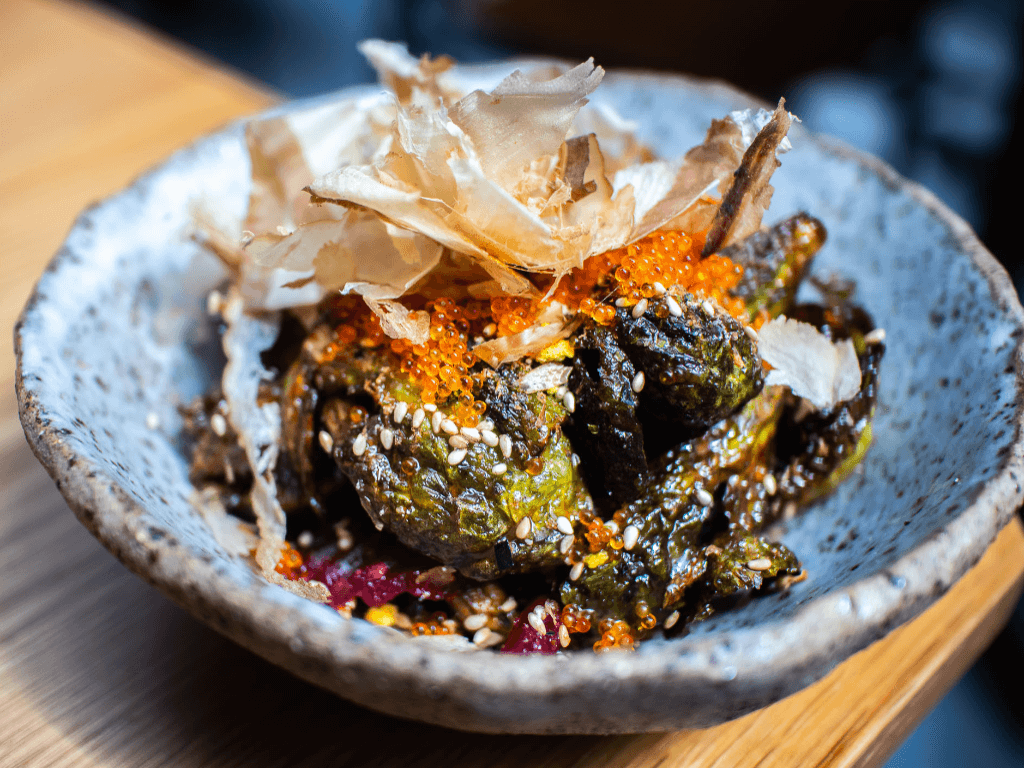 For sides, you can't go wrong with the charred Brussels sprouts (S$12) that would give the Apollo Coffee Bar rendition a run for its money. 
Here, the bitter char of the Brussels sprouts makes for a heroic flavour contrast to the sultry savouriness of every other umami-laden ingredient in the bowl, such as the pickled beetroot that complements everything so beautifully I could cry.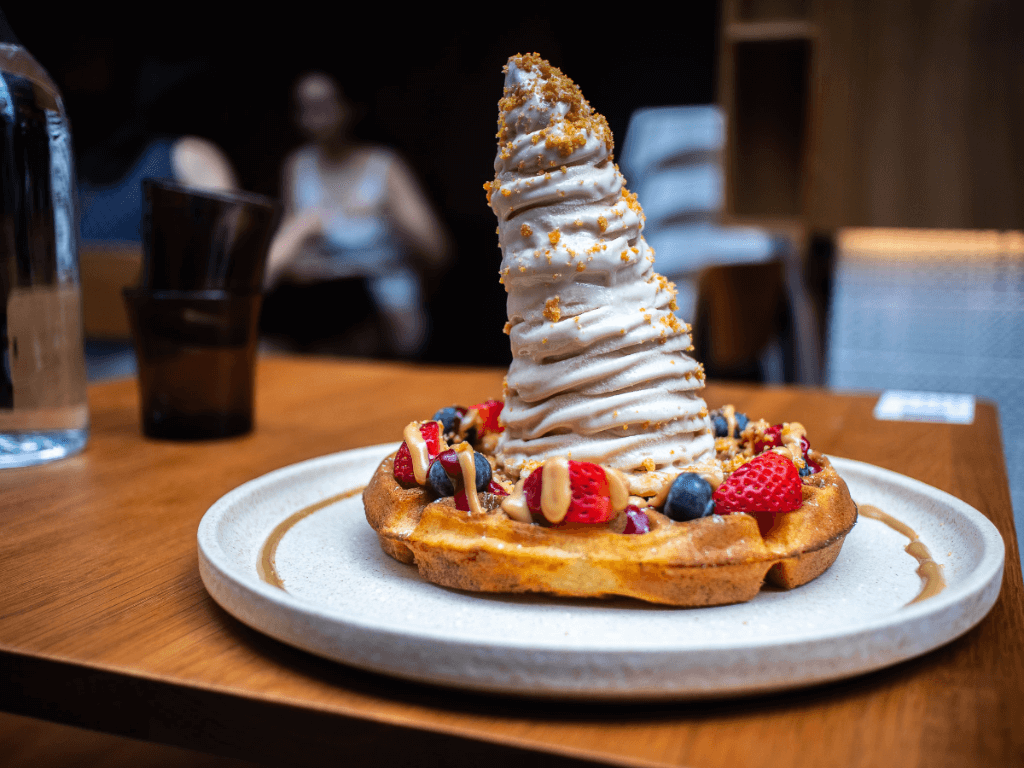 For dessert, the peanut butter and jelly sundae (S$15) brings me back to my childhood days, when breakfast was a slice of bread spread with peanut butter and jam. 
This one comes served with The Populus' signature towering Niko Neko roasted-rice soft serve, lightly scented and delicately sweet, swirled carefully on a brittle wafer disc. It sits on a faultlessly fluffy buttermilk waffle (+S$5), drizzled liberally with peanut butter and raspberry sauce. 
Throw in some strawberries and blueberries, and this would keep a distracted child (or adult) occupied enough for mummy and daddy to enjoy their salmon pasta.
What it could improve on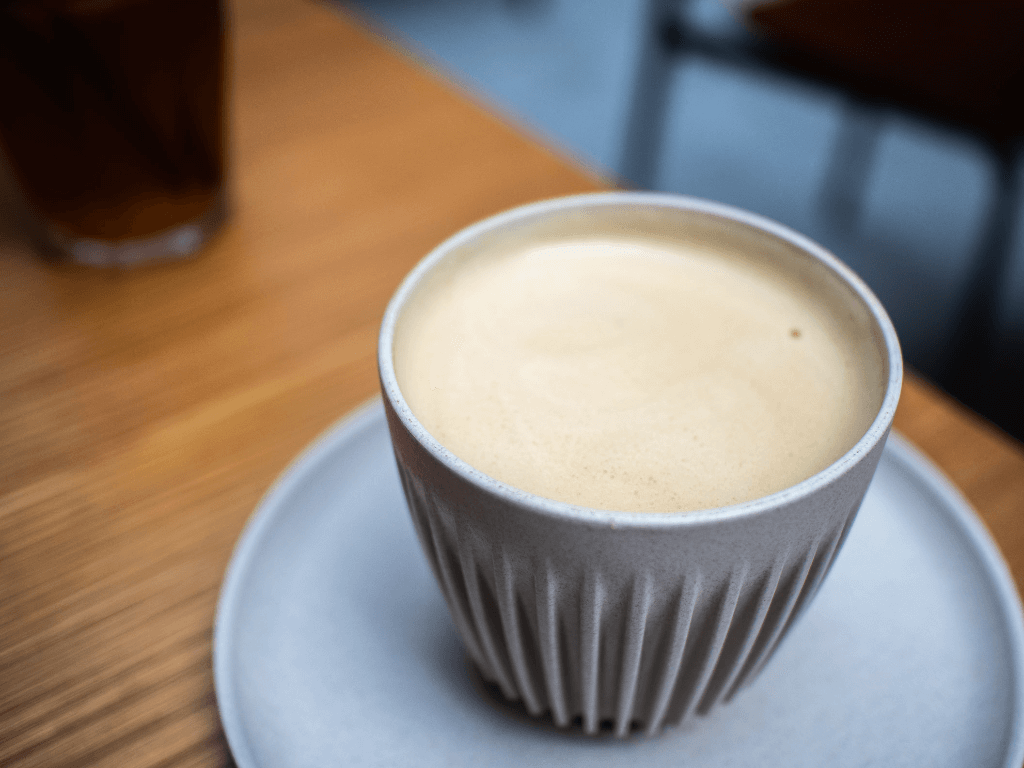 Alas, Apricus' hot White 6 oz coffee with oat milk (S$7) proves that no food joint is perfect. That the negative came from the coffee is unfortunate, especially for an institution as storied as The Populus. 
The fault, I'm certain, lies in the preparation. The drink is made by frothing the double-shot espresso with the milk in the milk jug, which is the strangest coffee method I've encountered. 
A white coffee, regardless of milk type, is commonly made by pouring hot stretched milk over espresso. Frothing everything together renders the entire cup weak, bland, and worse, diluted. When asked, the barista told me this was intentional owing to the use of oat milk. 
As a home barista myself, I beg to differ.
Our quick takes
Is it conducive to conversation? Yes, but the eatery fills up fast during lunch. If you're looking for an intimate conversation, go earlier or a few hours after lunchtime. 
Is a reservation necessary? Apricus Coffee & Food Co does not accept reservations.
How to get there? Bus services 85, 86, 102, and 103 call at the nearest bus stops. From there, it's a five-minute stroll to the cafe.
Take note: Avoid the two-seat table in the middle of the cafe by the wall, above the drain cover. The smell of sewage wafts up the busier the kitchen gets.
Book a ride to Apricus Coffee & Food Co.
248 Jalan Kayu
Open: Monday, and Wednesday to Sunday (9am to 6pm)
248 Jalan Kayu
Open: Monday, and Wednesday to Sunday (9am to 6pm)
---