Review: Mondays is proud of its canele — if only it was ready on time
All the food at Muslim-owned cafe Mondays is served on iron skillets — some cold, others hot
The spice spatchcock was a surprising standout 
Its caneles come in a plain version or with fillings such as matcha and dalgona espresso
The premise of Mondays cafe is hard to place. Its social media accounts are of no help either, offering little by way of gastronomical philosophy and even less of the type of cuisine it serves. 
Perhaps we could attempt to gain some insight from its Instagram profile's subtext — coffee, canele, brunch. We often don't find these things spoken of in the same breath (except for coffee and brunch). I reckon placing caneles on such a pedestal means the folks there are serious about French pastry. 
The backstory
Mondays (or "Mondays.." as it is known officially — yes, with two dots) is the third culinary endeavour of the team that brought us steakhouse and dessert bar Asap & Co and smokehouse-cafe Cherry & Oak. 
While the group's first two brands focused squarely on smoked meats, Mondays looks poised to take on the area's cafe-centric mise en scene. 
Here at Jalan Klapa, Mondays joins a bevy of casual-dining establishments in the area, such as Working Title, Tipo Gnocchi and Afterwit Bar de Burrito. 
There's also famed cupcakery Fluff Bakery just around the bend and artisanal coffee joint Double Up Coffee directly opposite. 
To say that the competition at this Muslim-friendly locale is stiff would be understating the obvious. This isn't the place for experimentation — this neighbourhood means business. 
Our verdict 
What this place is good for
Knowing that I'm due for a visit to Mondays, well-meaning friends with first-visit advantage shared concerns about the restaurant's skillet fancy. Everything is served on a cast-iron skillet, hot dish or otherwise, they tell me, waiting for a reaction. 
"And the food isn't cooked with the skillet, Zat. It's just plated on it," they added.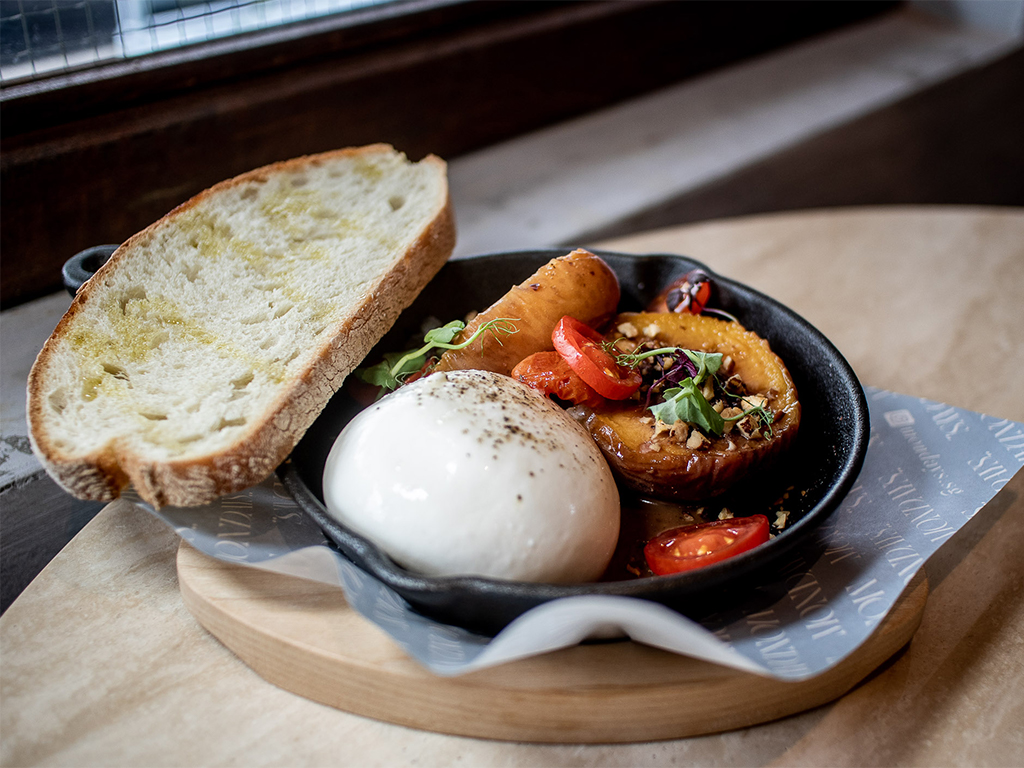 Curious, I ordered the Corsican peach & burrata (S$23), a cold appetiser plated on an equally cold skillet. Here, a white, round Italian soft milky cheese is served alongside baked yellow peach Corsica, semi-dried tomatoes, crushed pecan nuts, and a bright balsamic berry dressing.
As an appetiser, it's the kind of thing a child could eat and be occupied for a minute or two. The caramelised peach helps bring out the overtures of sweetness that gel so well with the creaminess of the burrata. 
Still, I would have liked the whole thing even more, had the kitchen seasoned the burrata with a dash of salt and pepper. 
I'm also not a fan of the slice of sourdough that it comes with, untoasted and far too soft to play nice with the other things on the skillet. It should have been toasted to a crisp for a much-needed textural variation.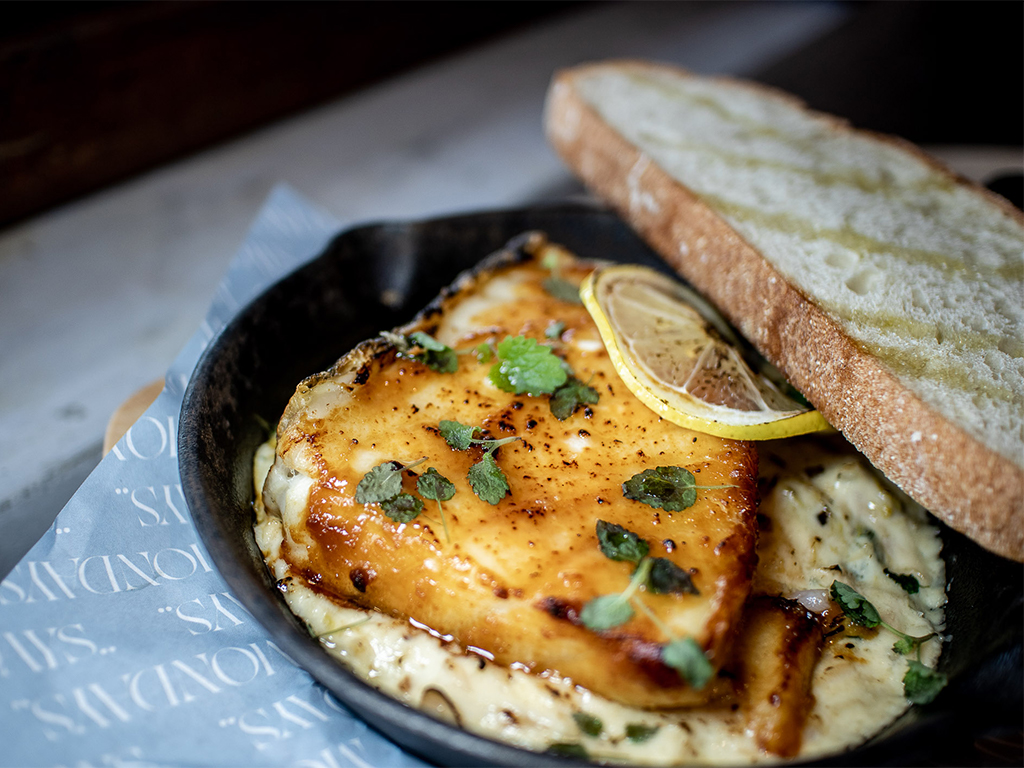 Mains come by way of a miso Pacific cod (S$32) that I ordered to see if fish this delicate would stand up to culinary scrutiny. I'm happy to report it does. But for this price, it needed more. Much more.
Thankfully, the thick steak of cod is elegantly marinated and gently cooked, such that it remains flaky and firm to the bite. It comes served on a room-temperature skillet with creamy and bright lemon-creamed leek. It was a bold accompaniment to the fish, though it almost veered on being too much for cod this delicate.
This dish also comes with a slice of untoasted sourdough bread — wholly unnecessary and, by now, seemed like a culinary crutch, as if to say: "When in doubt, sourdough bread." 
Some cold soba noodles served with a savoury soy sauce dipping would work better.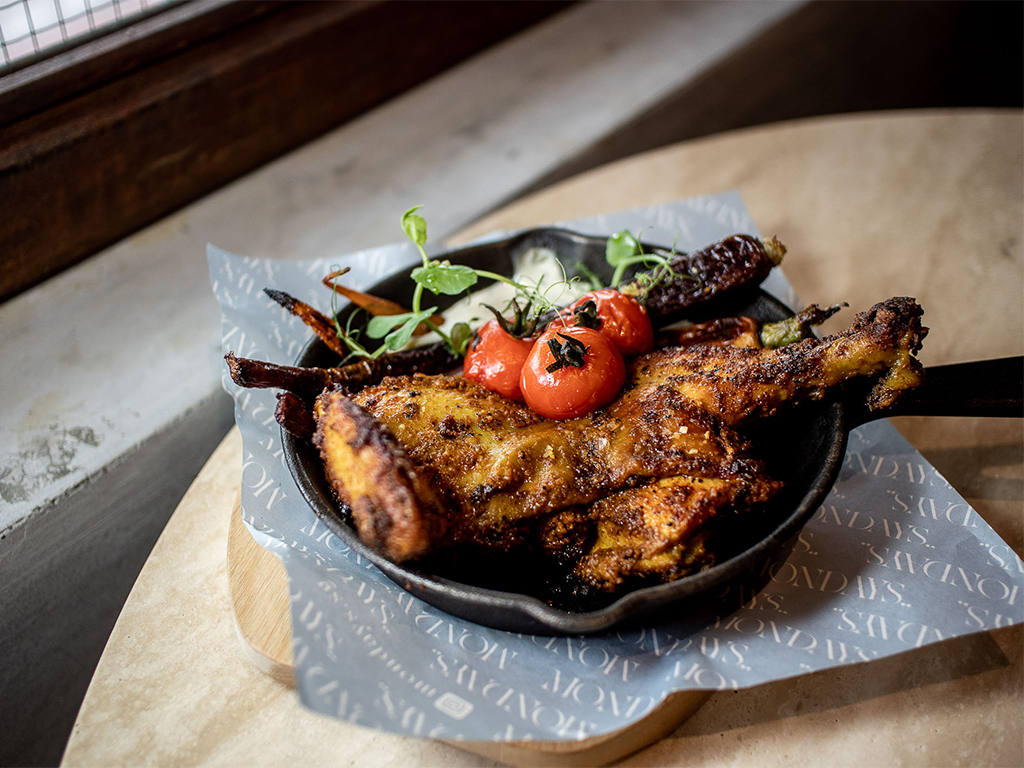 I also got the spice spatchcock (S$19), which was more delicious than its less delicious-sounding menu description. There's only so much a person can imagine with "spices marinated half spatchcock, baby carrot, cherry tomato, tzatziki sauce".
Still, the chicken was seasoned generously with bits of salt on the skin, which makes it such a delight. The tzatziki sauce that comes with it is also pleasantly tart and makes an excellent accompaniment to the richly spiced poultry.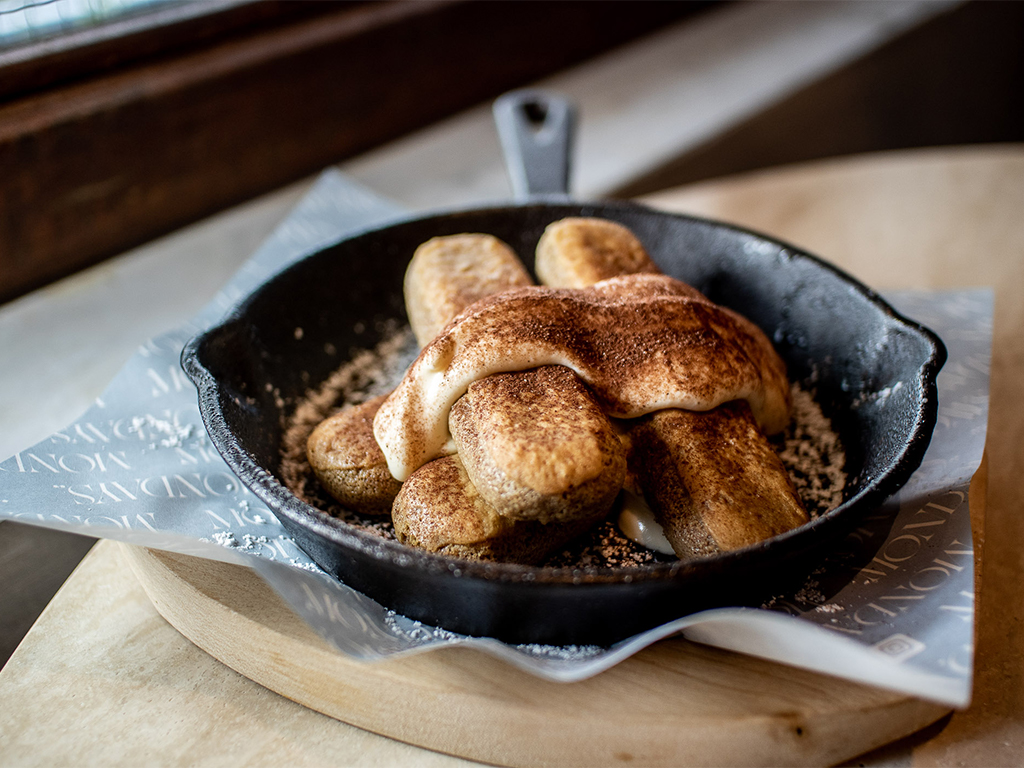 For dessert, I ordered the deconstructed tiramisu (S$9), much to the annoyance of my dining companion, who tells me she has exacting standards for the Italian classic. I got it simply because, well, it's deconstructed. How very 2021.
But my shady misgivings gave way to praise as I took a spoonful of this pleasantly plain dessert. 
This is the kind of dessert that works. The espresso in which the ladyfinger biscuits were dipped was bold. The mascarpone cheese was whipped till light, luscious and delicately sweet on the tongue. One could hardly complain.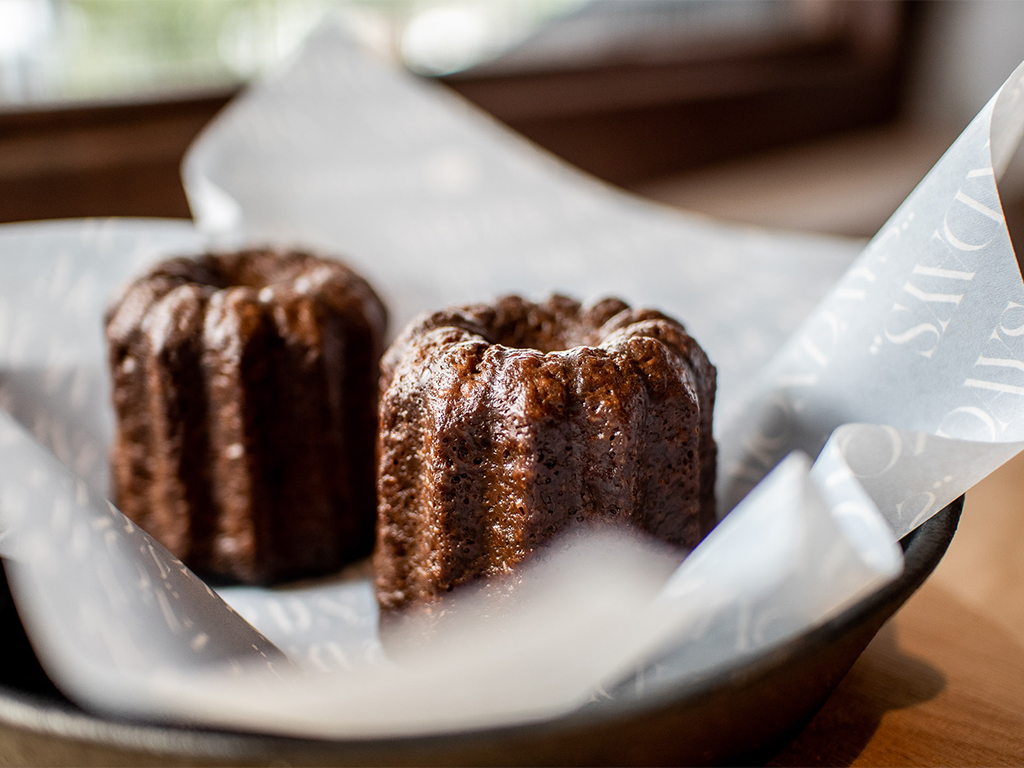 The wait for the caneles (S$4 for one) is unacceptable. We are told that it's not yet ready when we arrive (with no promises it would be by the time we left) because it's made fresh to order. Many places make food fresh to order — this is inexcusable.
Perhaps sensing my annoyance, 45 minutes into the meal, a server swung by bearing good tidings. The caneles are ready and will be served in 10 minutes. "We make them fresh, so it needs time to cool," she tells me, a little too hopeful.
Ten minutes later, no caneles are in sight. "I'll have the caneles now," I tell another passing server. Perhaps they forgot that I ordered it, I reasoned. 
Still, no caneles.
We decide to wait it out. There's a poster outside the cafe telling patrons to break their caneles in half and dip them into coffee. "Caneles are better with coffee," the restaurant declares. The French would protest.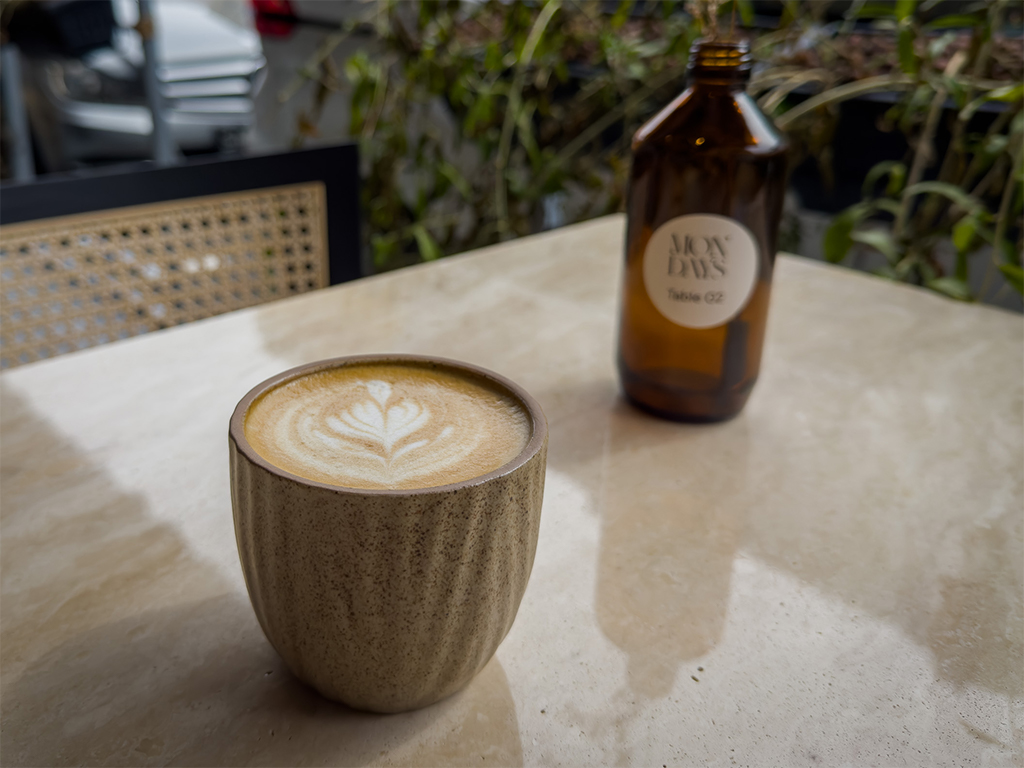 The coffee offerings here, for a place that prides itself on the beverage, is perfectly acceptable, though I'm not particularly a fan of the beans I had during my visit. Too sour and acidic for a smooth White. 
The pricing schematics are also peculiar. There's a Black priced at S$4 for a hot cup and S$6 for an iced version. It's the same with the hot White (S$5) and an iced White (S$7). A S$2 top-up for ice seems rather excessive in these austere times. 
And what of the caneles, you ask? After a good 25 more minutes, two plain caneles appear in all their dark, caramelised glory. 
They were decent — crispy on the outside, soft on the inside, as all good caneles should be. But were they worth the 35-minute wait? I highly doubt it.
Our quick takes 
Is it conducive to conversation? Yes. Seats are well-spaced.
Is a reservation necessary? Mondays doesn't accept reservations. 
How to get there? It's a short equidistant walk from Bugis or Lavender MRT stations.
HungryGoWhere paid for its meal at this cafe for this review. 
Book a ride to Mondays.
8 Jalan Klapa
Open: Tuesday to Friday (10am to 9pm), Saturday and Sunday (9am to 9pm)
8 Jalan Klapa
Open: Tuesday to Friday (10am to 9pm), Saturday and Sunday (9am to 9pm)