Hokkaido Sushi Restaurant: What the fish?! Bluefin tuna at a buffet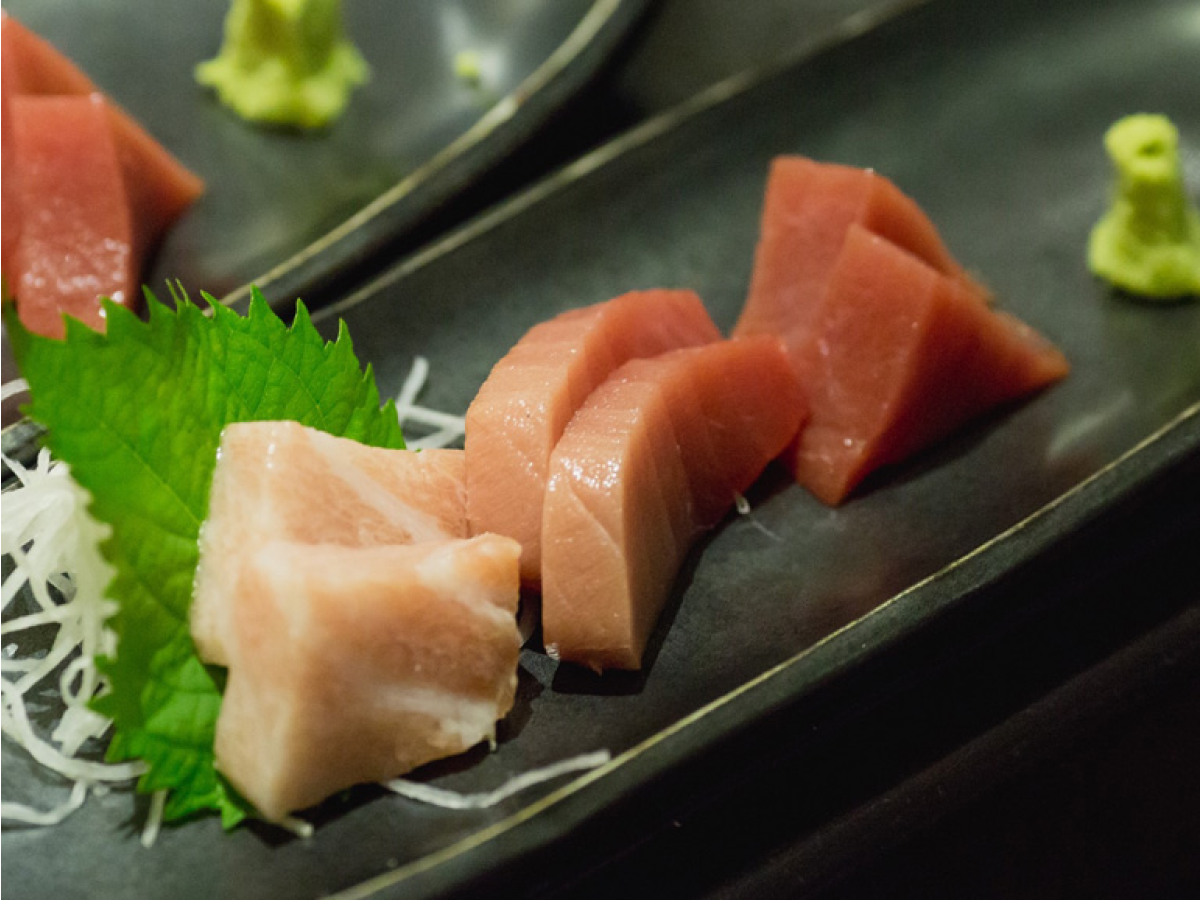 Move aside, salmon. When it comes to sashimi, the bluefin tuna is gonna win hands down in this popularity contest.
Hokkaido Sushi Restaurant recently up their buffet game with the introduction of Hon-Maguro (Bluefin Tuna) Week. In addition to the all-you-can-eat Japanese buffet, all diners will get a free hon-maguro sashimi platter. The buffet is going at $38 for lunch (U.P $48) and $43 for dinner (U.P. $55) until end September 2016.
Hon-maguro from Japan's famed Tsukiji Market will be air-flown in every month (2nd or 3rd Tuesday of the month, subject to availability) and served that very evening so the tuna sashimi reaches the diner's plates within 12 hours for maximum freshness.
If you happen to go down on the evening of the very Tuesday when the bluefin tuna arrives, you will be privy to a spectacular show of fish cutting by the chefs at Hokkaido Sushi Restaurant, in which the entire fish is slowly carved into immaculate slices.
Three cuts of the Hon-Maguro will be offered as a complimentary sashimi platter (U.P. $38, a slice of each cut) to all guests of The Hokkaido Buffet Experience—Otoro (Extra Fatty Tuna), Chutoro (Fatty Tuna) and Akami (Lean Tuna).
The crimson hued Akami is the leanest cut with a slightly chewier and tougher texture than other cuts of tuna. The otoro is the fattiest portion of the tuna, and found on the under belly of the fish. Resembling marbled steak, this fatty cut is melt-in-your-mouth tender and just glided down our tongues. The chutoro strikes a middle ground between the two other cuts, softer than the akami, but less fatty than the otoro.
Expertly sliced by the chefs, the wedges of tuna were thick, substantial and so flavourful that it didn't require any embellishment with soy sauce or wasabi.
True to the Japanese's mottainai (no wastage) culture, even the scraps of flesh near the bone area were carefully scraped together and presented as spoonfuls of minced tuna. They even offered us a taste of tuna bone marrow (not offered on the buffet menu), which has a wobbly jelly-like texture, is free of any aroma, and tastes pretty clear, with a mild fishy flavour. Try putting in a special request to chef as they're cutting up the fish and maybe they might let you try some too.
While the bluefin tuna is the star of the show, the rest of the buffet spread is a big draw as well. You order the signature dishes a la carte style instead of heaping your plate at food stations.
Here are some must-eats at the buffet:
Pitan Tofu
The pitan tofu features pillowy soft tofu drenched in a savoury century egg sauce, and topped with spring onions and Tobiko. With its umami goodness and silky smoothness, it's no doubt this is a crowd favourite.
Ikura Chawanmushi 
The Ikura Chawanmushi —the steamed egg custard was suitably creamy and smooth while the plump salmon roe that tops it sent bursts of flavour rippling through our mouths.
Assorted sushi
This buffet also scores high marks on the sashimi and sushi front. A platter of assorted sushi includes Aburi Salmon Mentaiko (seared salmon sushi topped with Mentaiko), Ebi (seared prawn sushi) and Hamachi Truffle (yellowtail fish topped drizzled with truffle oil). The salmon and ebi was sufficiently scorched and boasted a smoky flavour, while the truffle oil elevated the flavour of the hamachi. To prevent the sushi from being too sticky, the chefs use organic, high grade Nanatsuboshi rice.
Sashimi
For sashimi, they offer key varieties like Maguro, Mekajiki (Swordfish), Hamachi, Salmon, Octopus, and Scallops. You can order them together or separately, but we encourage trying them all as they encompass a spectrum of textures, such as chewy for the octopus and tender for the scallop and salmon. The fish and seafood at Hokkaido Sushi Restaurant is procured and flown in from Tsujiki and Sapporo twice a week, hence their freshness.
* Hon-Maguro Week is an ad-hoc event that takes place depending on the availability of the prized fish. To find out when it's taking place, check out Hokkaido Sushi Restaurant's facebook page for shout-outs.
* Any orders of hon-maguro beyond the complimentary platter will be charged at an a la carte price: $36 for Otoro, $24 for Chutoro and $15 for Akami (3 slices each).
* The promotional price is valid till end of September 2016. All guests sitting at the same table have to take up the buffet. There will be no takeaways or leftovers, and leftovers are chargeable at an a la carte price.
---
This archived article appeared in an earlier version of HungryGoWhere and may not be up-to-date. To alert us to outdated information, please contact us here.