Fu Shun Jin Ji Shao La Mian Jia: Excellent Cantonese Roast Meats at Maxwell Food Centre!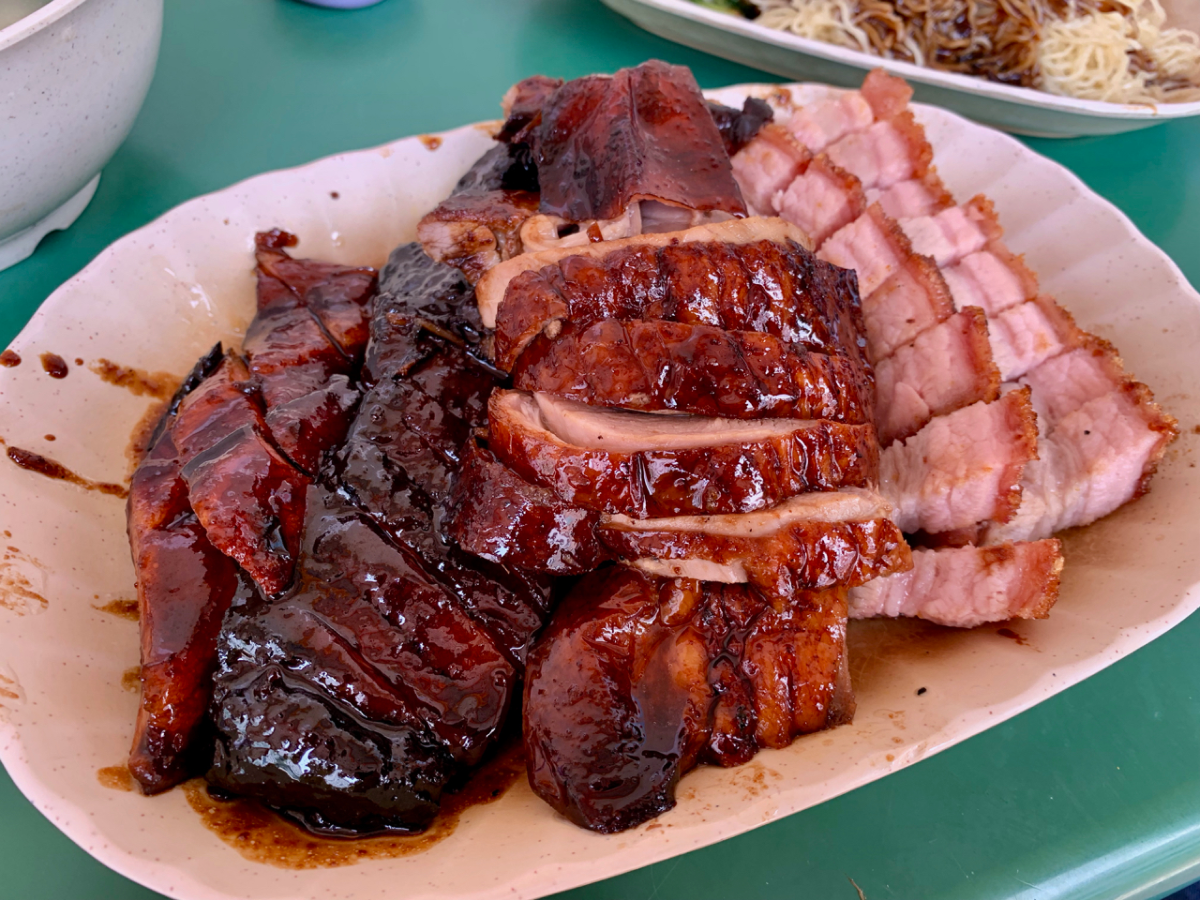 There are many Cantonese roast meat stalls in Singapore, but very few of them manage to be excellent in all three of the roast meats that are typically offered — char siu (barbecued pork), siu yok (roast pork belly) and roast duck.
This stall in Maxwell Food Centre is one of the few roast meat stalls in Singapore that manages to come close to being excellent across the board.
Opened in 2008, Fu Shun Jin Ji Shao La Mian Jia was opened by Chan Tuck Kwai, a 54-year-old Singaporean who has been cooking since he was a teenager. The demand for "Ah Kwai's" roast meats are so high that there are constant queues which start from when it opens during lunchtime until it closes in the early night.
The char siu here is basted throughout the charcoal roasting resulting in a thick coating of marinade on its skin. Both lean and fatty cuts are offered and the roasting is so good that even the lean meats have a lovely soft texture to them.
The marinade is also addictively good as it has a deep savory, not-too-sweet flavour. There is added smokiness thanks to a nice slight charring on every strip of char siu.
The siu yok is as good as it gets with a nice and moist meat texture and a biscuit-like crunchy skin, as is the roast duck and its excellently crispy skin and meat which is nicely moist and meaty.
Try the dumplings as well. They are generous with their fillings and care has been taken to season them properly. The soup that it came in was a bit lackluster unfortunately.
A shout out to the gravy on the side — brown, dark and rich. It has a smoky deep savoury flavour that goes very well with rice or noodles.
That said, we found issue with the sambal chilli. It is wonderfully flavourful with a prominent dried shrimp flavour and a big oil-richness. Great in rice and noodles but it does dominate everything that it is put into, including the natural flvour of the meats. A more restrained, less oil-rich sambal chilli would work better for their roast meats.
A note on their opening times. They officially open at 11am but there has been more than a few occasions where they have opened as late as noon. The inconsistency can be frustrating as a queue quickly forms when the stall shutters open. If you want to be the first few, expect to do a lot of waiting around.
---
This archived article appeared in an earlier version of HungryGoWhere and may not be up-to-date. To alert us to outdated information, please contact us here.