Cereal Citizen: Singapore's first cereal cafe co-owned by Bong Qiu Qiu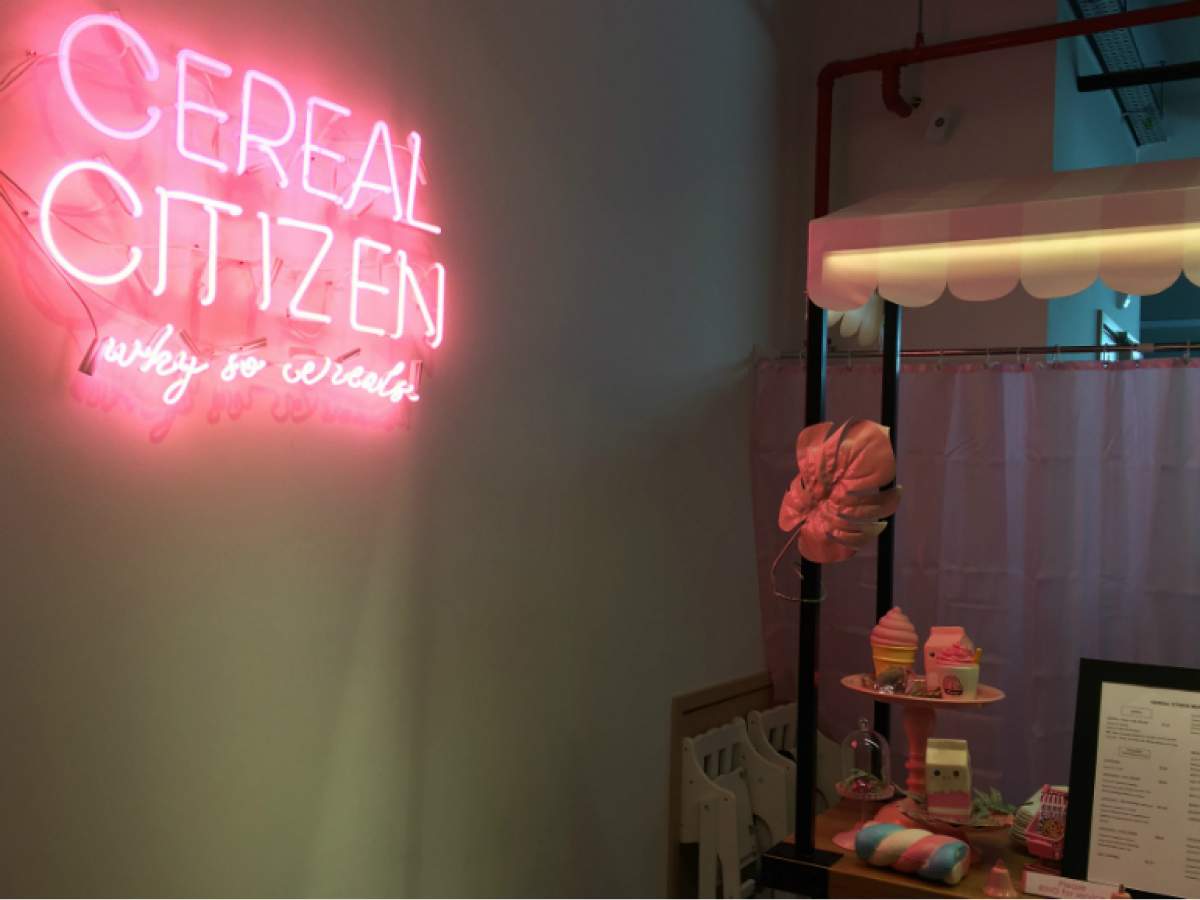 If you spend plenty of time on social media, you'll probably have seen one of those foodie videos profiling Cereal Killer, a super cool cereal cafe in London. But here's some good news for cereal lovers who can't afford a plane ticket to the UK – we've now got our very own cereal cafe in Singapore, so that's one more option for whenever you're craving for something sweet!
First things first: the cafe in question is called Cereal Citizen, and it's not affiliated to Cereal Killer whatsoever. Cereal Citizen was actually started by Ang Qiu Ting (better known as Bong Qiu Qiu), Rachell Tan (Pxdkitty), and their friend Carolyn Lim. Whilst Cereal Killer serves over 120 types of cereal, Cereal Citizen only has 24 varieties on their menu as of well; that having been said, they do have other offerings such as sweet and savoury Crododos (donut-shaped croissants), ice cream, and milkshakes.
Whilst the space they occupy is pretty small, it's clear that the owners of Cereal Citizen have put quite a bit of thought into the ~aesthetic~ of their cafe. On the first level, the friendly cashier who takes our order isn't standing behind a boring old counter, but a faux pushcart decked out with a pink and white striped awning. There's a neon pink sign bearing the cafe's name displayed proudly on the wall, and several posters – all in pastel tones, of course – brighten up the space.
The staircase to the second level is rainbow-coloured, and as Qiu Qiu shares in an Instagram post, this staircase is fast becoming a favourite amongst Instagrammers in search of that perfect backdrop for their #OOTD pictures. On the second level, apart from seating space, there's a play area which consists of hula hoops, a toddler-sized rocking horse, and even a miniature kitchen. There's also a vintage radio that we wish we could steal, and the windows are adorned with gauzy curtains and fairy lights.
Moving on to the food! From the menu, we ordered the Cereal + Ice Cream ($4.90) and the Crododo + Milkshake ($10.90), both pictured below, as well as the Crododo + Tuna ($9.90).
Out of these three items, the least impressive of the lot was the Cereal + Ice Cream. Although 24 cereals seems like a pretty decent list to choose from, all the options are fairly mainstream (we're talking Fruit Loops, Coco Pops, and Milo Balls), and we didn't see any exotic or hard-to-find cereals. Whilst the Rainbow ice-cream we ordered looked very pretty, its taste was slightly reminiscent of cough syrup. They do have other ice cream flavours (vanilla, chocolate, yam, matcha), though, so we'd recommend trying another flavour, or getting your cereal with milk instead.
Moving on to the Crododo + Milkshake – you get to choose the cereal you'd like to be served atop your Crododo, and there are also several options for the milkshake (Chocolate Banana, Strawberry, Strawberry Banana, Matcha, Yam, Banana, and the best-selling Oreo, which we ordered). Texture-wise, the Crododo isn't super similar to a croissant – it's denser, and not as light and flaky. That having been said, the Crododo is still pretty fragrant and buttery, and makes for a decent snack. We also liked the milkshake – whilst the consistency could've been a bit thicker, they were extremely generous with the Oreo bits, and that's what makes or breaks an Oreo milkshake, isn't it?
Last but not least, the Crododo Tuna (Tomato & Onion or Mayonnaise Corn, served with teriyaki sauce, cherry tomatoes and cornflakes) is pretty palatable. If you don't have that huge of a sweet tooth, we'd say order one sweet item and one savoury Crododo (apart from tuna, they also serve Crododo with guacamole) to balance out the flavours.
Bottom line? If you love checking out new cafes and Instagramming your finds, definitely pay a visit to Cereal Citizen (and take a picture with their pastel rainbow staircase). Ambience and Instagram-worthiness wise, this cafe is definitely a frontrunner. As for the food? It's worth a try, but we'll be more excited when/if they start introducing more exotic cereals from overseas.
---
This archived article appeared in an earlier version of HungryGoWhere and may not be up-to-date. To alert us to outdated information, please contact us here.