5 places in Singapore to get a sando with a twist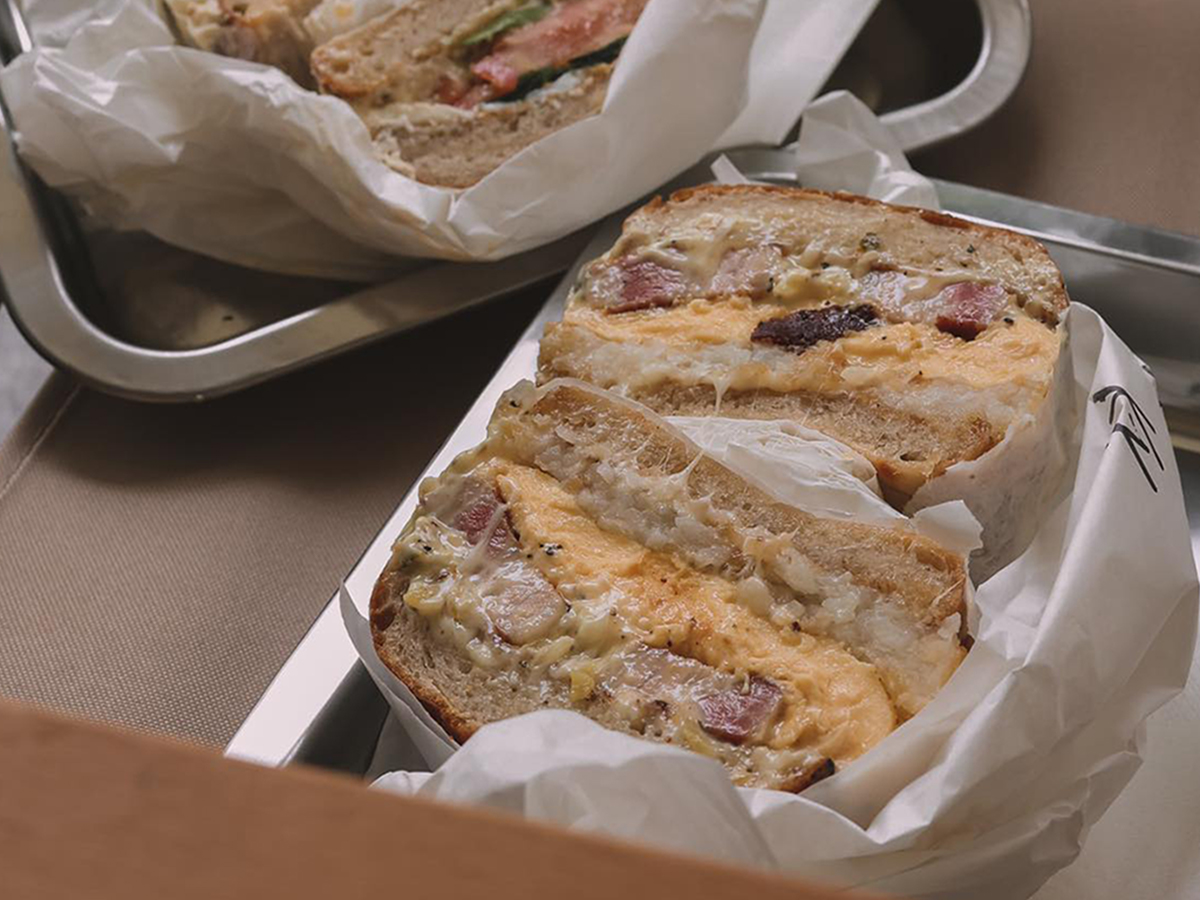 Most times, we look for the simple things in life. Other times, we're looking for sandos. Not a simple sandwich with bread and jam. But a plump and juicy sando, with slabs of meats and flavourful condiments sandwiched in between. 
What is a sando?
A sando is a type of Japanese sandwich. It's characterised by fluffy shokupan (traditional Japanese milk bread) that is pillowy soft and sweet. Typically, it is filled with katsu (a deep-fried cutlet) or egg mayo.
As sandos grow to be one of the most popular food trends of 2022, cafes have to work harder to keep things interesting for its patrons.
From quirky names to peculiar combinations of ingredients, here are five places for sando in Singapore that are unique, and Instagram-worthy. 
1. 46 Mittsu 
2 Everton Park, 01-61
Open: Tuesday to Sunday (8am to 5pm or until sold out)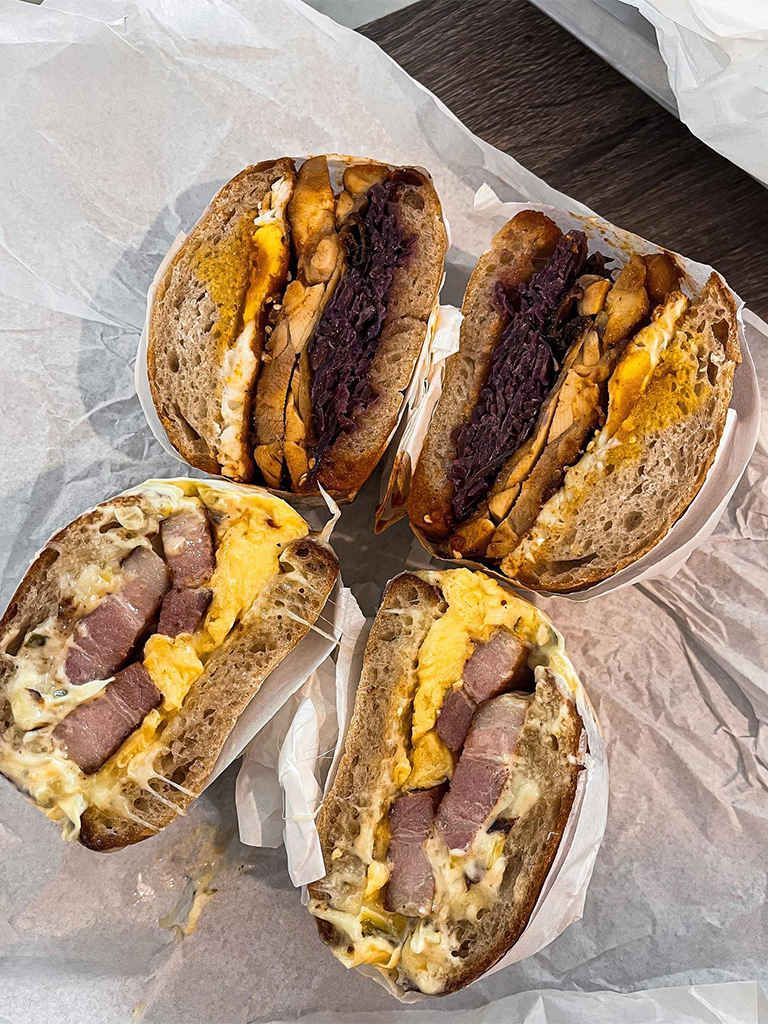 A funky crowd favourite that needs no introduction, 46 Mittsu recently relaunched to much fanfare as fans swooped in to reunite with their sandos after a five-month separation. 
Though its sando menu has been revamped, its wacky names (and flavours) are here to stay. The Firebird (S$15) is a unique combination of gochujang grilled chicken, purple slaw and sunny side up egg. Meanwhile, its Piggyback (S$15) features starfruit achar, a pickled starfruit. 
Aside from unusual ingredients, 46 Mittsu uses ciabatta bread in its sando instead of the usual shokupan bread. It gives a nicer texture and better mouthfeel overall with every bite. 
What to order: Firebird (S$15), Chamwitch (S$15), BEC (S$14)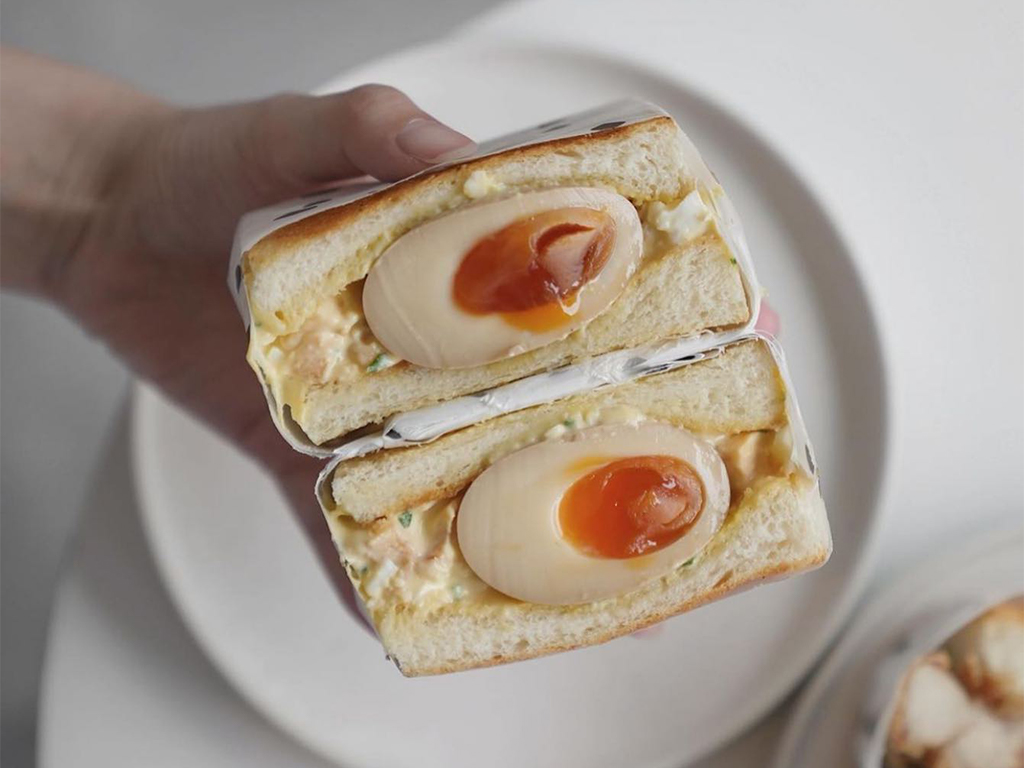 As its name suggests, Hello Arigato is a cafe serving Japanese-inspired dishes. While we had no complaints when it came to its Japanese sandos in Singapore, its locally flavoured sandos are what make it stand out. 
The Joo Chiat outlet-exclusive HCG sando (har cheong gai sando, S$16) features a slab of deep-fried shrimp paste chicken sandwiched between shokupan and cucumber. 
Those visiting its original Upper Thomson Road outlet can try its otah sando (S$20) instead. The otah (fish cake paste) is breaded and deep-fried before being served with cucumber and a generous dollop of kaffir lime sambal and coconut mayo. 
What to order: HCG sando (S$16), otah sando (S$20), Ah Kun shibuya toast (S$15), tamago sando (S$14)           
3. Bloom Coffee
87 Upper East Coast Road
Open: Monday, Wednesday to Friday (8am to 6pm), Saturday and Sunday (9am to 6pm)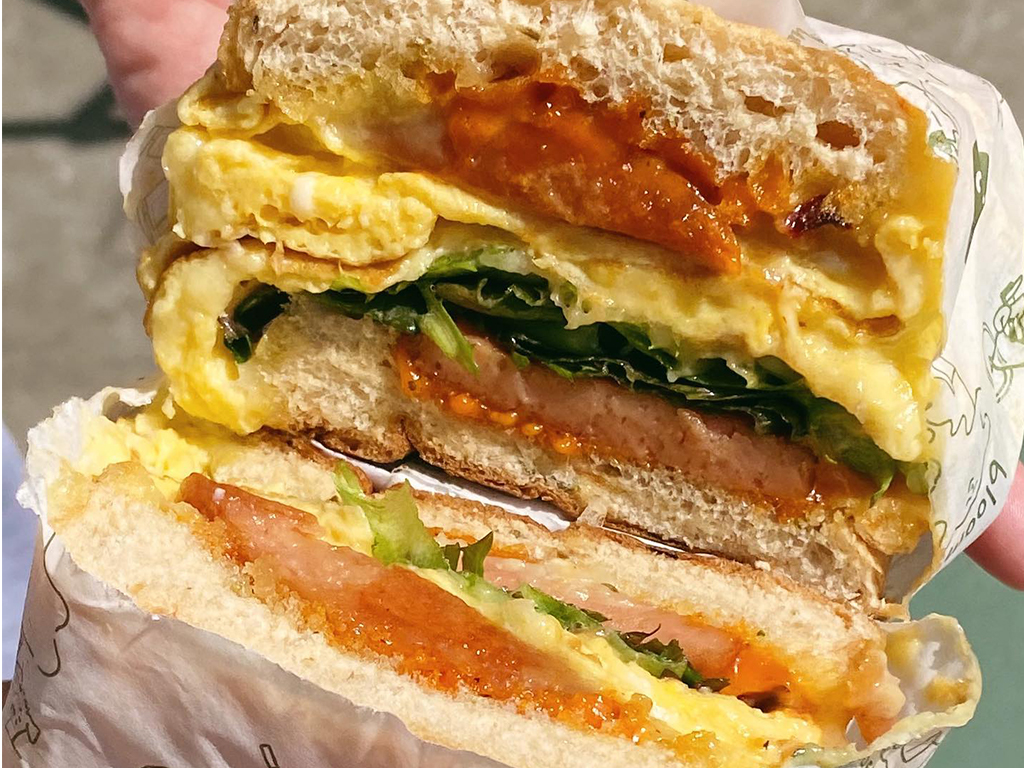 Bloom Coffee is a treat for those living in the east. Not only does this specialty coffee house roast and serve its own coffee beans, it also does a good brunch menu. 
Instead of a sando, you get sangas at Bloom Coffee. Those looking for a novel experience for their taste buds can opt for the PB and strawberry basil sanga (S$15), a peanut butter and house-made strawberry basil jam combination.
The tamagoyaki avocado bacon sanga (S$18) also puts a small twist on the typical breakfast combo by using Japanese rolled eggs. It lends the sando a fluffier texture overall.
What to order: Iced white with oat milk (S$6), Sloppy Bob (S$17), PB and strawberry basil (S$15), tamagoyaki avocado bacon (S$18)
4. Grids Coffee & Bar
200 South Bridge Road
Open: Daily (8am to 6pm)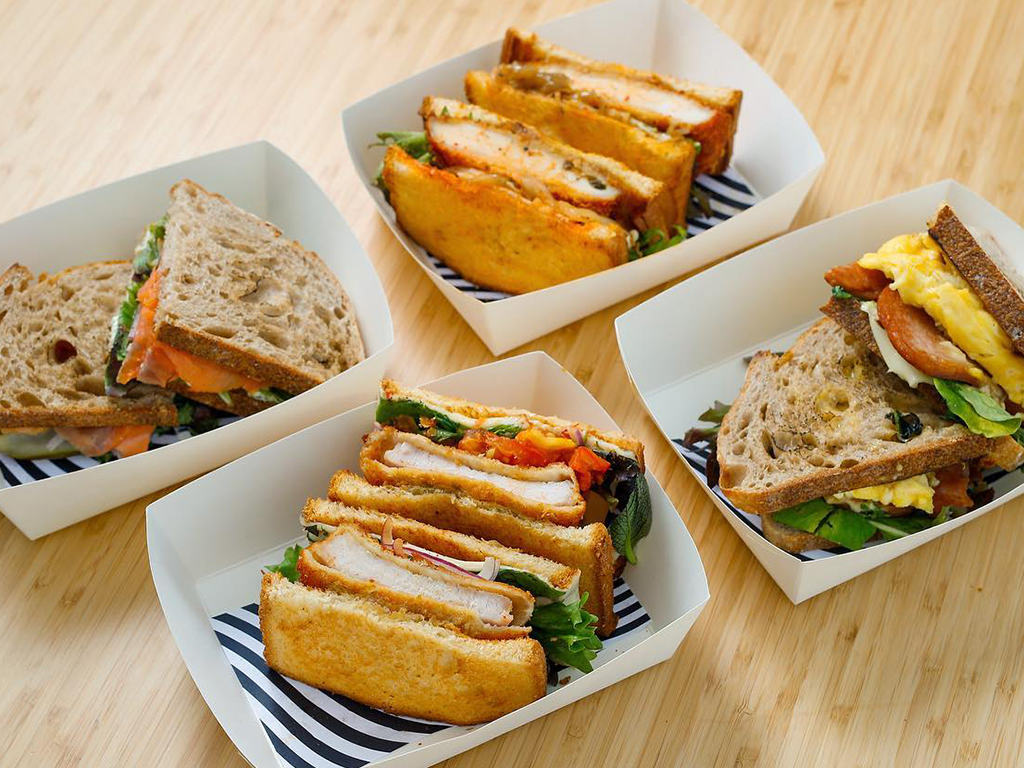 A popular work-friendly cafe with ample space and Wi-Fi, Grids Coffee & Bar has a fairly extensive menu to accompany you while you're on your daily grind. 
With an entire section dedicated to sandos, you'll find the greatest variety of flavours here.
If you're looking to try a unique beef sando in Singapore, try its thoughtfully named Moo-na-lisa (S$24). It combines striploin, caramelised onion, roasted garlic, wholegrain mustard seeds and greens. 
The result? A filling meal sandwiched between two slices of toasted bread, eaten entirely with your hands. 
The Pigasso (S$16) is an artfully crafted sando featuring panko-crusted pork loin with karashi rancher, namsui pear, shibazuke (pickled vegetables), torched parmesan and greens. 
What to order: Butter scones (S$4), Kyoto spring shaken iced tea (S$8), Moo-na-lisa (S$24)
5. Naga House 
14 Lorong Telok
Open: Monday to Saturday (10am to 12am)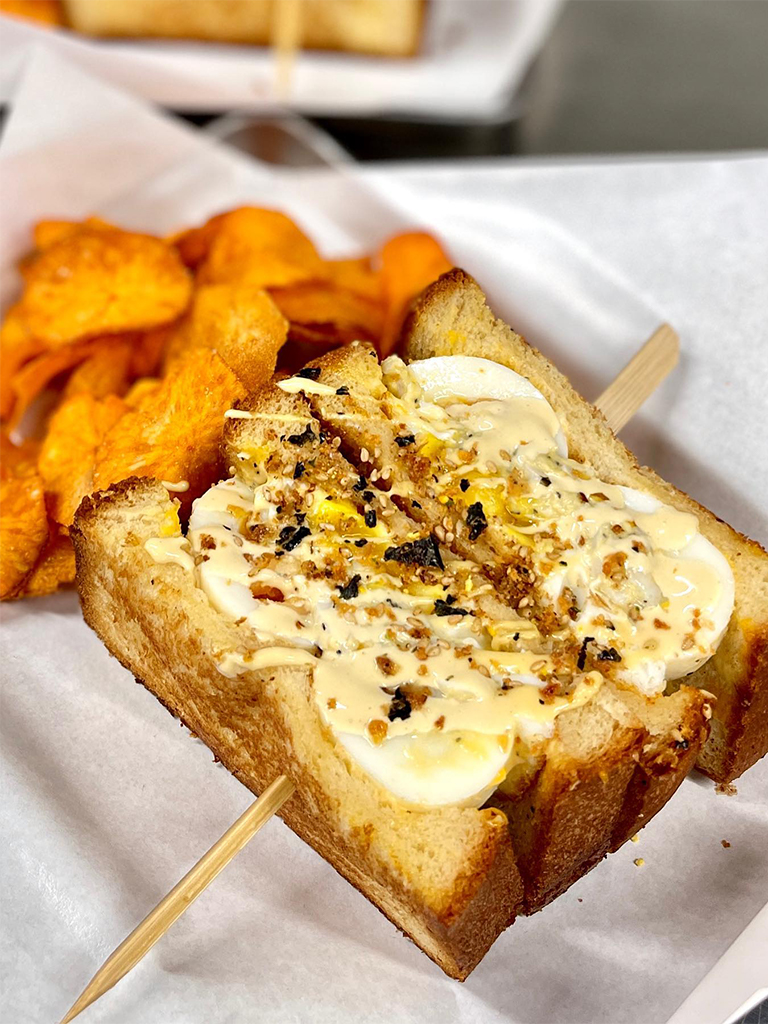 If you've been to any hip events recently, you might have heard of Naga House. The dual concept cafe and bar offers a Japanese-inspired menu that includes sandos available for order until 9pm. 
For a classic flavour, opt for its triple tamago sando (S$12), which combines three different eggs: A roasted garlic egg mayo, a ramen egg and a fried egg. To give it an added touch of umami, the sando is topped with furikake, a Japanese rice seasoning. 
The DTF-Kinda Pork Chop sando (S$14) is a heftier option with fried pork chop and shredded cabbage paired with a smokey plum sauce. 
Unlike most other sando places in Singapore, Naga House uses a brioche bun with roasted garlic butter that lends the sando a soft and fluffy bite. The sando is served with sweet tapioca chips, which makes it quite a steal. 
What to order: DTF-Kinda Pork Chop (S$14), triple tamago (S$12), house-fried chicken with tamago kake gohan (S$14)
All eateries mentioned above are on the GrabFood delivery service. You can also book a ride to all the stores.  
---