Recipe: Paper-Wrapped Chicken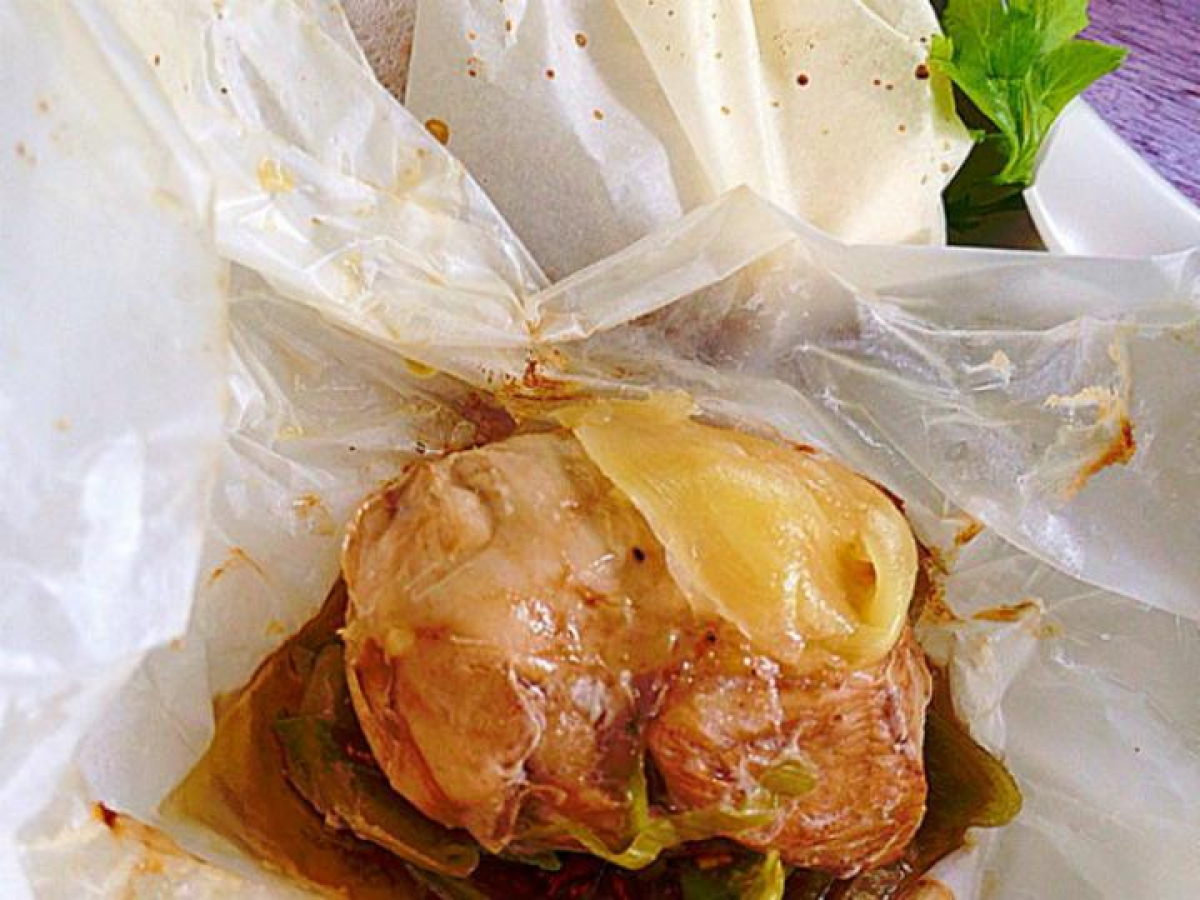 Paper-wrapped chicken is an easy supper to turn out, needing little attention once you marinate the meat (overnight, please). We placed some shredded leeks and mushrooms beneath the chicken to give sweetness and texture. We then livened it up with a slice of ginger. It takes about 20 minutes to wrap the parcels – easily secured with staples, and about the same time to cook them. The paper is an extremely forgiving medium for the juiciness of the meat is preserved, and in just 15 minutes, you get a delicious parcel of food. As an update, we bake rather than fry the parcels.
Recipe serves 4-6
Difficulty: Moderate
Preparation time:20 minutes
Cooking time:20 minutes
Ingredients
Chicken thigh or breast, or both, 4-6, fat and skin removed
For the marinade:
Light soy sauce 1 tablespoon
Chinese rice wine 1 tablespoon
Sesame oil 1 teaspoon
Salt ½ teaspoon, or to taste
Ground black pepper, to taste
To assemble for cooking:
Greaseproof kitchen paper 6, 30cm-square sheets of
Ginger 6-8 thin slices
Leeks 2, finely sliced diagonally
Dried shiitakes 4, softened in water and sliced
Method:
1. Pre-heat the oven to 180°C.
2. Remove fat and skin from chicken and cut pieces if necessary into two.
3. Place chicken in an airtight container and season with the marinade for at least three hours, if not overnight, covered in the fridge.
4. Half an hour before eating, place some shredded leeks and mushroom on a sheet of greaseproof paper. Top with one or two chicken pieces (one of which is thigh meat) and add a ginger slice on top.
5. Wrap chicken up in paper, securing parcel with staples.
6. Place chicken parcels on oven tray and bake in heated oven for 15 to 20 minutes.
7. Serve parcels unwrapped and allow diners to open them up on their plate, to get their own whiff of aromatic chicken and leeks. Serve with cut red chilli or bottled garlic chilli sauce.
---
Sylvia Tan is a cookbook author with nine cookbooks to her name. Her latest, 'Asian Larder', is a compendium of Asian spices and seasonings, with more than 100 recipes on how to use these ingredients.
---
This archived article appeared in an earlier version of HungryGoWhere and may not be up-to-date. To alert us to outdated information, please contact us here.