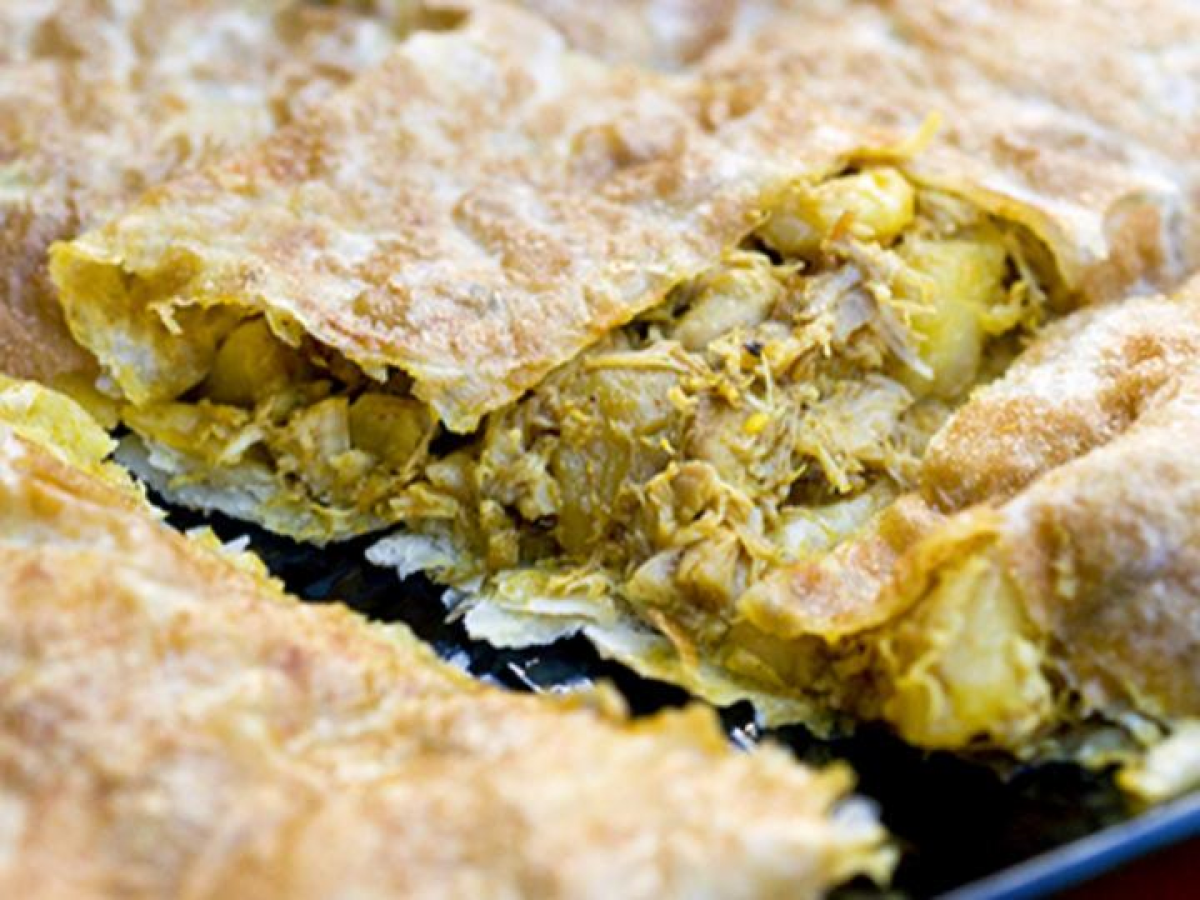 Think of it as a giant stuffed roti prata. But it's more than that. If you've ever had the pleasure of tearing into that hearty creation of crisp, pillowy dough filled with spiced meat and sweet, juicy onion, you'll know that the sum of its parts is greater than the whole.
Originally, murtabak was filled with minced mutton, onion, and sometimes, egg. These days, adventurous murtabak makers have even come up with modern twists like tuna or cheese. However, mutton and chicken remain the bestsellers.
How do some of the most well-known murtabak places stake up against one another? Here are the results of our taste test!
AB & ABC Restaurant
365 Joo Chiat Road
Opening hours: Daily: 24 hours (murtabak available from 11am-2pm, 3pm-3am)
Price: from $4.00 for mutton, $6.00 for chicken
Rating: 4/5
Apart from the dense, chewy dough which required a fair bit of jaw work, there was plenty to like about AB & ABC's hearty-sized murtabaks. The best part was the nearly grease-free skin. Although it could have been crispier, the dough was an evenly browned, golden crust.
The fillings were just as commendable. We preferred the chicken version. It was bursting with sliced sautéed that was sweet, juicy, and retained the right crunch. The curried chicken was tasty and chunky. In fact, we wolfed down the chicken murtabak without the accompanying curry because it was moist and flavourful enough on its own.
The mutton version was slightly dry and could have been bolder with spices. But all was well after we dunked it in the dhal curry. Smooth, nutty, and slightly tangy, the rich curry was balanced in flavour without being too spicy.
Singapore Zam Zam Restaurant
697 North Bridge Road
Opening hours: Mon-Thu: 8am-12am, Fri-Sun: 8am-2am
Price: from $5.00 for mutton/chicken
Rating: 3.5/5
With tender chunks of chicken in a fragrant spice paste, the chicken murtabak trumped its mutton counterpart which had slightly overdone meat. Thankfully, the coarse ground mutton was paired with plenty of chopped onions. Sweetness from the onions helped to take the dryness off the mutton somewhat.
Overall, this was a very rustic-looking murtabak with its unabashed robustness and grease. The dough was thick, chewy, slick, and salty, but it felt like comfort food in the most sinful manner. And did we mention what a guilty pleasure it was to munch on the charred edges?
We also liked how they served two different kinds of dip—a piquant curry and a milder dhal with pleasantly mushy lentils. Without them, the murtabak wouldn't have been as enjoyable.
Spize The Makan Place
409 River Valley Road
Opening hours: Daily: 6pm-6am
Price: $8.00 for mutton keema/chicken
Rating: 3.5/5
Of all the murtabaks in this round-up, our favourite dough was Spize's. It was paper-thin, with a pleasantly chewy and airy texture. When served, the dough was crisp, but turned soft quickly when left to sit.
This could be due in part to the juicy fillings. A unique distinction for the mutton murtabak was the use of keema—a mild minced meat curry. It was luscious, tasty, and exceedingly spicy. The chicken version—with finely shredded curried chicken and cubed potato—was even spicier.
Even the chilli lovers among us found the spiciness level to be challenging. It'd be ideal if the heat was reduced and more chopped onion added to the fillings.
It's a good thing that both mutton and chicken murtabaks were moist and packed with flavour.  For once, we shunned the accompanying curry dip, for it was bland and very oily.
New Victory Restaurant
701 North Bridge Road
Opening hours: Daily: 7am-11pm
Price: from $4.00 for mutton, $5.00 for chicken
Rating: 3/5
With an established competitor just next door, it was interesting to see how New Victory would fare.
Their murtabaks were very similar in style to their neighbour Zam Zam's. In fact, with a lighter and better-fried crust, we thought the dough tasted marginally better.
But on the whole, New Victory's murtabaks lacked punch. The chicken and mutton fillings were sufficiently moist and tender. But both could have benefited from more onion. Flavour and fragrance were also lacking. The accompanying curry tasted slightly watered-down.
The Roti Prata House
246 Upper Thomson Road
Opening hours: Sun-Thu: 7am-2am, Fri-Sat: 24 hours
Price: from $4.50
Rating: 2/5

The Roti Prata House is well-known for their crispy prata, and they've incorporated the same incredibly thin, crispy dough into their murtabak as well. With tiny bubbles on the deep amber-brown surface, the dough was ethereally light and not too greasy. The only downside was its exceeding sweetness.
Surprisingly, the chicken stuffing was unlike any other we've tasted. It had cabbage as well as a sharp, vinegary tang. The mutton was relatively tender and moist. Both versions could have done with more chopped onion.
Between the two, we favoured mutton. The chicken, with its biting sourness, was too exotic for most of us. As for the dhal curry, it had a pleasant creaminess that was unfortunately marred by a strong powdery taste.
On their own, each element tasted fine. But when put together, they formed a mix of flavours and textures that failed to complement one another.
---
This archived article appeared in an earlier version of HungryGoWhere and may not be up-to-date. To alert us to outdated information, please contact us here.