A fuss-free mooncake guide for Mid-Autumn Festival 2022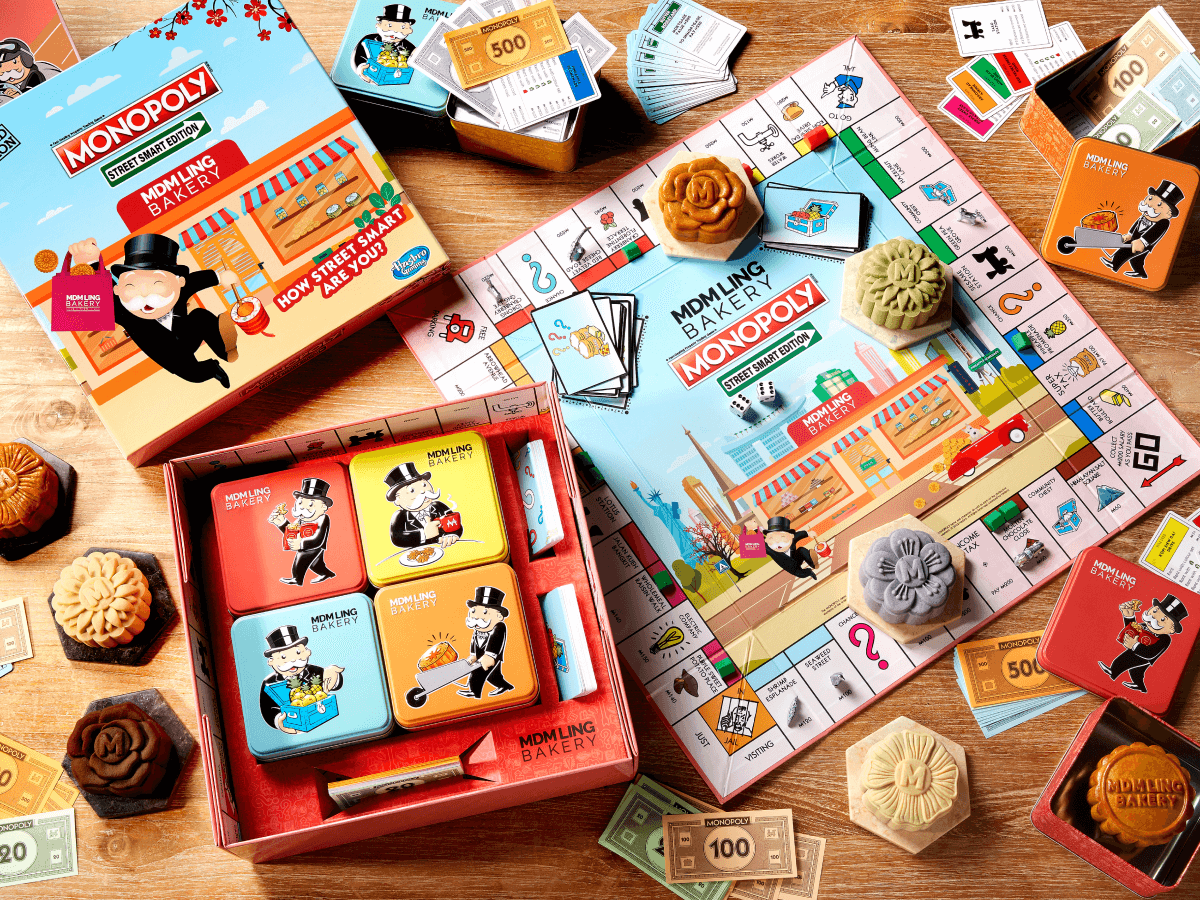 The much-awaited Mid-Autumn Festival is around the corner and, naturally, mooncake mania has hit the streets. It falls on Sept 10, so there's still time to get your mooncake orders in.
As usual, there's a panoply of mooncake flavours, pretty packaging and fancy accoutrements to go around. So here's a fuss-free rundown on this year's offerings.
1. For tradition with a modern twist: Marina Bay Sands
The Shoppes at Marina Bay Sands (pop-up booth near the B2 Sampan Ticketing Counter), 10 Bayfront Avenue
Nearest MRT station: Bayfront
Open: Monday to Sunday (10.30am to 11pm)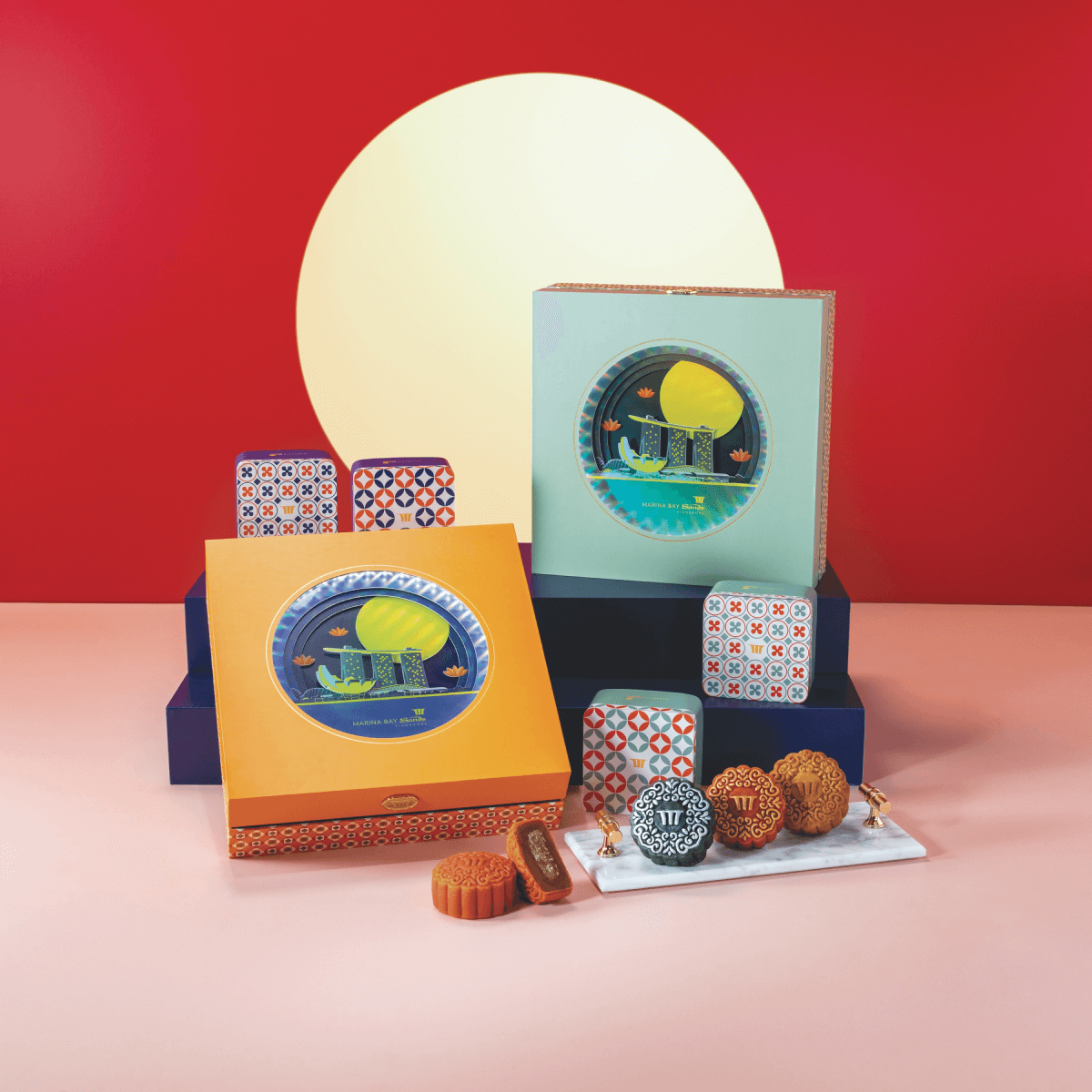 Love baked mooncakes, but looking for something a little more contemporary? Marina Bay Sands' (MBS) latest collection may fit the bill.
The Premium Edition mooncake boxes come in two varieties — a modern version in teal with four new flavours, and another in orange, with classic white-lotus-paste mooncakes with double yolks.
The boxes are designed for gifting. It includes a QR (quick response) code, which recipients can scan to view an augmented-reality animation of a Mid-Autumn Festival celebration under the stars. 
There's also a built-in LED (light-emitting diode) light — flip the switch to see it light up. The mooncakes are also packed individually in reusable tins with Chinese motifs.
Of the modern flavours, there's a collagen-rich bird's nest with red date mooncake, and an XO dried scallop wu liang ye that combines lightly spiced dried scallops with wu liang ye — a strong Chinese liquor made with five types of grain and water from the Min river in Sichuan, China.
What to order: XO dried scallop wu liang ye
Price: Premium Edition box (S$88 for a box of four pieces, with a choice of classic or modern flavours)
2. For the young at heart: Mdm Ling Bakery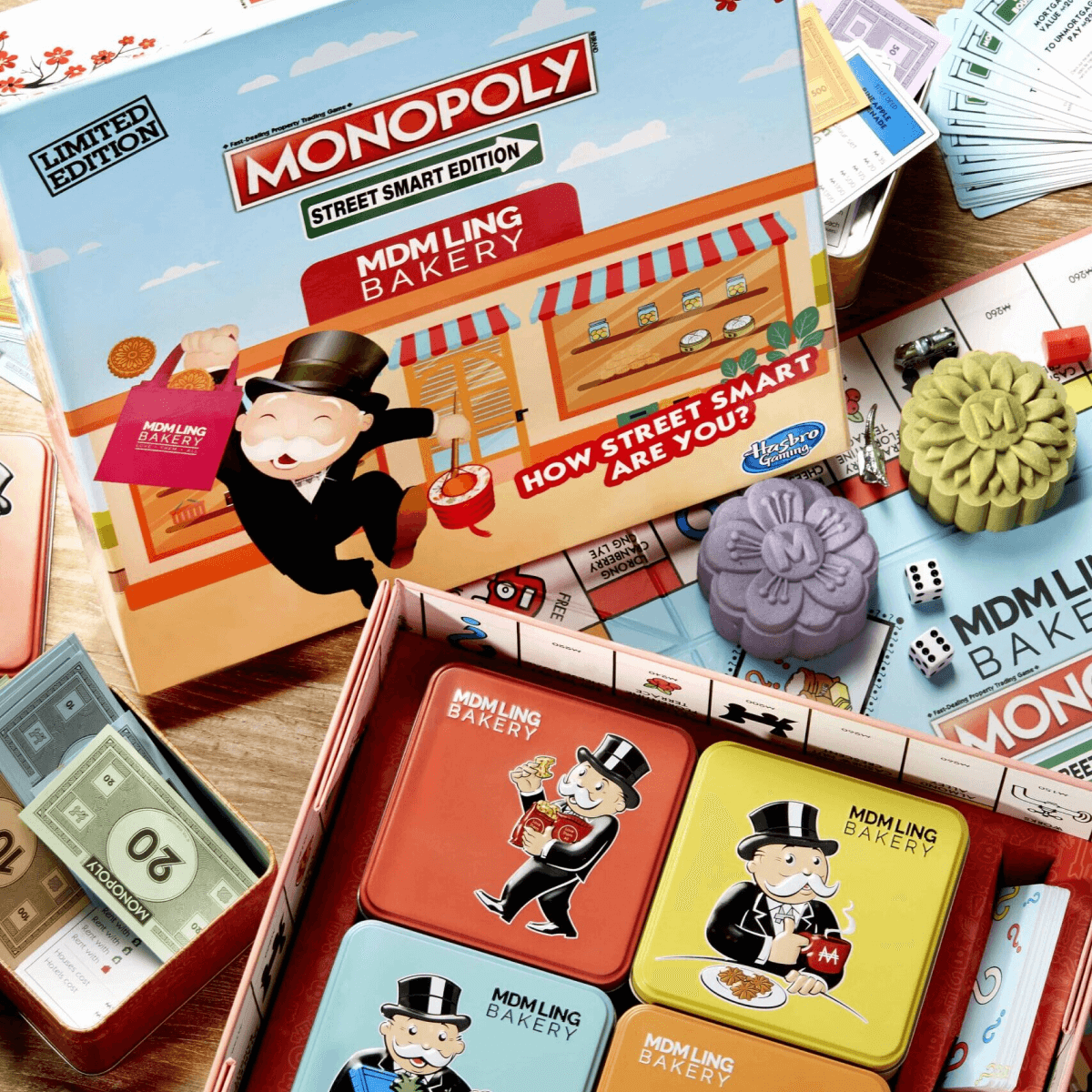 Mdm Ling's latest mooncake collection contains something rather unexpected: A full, working set of the boardgame Monopoly, complete with dice and play money. A tie-up with global entertainment giant Hasbro, the Monopoly Mooncake Street Smart Edition is billed as a world's first.
Food-wise, customers may choose from five mooncake series — the gooey Lavalicious; cookie-inspired Yummylicious; traditional Luscious; floral Lapis-licious; and the new Dessertlicious — to accompany their chosen game set. The Lavalicious and Luscious ranges are halal and vegetarian.
Drawing on traditional Chinese desserts, the new Dessertlicious range comprises four vegetarian flavours of orange peel red bean, longan dan feng tea, osmanthus goji berries, and peanut sesame paste.
When it comes to mooncakes, this is par for the course for the homegrown bakery. In 2019, it released a Snacks & Ladders version and, in 2021, an Imperial Chinese Chess set. These game sets are still available this year, if that's more your speed.
Note that Mdm Ling Bakery accepts only online orders, with no pick-up options available.
What to order: Peanut sesame paste
Price: Monopoly Street Smart Mooncake Game Box (S$118 a box)
3. For the health-conscious: SunnyHills' fruit-based mooncakes
Ngee Ann City Tower B, B2-27A, 91 Orchard Road
Nearest MRT station: Orchard
Opens: Monday to Sunday (11am to 8pm)
Popular Taiwanese brand SunnyHills has launched its inaugural collection of fruit-based mooncakes in Singapore. It's best known for its rectangular pineapple cakes, made from organically grown pineapples native to Taiwan.
SunnyHills' fruit-based mooncakes come in four varieties. These include three all-new flavours: Kougyoku apple mooncake with Japanese ruby red apples and roasted sweet potatoes; coconut snow skin D24 with tender white coconut and rich D24 durian; and acai snow skin Mao Shan Wang durian.
Last but not least, there's also a pineapple custard mooncake with salted egg custard  — one of its top-sellers in Taiwan and a riff on its signature snack.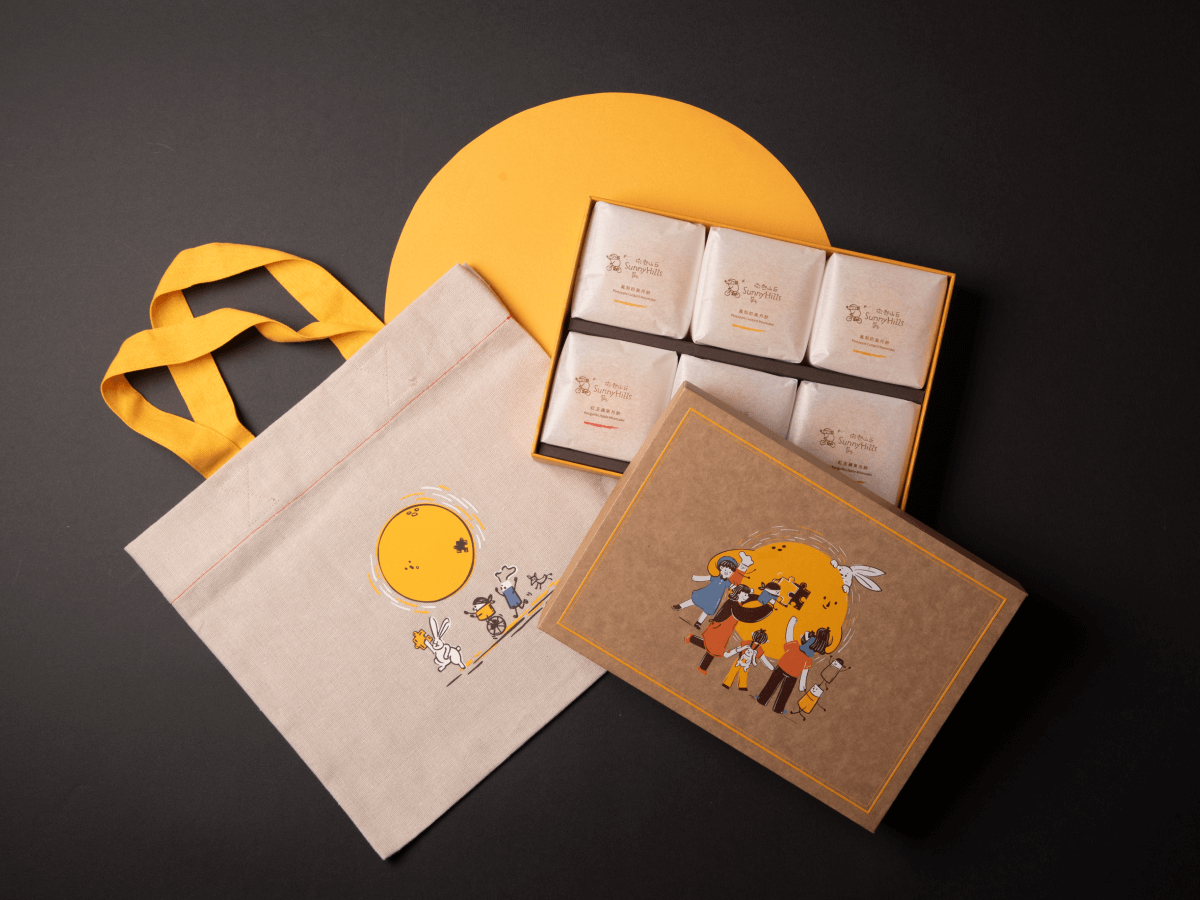 According to SunnyHills, these mooncakes are guilt-free alternatives to an otherwise-calorific snack. The durian mooncakes are also halal-certified.
The pineapple and apple custard mooncakes are packaged in the same off-white, delicately textured washi paper that's iconic to SunnyHills, and come wrapped in a minimalist box and linen tote. There are several gift options, including one that includes its signature pineapple cakes.
Meanwhile, the durian variants fall under the Forbidden range and come in a dark-green metal tin in sets of four.
What to order: Acai snow skin Mao Shan Wang durian
Price: Pineapple custard mooncake (S$53.90 for a box of six); acai snow skin Mao Shan Wang mooncake (S$110 for a box of four); coconut snow skin D24 durian mooncake (S$90 for a box of four); various gift-box options (from S$39.50)
4. For quintessential Singapore flavours: 5 On 25
Andaz Singapore, Level 25, 5 Fraser Street
Nearest MRT station: Bugis
Opens: Tuesday to Sunday (11.30am to 2.30pm, 6pm to 10pm)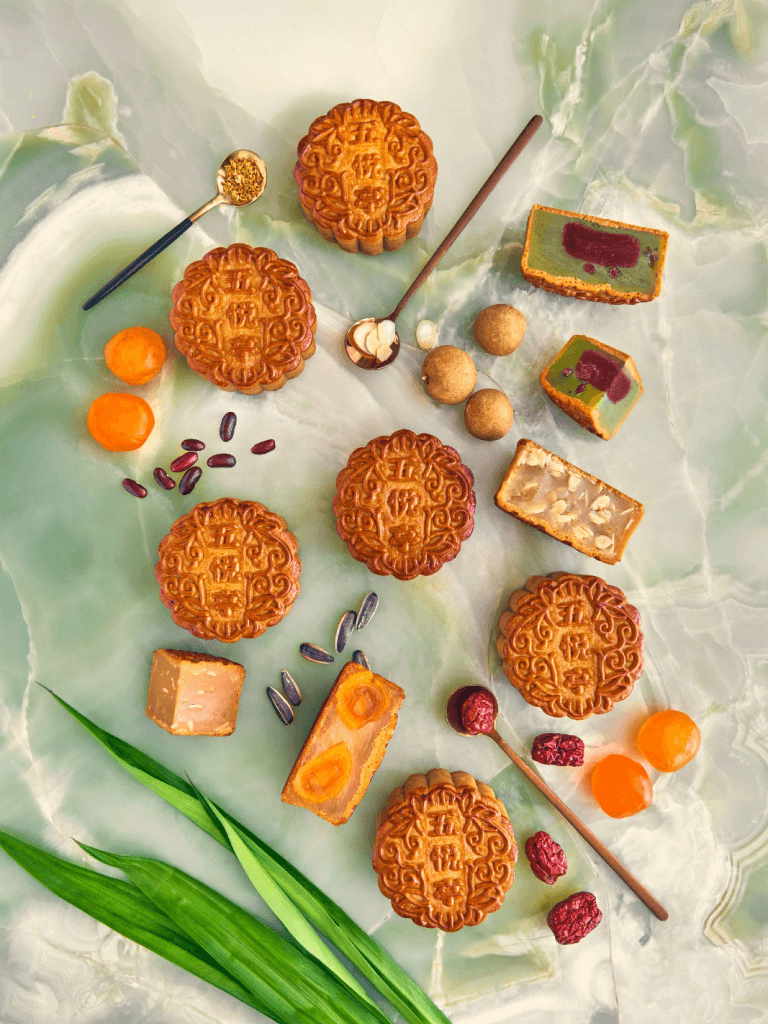 5 On 25, Andaz Singapore hotel's new Cantonese restaurant, has released its maiden collection of mooncakes, comprising six flavours that pay homage to a medley of Singapore favourites.
Tea fans will have two options: A mooncake infused with 5 On 25's signature tea blend of osmanthus, oolong tea and pu-erh, and another inspired by the kopitiam staple teh gao siew dai — otherwise known as thick milk tea with less sugar.
If you're looking for classics, the traditional Silver Lotus OG mooncake is a good bet, with white lotus paste and melon seeds encased in a crumbly, baked crust. So is the Silver Lotus++, which includes two entire egg yolks in each piece.
For a burst of flavour, get the Ruby Pandan, made with pandan leaves and red bean paste, and Dating Longans, with red-date lotus paste and longan.
What to order: 5 On 25 signature tea blend
Price: Each piece (S$22), a box of any four flavours (S$85)
5. For the adventurous: Kam's Roast
Jewel Changi Airport Mall, 02-210, 78 Airport Boulevard
Nearest MRT station: Changi Airport
Opens: Monday to Friday (11am to 9pm), Saturday to Sunday (10am to 9.30pm)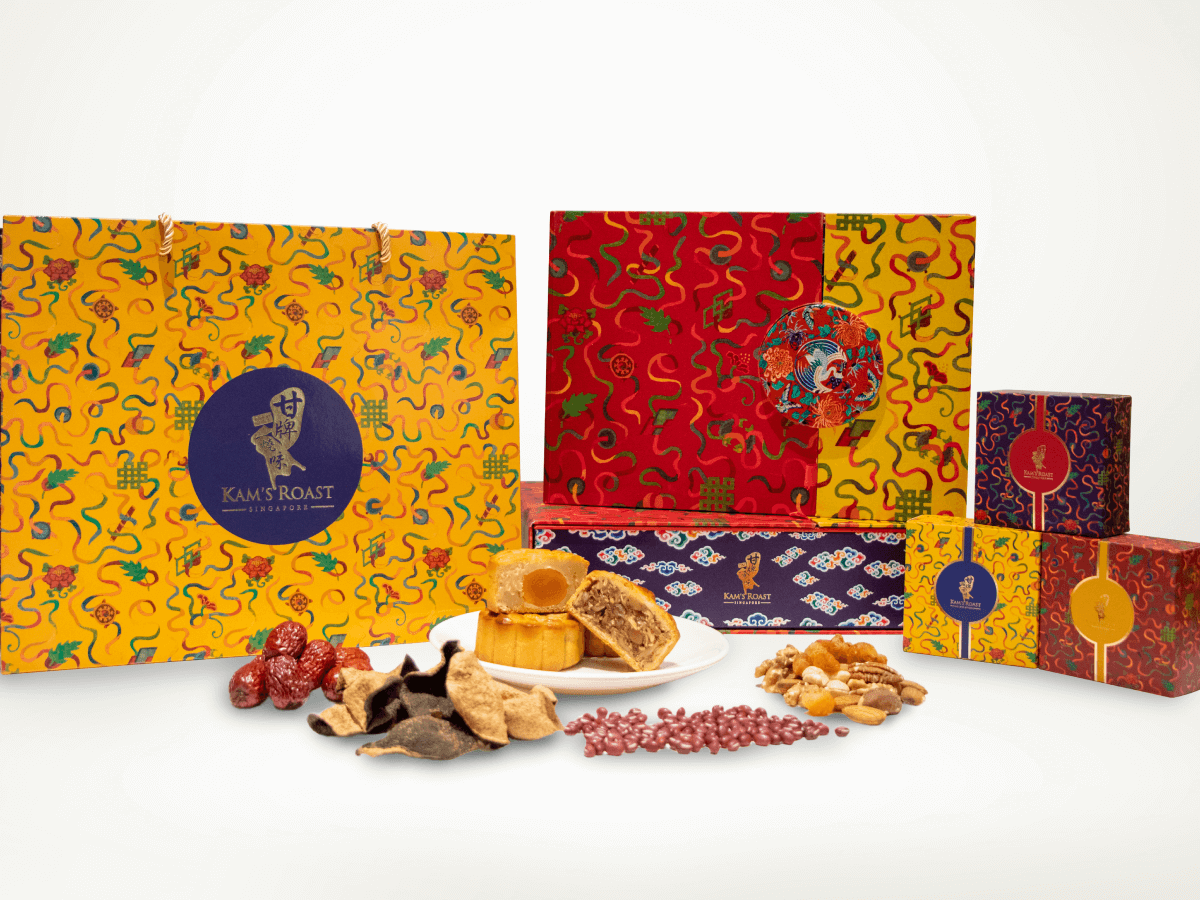 If you love roast duck, this year's mooncake offerings from Kam's Roast will certainly strike your fancy.
The signature assorted nuts with roast duck mooncake makes a return this year — Kam's signature roast duck dish provides a fine, savoury counterpoint to a nutty filling of walnut, almond and other nuts.
Another signature, the roast red bean orange peel mooncake, features flecks of premium orange peel that have been aged for 23 years.
There's also coconut egg yolk, a sweet yet savoury rendition that marries salted duck egg yolks with fresh, sweet coconut.
These — along with two other Hong Kong-inspired flavours, red date longan and almond egg custard — will be available for purchase individually or in gift boxes of six pieces with a porcelain coaster to match. 
What to order: Assorted nuts with roast duck 
Price: Each piece (from S$10.80), a box of six pieces (from S$68)