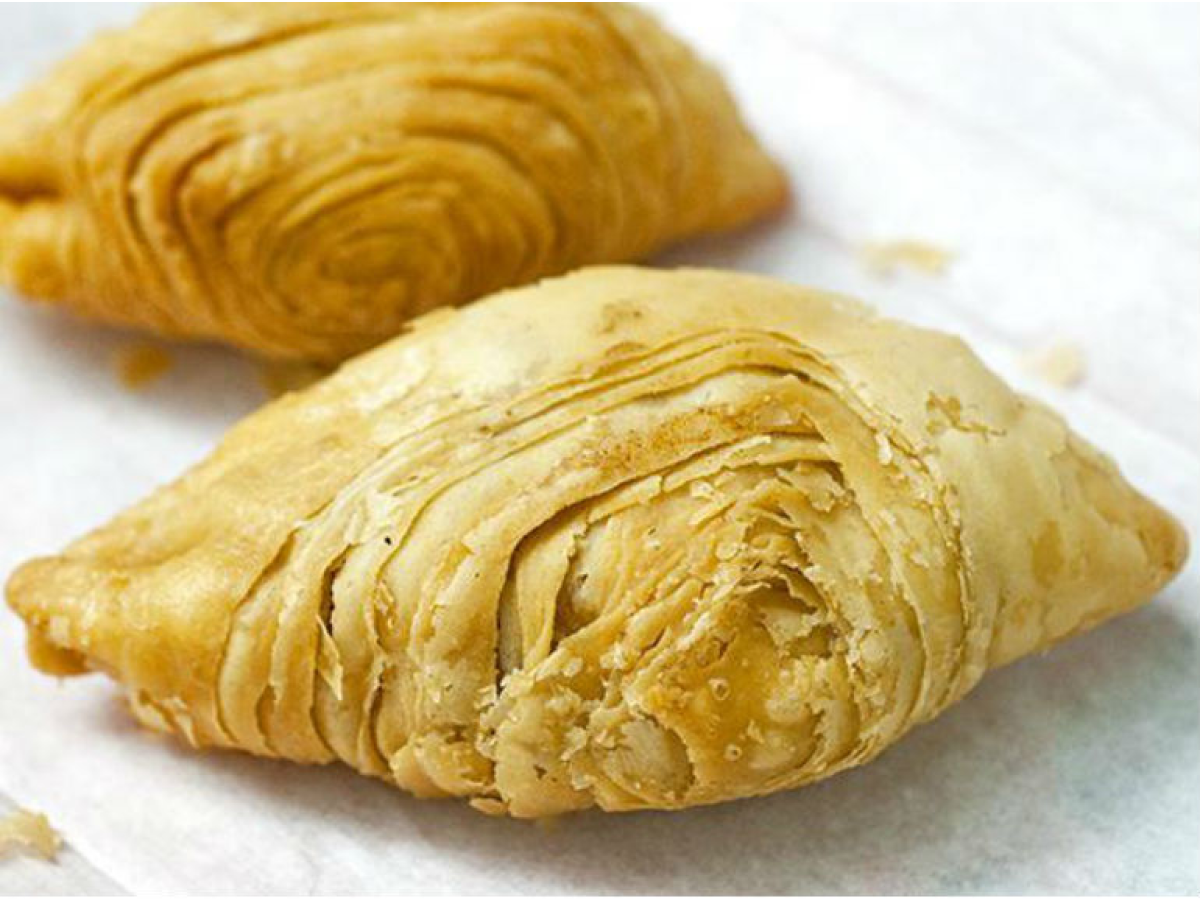 It seems curry puff is something that everyone can't get enough of! How else do we account for the number of stalls selling it in Singapore and the various incarnations? From Malay epok epok to Chinese style curry puffs to those with baked puff pastry, this handy snack is devoured at all times of the day, even on the go!
inSing.com embarks on the mission to find the holy grail of Chinese-style curry puff, characterised by a light and buttery crust filled with mildly spiced curried potato. The crust has to be thin and melt-in-the-mouth, the potatoes powdery soft, and the spice paste aromatic. Will we find our perfect puff?
Tip Top Curry Puff
Opening hours: Daily: 9am-9pm
Price: $1.10
Rating: 4.5/5
Each puff was densely packed with a filling of neatly cubed potatoes that held their shape but disintegrate into powdery goodness upon bite. Using a special Indonesian recipe, the rempah (spice paste) was fragrant and the flavors were well-rounded, albeit on the sweet side. There's a quartered egg and chicken pieces in the filling. Of all puffs in this roundup, this offered the best value for money.
Although the crust felt a little dry, the good thing was it didn't feel too rich, so you can easily wolf down at least two puffs at one time. Best of all, the puffs here tasted really fresh as they were made on the spot and fried in small batches. If not for the slightly thick and dry crust, Tip Top would be the perfect!
1A Crispy Puffs
Opening hours: 8.30am-10pm
Price: $1.20
Rating: 4/5
1A Crispy Puffs can be recognised by their distinctive shell-shaped crusts. The flaky pastry separated into multiple layers result in a wonderfully crispy and light crust. Best of all, it didn't feel greasy. We also liked the moist filling-the spice paste was very pleasing and there was no awful powdery taste. It'd be perfect if it was less salty. Tip: This curry puff is best enjoyed fresh as the crust does not reheat well.
Tanglin Crispy Curry Puff
Opening hours: Mon-Sat: 6am-4pm
Price: $1.20
Rating: 3.5/5
Tanglin's curry puff lives up to its name of being crispy. The layered, flaky crust was airy and thin, and crispy when hot. Those who prefer the flaky kind of pastry will like this. The curried potato filling was very substantial, and contained a quartered egg. We thought this had the potential to be a great curry puff, but it had its shortcomings. The nearly faultless crust was a little too greasy. As for the filling, the flavors were well balanced, but relied too much on curry powder instead of other spices for fragrance. Although it's supposed to contain chicken, we could hardly find any of it in the filling.
Katong Chicken Curry Puffs
Opening hours: Tue-Sun: 8am-6.30pm
Price: $1.00
Rating: 3/5
At $1.00, this is the cheapest puff in the roundup. Its budget price tag means the austere filling has no egg and only a couple of chicken dices. Some people might not take to the finely-cubed, almost mashed up potato filling, but we were strangely addicted to the molten consistency. Biting into the crispy crust with hot, lava-like curried potato spilling out was just irresistible. The crust felt solid, but tasted light and melt-in-the-mouth. The spice paste was aromatic, but would be better if spicier.
Lagoon Chicken Curry Puff
Opening hours: Daily: 12pm-9pm
Price: $1.20
Rating: 2/5
We weren't impressed by this curry puff at all. The dough-like crust was stodgy and lost its crispness quickly. Not only was it small in size, there was very little of the curried potato filling. Even though there's a discernible amount of chicken dices, these were dry. The spice paste was the spiciest in this roundup, which might find favour with chilli lovers. However, the excessive use of curry powder was unpleasant. Not value for money at all.
Old Chang Kee
Price: $1.20
Rating: 2.5/5
The good thing about Old Chang Kee's curry puffs was that the crust stays crisp even when cold. It tasted buttery without being too flaky, but the dough felt too thick and heavy. The interior was tightly packed with curried potato, a quartered egg, and a couple of chicken pieces. The flavors of the filling were nicely balanced, but the spice paste wasn't aromatic enough.
---
This archived article appeared in an earlier version of HungryGoWhere and may not be up-to-date. To alert us to outdated information, please contact us here.