Best Beancurd at Old Airport Road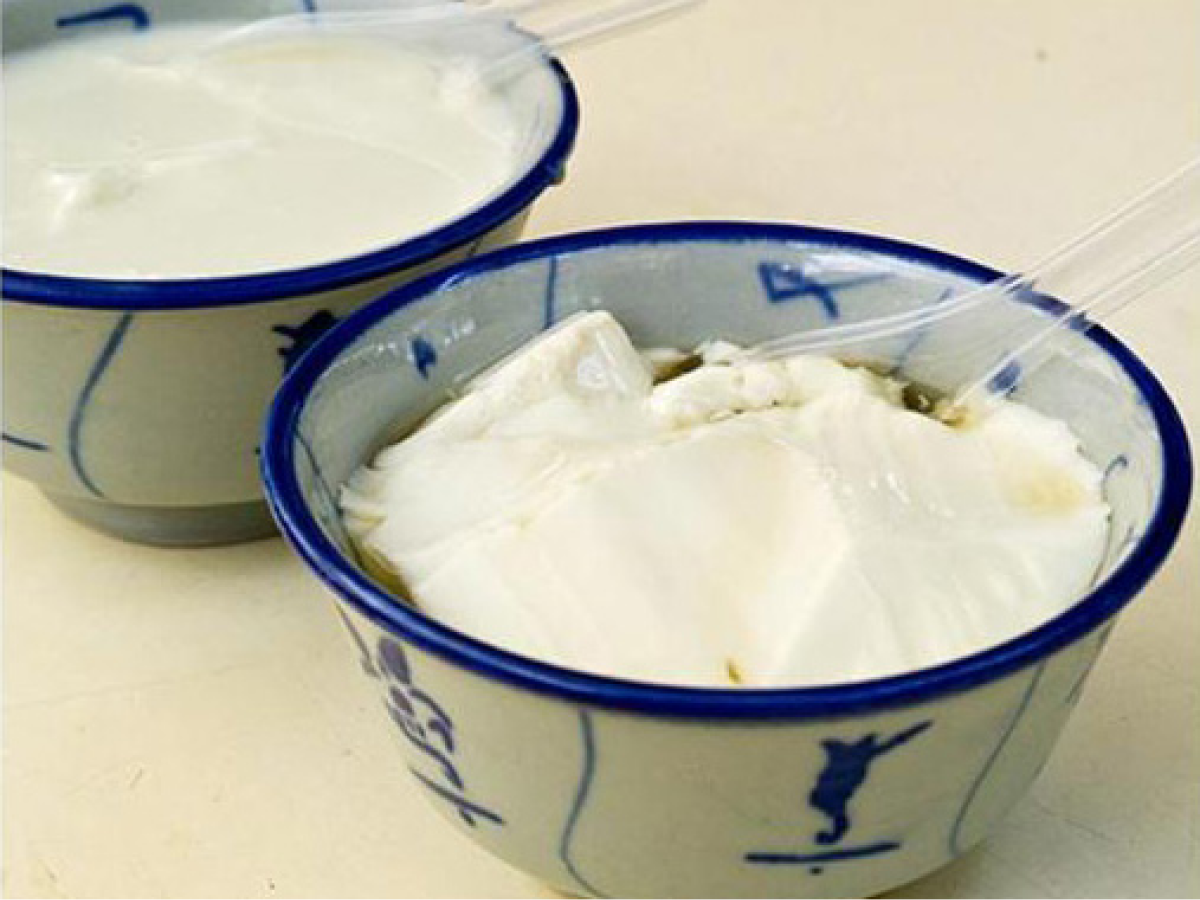 A new food fad is causing a friendly war among soya beancurd sellers at the popular Old Airport Road hawker centre, a food centre that has long been acknowledged as one of the best in the country. On any given day, you'll find queues of people – we saw an average of 15 people during our visits – lining up for a taste of what has been called soya creme brulee!
Unlike the traditional type of soya beancurd, this version is smoother, milkier and closer in texture to traditional steamed egg custard found in Hong Kong. It is also eaten cold from the container in which it is set, and not scooped out like the traditional version. Compared to the traditional beancurd, the 'new' curd has a subtle soya bean flavour with a tinge of milk and malt taste – something that has been likened to the taste of non-dairy creamer.
Many different flavours, such as blueberry, almond, strawberry and even durian, has been infused into this dessert. But as not all the stalls at the food centre sold the same flavours, we tried the original version for this taste test.
The need to innovate has also driven one traditional soya beancurd stall to offer new creations such as soya beancurd with interesting toppings like red bean and the use of organic soybeans. We have included this stall in our test.
Here's the verdict:
Lao Ban Soya Beancurd EDITOR'S PICK!
Unit: 01-127 and 01-107 (facebook.com/Laobansoya)
Price: $1.50 (original)
Rating: 4.5/5
This is the original stall that started selling the new version of soya beancurd over a year ago. And while other stalls, such as 51 Soya Bean, have developed recipes very close to Lao Ban's offering, this is still the one to beat.
The dessert here is the softest and silkiest of the lot, and has subtle soya bean taste. It is also tinged with just the right amount of sweetness. We also liked that it didn't turn watery after some time.
The only thing that marred our experience was the very thin layer of skin that formed on top of the dessert. This added a slight roughness to certain parts of the curd.
Variety wise, besides the original, Lao Ban also sells almond-flavoured soya beancurd, soya milk and herbal jelly.
QQ Soya Bean
Unit: 01-165 (facebook.com/qqsoyabean)
Price: $1.80 (original)
Rating: 4/5
While not as popular as 51 Soya Bean and Lao Ban, this newest entry into the curd war is a surprisingly good find. Texture-wise, the dessert was very smooth and silky, and a little firmer than the one offered by Lao Ban and 51 Soya Bean – this version is the most similar in texture to silken tofu. Made well, only a little liquid leeched out of the dessert as we ate it.
Taste-wise, purists who enjoy soya bean milk or the traditional soya beancurd will love QQ Soya Bean's version – it is the most authentic-tasting of the four we tried. At the same time, the soya bean taste was, thankfully, not overpowering. It was also the least sweet-tasting of the lot.
Besides the original, there is also the almond version and soya bean milk on offer.
51 Soya Bean
Unit: 01-72 and 01-125
Price: $1.50 (original)
Rating: 3.5/5
This stall is opened by Lao Ban's neighbour, who sells crispy and delicious curry puffs (Wang Wang Crispy Curry Puff), next door. The taste of 51 Soya Bean's offering was the closest to Lao Ban's version, but texture-wise, it was firmer and slightly grainier.
While it didn't have the thin film/skin on the surface, quite a large amount of liquid seeped out such that by the time we had our last scoop, it was quite messy and watery. Overall, while the differences between 51 Soya Bean and pack leader Lao Ban were minimal, we feel that QQ Soya Bean was better than this stall on the whole.
Interestingly, 51 Soya Bean also has durian-flavoured beancurd. There's also the almond and strawberry versions and soya bean milk.
Bean Flower Water
Unit: #01-102
Price: $1.50 (original)
Rating: 2.5/5
After the soya beancurd craze started, the owner of this soya bean milk stall converted his business to focus on selling soya creme brulee.
Unfortunately, while he is the most creative of the lot with flavours like strawberry and blueberry, his version was the most disappointing. Grainy and overly firm, this curd also had the irritating skin on its surface – a little thicker than the film on Lao Ban's. The saving grace? It was less sweet than Lao Ban and 51 Soya Bean's versions, which admittedly, suit those with a sweet tooth more.
Bean Flower Water's blueberry version was also quite unique and tasty, although it had the same textural issues as the original flavoured one.
Gogo Beanz
Unit: 01-56
Price: $1.30
Rating: 2.5/5
Gogo Beanz sells traditional soya beancurd with and without toppings such as aloe vera, red beans and sea coconut. We tried the plain ol' original version, which was scooped out, piping hot, from a tub. Although made of organic soya beans, the taste of the curd was not as strong as we would have liked it to be and the accompanying sugar syrup was very diluted. It would have been better if the syrup was thicker, which would have made the dessert sweeter. It also seems to lack pandan fragrance.
Texture-wise, the curd was firm and smooth. Definitely not as milky or creamy as the new soya beancurd, but soft and velvety enough to slide down the throat.
Also check out Dr Leslie Tay's recommendations on other hawker stalls at Old Airport Road Food Centre!
---
This archived article appeared in an earlier version of HungryGoWhere and may not be up-to-date. To alert us to outdated information, please contact us here.