10 cafes in Bali to fuel your travels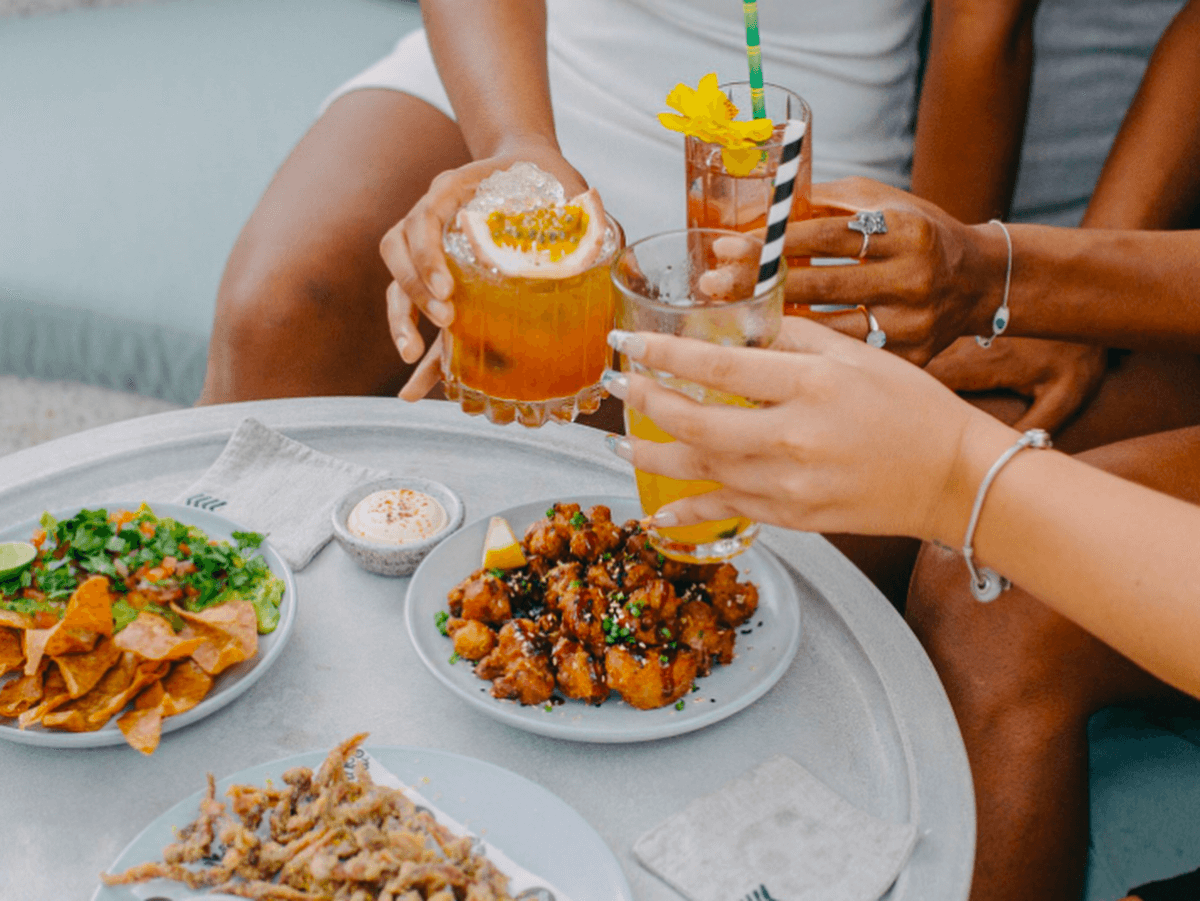 No matter what you are looking for — adventure, solitude, culture, religion, or history — there's probably something for you in Bali. The tropical paradise has widespread appeal, with its natural beauty, iconic beaches, crystal-clear waters, coral reefs, and volcanic mountains.
For the foodies, Bali is teeming with trendy cafes and coffee shops within a stone's throw away from one another. If you don't leave the "island of the gods" with a phone full of 'gram-worthy shots and a satisfied stomach, you probably need to give your itinerary another look.
Here are 10 cafes in Bali to get you started on your cafe-hopping jaunt.
1. Milk and Madu
Jalan Pantai Berawa No 52, Tibubeneng, Kec. Kuta Utara, Kabupaten Badung, Bali 80361
Open: Monday to Sunday (7am to 10pm)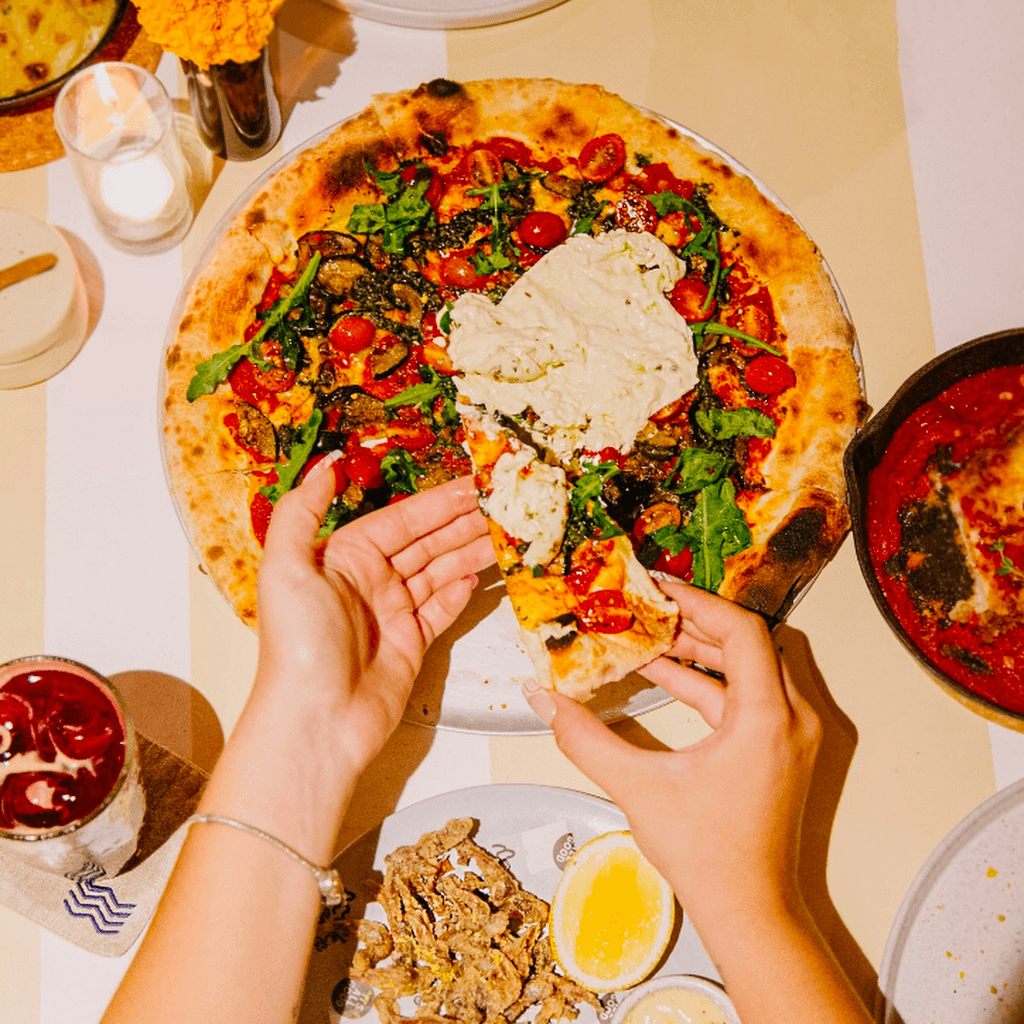 From the people behind Watercress cafe, Milk and Madu has become an institution in Bali for its delicious all-day breakfasts, lunch and dinner. Adored by locals and tourists, it's a great place for friends and families.
Stepping into Milk and Madu may feel a little like cafes from the land down under, and it's likely because the owners Jordie Strybos and Pablo Fourcard grew up in Byron Bay, Australia.
Strybos and Fourcard, both foodies, are dedicated to putting in their due diligence before starting a new venture. They travelled to Italy to research pizzas before adding them to the menu at Milk and Madu.
What to order: The Madu (95,000 rupiah, or S$8.90), all pizza variants (from 95,000 rupiah)
2. Seniman Coffee Studio
Jalan Sri Wedari No 5, Banjar Taman Kelod, Kecamatan Ubud, Kabupaten Gianyar, Bali 80571
Open: Monday to Sunday (7.30am to 10pm)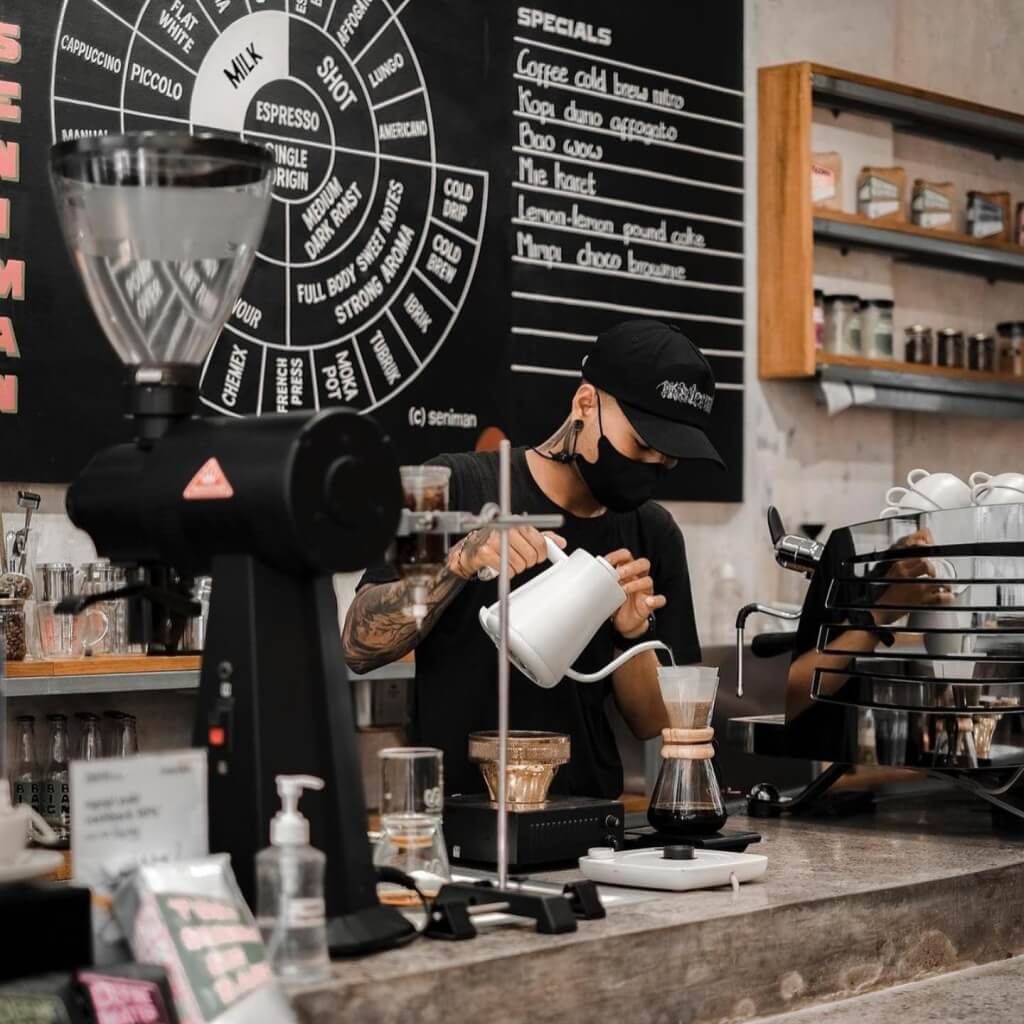 Coffee lovers are rejoicing because Seniman Coffee — one of Indonesia's leading specialty coffee brands — has a coffee shop in Ubud where all beans are graded and roasted in-house. Enjoy a variety of quality coffee ranging from Seniman cold brew (30,000 rupiah) and Seniman kopi susu (30,000 rupiah) to single-origin manual coffee (starting from 28,000 rupiah). Kopi susu is otherwise known as coffee milk, a delightful concoction of coffee syrup or coffee extract and milk.
Not just a coffee house, Seniman Coffee also offers brunch items such as avocado on toast (65,000 rupiah) and shakshouka (70,000 rupiah) alongside Indonesian delights such as bubur (52,000 rupiah), an Indonesian congee.
The relaxed atmosphere is dotted with rocking chairs — recycled from plastic deck chairs — and wooden tables, encouraging you to catch your breath and unwind with a cup of joe.
What to order: Nitro cold brew (45,000 rupiah), Seniman kopi susu (30,000 rupiah)
3. Braud Cafe
Jalan Mertanadi No 62, Kerobokan Kelod, Kec. Kuta Utara, Kabupaten Badung, Bali 80361
Open: Monday (8am to 4pm); Tuesday to Sunday (8am to 5pm)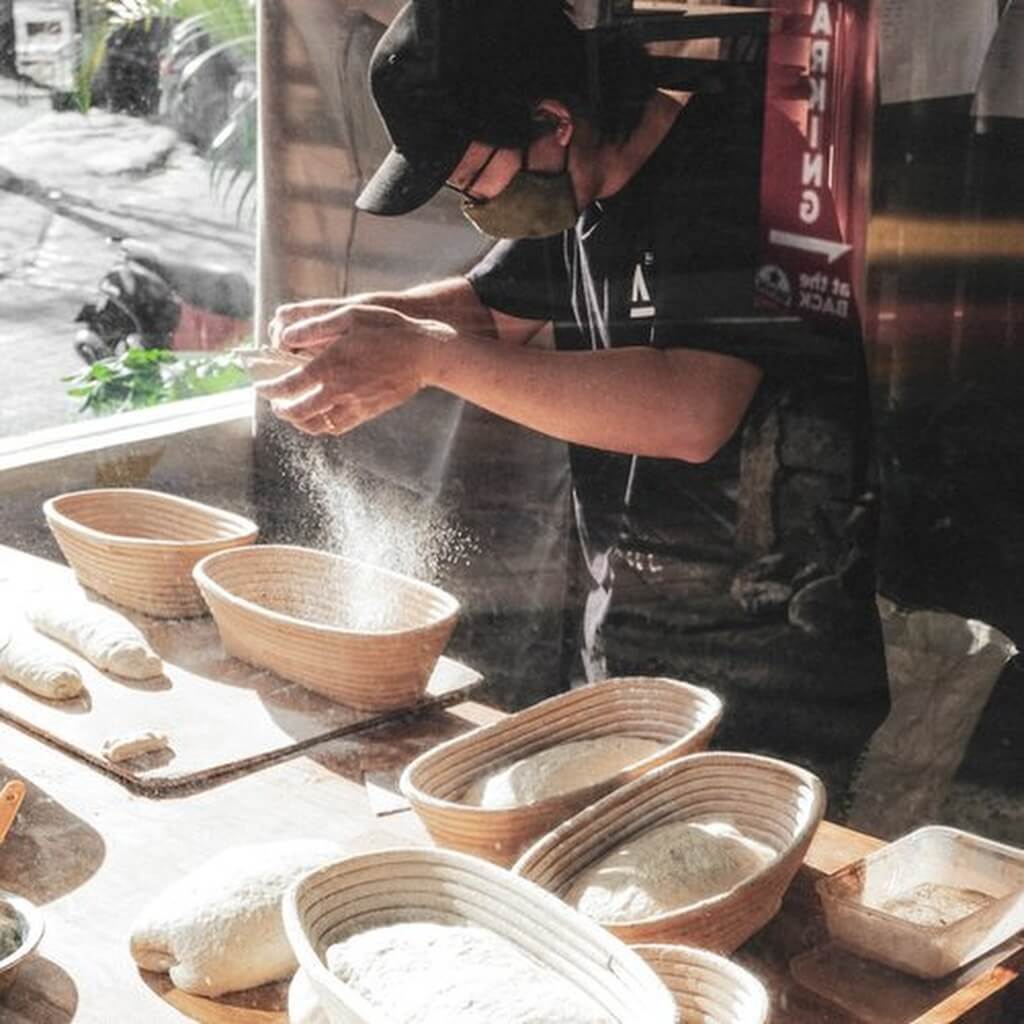 Braud Cafe opened its doors in 2020. An extension of Braud Artisan Bakery — an artisanal bakery specialising in authentic sourdough loaves — the cafe doesn't disappoint.
The loaves and baked goods sold here are handcrafted on-site daily to deliver fresh and high-quality products. The crowds are a definite testament to the love, time and effort put in.
Head there early to snag a seat and enjoy a delectable breakfast or grab a few pastries to go.
What to order: Truffle scrambled eggs (76,000 rupiah), pastries (starting from 16,000 rupiah)
4. BGS Coffee
Jalan Munduk Catu No 1, Canggu, Kec. Kuta Utara, Kabupaten Badung, Bali 80361
Open: Monday to Saturday (8am to 10pm), Sunday (8am to 9pm)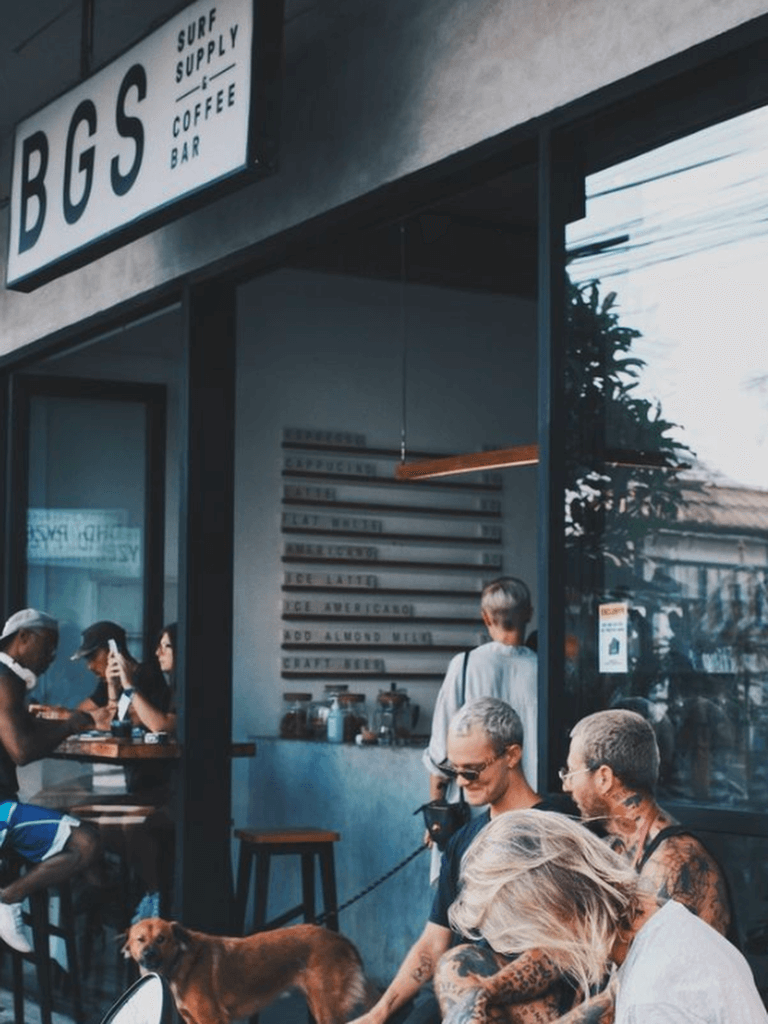 BGS Coffee is not only a coffee bar; it also doubles as a surf shop selling surfboards and surf essentials. It aims to connect people to share tips, tales, waves, stoke (surfers' slang for "cool"), and amazing coffee.
Offering one of the best almond milk lattes (40,000 rupiah) in Bali, BGS Coffee uses its homemade almond milk — one that is highly raved by dairy and non-dairy drinkers. The coffee beans hail from the Mandailing region in Sumatra, renowned for their low acidity, floral aroma and sweet aftertaste.
Pay this cosy community-first coffee shop a visit to get amped up for a day of surfing or for a pick-me-up in between sightseeing.
What to order: Smoothie bowls (55,000 rupiah), almond milk latte (40,000 rupiah)
5. Zest
Jalan Penestanan Kelod Jalan Penestanan No 8, Sayan, Kecamatan Ubud, Kabupaten Gianyar, Bali 80571
Open: Monday to Sunday (8am to 10pm)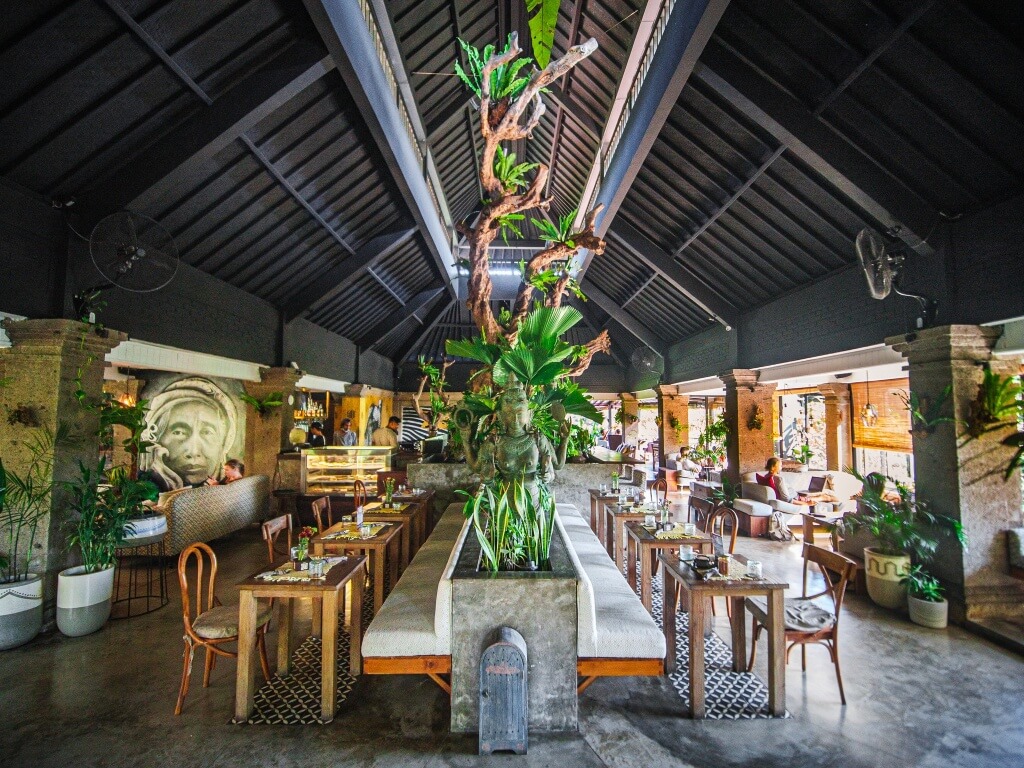 Culture and beauty coincide at Zest. Residing in a traditional Balinese building, it features murals from artist ArtxPan and a native Kamboka tree at the heart of the restaurant, while overlooking the Campuhan Ridge jungle.
Zest seeks to connect individuals to themselves and the Earth by using local ingredients, while supporting organic farmers and local artisans. Unknown to some, a few staff members grow a portion of the produce used here.
You're invited to try its plant-based menu as Zest serves a wide variety of items that will likely wipe the thought of meat off your mind.
What to order: Wake Up burger — shiitake burger patty with daikon bacon, grilled onion, cheese, tomato and ketchup (69,000 rupiah), Cacao Ceremony — hot chocolate made with organic Balinese cacao, and a bit of palm nectar and water (40,000 rupiah)
6. Suka Espresso
Jalan Labuansait No 10, Pecatu, Kec. Kuta Sel., Kabupaten Badung, Bali 80361
Open: Monday to Sunday (7.30am to 9pm)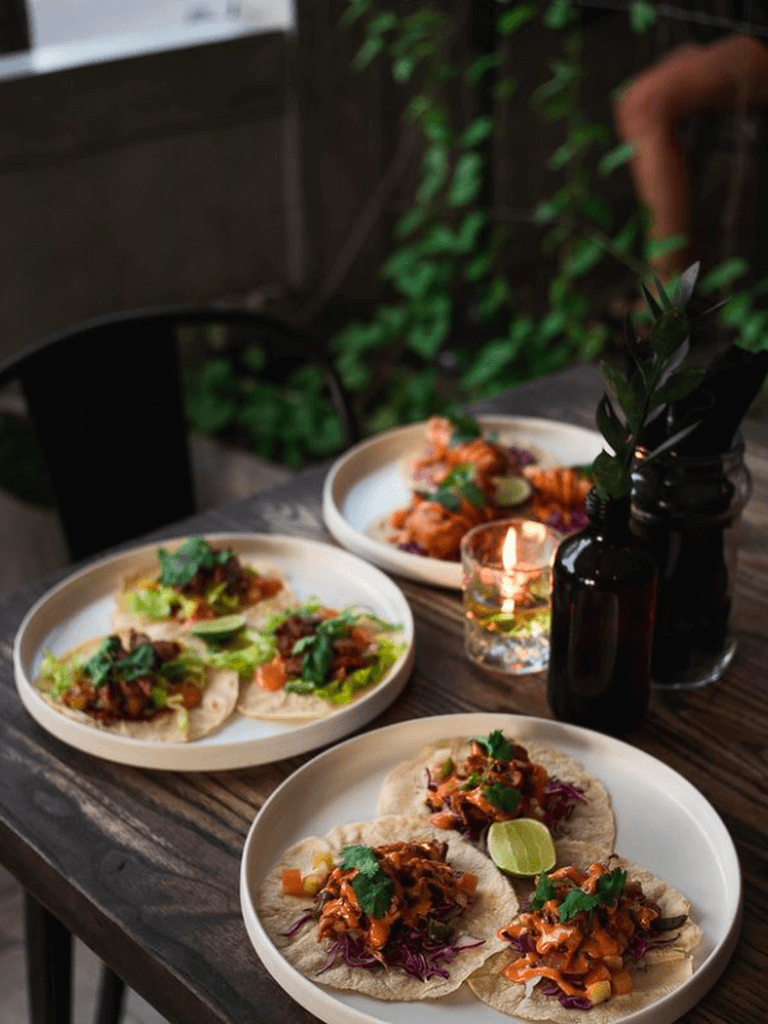 From humble beginnings, Suka Espresso launched in 2016 armed with a coffee machine, a domestic fridge and a panini press. Since then, it has flourished and opened a third location in December 2021.
Another Australian-inspired cafe, Suka Espresso serves up Western fare and high-quality coffee throughout the day. Its specialty coffee is sourced from across Indonesia and roasted locally in Bali.
Don't worry about missing breakfast if you choose to sleep in — its morning menu is served till 3pm. Thereafter, its evening menu kicks in alongside an array of cocktails.
What to order: Grilled chicken burrito (65,000 rupiah), Chief beef burger (78,000 rupiah), chocolate brownies (35,000 rupiah)
7. The Fat Turtle
Jalan Petitenget No 886 A, Kerobokan Kelod, Kec. Kuta Utara, Kabupaten Badung, Bali 80361
Open: Monday to Sunday (9am to 5pm)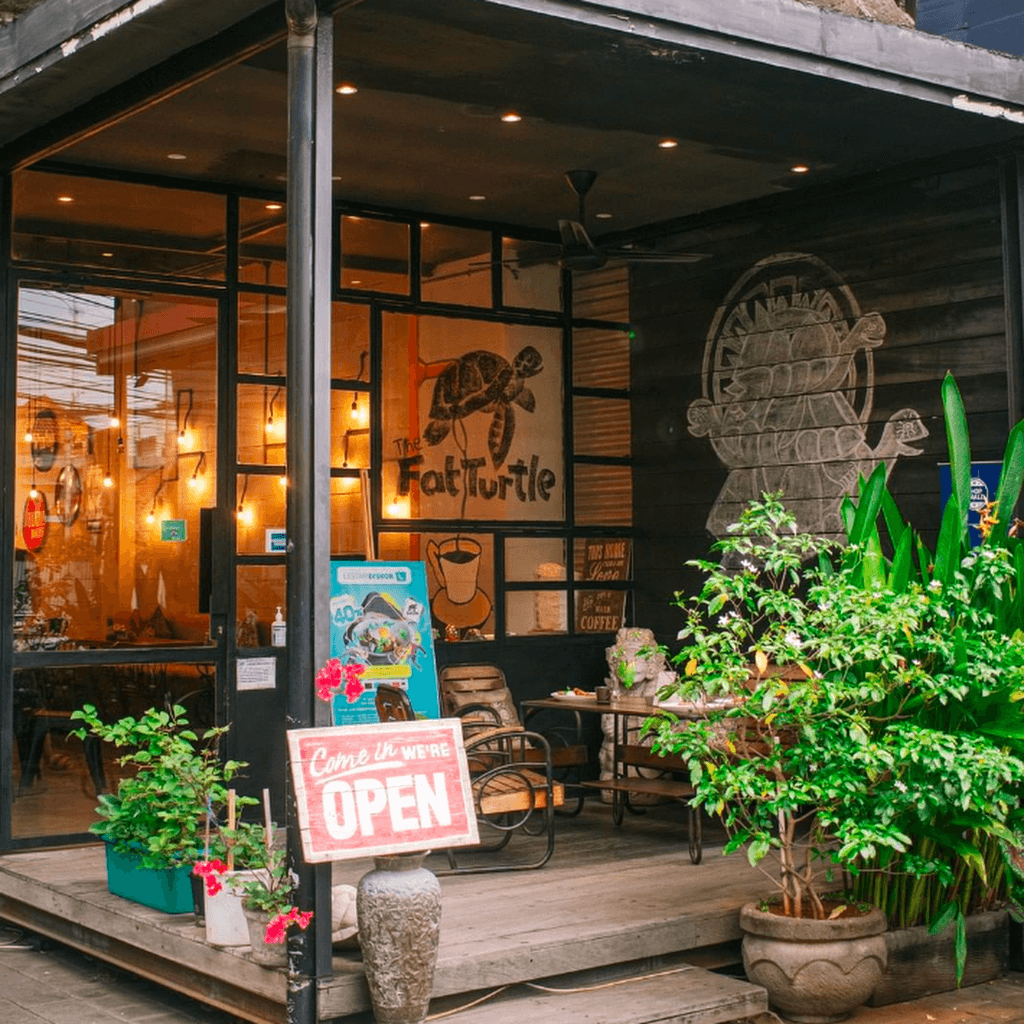 A cafe hidden off the road, The Fat Turtle may be a little harder to find. You'll know you're in the right place by looking out for the turtles drawn along the wall.
It's a rustic-looking cafe with old-fashioned tiles, fairy lights and wooden tables assembled from vintage sewing machines. The Fat Turtle is famed in Bali for its fluffy pancakes and lattes — the red velvet pancake offered here was once a viral internet sensation.
Pay this welcoming cafe a visit for a leisurely start to your day and enjoy the all-day breakfast offered here.
What to order: Red velvet pancakes (60,000 rupiah), fried chicken and waffles (60,000 rupiah)
8. Satu-Satu Coffee Company
Jalan Pantai Berawa No.36, Tibubeneng, Kec. Kuta Utara, Kabupaten Badung, Bali 80361
Open: Monday to Sunday (7.30am to 4pm)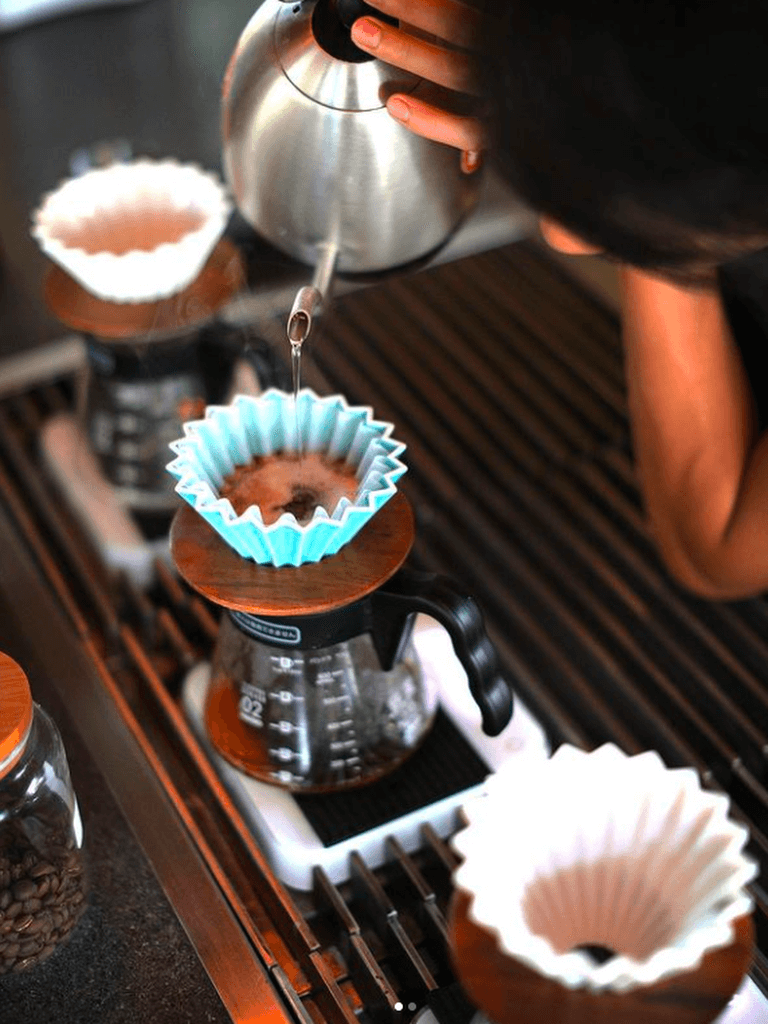 Yet another local roastery, Satu-Satu Coffee is named after the Sudana family. The family's coffee plantations have been in operation since 1985 and are renowned for producing one of the highest-quality coffees in Bali.
Other than traditional Indonesian coffee, you can find luwak coffee — a localised version of the civet cat coffee — here. The animals are fed coffee cherries and their faeces is collected before processing.
The local and international food options make this an attractive spot for tourists. Sharing tables is common here owing to the large crowd. With some luck, you may walk out with a new friend.
What to order: Lady Gaga bowl — dragonfruit smoothie topped with tropical fruit, grated coconut, granola and honey (50,000 rupiah), coffee (starting from 20,000 rupiah)
9. Sea Circus Restaurant and Bar
Jalan Kayu Aya No 22, Seminyak, Kec. Kuta, Kabupaten Badung, Bali 80361
Open: Monday to Sunday (7.30am to 10pm)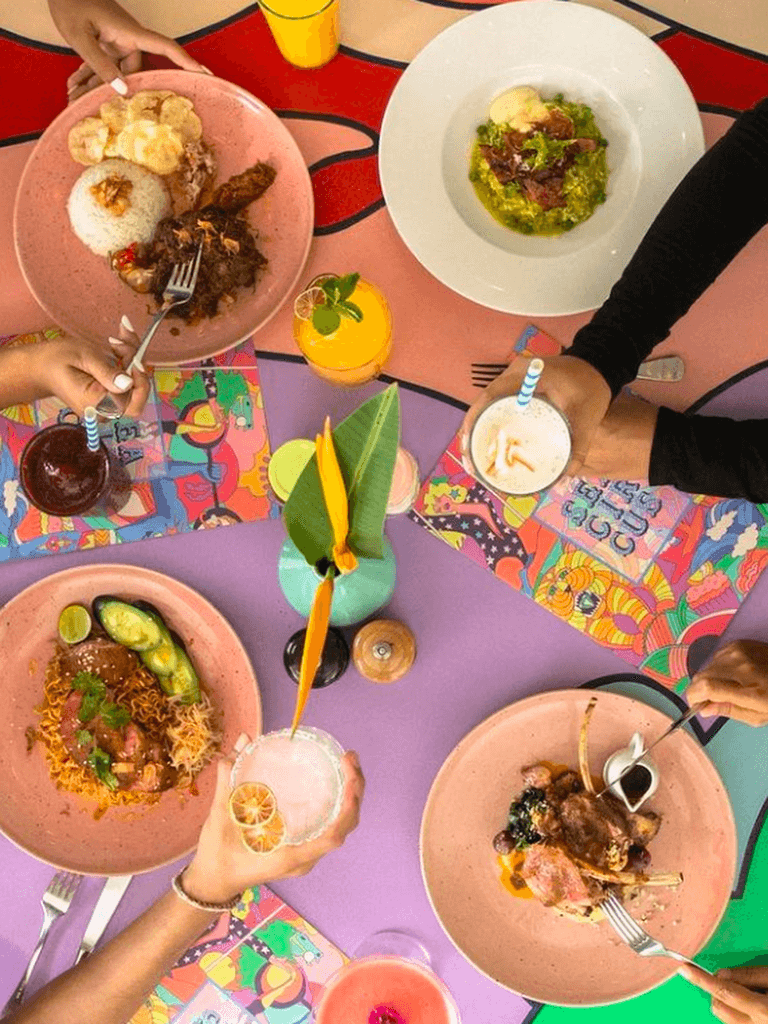 Sea Circus Restaurant and Bar's flamboyant facade should be sufficient to stop you in your tracks. It's whimsically themed with eye-catching circus murals and coloured glass louvres. The bright and cheery interior mimics a beach shack with a turquoise bar and washed wood tables.
The food here is simple yet hearty, with a large variety to suit your whimsical moods. Serving breakfast, lunch and dinner — with a strong focus on Mexican fare — Sea Circus delivers whatever you may be looking for. It even has hangover meals for the morning after.
What to order: Baja fish tacos (60,000 rupiah), smoothie bowls (starting from 50,000 rupiah)
10. Coffee Cartel
Jalan Kayu Aya No.22, Seminyak, Kec. Kuta, Kabupaten Badung, Bali 80361
Open: Monday to Sunday (7.30am to 6pm)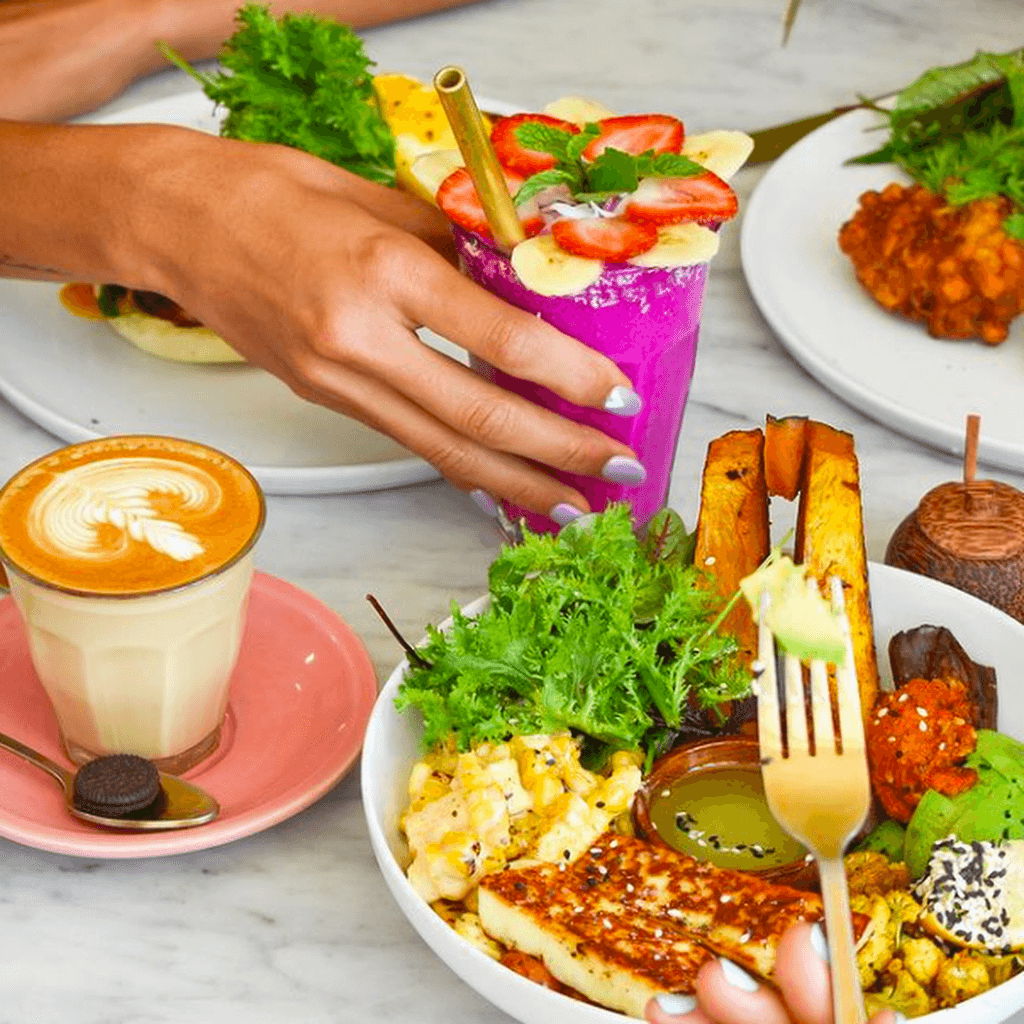 The atmosphere of Coffee Cartel transports you a little way across the world. The Los Angeles-inspired boutique cafe offers a modern Australian-Indonesian fusion menu.
Presentation is highly valued here, with plenty of effort going into making your spread a 'gram-worthy picture. Personalise your coffee with its printing service, which allows the baristas to recreate any picture atop a foam layer.
A trendy breakfast and brunch place, Coffee Cartel also created its unique blend of coffee. The blend is created with imported and locally sourced green beans, and is one of the few licensed coffee Q graders (professionals capable of scoring the quality of roasted coffee) in the world.
What to order: Pink beetroot latte (40,000 rupiah), Bali bowl — comprising a roast pumpkin wedge, roasted sambal corn, turmeric cauliflower, sambal eggplant, avocado, halloumi, mixed leaves, cherry tomatoes and lemon wedge (90,000 rupiah)