[CLOSED] Interview with Raymond Khoo from The Peranakan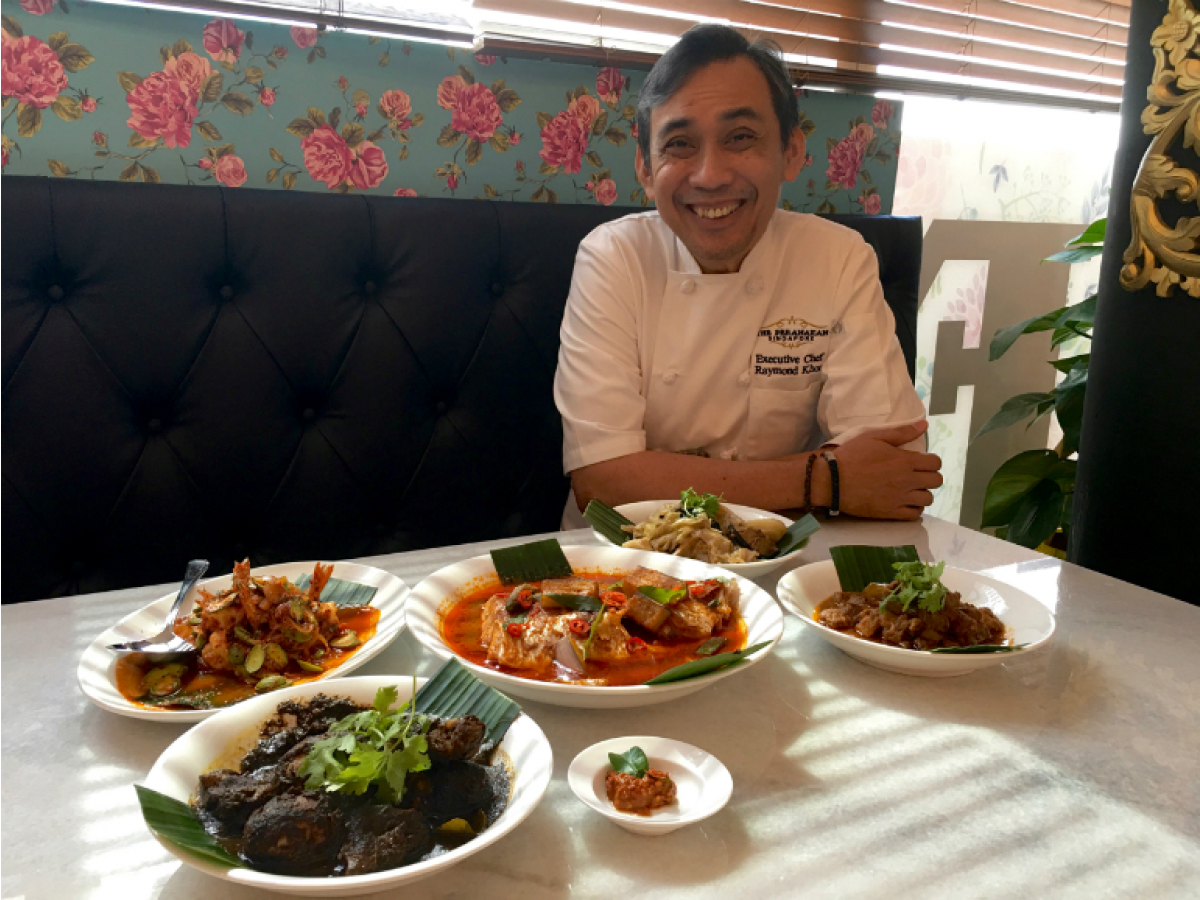 HungryGoWhere sat down and chatted with 52-year-old Raymond Khoo, the owner/executive chef of The Peranakan. We found out that he came out of retirement to start a Peranakan restaurant out of passion and to preserve the food and culture of the Straits Chinese.
How did The Peranakan come about?
I've actually been in the restaurant business for about 30 years, working as an executive chef, cooking all sorts of cuisines from French, American to Mexican and Italian (Tong Shui Café, 3 Monkeys, Rasa Singapura Macau).
I learnt all the Peranakan recipes from my mother and godmother but the only time I had to cook Peranakan food was over the weekends and I did that for many years.
Funny thing is that when I was younger, I would tell them what I wanted to eat and they would cook it. Now after 15, 20 years, it's the reverse. They tell me what they want to eat and now i have to cook it for them!
Why open a Peranakan restaurant and why come out of retirement to do it?
I retired about three years ago as I had enough of the restaurant business. So The Peranakan is mainly for passion as Peranakan food is a cuisine which I have not done before.
My mother and godmother always kept on saying: "you open so many restaurants, how come you never open a Peranakan restaurant?" Save the recipes, the heritage and the culture behind it. So when this space (at Claymore Connect) became available, I said ok, let's do it. Let's start a restaurant that's an incredibly authentic introduction to Peranakan food. It was quite a quick decision after that. Within a month, we got started.
I sent a note out to all my ex-staff and suddenly everyone wanted to join, including Benny and Kenny (Benny Choo and Kenny See) who have been veteran waiters for many years. They're all semi-retired but provide a lot of the colour to the restaurant.
We've heard that The Peranakan has managed to win the approval of many old-time nyonyas in the Singapore Peranakan community. Why do you think that has been happening?
Well, about 20 per cent of our customers are true blue Peranakans. Then you get a larger percentage who are like one quarter Peranakan, one eighth Peranakan. Anyone who is remotely Peranakan will tell you that all the real true blue Peranakans prefer to just eat at home. But yes, we do have a fair bit of the older Nyonyas coming here to eat.
Usually when they go down to a Peranakan restaurant, you'll find that they will be very critical. "The food is not good, not right" and so on. But here they come over to me and they're sharing their experiences of the dish and saying things like "you cook this very good" or that they haven't eaten this or that dish for so long.
We also try to be accommodating. For example, a lot of the older generation Peranakans like to eat kuah lada (fish and brinjal in black pepper and turmeric gravy) with you char kueh (dough fritters, you tiao) so they would ask the staff for it. So I'll arrange for them to have some.
We hear they also like Benny and Kenny
Yes, they're old-timers who have gone through the era, so they can all speak English and Malay and it makes all the older Peranakans feel at home. They like it that they can come here and find people they can talk and relate to. Very often, you'll see the menu being put aside and they will chat away in Malay about what they want to eat.
Why do you think they are so approving of the food?
We truly believe that what we do here is very authentic and we try very hard to make it so.
Take the nasi ulam (mixed herb rice). We can safely say that we're the only restaurant to put this dish on the menu. Everywhere else, you'll find it offered only on a special order basis because it is such a laborious dish to prepare.
We have to finely julienne (cut into long thin strips) the herbs, no blending. So one hour before mealtimes, there are two guys in the kitchen just cutting up all the herbs. Then there is all the other preparation: you have to deep fry the fish then debone it, then mince it, then you need to prepare the rempah (spice paste), plus the salted fish which you need to mince.
Back then when we did the dish at home, it was the only dish we would eat for dinner because it takes half a day to prepare it.
Plus, you'll often see my mother and my godmother sitting outside in a table by the corner. They come twice a week to check on the quality of the food.
We hear the Ayam Buah Keluak (Chicken stew with Indonesian black nut) is also a big hit?
They like what we do here because we take out the flesh, blend it smooth, then put double the amount back in, so each buah keluak you eat here is actually two. We have four buah keluak in one portion and no restaurant will give you that much. Actually as there's double the portion in one buah keluak, we're actually giving you eight.
Plus we don't put minced meat. I'm quite the purist that way. There's no cutting corners here. That's the way we eat at home, so that's the way we serve our customers here.
We blend it smooth because the buah keluak nut is actually quite coarse and can be a bit sandy, so for first-timers who eat it, it can be very off-putting — the taste is quite new, then there is the texture to deal with.
We notice you serve beef rendang which is a Sumatran dish and not Peranakan. Did you have to debate whether to serve it?
Actually there are a few ways we tweak the original cuisine and beef rendang is one which we decided to add in.
We don't have any Peranakan beef dishes, so the beef rendang is the closest which fits into the menu. We also don't do it like the Indonesians do it. There's more kaffir lime leaf and more coconut flavours in ours. There's also some Malaccan influence in the food as well as my father is from Malacca.
Besides the traditional tok panjang (a lavish spread of dishes laid out on a long table during special occasions), we also offer a six-course degustation and an omakase-style Peranakan set, plus we have wine pairings and sake pairings to appeal to the higher end crowd.
---
This archived article appeared in an earlier version of HungryGoWhere and may not be up-to-date. To alert us to outdated information, please contact us here.