Texas Chicken's 13th anniversary: Up to 50% off & free fluffy chicken bags
Many fried chicken fans in Singapore would be familiar with the Texas Chicken brand.
Originating from — you guessed it — Texas, the fast food chain launched in 1952 under the name Church's Chicken. It landed in Singapore in 2010.
Since then, Texas Chicken has expanded to 13 outlets islandwide and now it's celebrating its 13th anniversary with a bang. It'll be launching six mouthwatering chick deals at S$13.90 each on April 16!
Each purchase of a 13th anniversary bundle will also come with an adorable freebie, a chicken-shaped bag fashioned out of soft cotton. 
The cute bags will only be available while stocks last, so get down to Texas Chicken early on April 16 if you want to snag one for yourself.
The chick deals, meant for two, offer up to 50% off. Each deal comprises two mashed potatoes, two soft drinks, and two different kinds of mains catered to different preferences.
Take your pick from items such as popcorn chicken, chicken tenders, wraps, burgers or fried chicken.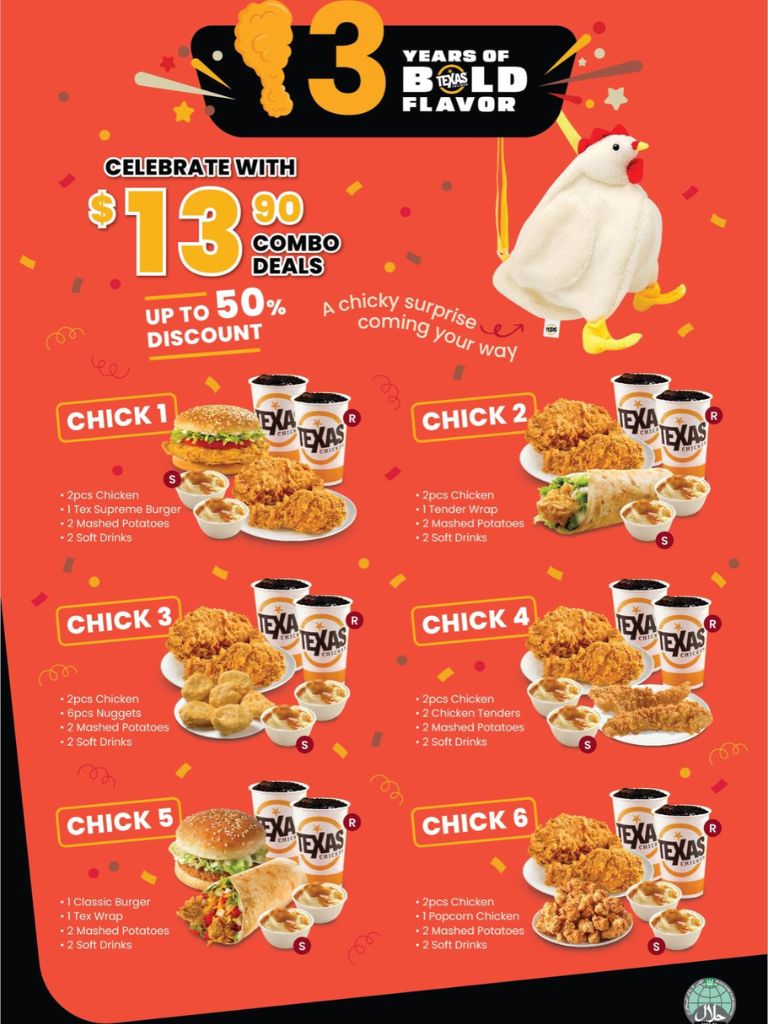 If you want a balanced mix of chicken and carbs, you can get the bundle that comes with two pieces of Texas Chicken's signature fried chicken and one Tex Supreme burger.
There are also options such as the bundle that comes with one classic burger and one Tex wrap.
Multiple stores islandwide
Open: Operating hours vary across outlets
Multiple stores islandwide
Open: Operating hours vary across outlets