Sui Yi Gastrobar is a blast with live music, karaoke and great food under one roof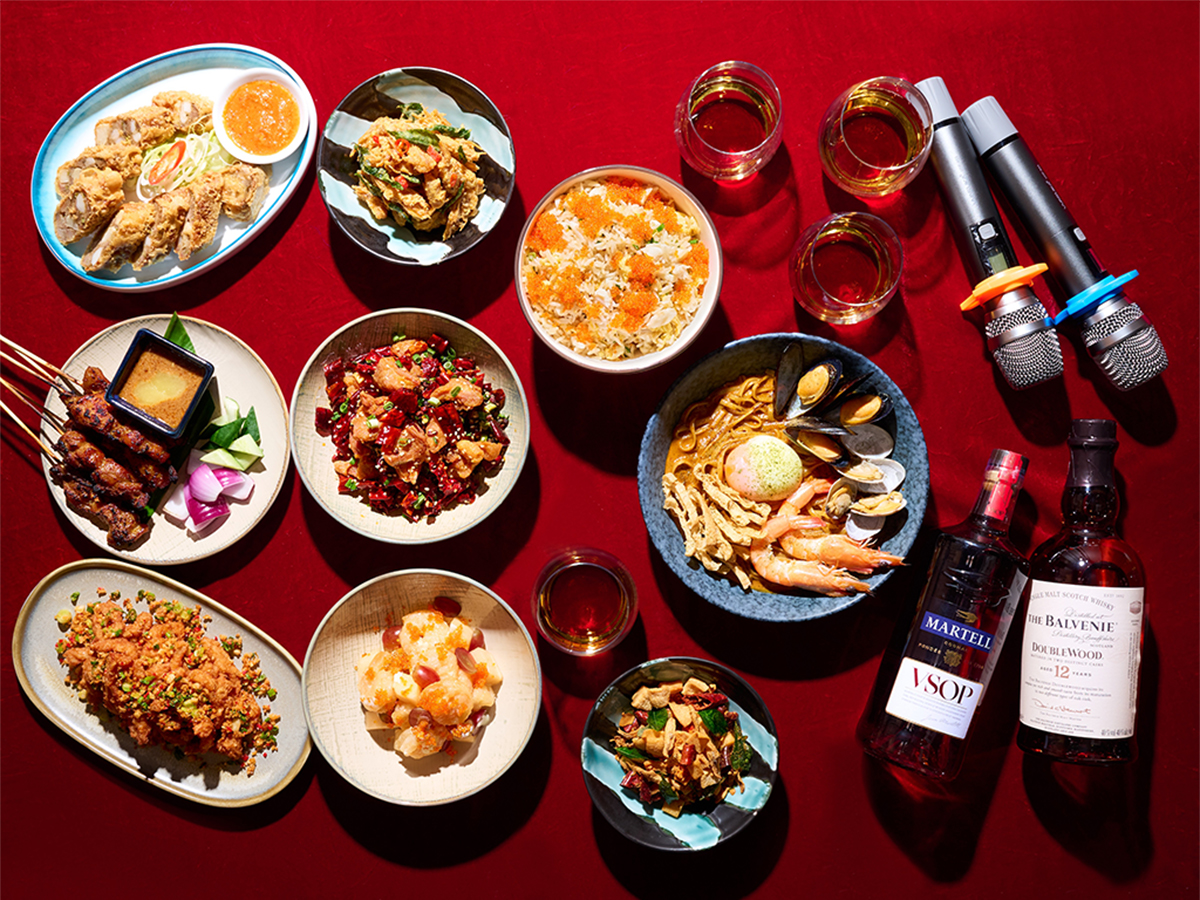 As Singapore's nightlife rouses from its slumber, new kid on the block Sui Yi Gastrobar is, too, gearing up to provide revellers a jolly good time. 
Located near Clarke Quay, this new music-themed multi-concept establishment by Jumbo Group is a haven for foodies looking for a fun night of music, karaoke and gourmet seafood. 
The space is split into three sections: Indoor seats, outdoor seats and private karaoke rooms. There are plenty of large tables and comfy seats, making it ideal for cosy group gatherings.
To add to the vibe, there will be live canto-pop or mando-pop music every Wednesday, Friday and Saturday from 7pm to 10pm.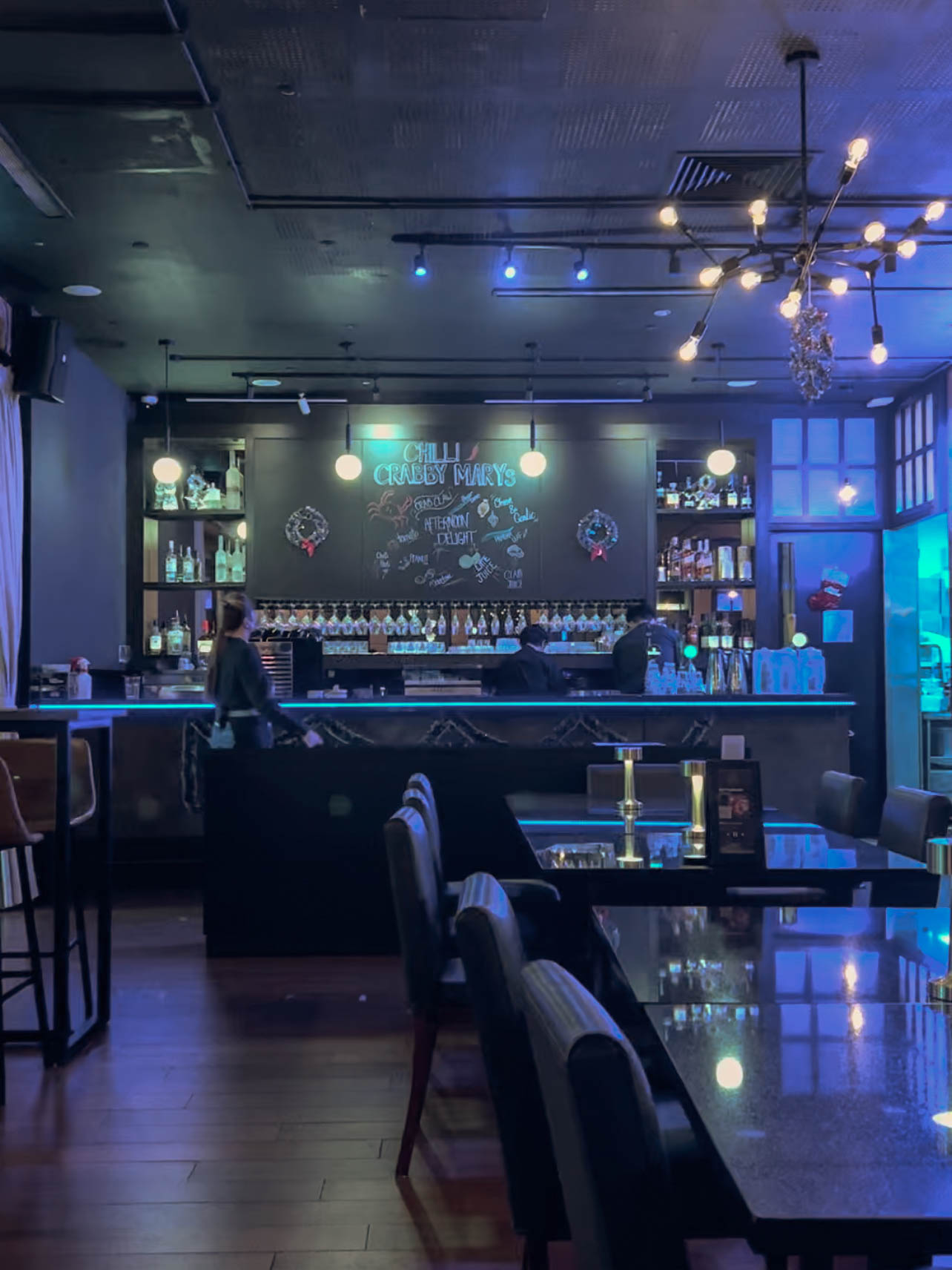 Its menu
True to its theme, Sui Yi Gastrobar's food menu is divided into four sections that are aptly named after musical concepts: Appetising preludes, seafood symphony, golden brown hits and main theme songs. 
Appetising preludes consist of innovative snacks such as the chilli crab flower dome (S$16), which comprises flower-shaped kueh pie tee (a crispy shell) topped with crabmeat, caviar and Jumbo's signature chilli crab sauce, and the pork lard crunch! (S$7).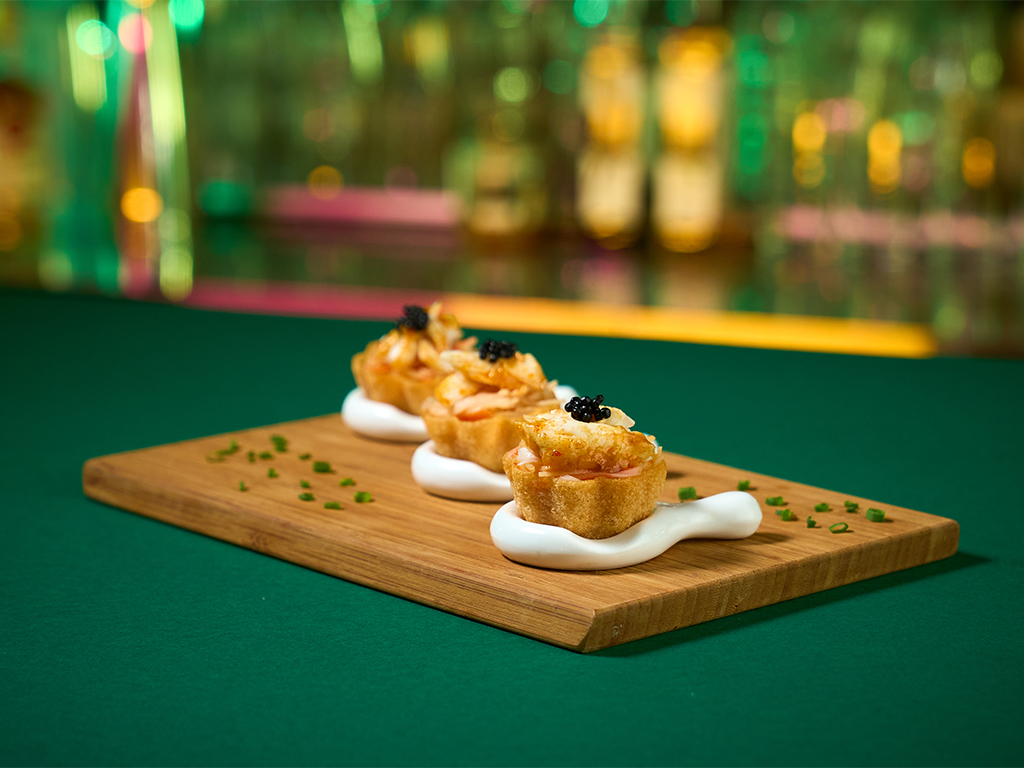 We appreciate that each dish was well curated and crafted with quality ingredients. The pork lard was tossed with ikan bilis, curry leaves, dried chilli and fried garlic to give it a nice savoury touch. It's addictive and didn't feel too heavy with grease. 
Jumbo Group is known for its famous seafood restaurant chain, so it's no surprise Sui Yi has a section that's seafood-centric. The seafood symphony section comprises items such as Master Hawker's sambal sotong (S$28), Wasabi Prawn Bombs (S$24) and Master Hawker's sambal stingray (S$28), all of which felt quite ordinary compared to the other sections.  
The sambal stingray's star ingredient, the sambal, was on the sweeter side and lacked the fragrance of typical sambal chillies. In terms of spice, it was on the milder side. A pity, considering that the stingray was fleshy and had a nice firm texture.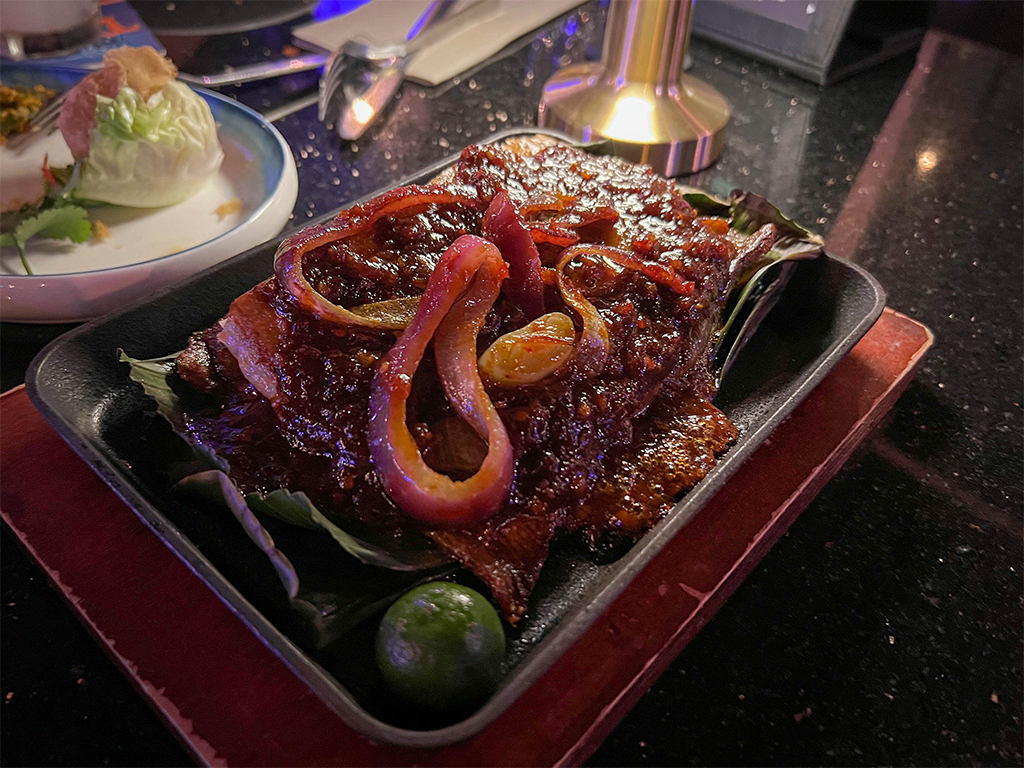 We found ourselves most impressed by the golden brown hits section, which features a range of crispy, fried foods. 
The Fill Good chicken rice balls (S$14) was the eatery's twist on a traditional chicken rice dish. The rice is moulded into a ball with bites of chicken within, deep-fried and served with chicken rice chilli. While it sounds gimmicky, the result was a flavourful chicken rice ball with a delicious crisped exterior.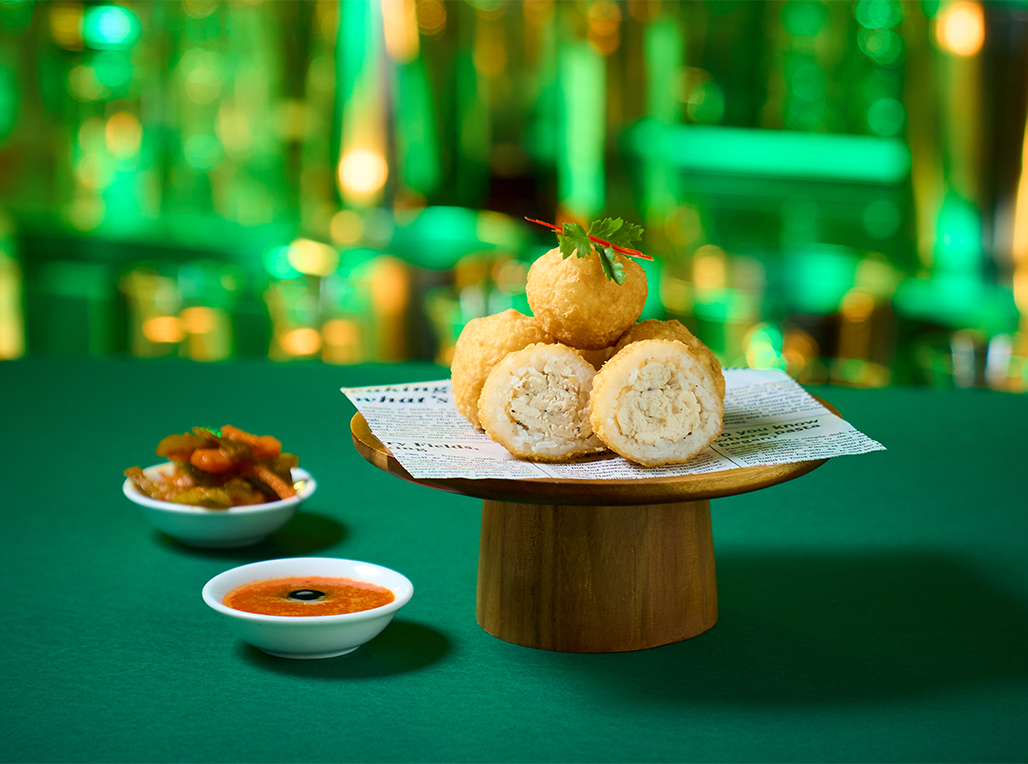 Other honorary mentions include its otafu (S$16), a tofu cube mixed with otah, and the firecracker mala karaage (S$16). 
That's not to say that Sui Yi Gastrobar isn't true to its traditional dishes. For its mains, the Sui Yi's sah poh fan (claypot rice, S$22) is served in a charcoal-fired claypot with Chinese sausages and duck liver sausage. 
This is how it's typically served in Cantonese cuisine. Yet not many places do it as it's quite expensive. That being said, we felt there could have been a better ingredient-to rice-ratio.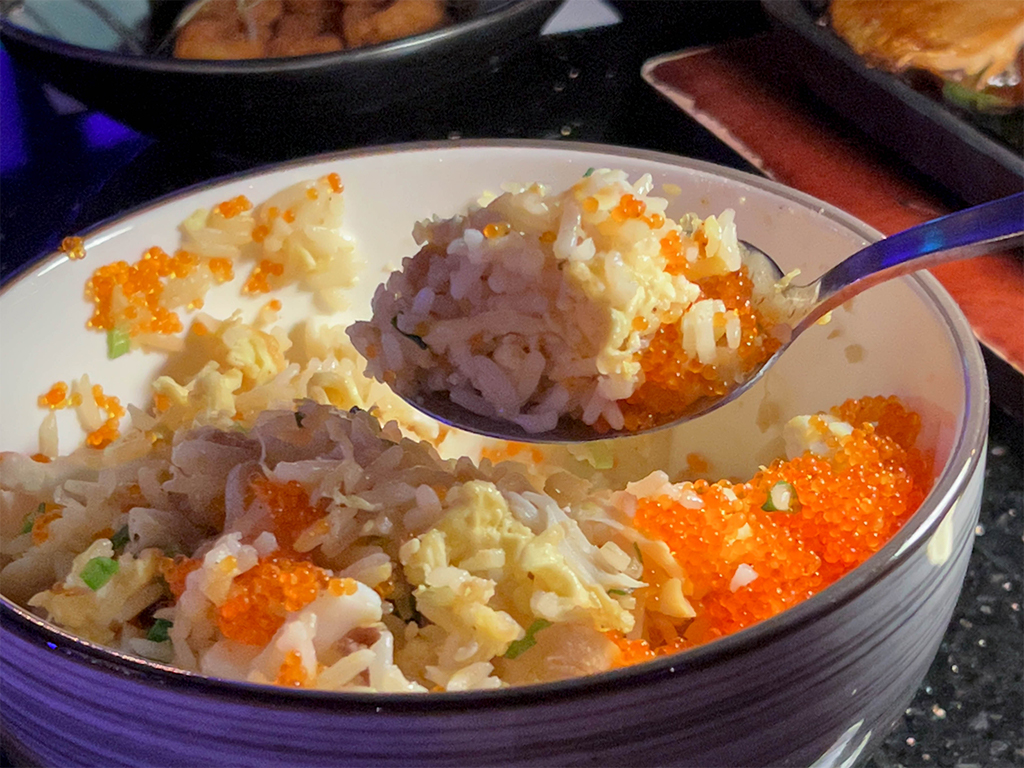 You may want to opt for Sui Yi's supreme crab fried rice (S$28) instead, as it contains generous chunks of crabmeat, lard and tobiko on top of fragrant fried rice. 
What's a night out without drinks? The drinks menu features handcrafted cocktails that are playfully named after popular Chinese songs. The My Lucky Charm (S$19) drink, for instance, is named after Taiwanese singer Hebe Tian's song, Little Happiness (小幸运). 
Sui Yi Gastrobar has happy hour deals that run daily from 5pm to 8pm. It includes options such as beers, house pour spirits, wine, umeshu and sake from as low as S$6. There are also daily specials, such as Fried Chicken Tuesdays where you get to enjoy its har cheong gai (shrimp paste chicken) or firecracker mala karaage for S$2.

Private karaoke dining rooms
If you want to have intimate conversations among your friends, you might want to choose outdoor seating or a private room as it can get a little noisy indoors.
Besides, there's no better way to ring in the new year than with singing and food, which you can do so wholeheartedly at Sui Yi Gastrobar's private karaoke room. There's no time limit to the room and you can sing until the gastrobar closes.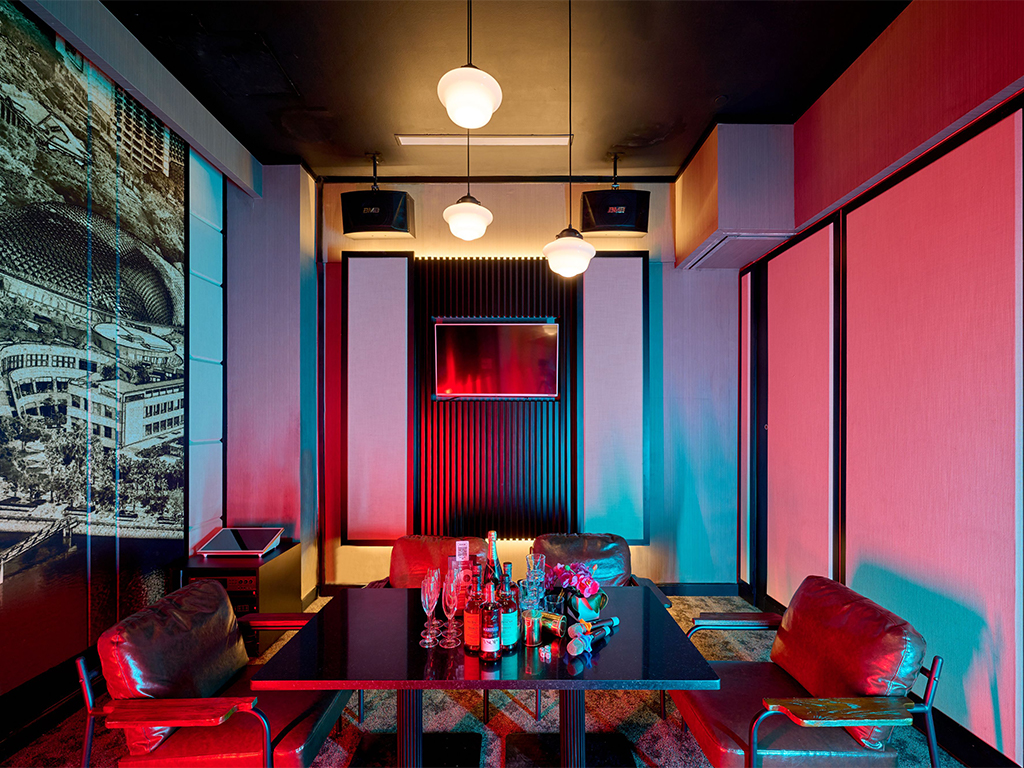 Simply buy one of its dining packages. The basic package starts from S$328 and contains a bottle of Martell Vsop or Balvenie 12-year-old whisky, seven appetisers and two mains. More information on the dining packages can be found on Sui Yi Gastrobar's website. 
Sui Yi Gastrobar is available on GrabFood. You can also book a ride there. 
The Riverwalk, B1-48, 20 Upper Circular Road 
Open: Daily (5pm to 12am)
The Riverwalk, B1-48, 20 Upper Circular Road 
Open: Daily (5pm to 12am)