Milky Way carbonara, anyone? Try unusual space-themed food and drinks at Space Fest @ Expo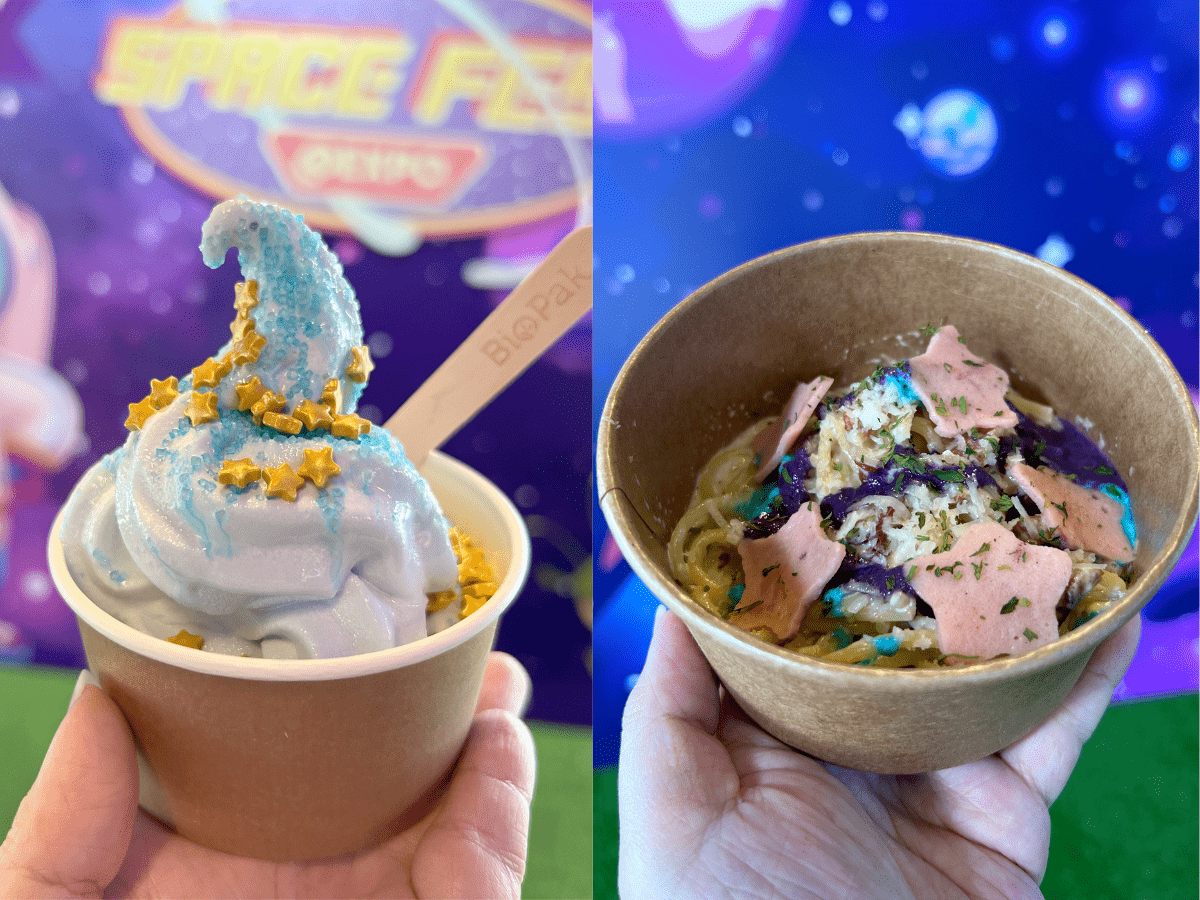 Searching for an otherworldly and unconventional spot to enjoy yourself this December? Here's an idea — how about the Space Fest at Singapore Expo for a galactic fun time with your loved ones?
Spanning over 123,000 sqm, Space Fest @ Expo runs from Dec 3 to 30. It is separated into various activity zones that encourage hands-on and creative exploration. 
You'll need to buy a ticket to enter Activity Shuttle Zone 1, where you get to enjoy a unique line-up of space-themed activities, workshops and arcade gameplay. 
As for food, there are seven food stalls for famished visitors, and they can all be found in the "Solar Bites" station. This area is open to the general public. The stalls offer a variety of Asian and Western treats with a cosmic twist. 
Check out the quirky and Instagram-friendly Milky Way carbonara at the "Mercury" stall. The classic, creamy Italian dish has been given a space makeover, as it comes with ham in the shape of stars and brightly coloured garnish in shades of blue and purple.
Other savoury dishes at other stalls include the Uranus cheese burger and teriyaki chicken burger, both of which are served by Muslim-friendly gourmet burger joint Ashes Burnnit.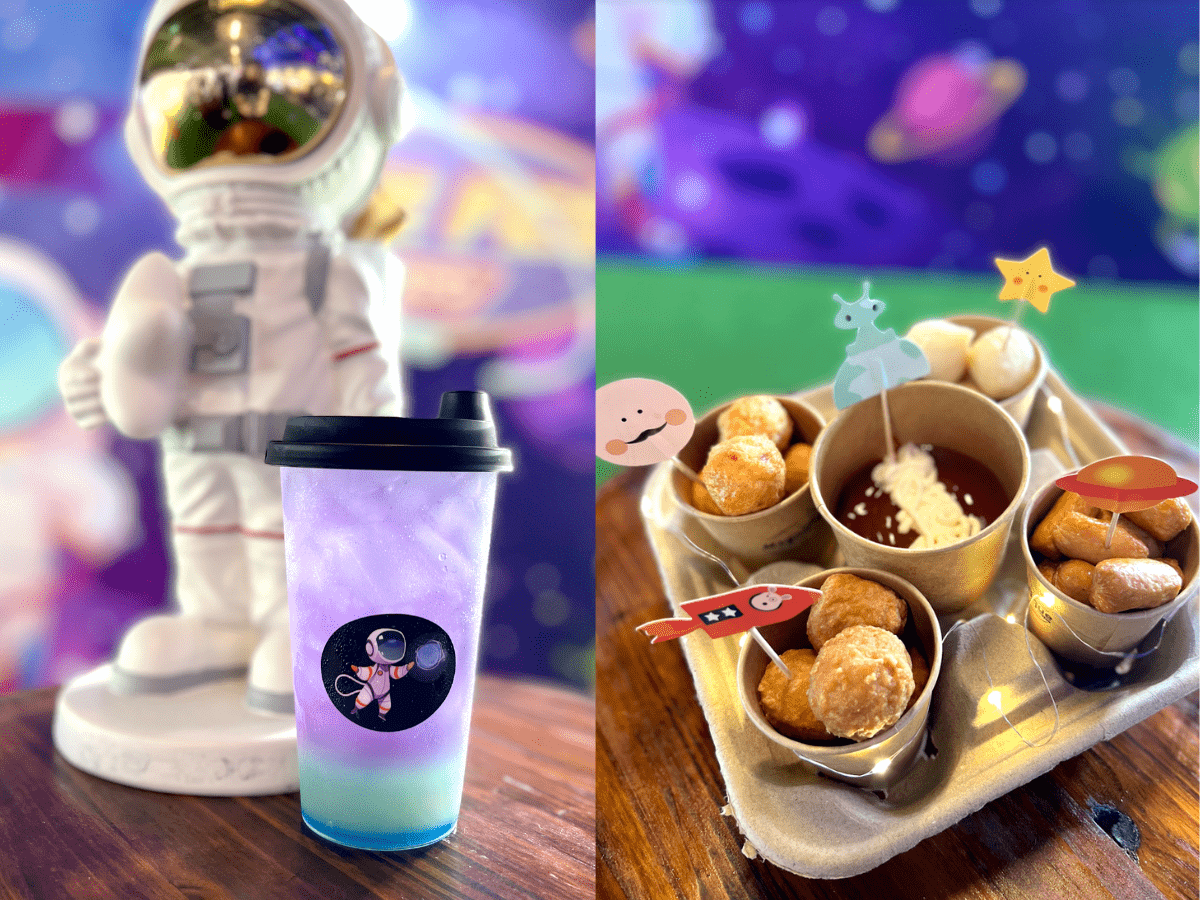 If you prefer something light for snacking, you can try the universal platter that comprises a variety of light bites: Chicken cheese balls, fish ball with tobiko, crab balls and chicken cocktails.
The snacks are served on little cups on a tray, with toothpicks featuring cut-outs that represent some part of space, such as the moon or the planet Jupiter. You can dip the light bites in the ketchup, mayonnaise and chilli sauce mix provided.
After a long day at the festival, go ahead and quench your thirst with the Galaxy Fizz. The drink is made up of fizzy soda mixed with lychee syrup and sundried orange syrup for a refreshing taste. The layers of blue, turquoise and purple lend the drink its celestial vibe.
If you are craving some ice cream, try the shooting stars soft-serve, which comes with sweet and creamy Hokkaido vanilla gelato topped with crunchy gold star sprinkles.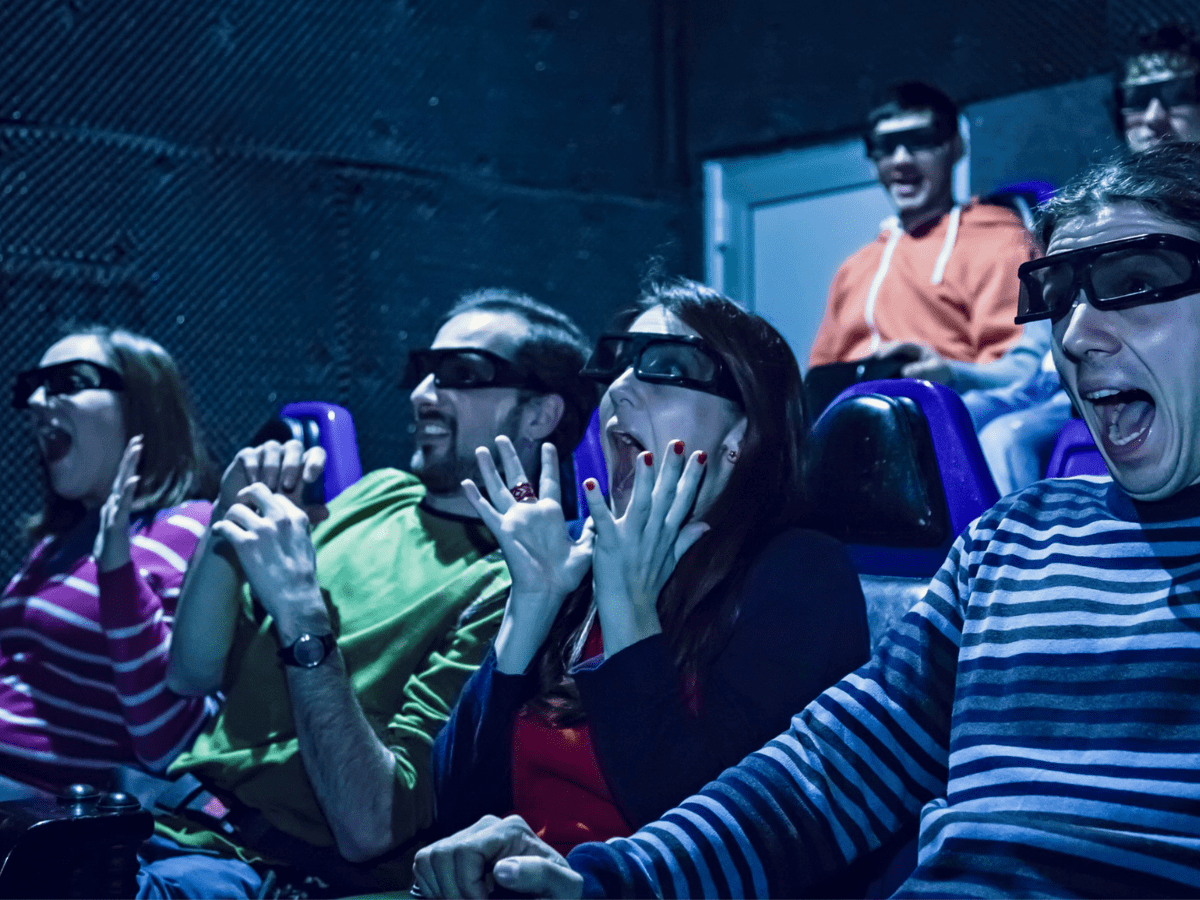 Over at Activity Zone 2, fun-filled activities include Funtasia, a large indoor inflatable theme park for the young and young-at-heart. The space features a 9m-tall inflatable slide, 10 types of giant inflatable rides and bouncy obstacle courses.
You require a separate ticket to enter Funtasia, which costs S$28 for children and S$18 for adults, or S$39, which admits one adult and one child.
There are also go-kart rides for the kids, VR football and a 5D cinema experience for families. Each has its own admission prices, which you can buy on-site. Information about ticket prices for each can be found on the festival's website.
Book a ride to Space Fest @ Expo.
Singapore Expo, Outdoor Atrium & Hall 4, Expo Drive
Nearest MRT station: Expo
Open: Solar Bites food station – Dec 3 to 30 (10am to 10pm); Activity booths – Dec 3 to 30 (Timing varies)
Singapore Expo, Outdoor Atrium & Hall 4, Expo Drive
Nearest MRT station: Expo
Open: Solar Bites food station – Dec 3 to 30 (10am to 10pm); Activity booths – Dec 3 to 30 (Timing varies)