Sarai is a modern take on opulent Thai fine dining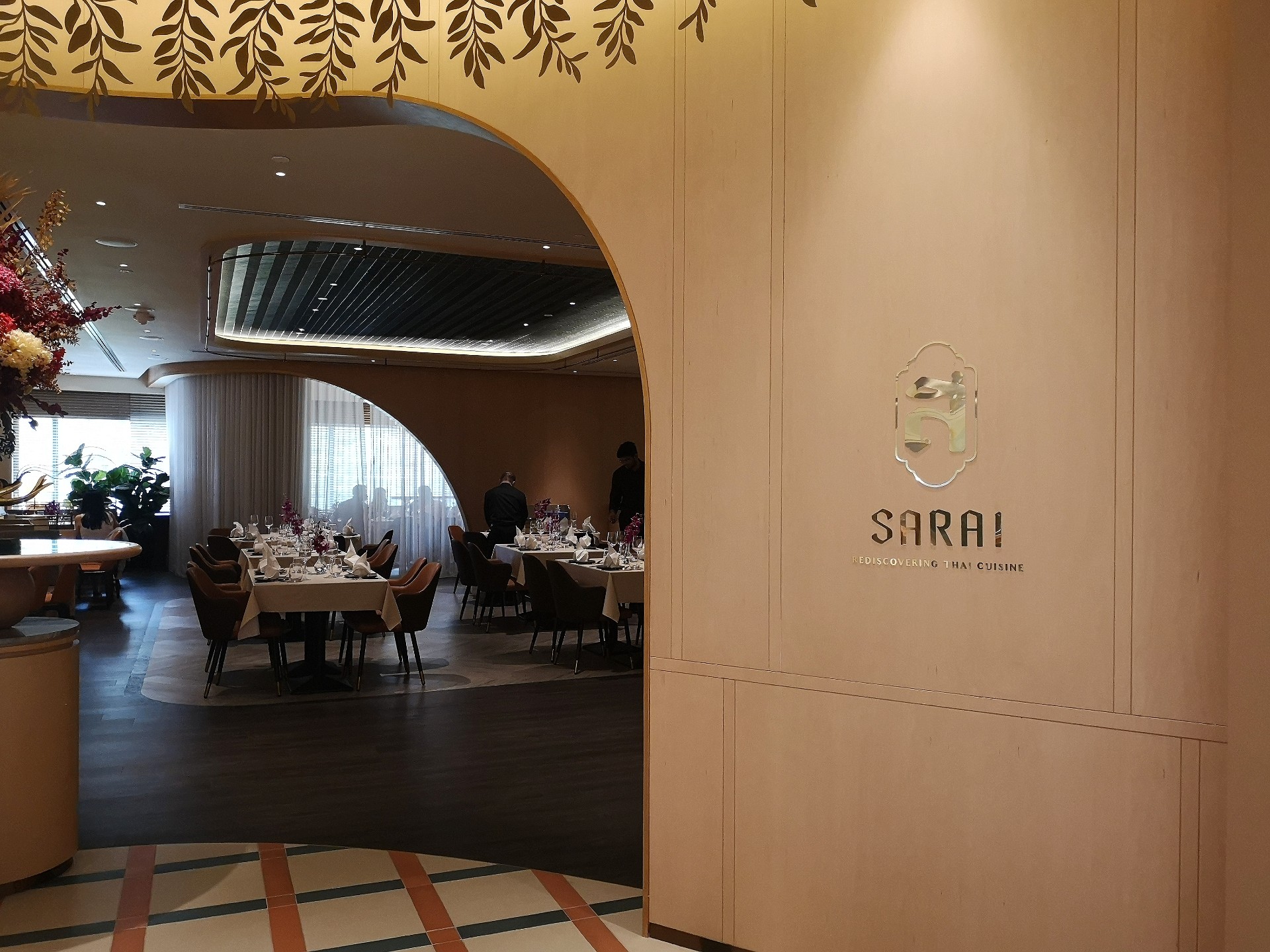 We Singaporeans love our Thai food, as evidenced by the constant crowds at Golden Mile Complex and the influx of eager tourists to Bangkok as soon as borders opened. But street food and late-night supper haunts aside, there aren't many places to get a more refined experience of the cuisine.
Enter Sarai, a refreshed Thai fine-dining restaurant formerly known as Patara Fine Thai Cuisine. A name given to girls, Sarai has various meanings in Thai but is more commonly translated as "my princess".
Taking cues from the trend of casual fine-dining establishments marked by inviting pastel-coloured interiors, the restaurant is a far cry from the dark wood-heavy traditional design worn before.
Blush-themed with teal accents on the walls and ceiling, Sarai has two dining rooms at the back that combine into one to seat 40 guests. 
The team, in the kitchen and at the front of house, has remained the same. Chef de cuisine Chimkit Khamphuang, better known as chef Lisa, imparts her Isan heritage through northeastern Thai dishes. You won't find the typical selection of tom yum and pad thai here.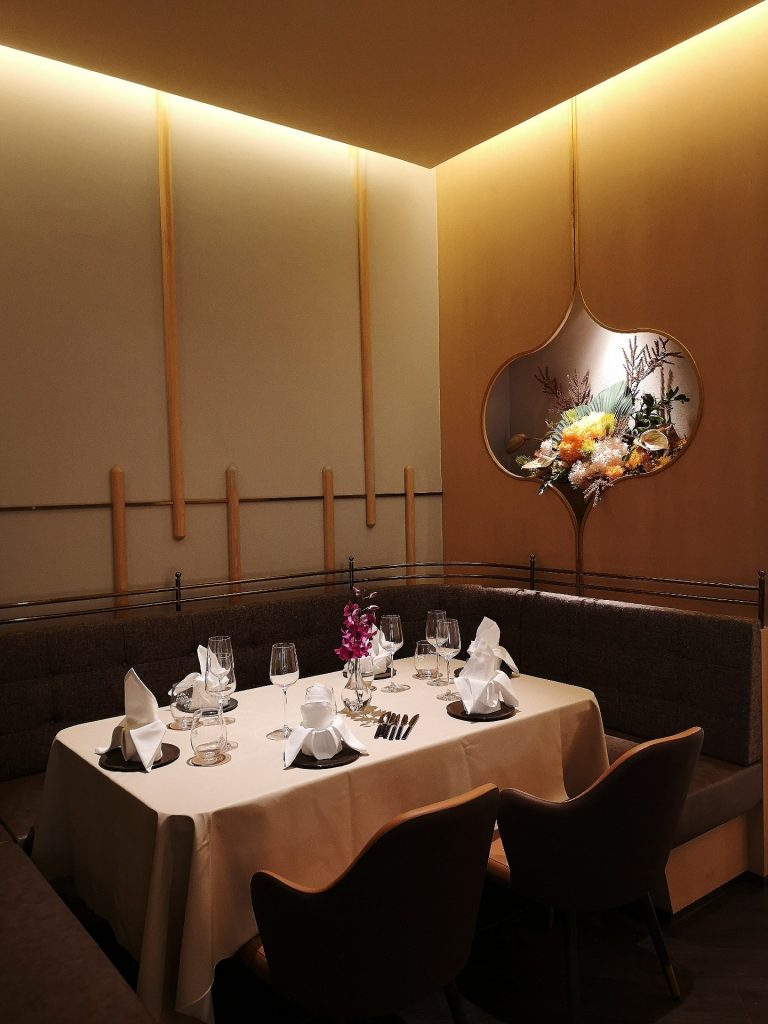 Authentic northeastern Thai cuisine
Sumrub, a traditional way of enjoying Thai cuisine, where a mix of complementary dishes are eaten with white rice, is at the centre of the restaurant's concept. 
The number of items on the menu has been whittled down, allowing the team at Sarai to focus on quality rather than quantity. The same a la carte menu is available for both lunch and dinner, with vegetarian options available.
To best eat sumrub-style, go for the four-course set menu (S$68 to S$88++ for lunch, S$88 to S$108++ for dinner) comprising an amuse bouche, starters, mains and dessert.
HungryGoWhere tried the S$68 lunch set, which came with a selection of three mains.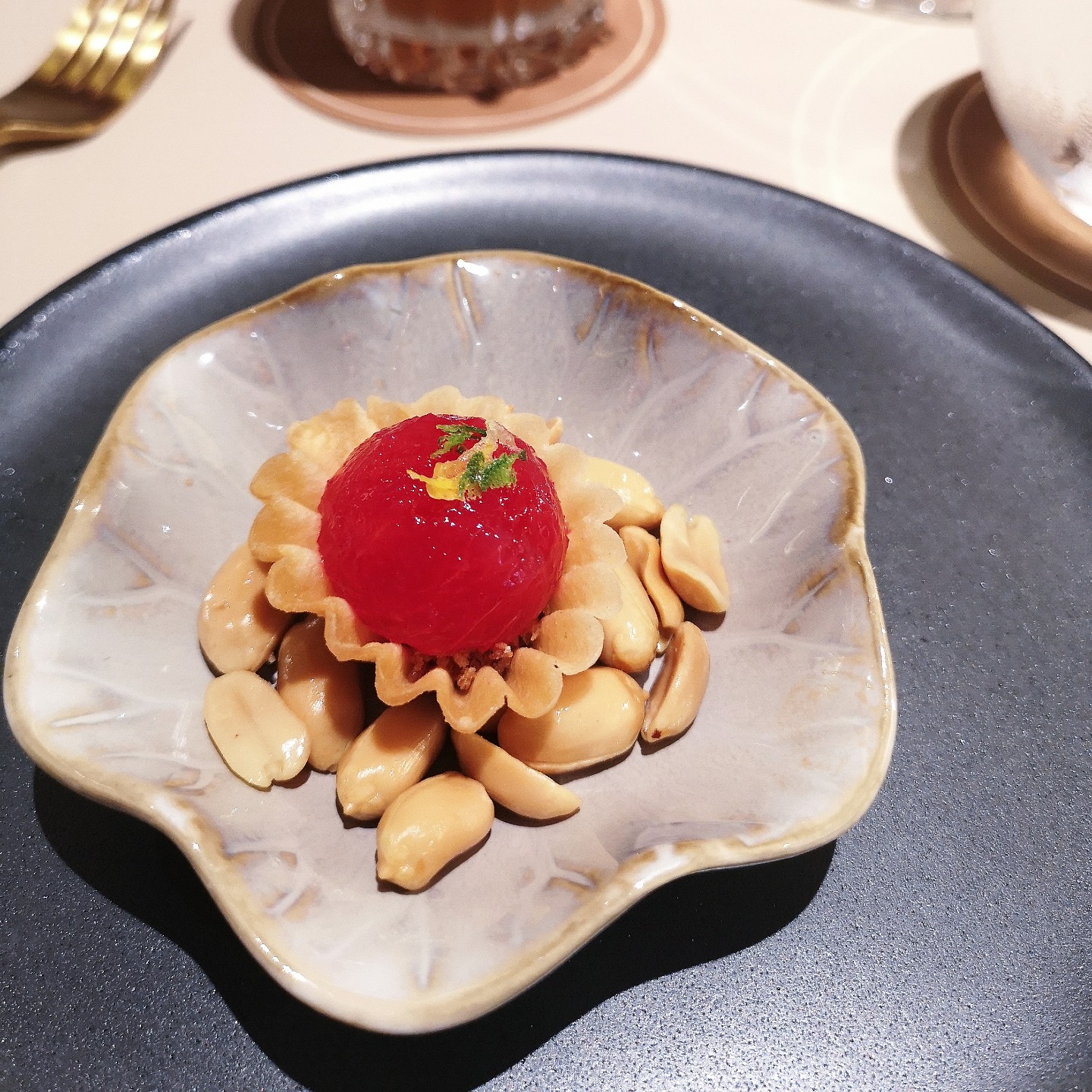 Our meal started with plaa heng tang mo, a watermelon sphere on a bed of toasted coconut and smoked fish in a fried pastry tart shell. A bite-sized iteration of Thai watermelon salad, the fruit is soaked in rose water and brings a sweet and juicy contribution to the already-complex mouthful that's salty, smoky and umami. 
It's followed by two starters served together — mieng mak (S$16 for four) and puu sorn glin (S$24 for four). 
Mieng mak is a variation of mieng kham, a street snack made of an assortment of up to six aromatics such as toasted coconut and dried shrimps wrapped in wild betel leaves. It's typically left to the guests to assemble on their own. 
Lisa's mieng mak uses eight ingredients — ginger flower, young ginger, wild ginger, shallots, lime, dessicated coconut, chilli, and cashews. Although the ingredients are chopped up coarser than we'd prefer (read: harder to chew), it had the punchiness we'd expect.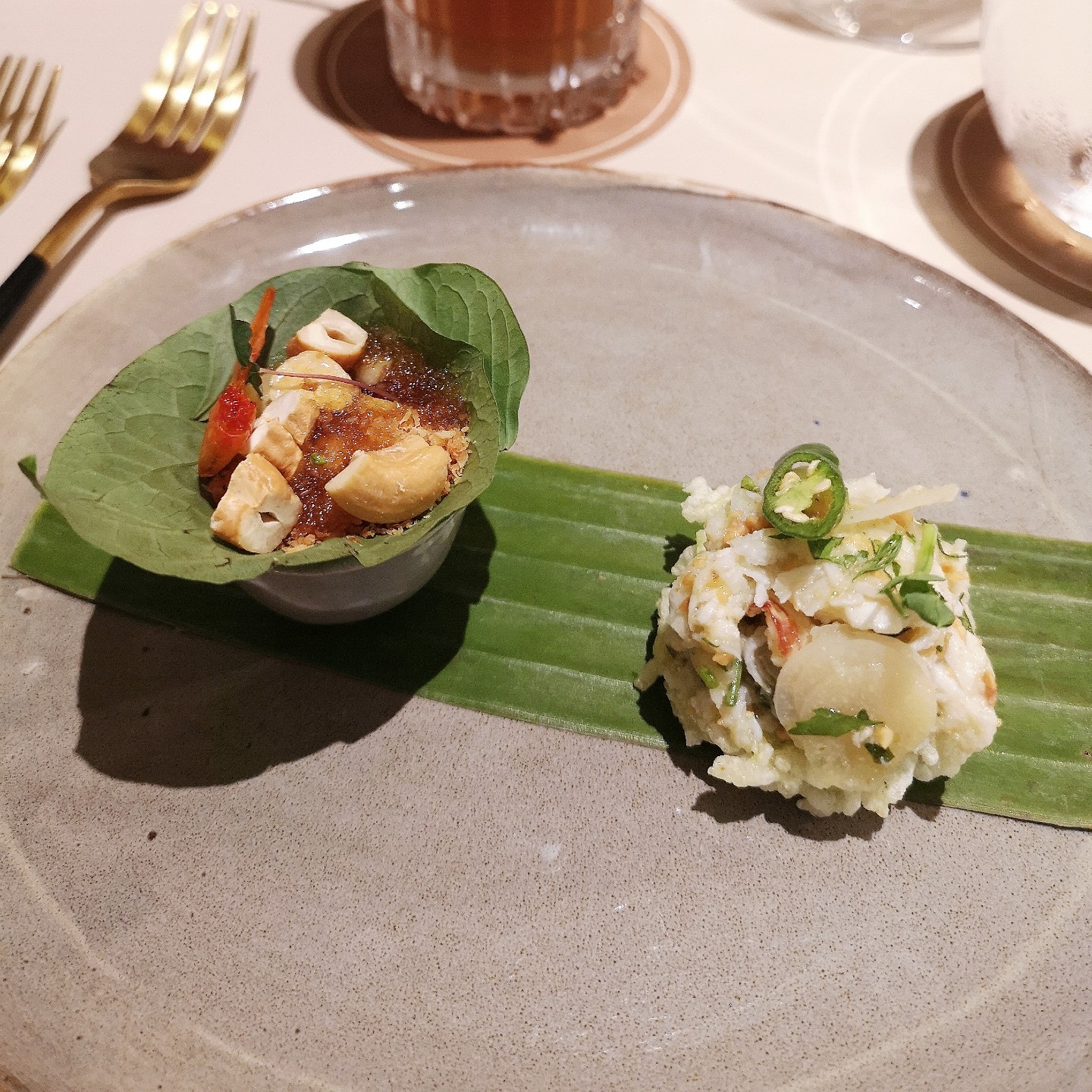 In contrast, the accompanying puu sorn glin, crab meat with pickled garlic on a puffed rice cracker, had the opposite flavour profile. Tangy and spicy, the bite was perfumed with lemongrass and was thoroughly enjoyable to eat. 
The mains that came next were all served at once alongside steaming white rice. Communal dining is encouraged here, so if you're coming in a bigger group, portions will be combined into sharing plates. 
Together with an almost sweet-tasting roasted duck soup, gaeng jued pad yang (S$16), and stir-fried sweet peas and tokin jasmine flowers with garlic, pad tua gab dok ka john (S$26), you'll get to choose one more dish.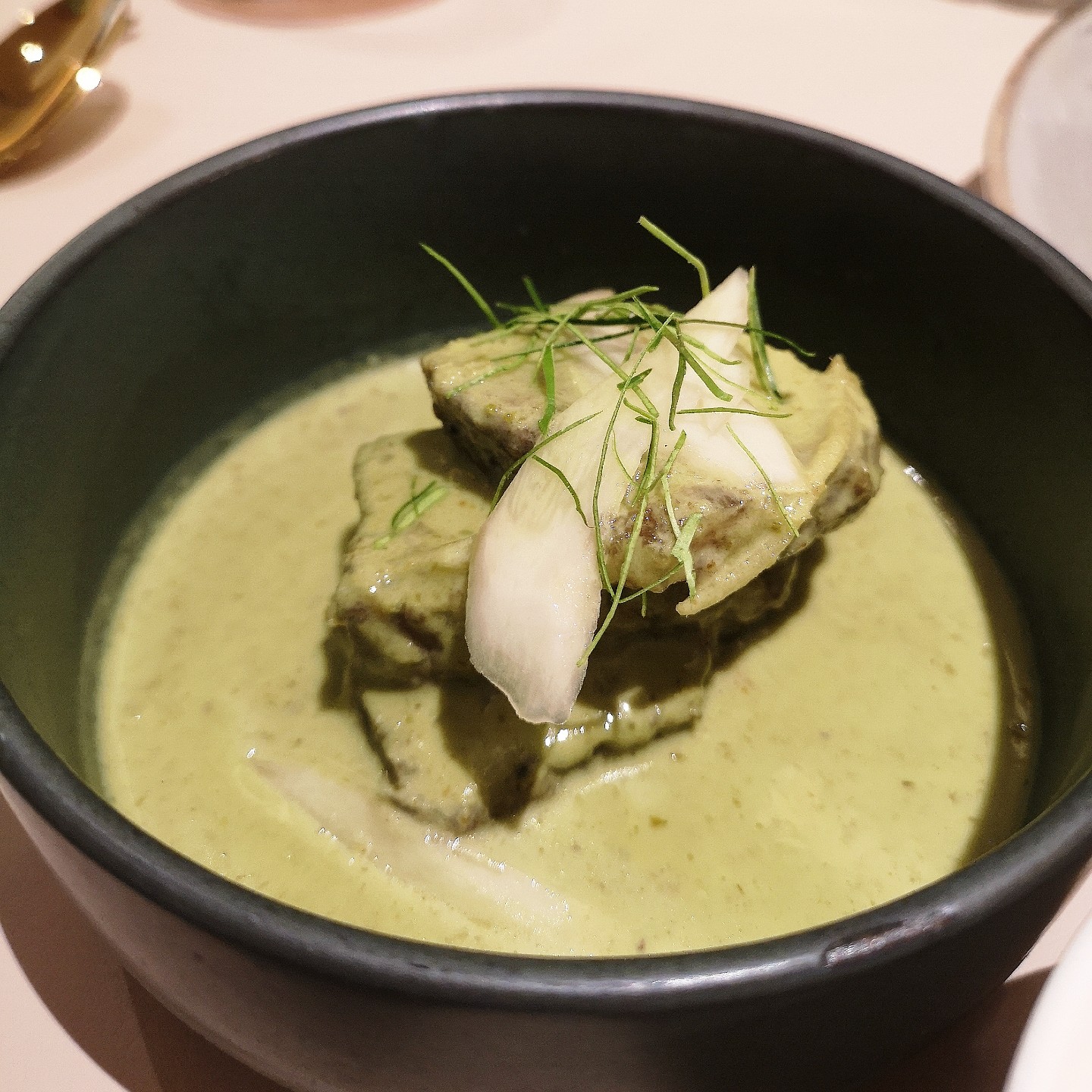 Fast becoming a favourite with diners at this one-month-old restaurant is the gaeng raweng nuea (S$36), a version of Thai green curry with tender pieces of wagyu beef short ribs from the UK that's braised for 24 hours. 
The green curry is reduced to a sauce and garnished with slivers of kaffir lime leaf. It's a dish that can get quite heavy and monotonous, so enjoy it with spoonfuls of rice and slices of white turmeric.
Alternatively, you could go for the seafood option of yum hed goong yang — a giant Thai river prawn that's grilled and served with a salad of locally farmed golden cap mushrooms and pink oyster mushrooms marinated in coconut cream, lemongrass and kaffir lime leaf.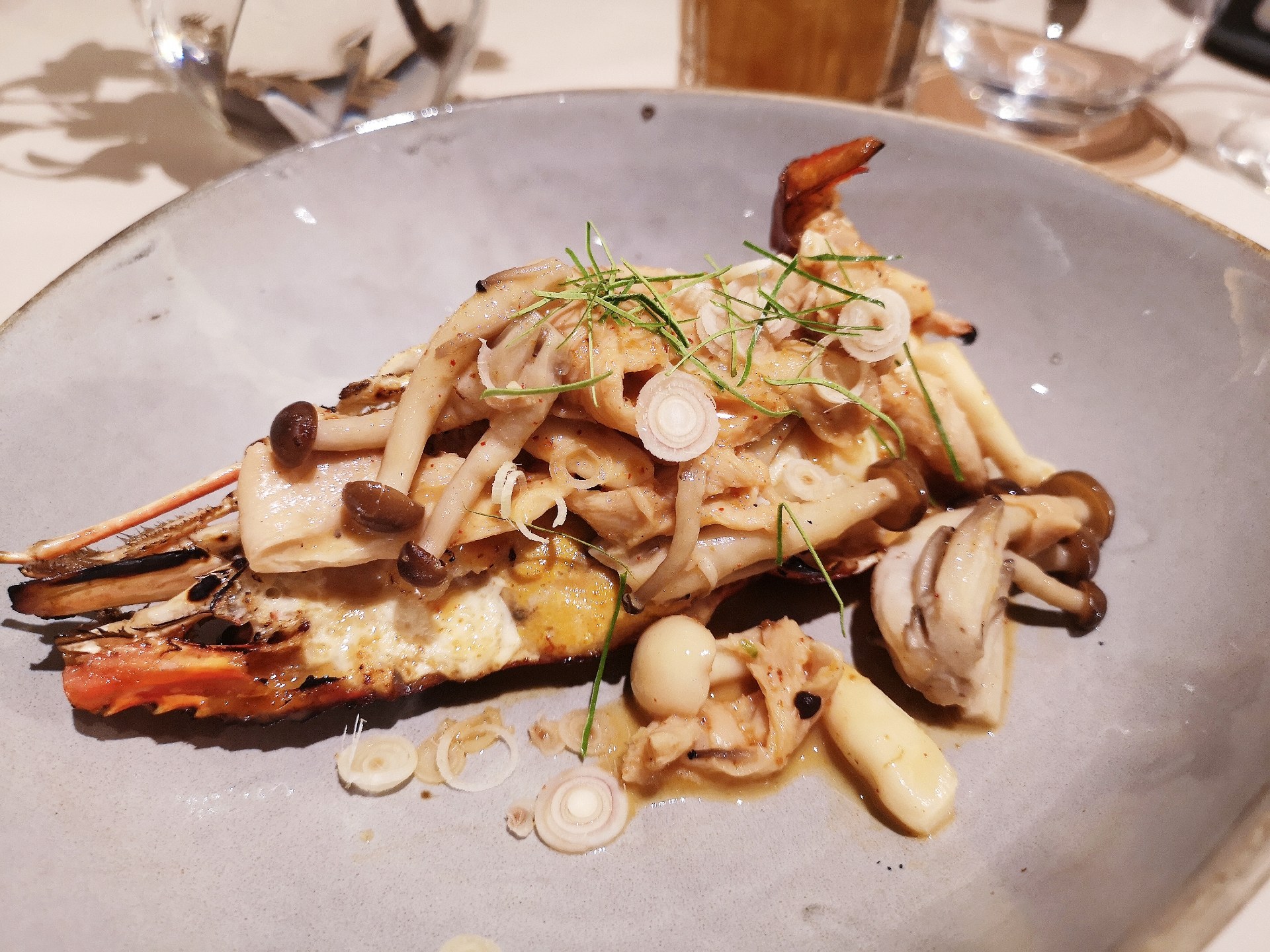 Dessert was kanom mor gaeng with peuak rang nok (S$16), a baked taro custard held in a pandan leaf envelope with strips of taro that are fried in sugar to resemble a bird's nest. 
Thai-style cocktails and mocktails 
Drinks of the alcoholic and non-alcoholic variety are whipped up by Saminathan Kaliappan, head of operations at Sarai and also head bartender.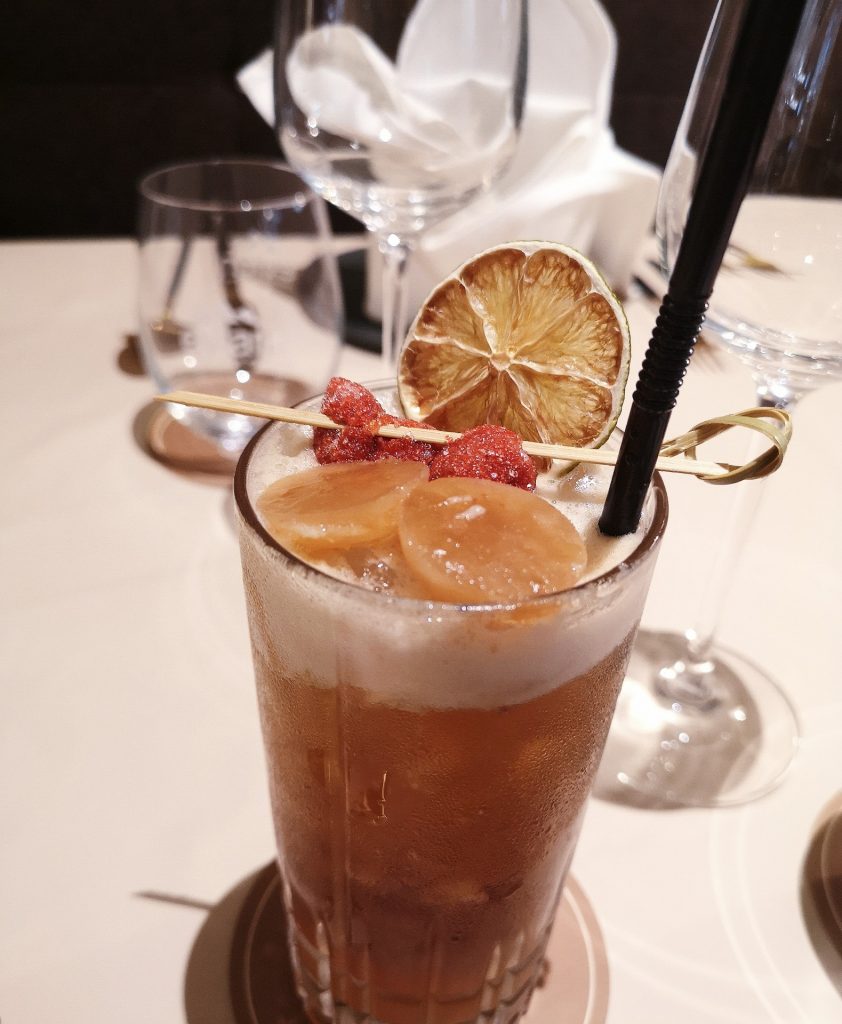 I had a delicious sweet tamarind (S$12) drink that's made with earl grey tea, fresh tamarind and palm sugar. Like the Thai version of a lemon tea, it's a great refreshment on a hot day and I loved nibbling on the skewered candied tamarind.
There is also the obligatory Thai red milk tea (S$12), but if you're up for day drinking or drinks to go with dinner, look to the cocktail list for more fun takes on classic tipples.
A galangal lychee martini (S$22) lends the classic drink a more fragrant note, while the floating market (S$22) is a curious concoction of vodka, caramel, calamansi and chocolate. 
Book a ride to Sarai.
Tanglin Mall, 03-122, 163 Tanglin Road
Nearest MRT station: Orchard
Open: Daily (11am to 3pm, 6pm to 10.30pm)
Tanglin Mall, 03-122, 163 Tanglin Road
Nearest MRT station: Orchard
Open: Daily (11am to 3pm, 6pm to 10.30pm)