Try lab-grown chicken for yourself at Huber's Bistro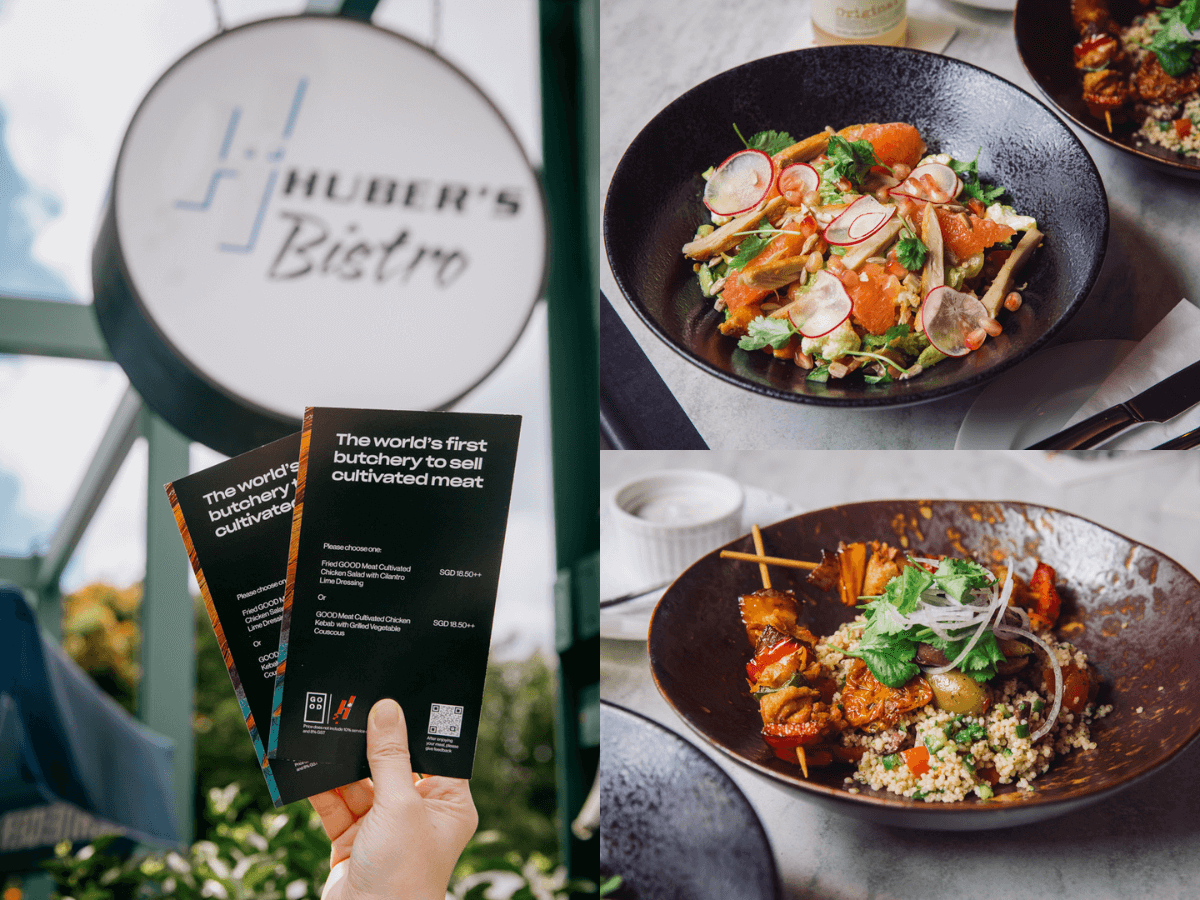 If you've always been curious about the latest in the alternative protein sphere, you can now taste lab-grown chicken for yourself at Huber's Bistro in Dempsey.
The homegrown butchery and bistro has been working with foodtech company Eat Just — and its cultivated meat arm Good Meat — to dish out a specially curated, limited menu from January.
A little background: Eat Just is one of the few companies to obtain regulatory approval from the Singapore Food Agency (SFA) for its cultivated — or lab-grown — meat in Singapore. 
At that time, it was also a world-first, and since then, work has continued apace — the company is slated to launch its S$61 million meat production facility in JTC Bedok Food City later this year.
Cultivated meat is developed by culturing animal-based cells in a special serum, which is often bovine-based. Lab-grown meats produced in this fashion can run the gamut from chicken to seafood, such as shrimp and lobster.
You might have had the chance to sample Good Meat's wares at limited-time pop-ups — its latest was in June 2022, in conjunction with the likes of Loo's Hainanese Curry Rice and Keng Eng Kee Seafood.
Its current partnership with Huber's is slated to run for the foreseeable future — with "no announced end-date", says Good Meat, in response to HungryGoWhere's queries.
We just had to pop by for a taste test.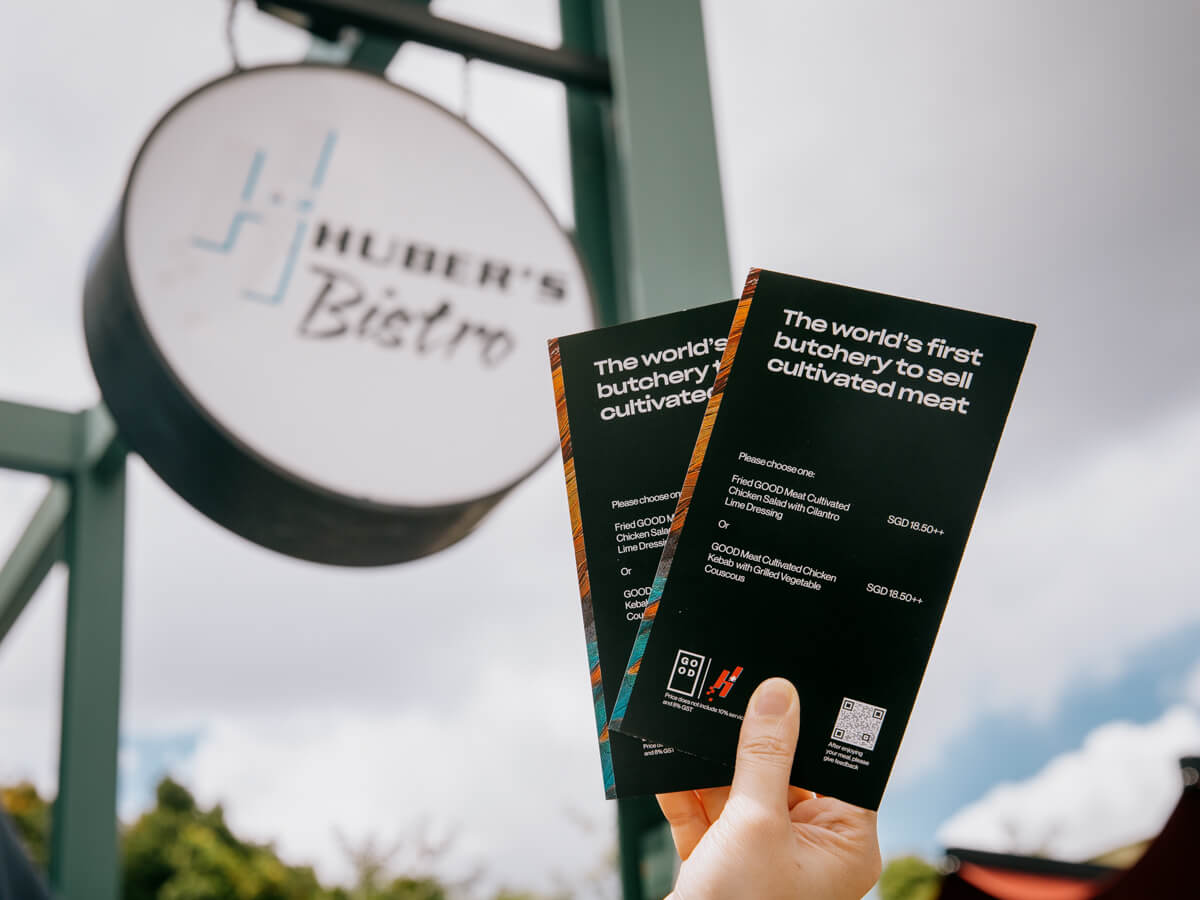 The bistro was largely quiet when we arrived for lunch on a Thursday. Besides a sandwich standee at the entrance and small menu cards announcing the collaboration, there didn't seem to be much fanfare. 
Besides two to three tables, most of the other diners were digging into dishes from Huber's usual stable.
HungryGoWhere understands that the collaboration has been receiving healthy interest from foreigners and tourists, but not so much from local foodies.
Price-wise, Good Meat says that it has priced its plates on a par with conventional chicken dishes on a given partner's menu. At Huber's, the meals cost S$18.50 each.
Taking a peek into the kitchen, we got the chance to see the meats before they were cooked and plated. And despite its provenance — rather anticlimactically — the meat looks pretty much as it should.
Says Andrew Noyes, vice-president and head of global communications and public affairs at Good Meat: "We are able to apply traditional and modern cooking techniques when preparing Good Meat cultivated chicken. The cooking experience is like cooking conventional meat."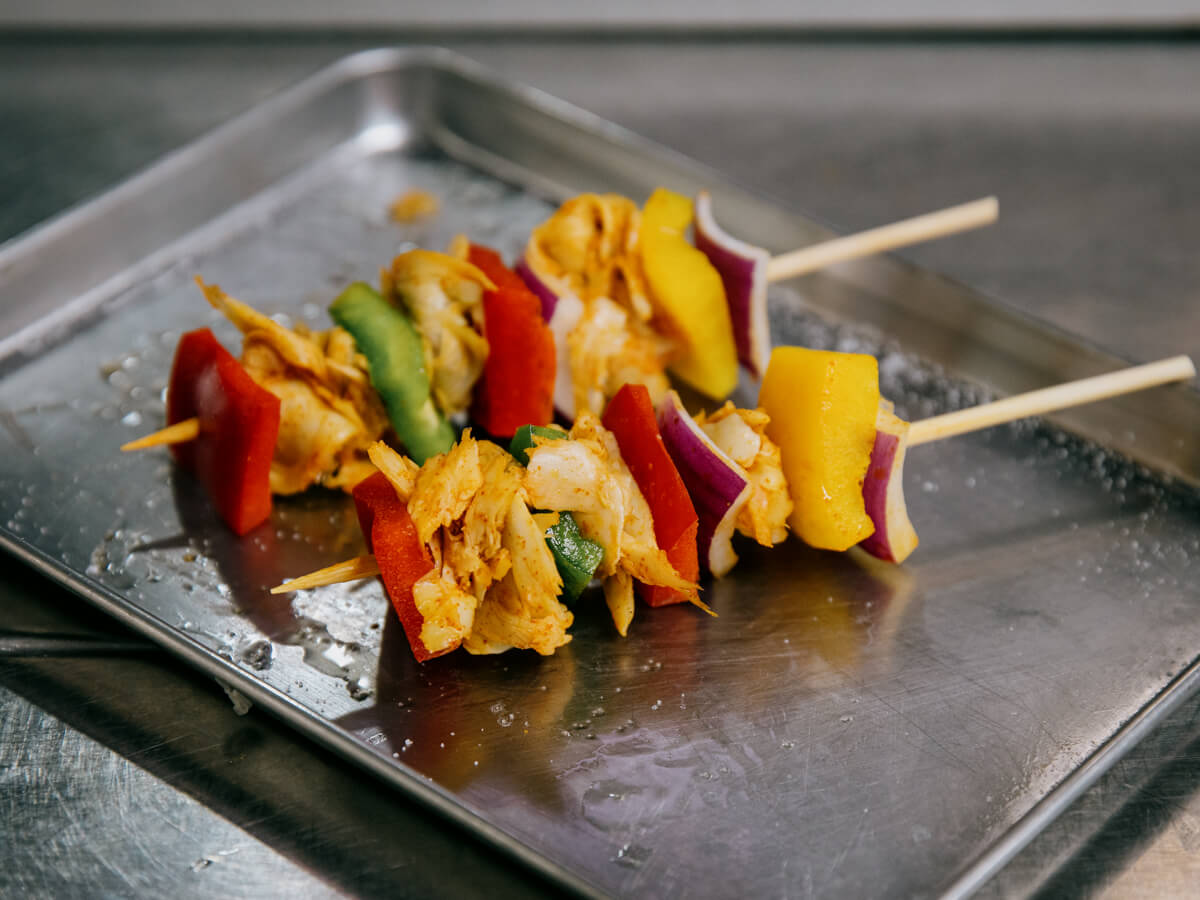 The meat is admittedly shredded and camouflaged under a rainbow of accoutrements, so it's a little harder to make a discerning judgement on its looks.
It's then sprinkled liberally with salt and dunked into the deep fryer, before forming the main protein for the collab's Good Meat cultivated chicken kebab with grilled vegetable couscous dish (S$18.50).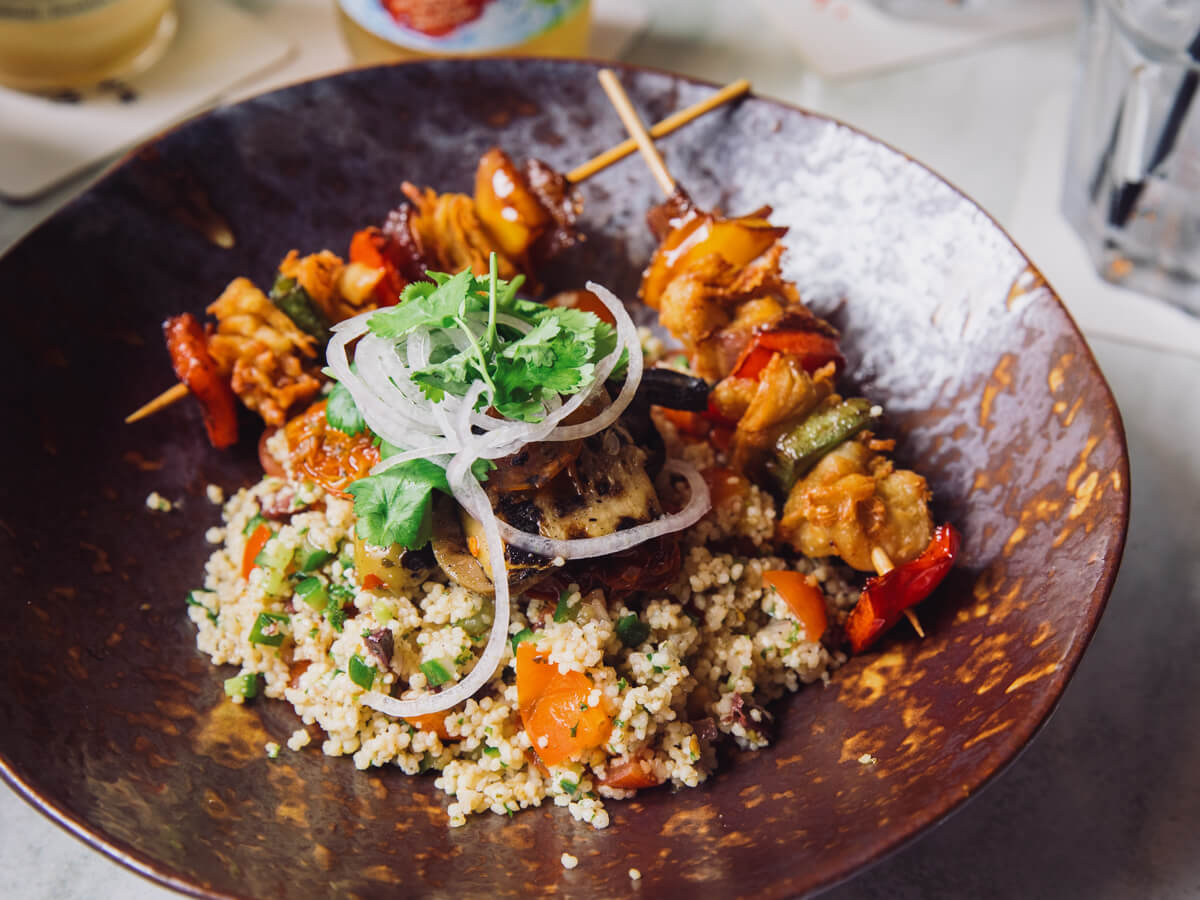 Digging in, we found the dish a well-balanced and decently portioned one, with a mild yoghurt dressing to offset the herbaceous, tangy flavours of its olives and mushrooms.
The meat itself had been fried to a crisp, with a good bite. But otherwise, the innate chicken flavour of the meat, while present, was mild. It seemed to be overwhelmed by its fellow skewered buddies — largely slices of capsicum in an assortment of colours — as well as the oil from the deep fryer.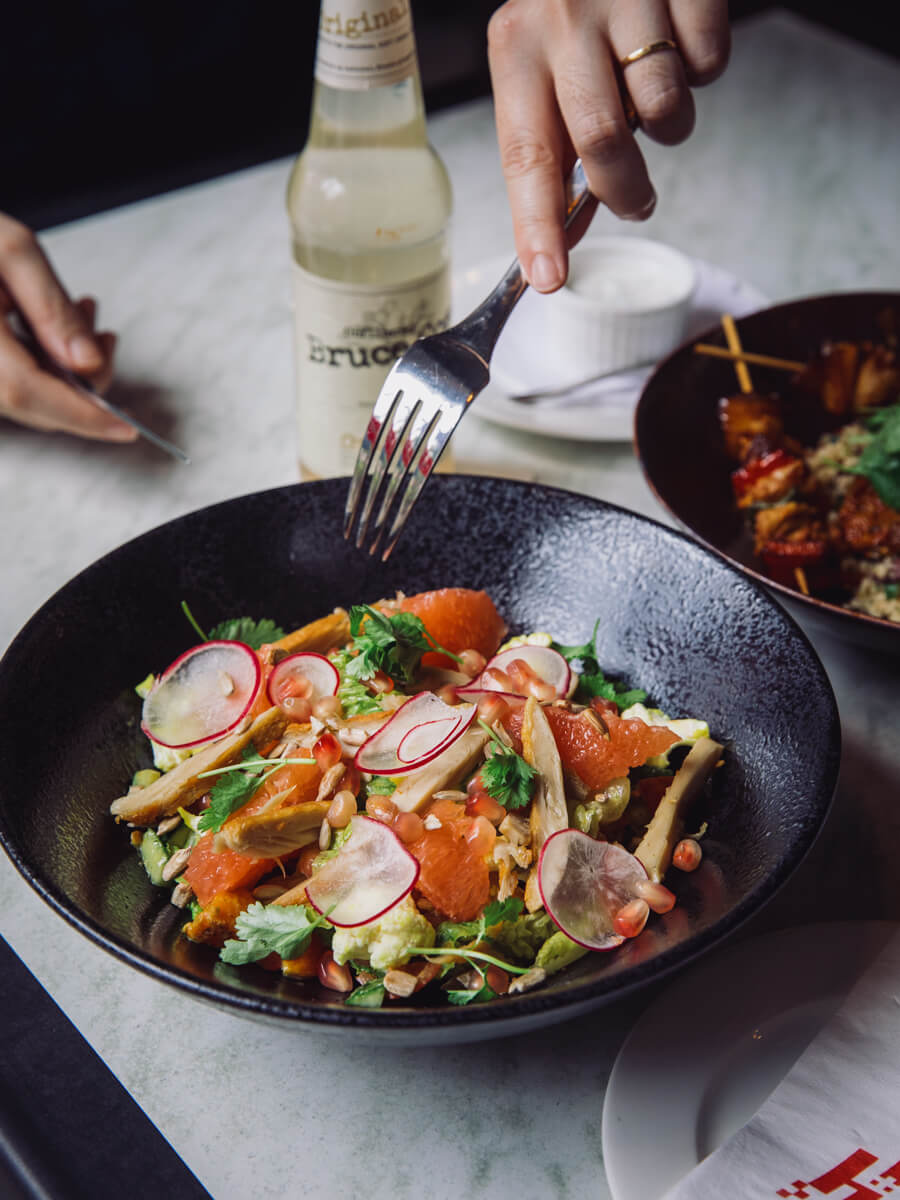 There is another option if that doesn't tickle your fancy: A fried Good Meat cultivated salad with cilantro lime dressing (S$18.50).
By contrast, I felt this dish was a better canvas for showcasing the true quality of the cultivated meat. Its companions on the plate — pumpkin, grapefruit, cranberries and sunflower seeds in a light, citrus dressing — allowed the fried chicken meat more room to shine.
Looks- and texture-wise, the meat here seemed to be missing a little something that was hard to pinpoint at first glance. It definitely took on a slightly spongy consistency that reminded me of fishcake — rather more fibrous than sinewy — and lacked the usual layers of fat, meat and skin that we naturally associate with conventional chicken meat.
By extension, the meat didn't quite have the varying pockets of flavour and oil that I would expect, too — even comparing it to a piece of lean breast meat that's been traditionally reared and cooked the same way.
Nonetheless, the dishes stood well on their own — diners who aren't in the know might be none the wiser.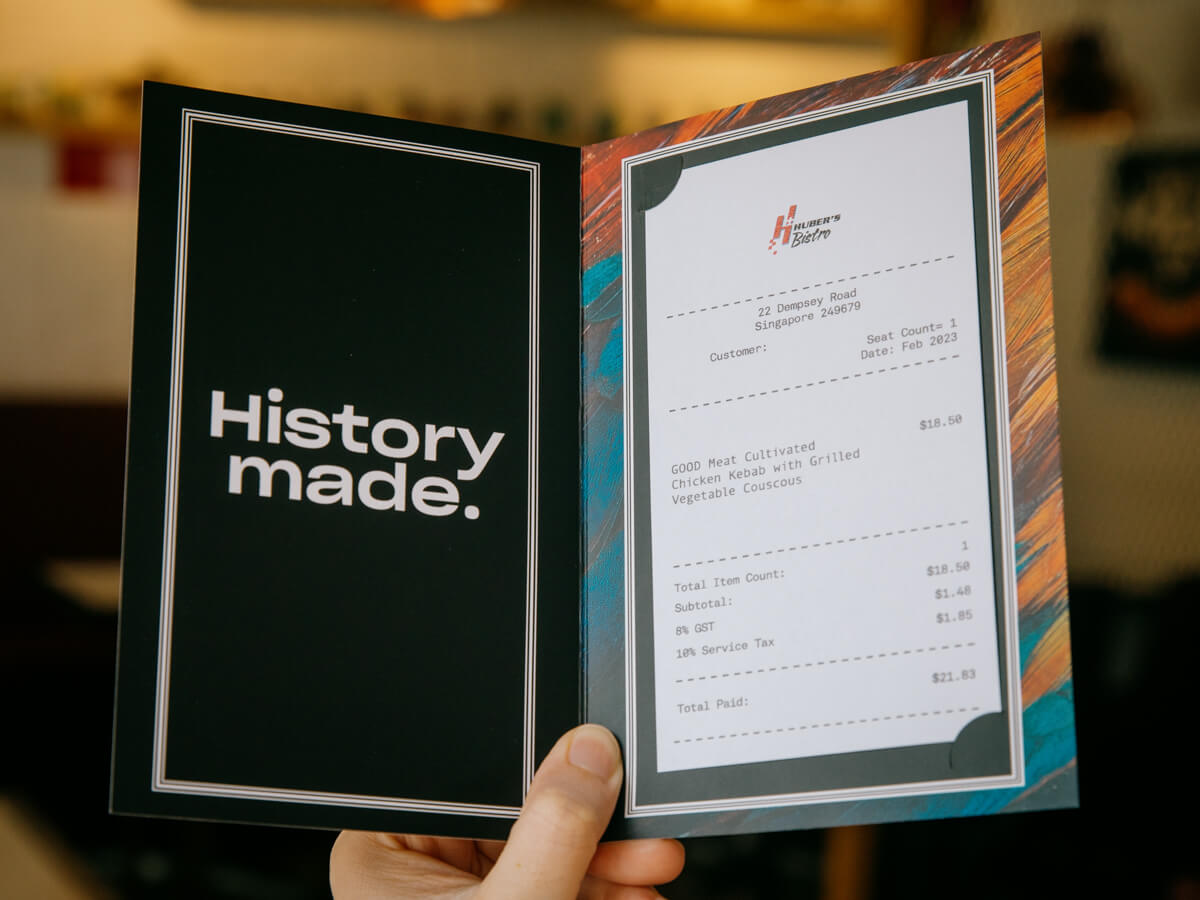 It was a memorable outing — one that Huber's and Good Meat encourage you to mark with a souvenir folio containing your receipt that you can take home for posterity.
If you're keen to cast your own judgement — and I encourage you to — you can make a reservation on the Good Meat website. Limited tables are released each Sunday at 11am for a table the following Thursday.
According to Noyes, Good Meat is in the midst of collecting feedback from diners, and new dishes may be on offer in the future.
Book a ride to Huber's Butchery & Bistro.
Huber's Butchery & Bistro
22 Dempsey Road
Nearest MRT station: Napier
Opens: Mondays to Sundays (9.30am to 7pm)
22 Dempsey Road
Nearest MRT station: Napier
Opens: Mondays to Sundays (9.30am to 7pm)