Atas Butter: This former developer makes mala, kombu butter by hand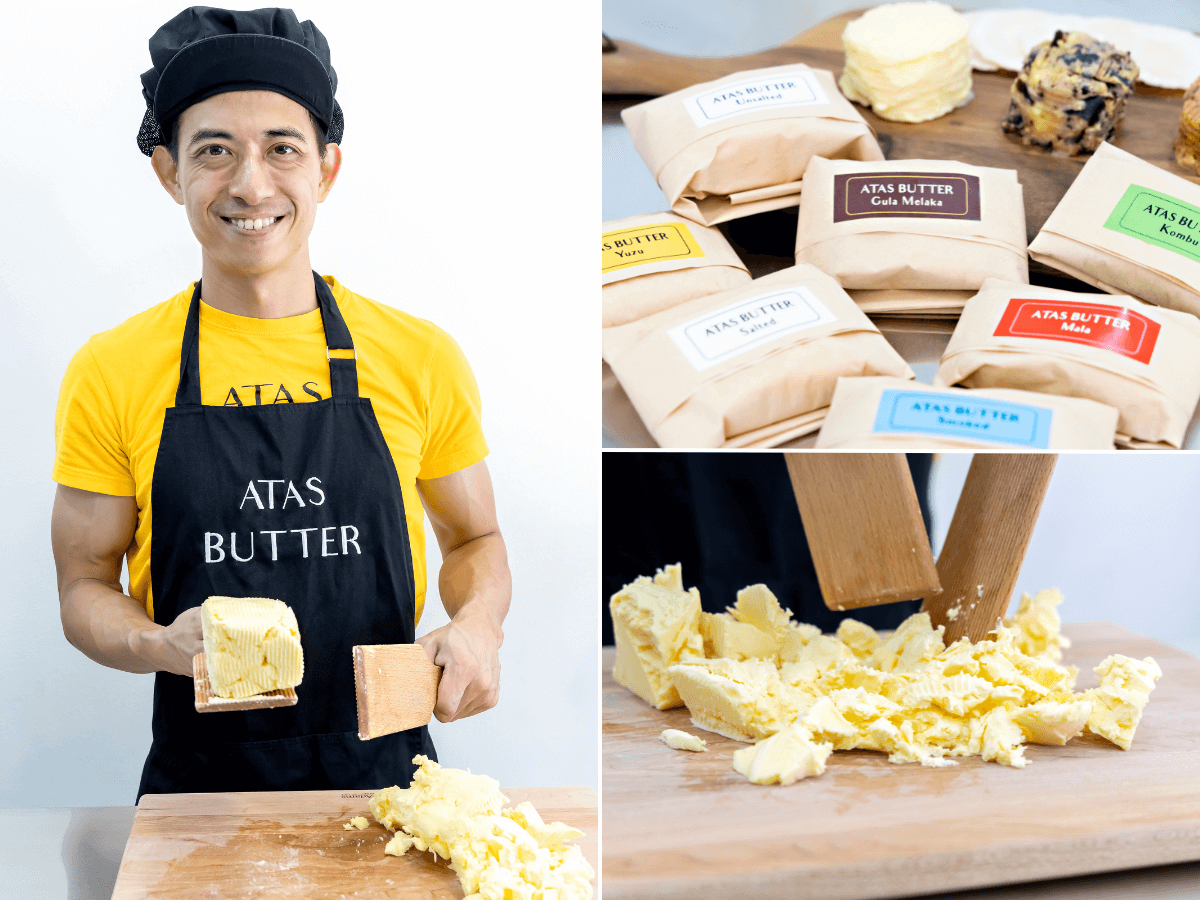 Daryl Yeo, 36, a former developer and now founder of Atas Butter, makes locally churned cultured butter
The one-man operation has set up its home on South Bridge Road, where it turns out small-batch artisanal butter
Think elevated European butter with an Asian twist: Mala, kombu, yuzu and the like
Despite its central location, the business takes pre-orders only
There's a small space among the shophouses of South Bridge Road where you'll find Daryl Yeo. 
The 36-year-old former developer and computer science graduate now spends his days making atas butter.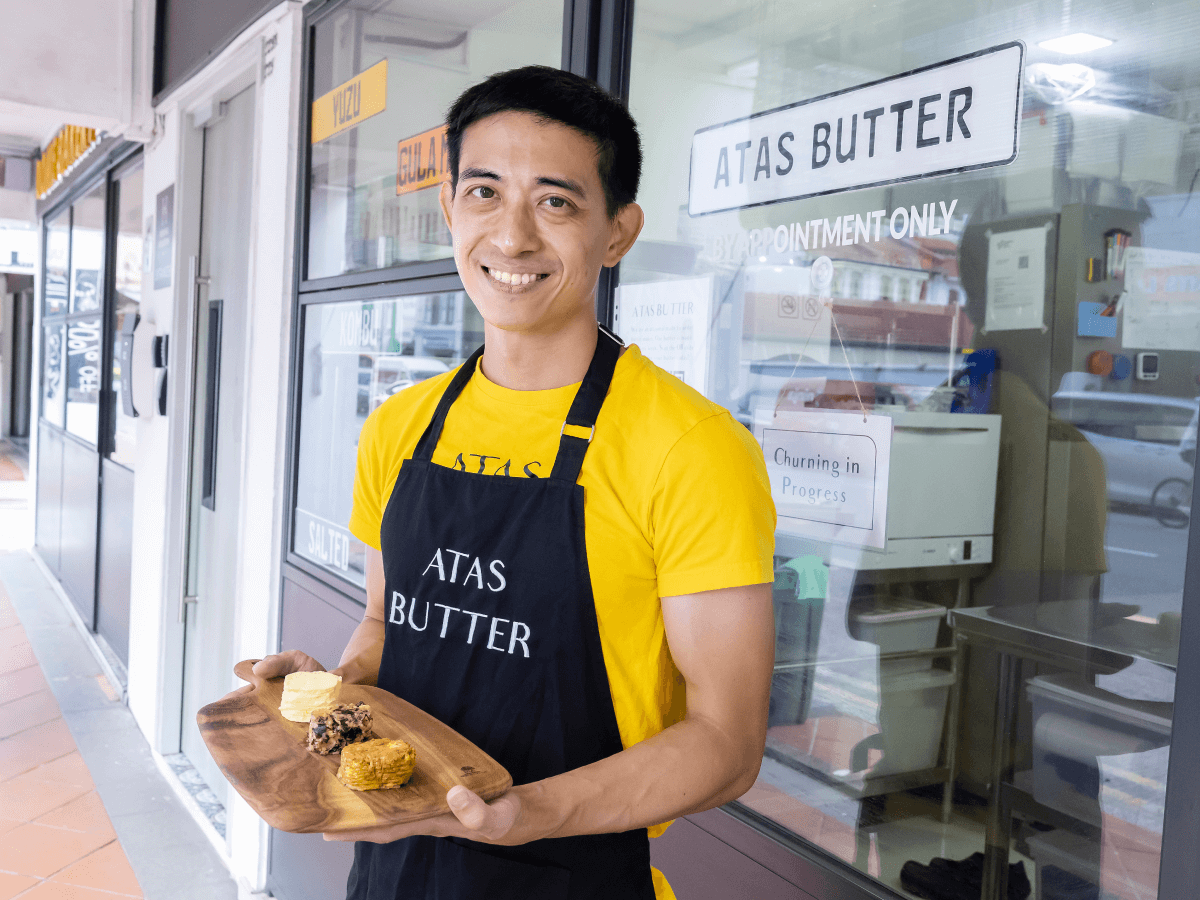 It's not the run-of-the-mill type you'd find in your kaya toast, but rather, cultured butter that's more at home among the French Alps than it is in sunny Singapore. More along the lines of Bordier instead of SCS, if you get our drift.
Atas Butter, as Yeo's business is called, encapsulates it perfectly — elevated yet distinctively Singaporean.
The surroundings are equally fitting. The Singapore heat of late has been humid and enervating, with curious passers-by peeking through the glass window to watch Yeo mix his wares by hand. All this happens amid the rush and heave of Chinatown's streets.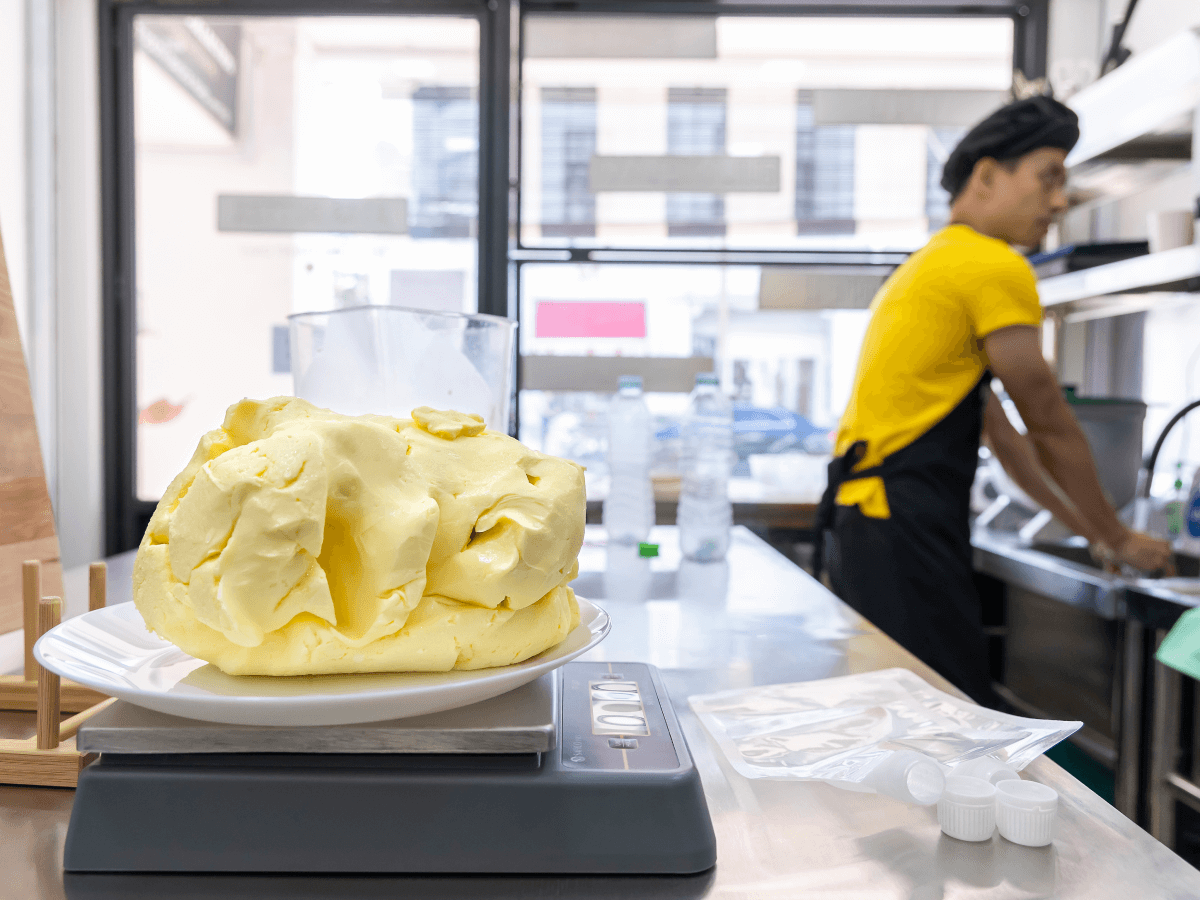 Yeo's workspace is kept especially cold — it feels more like a walk-in freezer than a shop — to keep his ingredients and butter at their optimal temperatures in our sweltering heat.
It's an intensive process that takes him pretty much the whole week to put out Atas Butter's seven signature flavours — salted, unsalted, kombu, mala, gula melaka, smoked and yuzu — for an expanding group of regulars.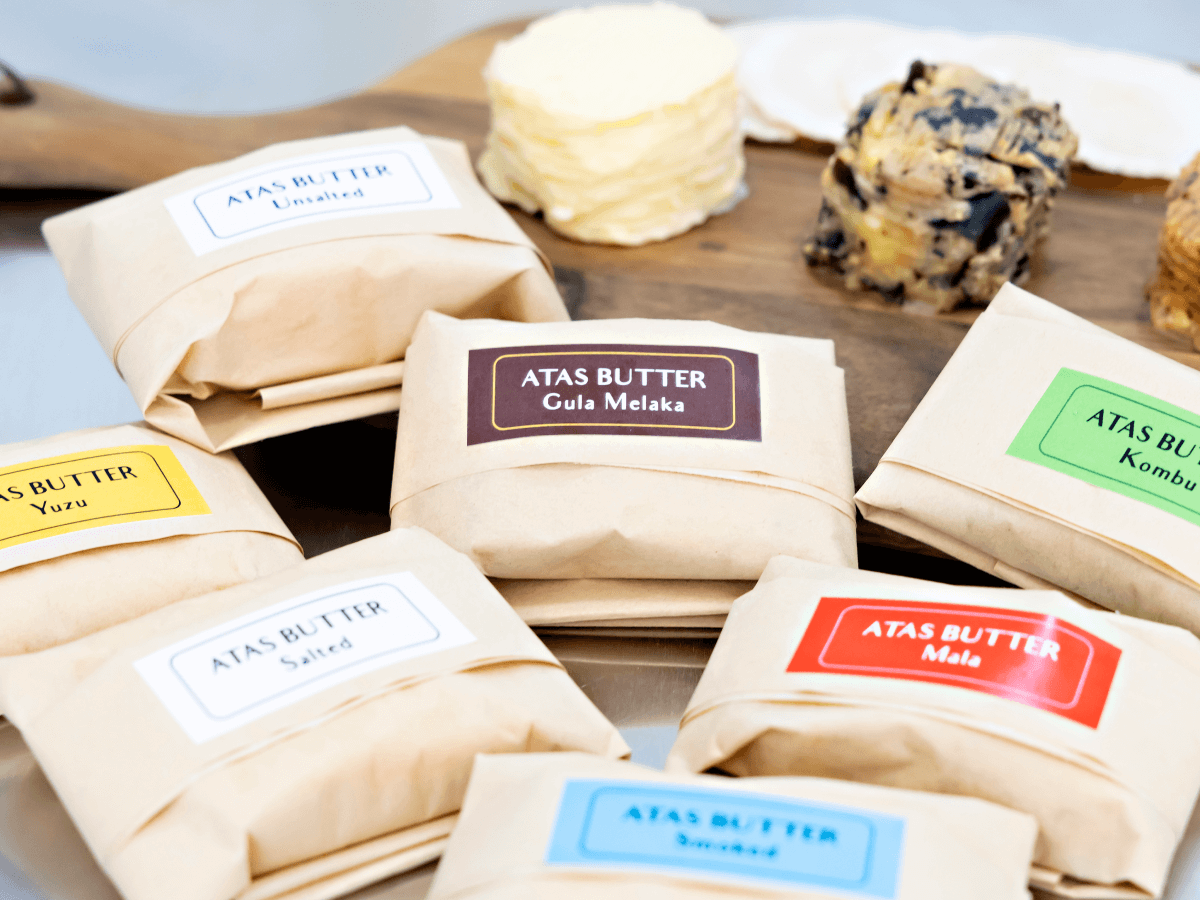 Says Yeo: "Cultured butter is European or French butter — like Bordier butter. When we eat it, it's a bit tangy, like sourdough. Whereas American and SCS butter — these are not cultured butter — it's sweet."
How Atas Butter began
Yeo studied at the Carnegie Mellon University in the United States, thanks to a Singapore government scholarship. He says: "I did the whole computer science thing before it was cool. I worked in San Francisco before coming back to Singapore to serve my bond with a telecommunications company called Hoiio."

For 15 years, he jumped around a few startups — first as a developer, then as a product manager.
"Over time, it just got to a point where I became burnt out and tired of the space," recalls Yeo. "Plus, with Covid-19, working from home was not very good for my mental health as well.
"So I decided maybe it was time to try something new."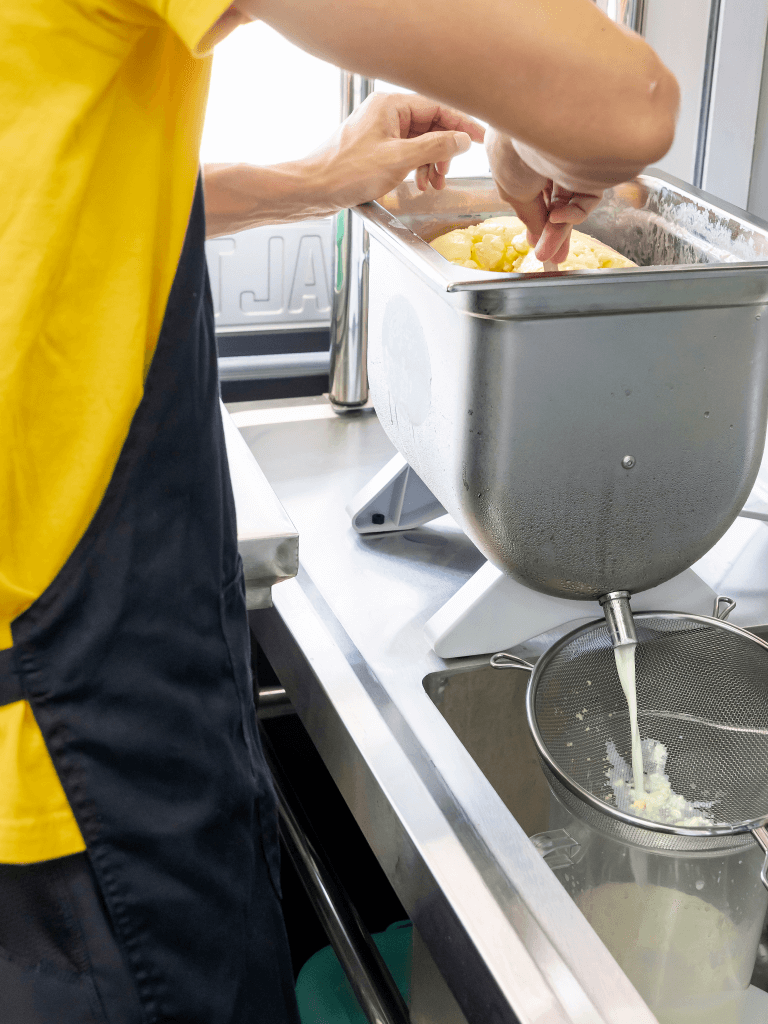 After discussions with his wife, a doctor, he left his startup job in February 2022 to try his hand at starting a business.
Butter wasn't his first venture, though. 
"I tried some tech stuff initially, which didn't work. I was getting a bit frustrated at the time," he recalls.
It took a trip to Tasmania in mid-2022 to strike buttery gold. "I was very inspired by the farmers and producers there — they had the best produce."
Adds Yeo: "We went to oyster farms, truffle farms, and just ate the freshest food. It was an amazing experience to meet people who are proud of what they do and happy with the value they bring into the world."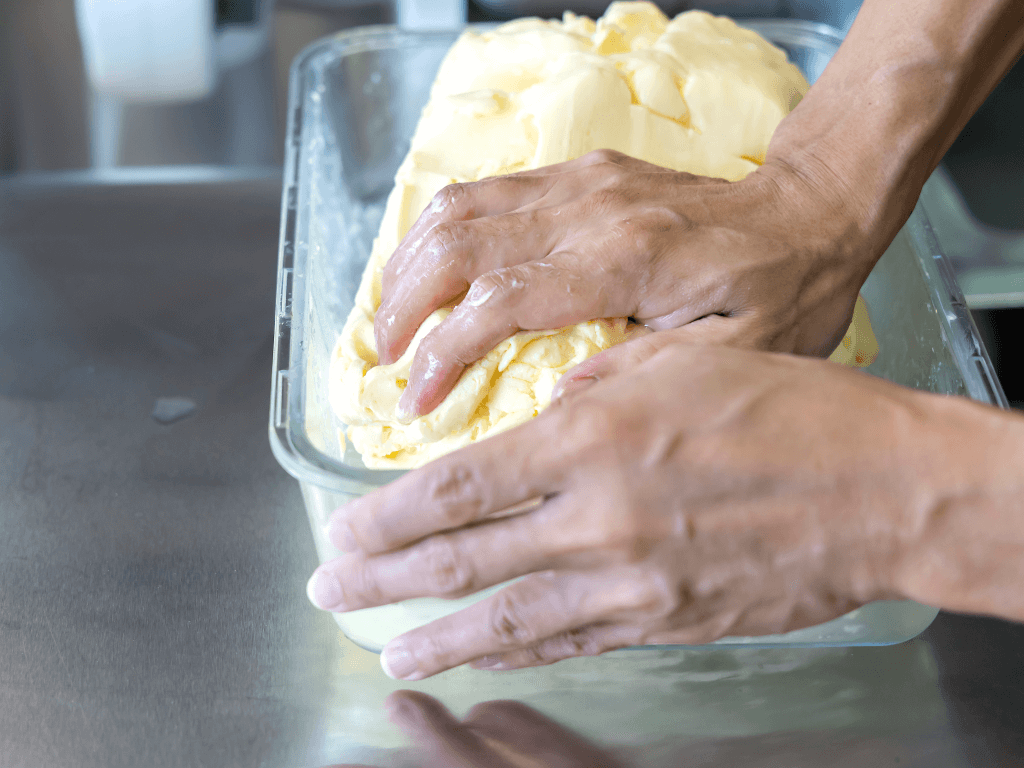 "I thought: 'What can I bring back from this trip? Maybe I can do something with my hands'."
Artisanal butter in Singapore is a rarity.
There are restaurants here that make their own butter as part of their menu and sell it on the side, but they don't do it full-time, says Yeo.
Upon his return, he started experimenting and making his own with the help of YouTube videos. 
But this was no cinch, he says. A lot of the advice he received online had their origins in temperate countries, where butter does not melt easily. When he tried it here, he found that the heat sped up the fermentation process and he had to figure out what worked by trial and error.
He started to sell his artisanal butter at pop-up markets in October 2022 and quickly found fans.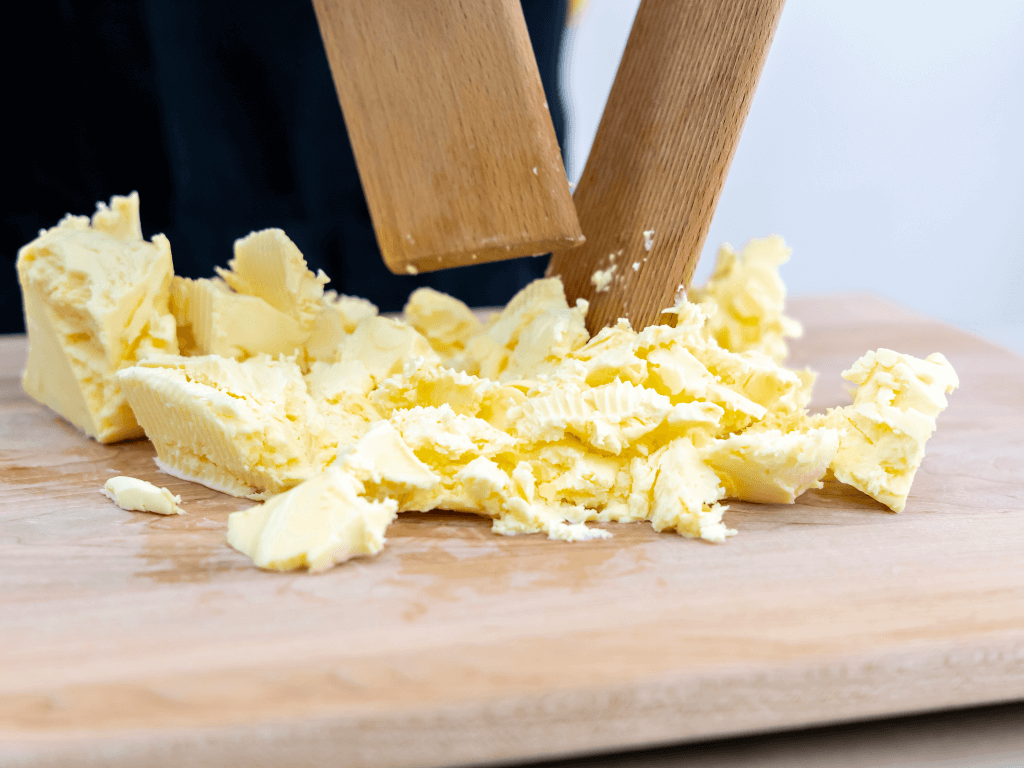 "Frankly, I didn't know what I was doing, but it sold out," says Yeo. "I was doing markets every week. It was very intense because I was making the butter during the week and selling it on weekends."
At the time, Atas Butter was a home-based business and Yeo wasn't sure where the business would go.
"It wasn't enough to make me really consider doing this as a thing," Yeo continues. "My home was packed with cream. I couldn't cook and my fridge was full."
His sojourn at the three-day Boutique Fairs market in November 2022 was the tipping point. "It blew us away. It was super crowded and very good for us."
Heartened by the reception, Yeo took a leap of faith and leased the space on South Bridge Road. "Rent was affordable. The space is small but enough for a one-man operation. We moved in February, and here we are."
Yeo counts his wife among his strongest supporters. "She helps me ideate and keeps me in check when I'm tired. She also helps me with my spreadsheets (for planning and orders)."
Besides that, he's grateful for the warmth towards his atas butter.
"In a way, I feel like this business has been crowdfunded by everyone, because I won't be here (on South Bridge Road) if they didn't pre-order the butter and provide cashflow for the renovations," he says. 
"Every dollar — it's not mine, it's almost like a donation."
Not your everyday butter
At present, Yeo makes 250 slabs of butter — 50g each — to fulfil his weekly pre-orders.
He first cultures cream — imported from the United Kingdom — into creme fraiche, a process that takes 24 to 48 hours, before churning it to separate butter from buttermilk.
Cold water is used to wash the butter thoroughly to remove excess buttermilk. Yeo then paddles it by hand to remove air, water and excess buttermilk; this also enhances its flavour.
He mixes in the flavours at this stage, before hand-wrapping each slab in brown paper.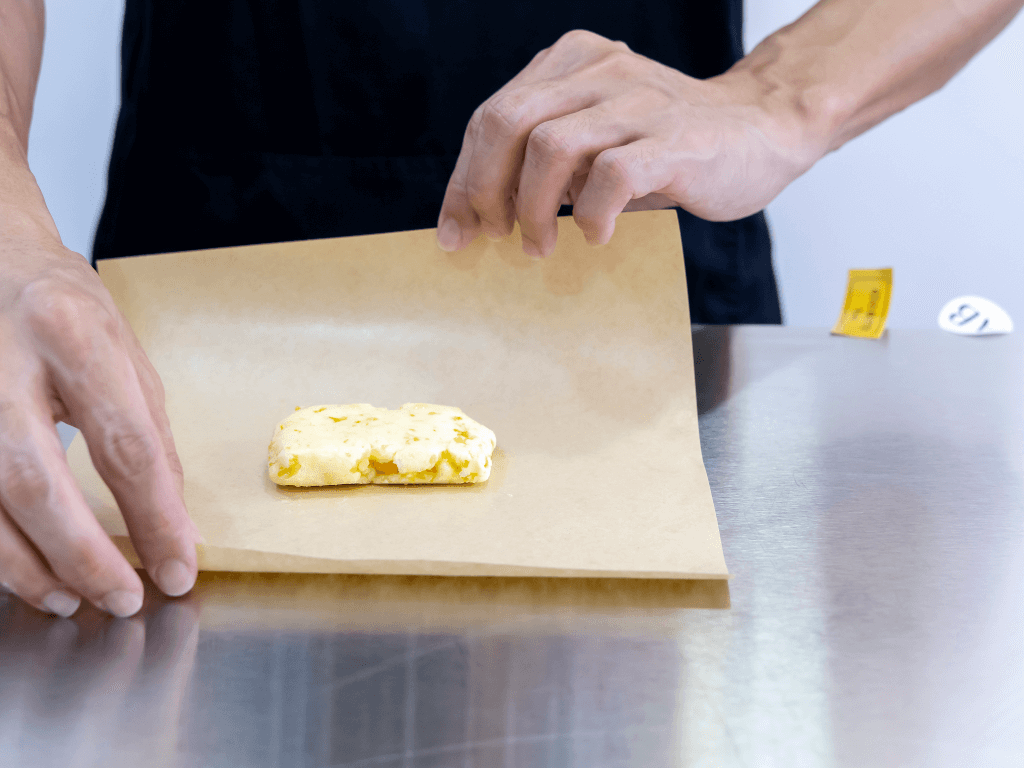 The entire process takes several days and is incredibly labour-intensive.
As someone who knows the butter inside out, how is it best eaten? "A nice, warm, white sourdough loaf. But not too sour," he says.
Bread and crackers are a good bet, but he recommends pairing the yuzu butter with some nice shokupan (Japanese milk bread). 
It's also great for cooking. The kombu butter and mala butter go well with seafood, while the smoked butter pairs well with steak. If ever in doubt, Yeo has a set of handy recipes on his Instagram page for inspiration.
What's next for Atas Butter?
Yeo finds himself having to turn away many walk-in customers who are intrigued by his offerings.
Scaling up is, indeed, a challenge. Yeo simply does not have the capacity to make large amounts of butter right now, but he hopes to do so in the future.
He also has his eye on a new coffee butter recipe.
He has also worked with Prepped, a homegrown company that creates fuss-free meal-preparation kits, on a special series ahead of Mother's Day.
If you're hoping to get your hands on some Atas Butter, the waitlist is a month long.
Book a ride to Atas Butter, but note it is by appointment only.
227 South Bridge Road, 01-02
Nearest MRT station: Telok Ayer
Opening hours: By appointment only
227 South Bridge Road, 01-02
Nearest MRT station: Telok Ayer
Opening hours: By appointment only