Yong Huat: One of the best fried Hokkien mee in Singapore!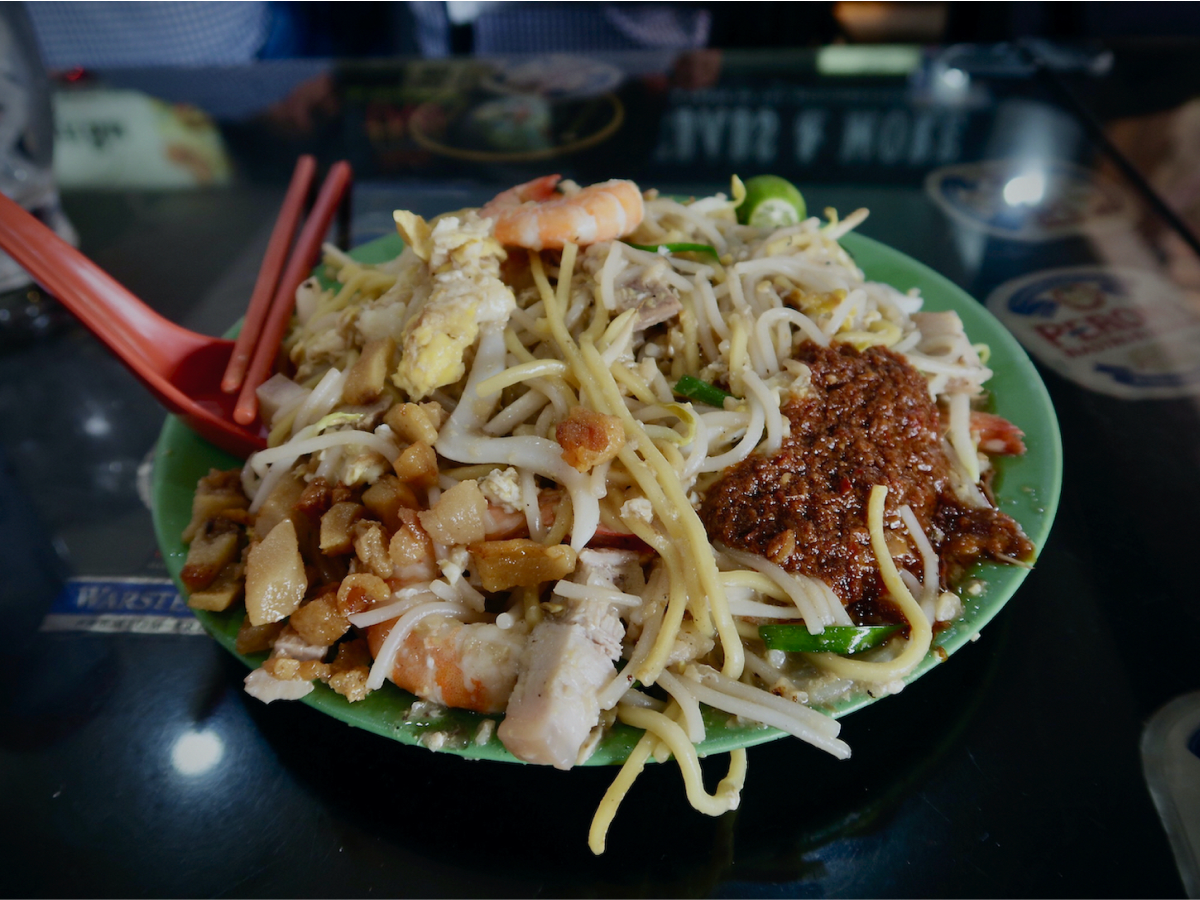 In operation since 1949, the stall hits all the checks when it comes to a good plate of Hokkien mee and is arguably one of the top five Hokkien mee stalls in Singapore.
Ironically, the stall doesn't actually specialise in fried Hokkien mee. When they started more than half a century ago, they only sold tah mee (Hokkien for 'dry noodles').
They have diversified to sell a variety of hawker favourites like fried kway teow, fried mee suah, prawn mee, tah mee and of course, fried Hokkien mee in the decades since.
The stall is now run by second generation owner Pang Weng Hong, 67, and Pang took over from his father when he was 16.
Their Fried Hokkien Prawn Mee ($5/6/8/10) uses a mix of Hokkien yellow noodles and chor (thick) bee hoon, and the noodles are fried to a nice firmness.
There is a small amount of the prawn/pork stock gravy at the bottom of each plate as the Hokkien mee is more stir-fried, rather than cooked in the stock, so it's a little wet. It does well in adding just enough moisture such that it doesn't taste dry. It also tastes generously power-packed when you taste the stock alone.
The ingredients are also very generous and are well done with very soft-textured squid rings, though the medium half-shelled prawns could do with a bit less blanching.
Nicely thick-cut pork belly slices are also added, which is very rare for fried Hokkien mee stalls these days.
The killer are the generous crunchy pork lard pieces which they give out. They are decently seasoned and taste amazing eaten alone.
A small point but the towgay (bean sprouts) are nicely crunchy as well.
Be careful with the chili sambal on the side as there is a heavy dried prawn flavour in it. Add too much of it into the dish and that's all you'll taste. Put just a little and it adds a nice layer of smoky savouriness into the overall mix.
The downside is that the noodles are not initially fried for a bit of charred-ness and the dish isn't fried per say, more like its swirled around in a braising stock, so the wok hei is almost non-existent.
The only flaw to an almost perfect plate of fried Hokkien mee.
Yong Huat also sells four other dishes which are very decently made if not as well done as their fried Hokkien mee.
Their Fried Mee Suah ($5/7/9) is nicely fried with a little wok hei smokiness but the seasoning is very light. So light that you'll be able to taste the natural flavour of the added ingredients — green vegetables, pork belly, fishcake, prawns egg and lard. Swirl in the strong dried prawn chilli sambal for more added flavour.
Their Fishball Minced Meat Noodles ($5/6/7) is chok full of ingredients — minced pork, fishballs, meatballs, fishcake with bean sprouts, lard, fried onions and spring onions. The portions are huge but you'd expect that at such prices.
The noodles are dressed using that same strong dried prawn sambal chilli and oil. While it is decently tasty,  there is not enough of it to go round and the flavour can be a bit lacking.
The same goes for their Prawn Mee ($5/6/7) which has the same noodle flavouring  and could use a little more to upp the flavour.
Their Fried Kway Teow ($5/6/8) has a nice charred flavour, is chok full of ingredients but could do better with the flavouring. It has none of that cockle juice, comes a little too sweet and could do with a little more oil richness.
---
This archived article appeared in an earlier version of HungryGoWhere and may not be up-to-date. To alert us to outdated information, please contact us here.