Yi Jia Teochew Fish Porridge: This is as authentic as it gets!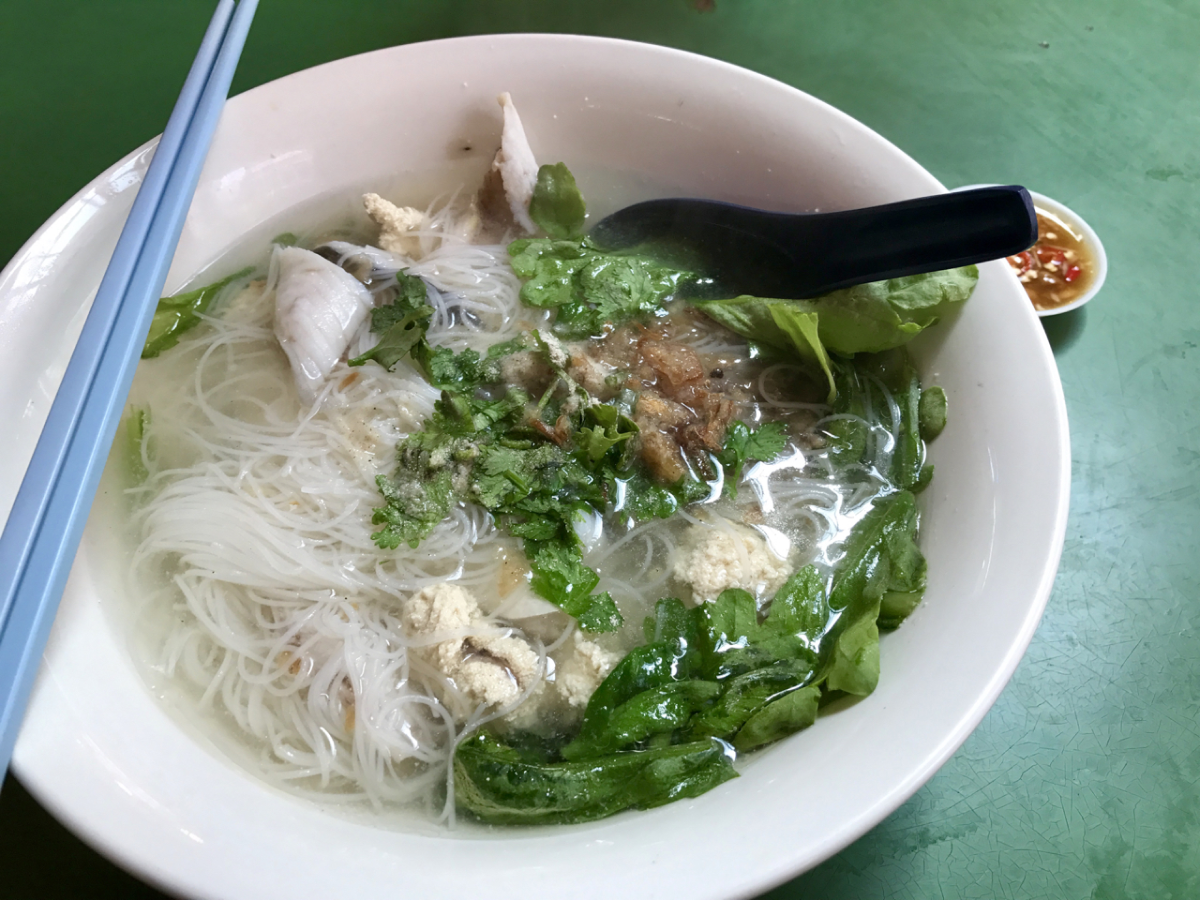 It's not one of the famous stalls which are recommended by tourist guides and "best of" lists about at Maxwell Food Centre but Yi Jia Teochew Fish Porridge sees consistently long queues everyday because they sell a fish soup which is very traditional Teochew.
In existence for "many decades" (the stallholders are a bit cagey when it comes to information), they offer fish soup with the more expensive pomfret ($5/7) instead of the more common batang fish (Spanish mackerel) which is common for fish soup stalls in Singapore. You'll very often see a queue form way past its opening time of 11am as the pomfret options are very popular and gets sold out by 12.30pm or so.
Pomfrets, usually silver pomfret, is highly prized by the Teochew community as it has a firm, yet delicate flesh that is suitable for steaming and soup dishes. But be warned, you might not like eating the premium pomfret here as they serve you the boney parts from the fish cheek, stomach and fin areas — these areas contain the tastiest meat and are well loved by the Teochew fish soup fans.
If you're not a big fan of digging into bones, the whole affair will be a bit frustrating to eat.
In comparison to the more popular and common Cantonese fish soup which has a milky broth and the option of battered fried fish, Teochew fish soup has fish slices, vegetables and bee hoon (rice vermicelli) in a clear fish broth. Usually fish soup stalls go the cheaper route of adding tofu and lettuce to bulk up the dish but here, there is no tofu and they use the more expensive tang oh (garland chrysanthemum leaves) which adds a musky vegetable and chrysanthemum flavour.
The flavour of the broth is also deliberately made lighter as it is traditionally eaten with a highly savoury bean paste (taucheo) and pickled ginger dip which they offer on the side. They also offer minced garlic and the standard fresh red chilli and soy sauce.
For fish soup novices, they serve the normal boneless batang fish ($3/4/5) and in addition to bee hoon (thick and thin), they also offer mee sua (wheat noodles), porridge or just soup alone or with rice. There is also the option to add prawns and fish roe.
They have another outlet at Tekka Centre which is moe convenient as it is located next to Little India MRT station.
---
This archived article appeared in an earlier version of HungryGoWhere and may not be up-to-date. To alert us to outdated information, please contact us here.