Woo Ji Cooked Food: $2 laksa and prawn mee!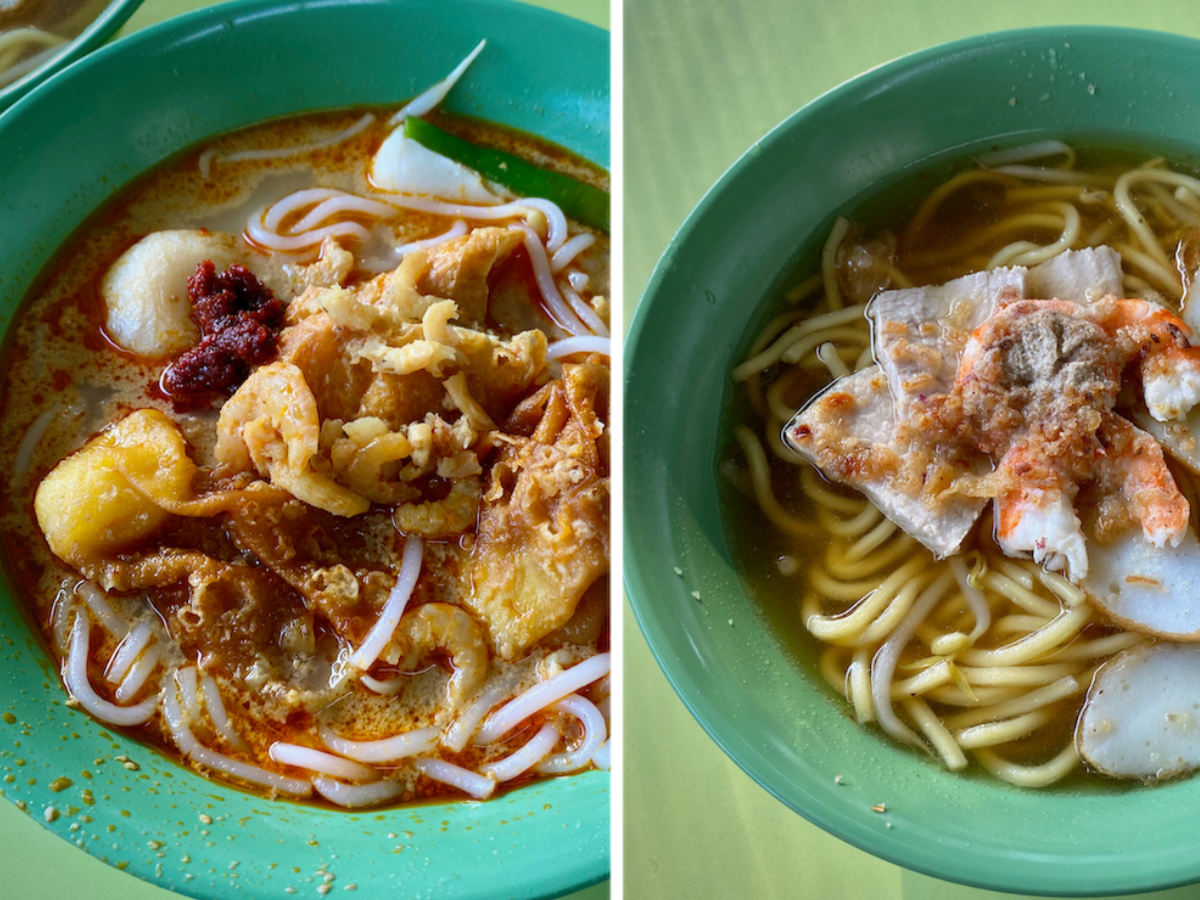 Pop round the blue zone of Chinatown Complex in the early mornings and you'll notice a long queue for laksa and prawn noodles at Woo Ji Cooked Food.
It is one of a handful of long queues that happen in the mornings at the hawker centre and you'll understand why once you look at the stall's frontage: it's $2 for a bowl of laksa or prawn noodles.
It is incredibly rare to find hawker stalls that still sell reasonably sized dishes for $2. The minimum price is usually $3 these days.
Woo Ji Cooked Food started business as a street side hawker along Smith Street in 1965. In 1986, they transferred up to Chinatown Complex and they have been there ever since. The stall is now run by the third generation.
While they get roughly equal orders for both their dishes, their laksa is the more compelling one. It has an old-school laksa broth where the flavour is mainly stock based (propped up by dried shrimp). There is coconut milk added but only enough to add a little bit of creaminess and sweetness.
It's a big contrast to the Katong-style laksas you get today, where the flavour is big and the coconut milk is very creamy and bold.
Woo Ji's laksa here is similar to what you'd get in Johor, Malaysia where they hold back on the coconut milk.
The spiciness is light but there is some sambal chilli on the side. It's moderately spicy with some dried shrimp savouriness and oil richness and it does well in boosting the overall flavour and heat.
In a $2 bowl, you'll get two fried wantons, some tau pok (beancurd puff), one fishball, fish-paste-stuffed green chilli and cooked dried prawns as a topping.
There is a $3 option which adds two extra tau pok pieces, one additional half of a stuffed green chilli and one more fishball.
The fried wantons contain fish paste but it's quite floury and there isn't much in it, so keep your expectations in check.
As for the prawn noodles ($2/3), it is decently done for the money, but it's not something you would travel half across Singapore for.
You get a decent amount of yellow noodles, some bean sprouts, sliced fishcake, sliced prawns, sliced pork belly and topped off with pepper and fried onions.
The prawn broth has a reasonable stockiness with nice savoury and rounded flavours.
Head to the stall early as the food gets sold out as early as 10am on some days.
---
This archived article appeared in an earlier version of HungryGoWhere and may not be up-to-date. To alert us to outdated information, please contact us here.