Worth it or not? Modern wanton mee at Wanton Seng's Eating House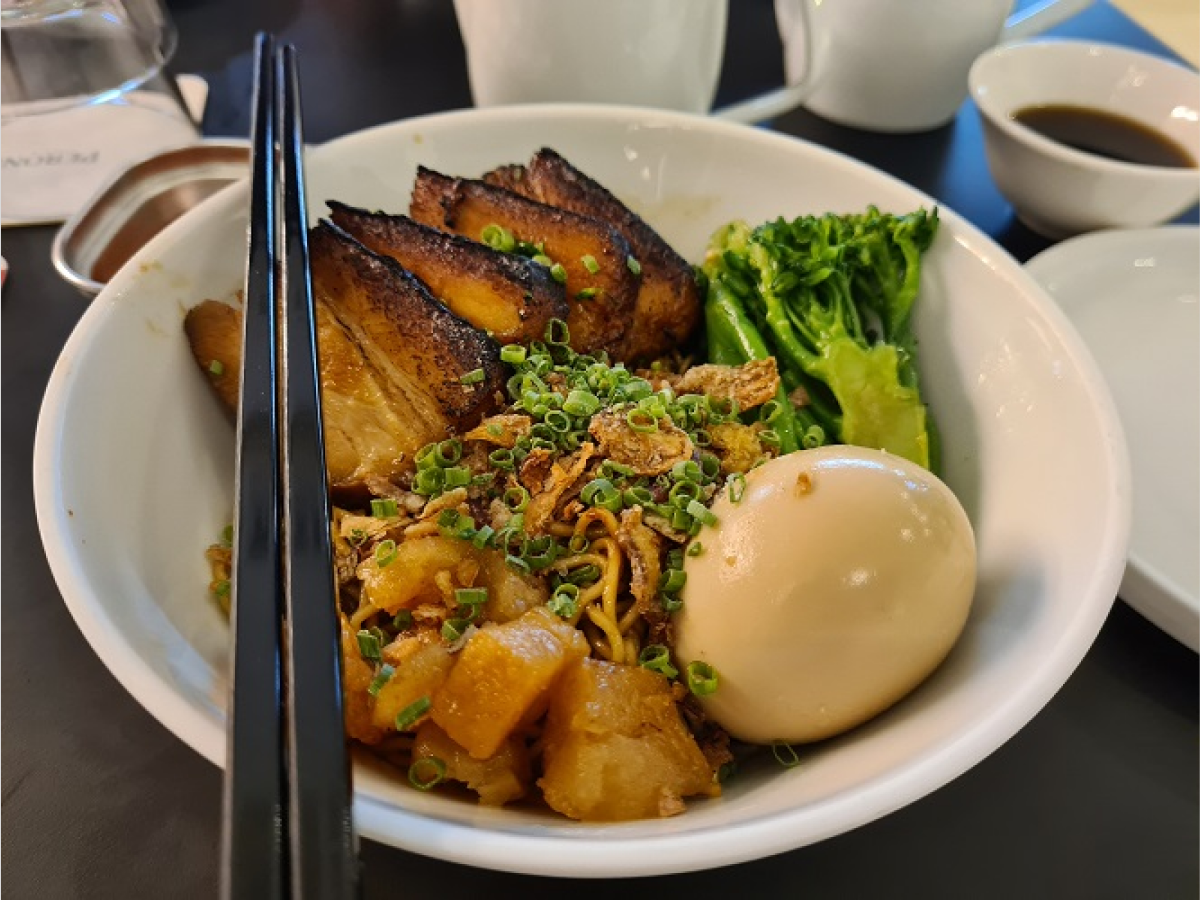 *Update (20 May 2021)*

In view of the Phase 2 (Heightened Alert) restrictions, Wanton Seng's are now offering islandwide delivery daily from 11:45am – 10pm. Online orders for delviery or self pick-ups can be made here, or Whatsapp your order to +65 9772 2587.
---
What We Like:
Signature Char Siu Noodles – savoury sauces, springy noodles and thick char siu

Mala Bah Chor Noodles – spicy goodness
What We Didn't Like:

Seng's Char Siu Noodles – classic wanton mee that is decent if unspectacular.
---
When it comes to local fare, wanton mee is as old school as it gets. These messy, sauced noodles served in plastic plates are a staple of hawker culture and have fed hungry Singaporeans for generations. But innovative takes on the dish are hard to come by, with most stores choosing to prepare one established variant over another.
And that is exactly what makes Wanton Seng's special – this restaurant serves up modern and innovative wanton mee that still pays homage to the past.
People who work in town will be familiar with Wanton Seng's Amoy Street branch, which has been serving up noodles for about six years now. Recently, they opened a brand new eatery at Millenia Walk.
The new restaurant has a hip-hop concept, which means that you'll be treated to some bangin' rap tunes as you eat. Now this might raise a few eyebrows, but rest assured – wanton mee and Wu-Tang Clan are a surprisingly good mix.
The first thing we tried was their Signature Char Siu Noodles ($12.80), which is a modern take on the Malaysian-style wanton mee.
Here, the thin slices of red char siu that typically accompanies the noodles are replaced by thick slices of slow-cooked pork belly, which we found to be piquant and tender. They were joined by runny soft-boiled eggs (similar to those you'd find in ramen), broccoli, and of course, the wantons themselves. Arguably the most important ingredient in wanton mee, the dumplings did not disappoint. They were modestly sized and each bite was a burst of meaty flavour. The springy noodles were slathered in a savoury sauce that made each mouthful a real treat.
Next up was the Mala Bah Chor Noodles ($9.80), which fans of the devilishly spicy seasoning must try. The minced pork, alongside the roasted peanuts and sesame seeds, worked in tandem with the springy noodles to give the dish a nice textural contrast that you can feel in spite of your increasingly numb tongue. The presence of the soft-boiled egg, coriander and wanton gives your tongue a pleasing respite from all that spiciness.
To pit the new against the old, we also tried the more orthodox Seng's Char Siu Noodles ($9.80). In contrast to the previous dish, this one had all the hallmarks of wanton mee, such as red char siu, kalian (Chinese kale), and a mix of boiled and fried wantons. In all fairness, it was a solid bowl of wanton noodles, but came across as a little nondescript, especially when compared to the other options on the menu.
For a heartier meal, the restaurant also serves a variety of side dishes to go along with your noodles. Some standouts include the Stir-Fried Hong Kong Kai Lan ($12), which is served with braised Japanese shiitake and fried shallots, as well as the Fried Boneless Salted Egg Chicken Wings ($10).
If you're a fan of wanton mee and would like something that is able to subvert your expectations, Wanton Seng's Eating House will impress you with its unique spins on the classic dish.
For more information on Wanton Seng's Eating House, visit https://www.wantonsg.com/.
Wanton Seng's Eating House
Millenia Walk, 9 Raffles Blvd, #01-11
Singapore 039596
Online orders for delivery here, or for self pick up, WhatsApp +65 9772 2587
---
This archived article appeared in an earlier version of HungryGoWhere and may not be up-to-date. To alert us to outdated information, please contact us here.