Review: True Cost Singapore — hits and misses at this much-talked-about eatery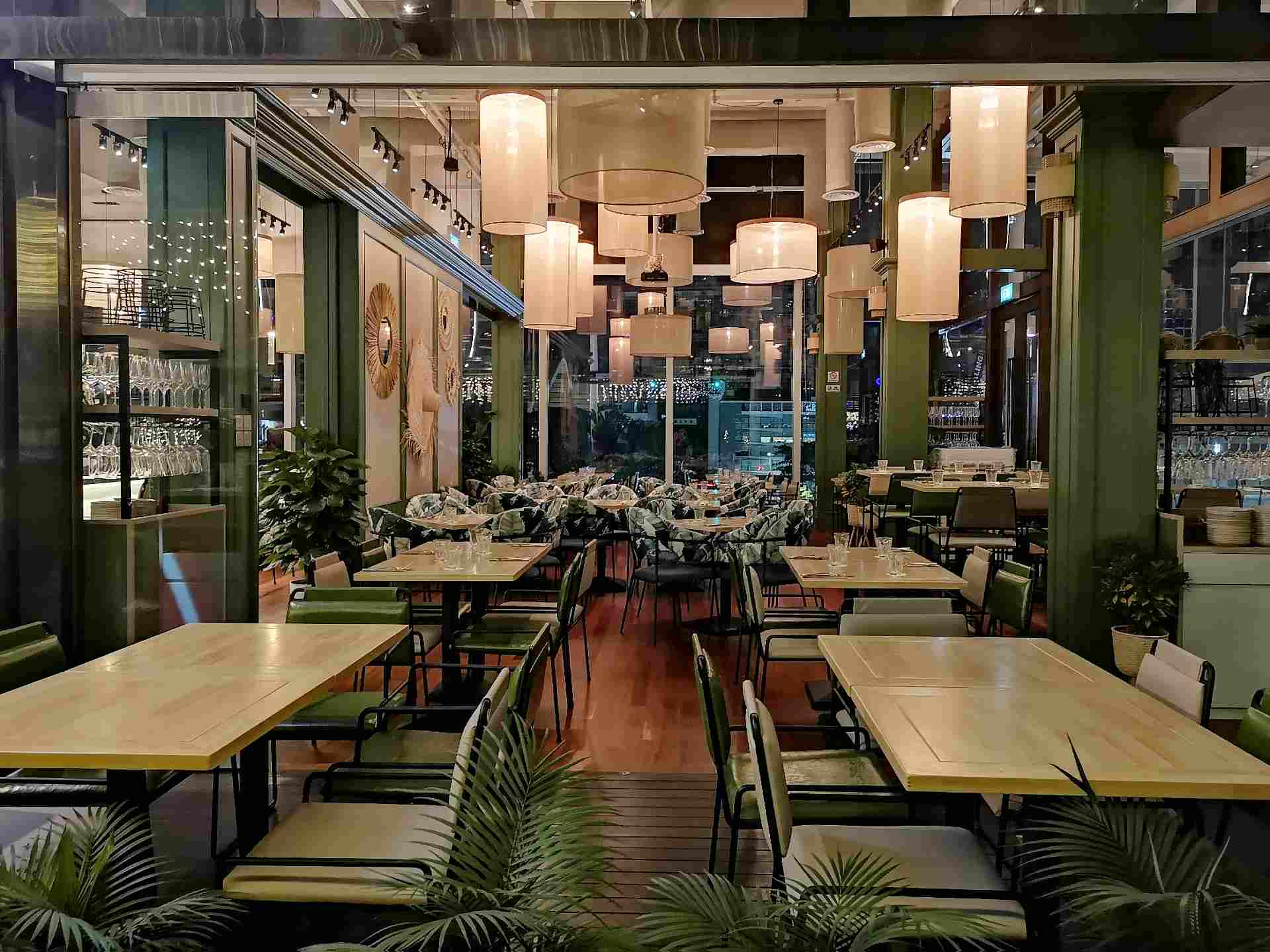 True Cost charges each diner a cover fee of S$5 to S$15, and offers food and drinks at reasonable prices 
The restaurant and wine bar hails from the Russian capital Moscow 
It offers a delicious bone marrow dish, a sizeable crab lumaconi and a mean napoleon cake
But it has yet to find its footing with inexperienced floor staff and a vaguely European menu
We Singaporean diners are a hard lot to please. So, when a restaurant like True Cost Singapore introduces a novel concept, it's a given for it to be met with some scepticism on social media.
Operating on a payment system that levies an entry fee — S$5 to S$15 before GST, depending on the time of day and day of the week — the eatery offers food and drinks at extremely reasonable prices (also before GST). 
It all sounds like a good deal — restaurant-standard fare at wallet-friendly prices. The menu, where wines and spirits dominate, even states how much you would pay at other joints in comparison. 
We didn't bring out the calculator at dinner, but the price point for dishes and cocktails (which could do with a heavier pour) seems generally value for money. A range of wine labels is listed without their vintages, however, making it tricky for tableside sleuthing (yes, we tried). 
With an already-confusing concept, it didn't help that True Cost Singapore seemed rather disorganised and unprepared for its opening. Its website was incomplete and the opening hours were wrongly listed on Instagram (when we checked on July 6). It got us wondering if it was a real, functioning restaurant or an elaborate public relations stunt. 
Thankfully, it proved to be bona fide when we headed there for dinner in the middle of last week. And though the eatery was evidently facing teething problems — our table got sent food we didn't order four times, there was a gaping hole in the toilet floor covered by a wooden board, and the music was too loud — we got fed in the end.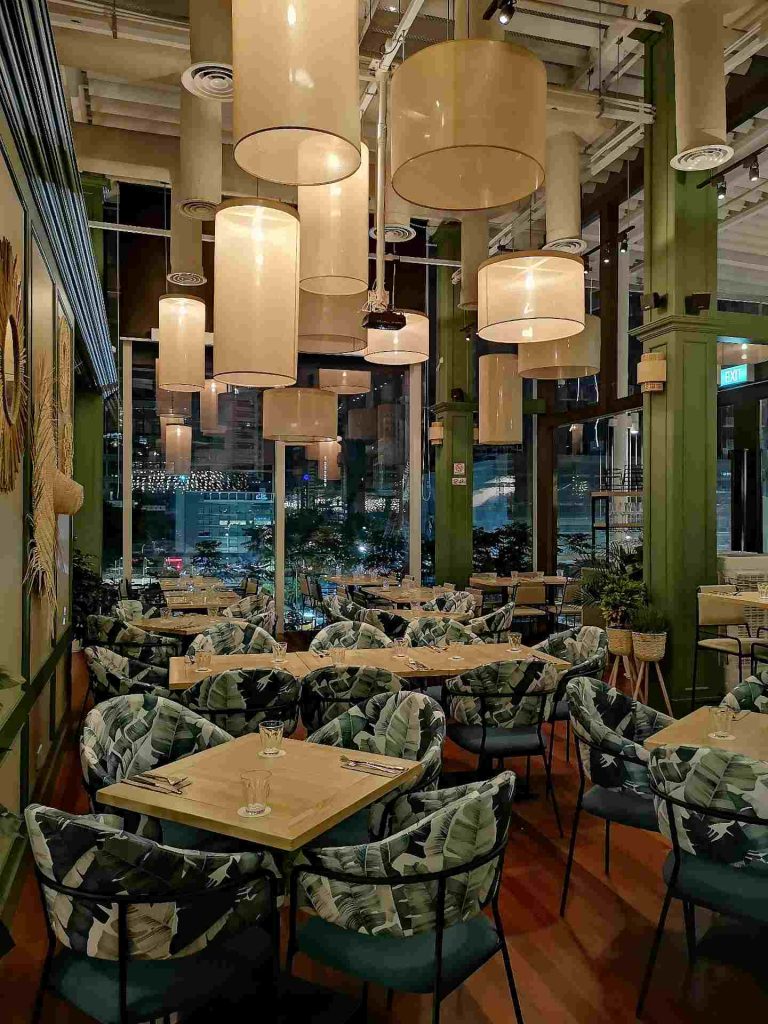 Before we go on, here's the backstory. 
Originally from Moscow, the True Cost brand operates in a more casual format — as a bar and grill — in the Russian capital. Drawing mixed reviews on TripAdvisor, the Russian outfit mostly operates in the same way as the Singapore outpost, where you pay an entry fee for supposedly cheaper grub. 
The Singapore store has pitched its marketing efforts at a social-media-savvy audience, especially on TikTok, where you may have first heard of it. 
During our visit, we spoke to a chatty chef consultant who was previously tenured at the Moscow eatery. 
We asked how the fare offered in Moscow differed from the Singapore branch's. He says the food industry is more competitive in the Russian capital. Procuring ingredients, by contrast, is much easier on our geographically gifted tropical island.
Our verdict
What it's good for 
With floor-to-ceiling glass windows and a large al fresco area, True Cost Singapore has a pretty panoramic view of Nicoll Highway below. Foliage-patterned chairs and big straw hats give the place a resort feel. And when the sun goes down, low-hanging lamps flood the main dining room in warm light.
It was a welcome sight in the labyrinth that's Suntec City. When we were there, the crowd was a mix of young working adults and people in their 30s.
Most patrons ordered the bone marrow (S$14.25), as we did, which came as two forearm-length bones with a hand-sized flatbread. Drizzled on the bone marrow was a chilli oil that tasted like Lao Gan Ma, a brand of chilli sauce, and on the side was a delicious cheese dip made of parmesan, Philadelphia cream cheese and sea salt.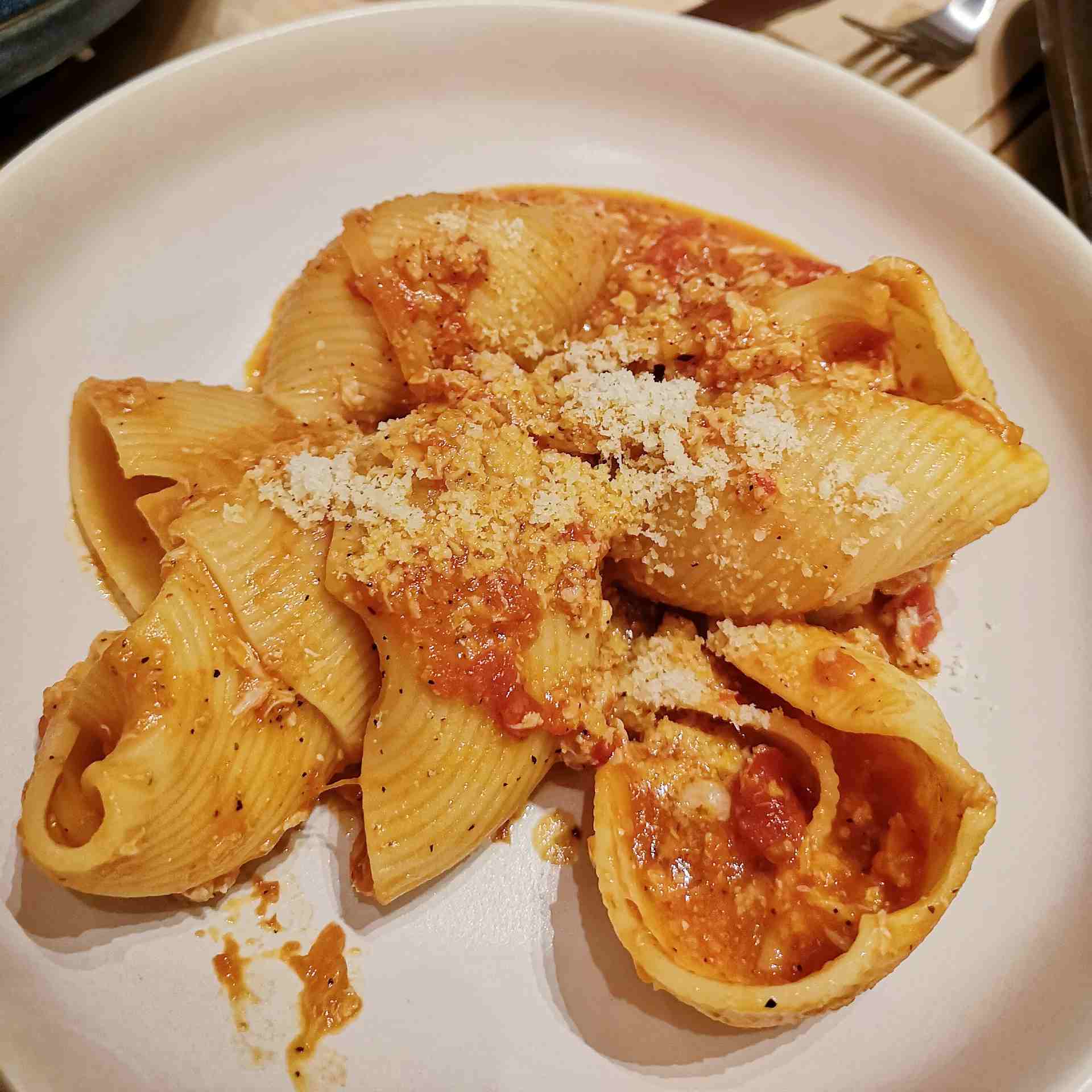 Another sizeable dish was the crab lumaconi (S$12.75), giant pasta shells tossed in a tomato base with shredded crabmeat. We wished there was more of the sauce and crabmeat, but we generally enjoyed this hearty offering and slightly al dente lumaconi. 
We almost missed out on getting desserts, thinking that there was nothing impressive about the two options: A salted caramel cheesecake (S$9.05) and napoleon cake (S$10.55). At the recommendation of the chef consultant, however, we ordered the napoleon cake, which turned out to be one of the better dishes of the night. 
A mille-feuille of puff pastry layered with cream, then powdered with sugar, this dessert has French origins. It later became a Russian national dish.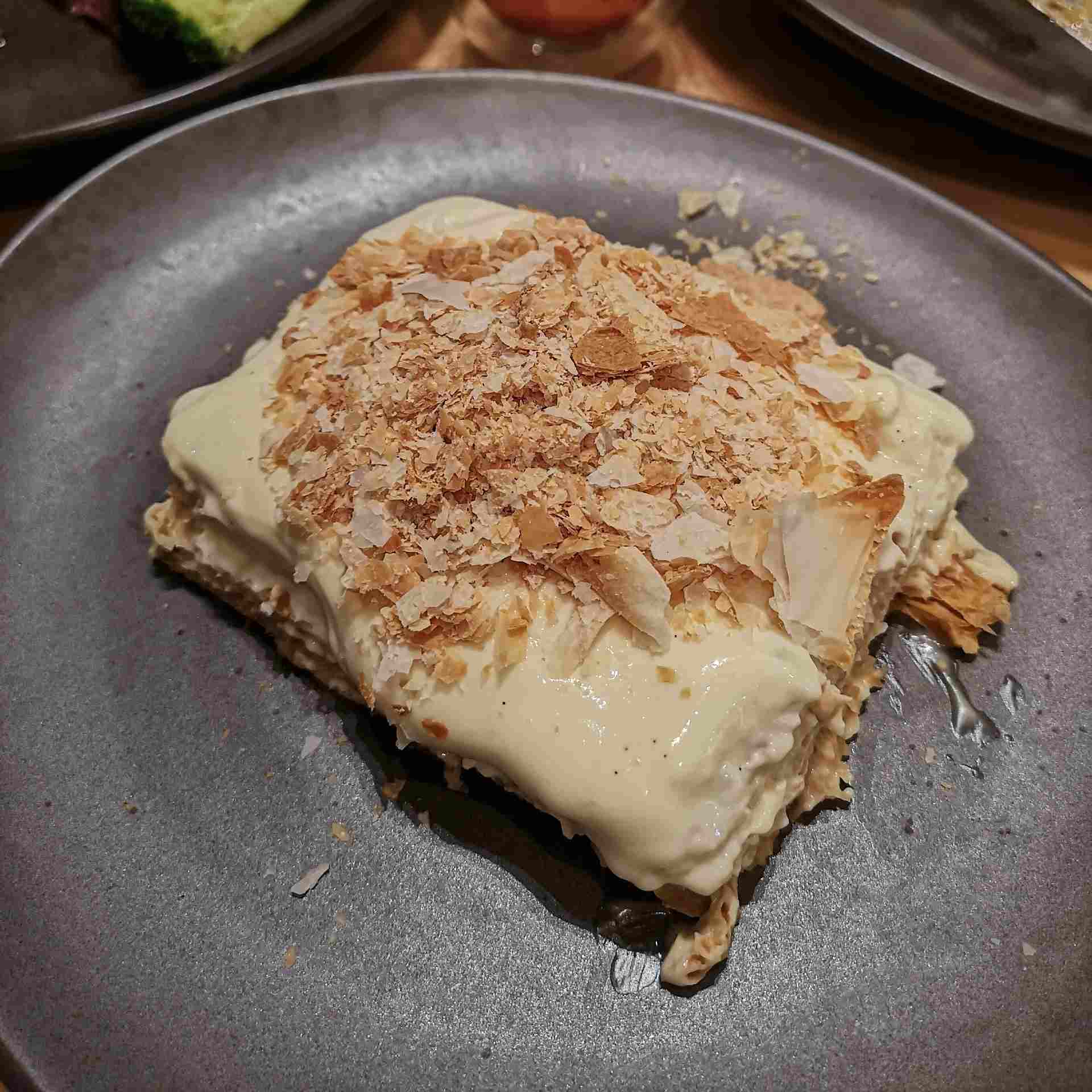 What it could improve on
While the food wasn't too shabby for a new, shortstaffed joint, there's still some way to go before it hits the mark for restaurant-standard fare. 
The style of cuisine could also do with some fine-tuning, as it's now a vague, uncategorisable genre — a mishmash of east and west with some bits of local flavour and Russian fare thrown in.
The yellowtail crudo (S$7.65) was below par, with thick cuts of the fish that were fibrous (perhaps due to how it was sliced). Precisely because of the dish's simplicity, it would have benefited from a more proportionate ratio of vinaigrette to fish. 
The smoked cheese salad (S$12.45) was disappointingly mediocre for the price. The crumbly cheese atop a spinach and tomato salad in a soy sauce, garlic and shiso dressing had no smokiness at all. 
The octopus with potato mousse (S$19.85), another simple dish that was quite popular with the crowd, was also unremarkable. Unlike the charred, smoky and tender variations found in Spanish restaurants, the tentacle was overcooked and rubbery. And the potato mousse tasted starchy. 
Food aside, the eatery's floor staff appeared inexperienced and at times confused, though they were always warm and apologetic.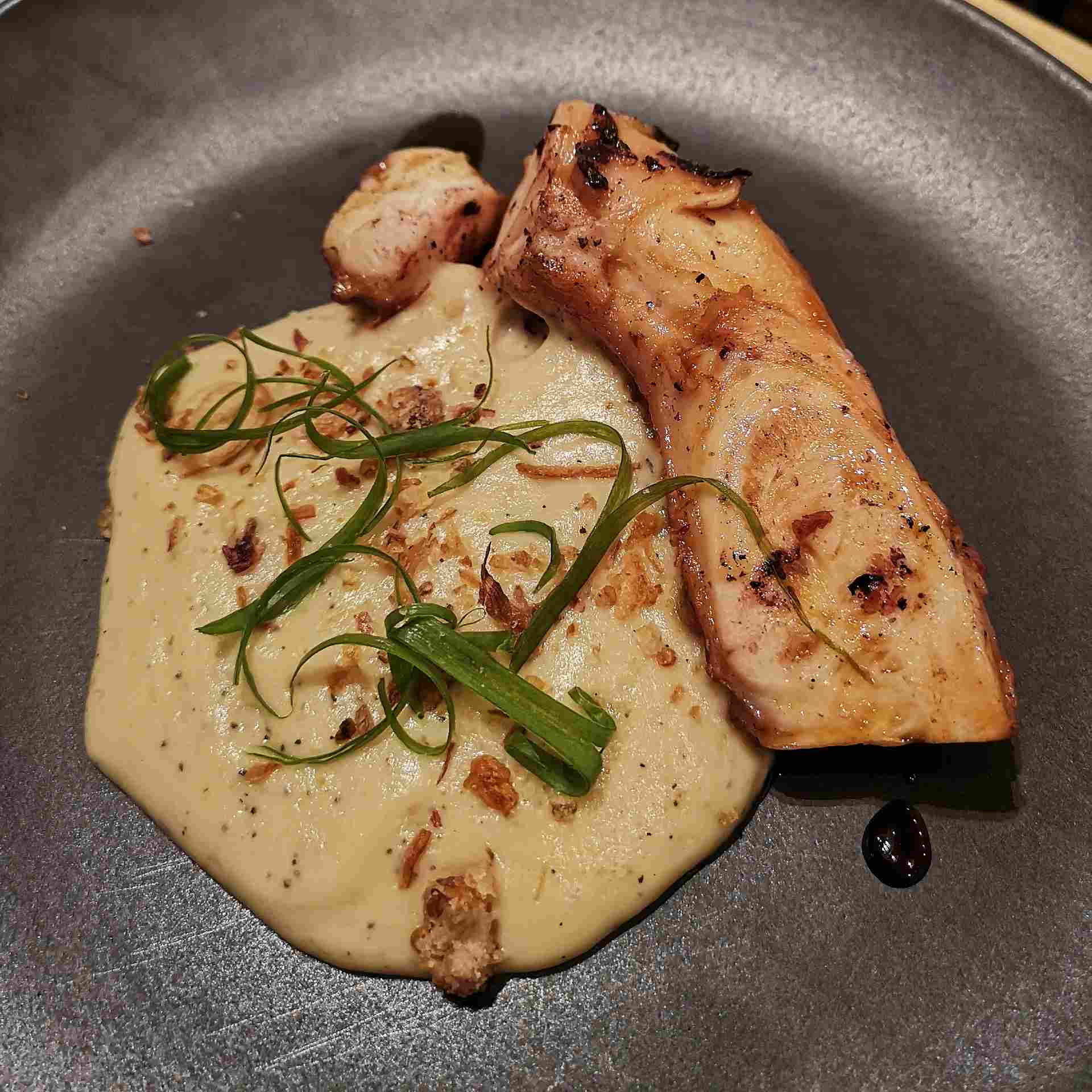 Our quick takes
Is it conducive to conversation? No. It was a pity that the eatery was blasting music at club-like decibels. 
Is a reservation necessary? You probably won't need a reservation, but if you're going in a big group, there's no harm in making one. 
Takeaway recommendations? None of the dishes are made to travel well. It's best to dine in. 
How to get there? Alight at Promenade MRT station and walk towards Suntec City Tower 5. True Cost Singapore is located at the Sky Garden between Towers 5 and 1. Take the outdoor escalator for the quickest way up. 
Things to note: 
You'll need to pay an entry fee before you are seated. So, if you're visiting in a group at different times, stick to paying individually. 

When searching for the restaurant, look out for a big "LOVE" sign, which is straight down the aisle from the outdoor escalator. 
HungryGoWhere paid for its visit to this restaurant for this review.
Book a ride to True Cost Singapore. 
Suntec City, 03-302/303, 3 Temasek Boulevard
Open: Monday to Sunday (12pm to 11pm)
Suntec City, 03-302/303, 3 Temasek Boulevard
Open: Monday to Sunday (12pm to 11pm)
---