Tong Xin Ju Special Shanghai Tim Sum: Huge portions and tasty!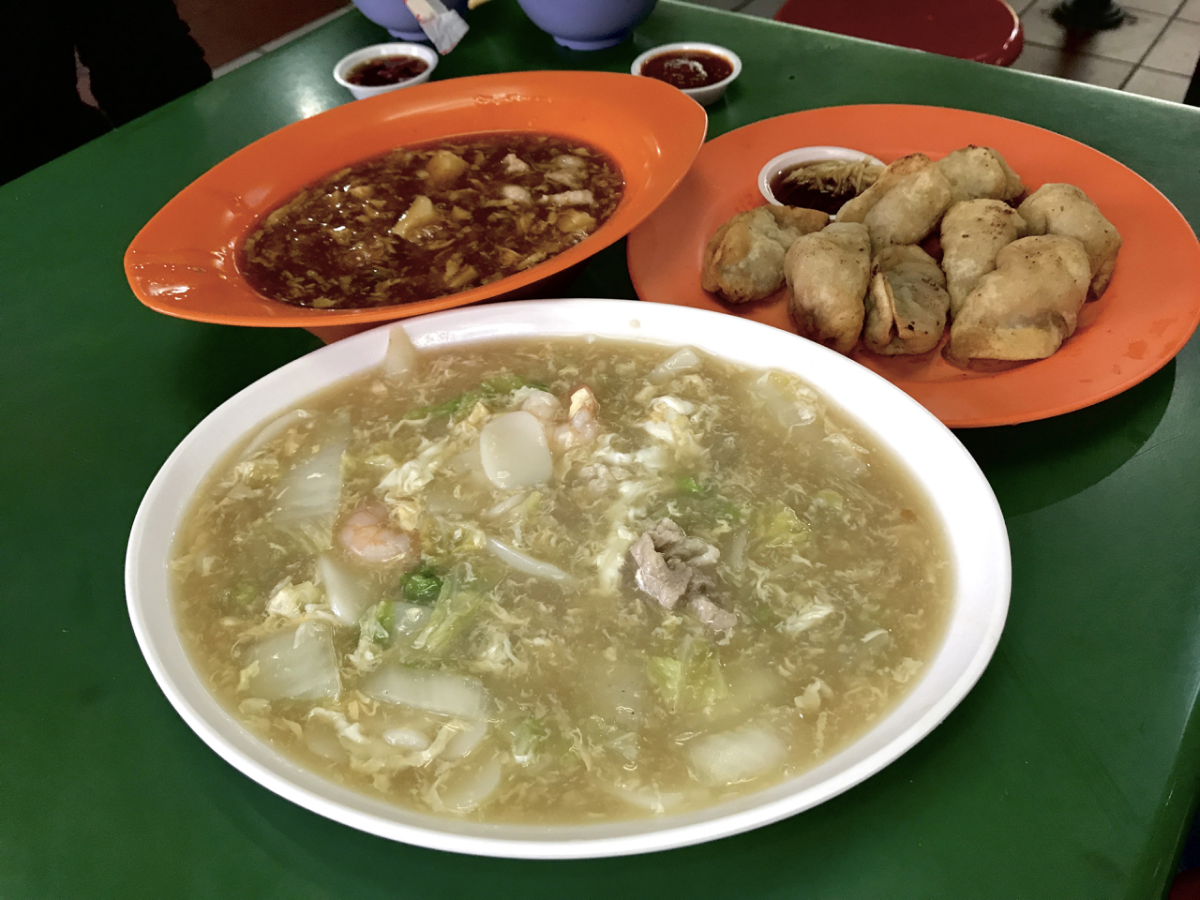 When was the last time you had a generous meal which made you full for only $4? Tong Xin Ju Special Shanghai Tim Sum — one of the first street-side stalls to start selling Beijing and Shanghainese food in Singapore — have garnered a huge following for exactly that reason over the course of their almost 70-year history.
Now in the hands of 60-year-old Sebastian Hu, a fourth generation owner —, the stall have been covered in the media fairly extensively for their small but concise selection of China dishes like Beijing hor fun/noodles, Shanghai rice cakes, hot and sour soup and of course guo tie (dumplings).
The original Shanghainese owner sold his dumplings in a coffeeshop opposite Majestic Theatre (now The Majestic), Chinatown in 1949.  The business moved to Commonwealth Avenue Cooked Food Centre (Margaret Drive Hawker Centre) in 1972 and when it was demolished in 2011 to make way for new HDB flats, they relocated to Maxwell Food Centre in 2012.
We mean it when we say impressive portions for cheap. A $4 order of Pei Jing Noodles ($4/5/6) is almost large enough for a big eater and is packed with prawns, sliced pork, squid, cabbage and wat tan (smooth eggs) in the gravy. The sauce is a typical hor fun gravy that comes with the expected savoury and oil-rich notes. The texture has the right consistency, not too thick or watery, and plus point, not too much starch is added into the mix.
The same ingredients and this base gravy is used across all of their noodle dishes (Pei Jing Noodle/Pei Jing Hor Fun/Shanghai Rice Cake) so don't be surprised if you don't find much too much difference between them. The saltiness is on the light side for the hor fun and the rice cakes but not so for the noodles. The kansui (alkaline) in the noodles adds saltiness into the gravy thanks to the presence of alkaline salts (sodium carbonate and potassium carbonate).
The other must-order dish is their Shanghai-style Hot and Sour Soup ($4/5/6) which has nice balanced spicy, sour and savoury notes and is again chok-full of sliced meat, silken tofu and wat tan. Again the portions are generous for the price, but they do omit certain ingredients — black fungus (wood ear mushroom), bamboo shoots, scallops, dried mushrooms — to keep the prices low.
Also seen with every order are their guo tie (pan-fried dumplings) and jiao zi (boiled dumplings) which can be had for $4 (eight pieces). Each dumpling is packed full of soft minced meat, chives and the skins are reasonably thin. They are made in batches throughout the day to maintain its freshness.
---
This archived article appeared in an earlier version of HungryGoWhere and may not be up-to-date. To alert us to outdated information, please contact us here.