Get your fill of prosperity with The Ramen Stall's Halal Yu Sheng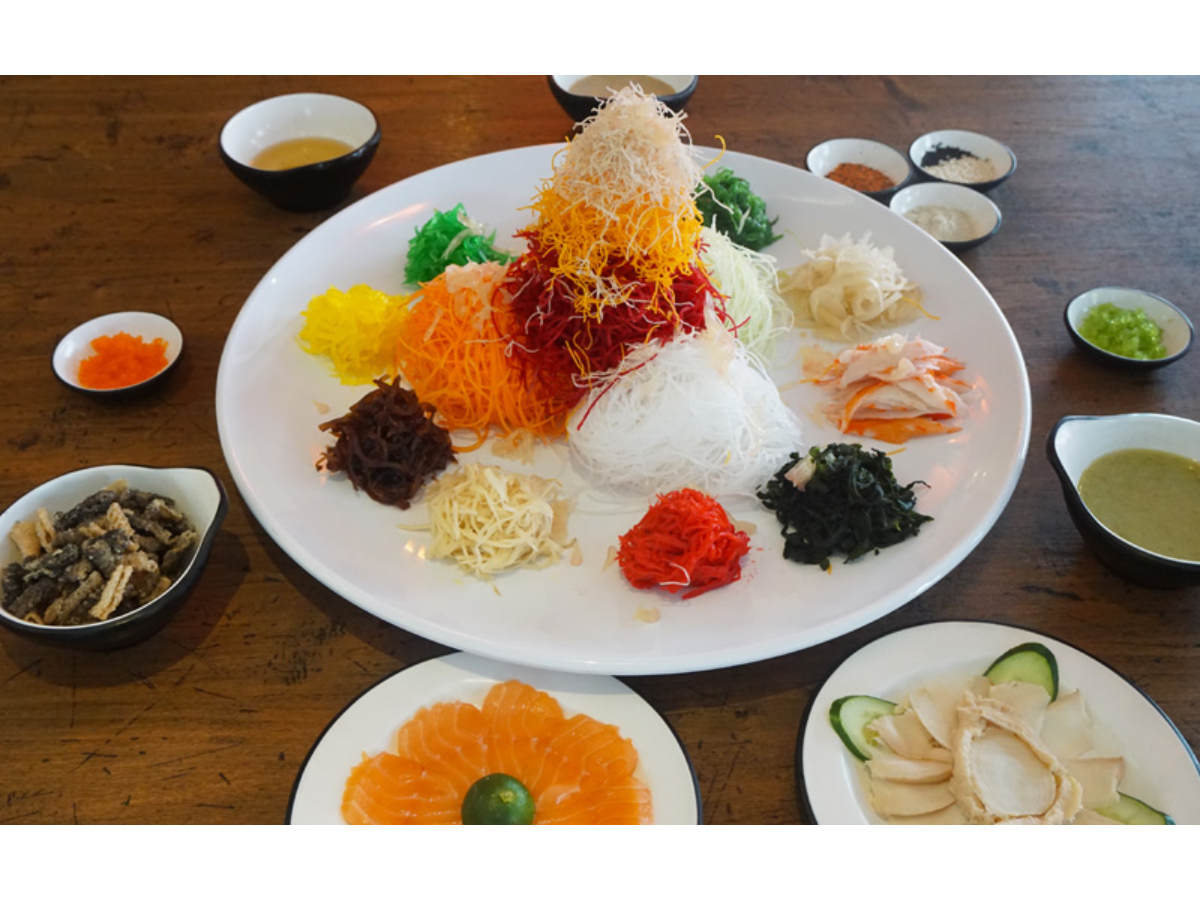 Whether or not you have religious dietary guidelines to follow, you can now "huat ah!" (Baik) and partake in that time-honoured Chinese New Year ritual of the lo hei. Yes, now, you can have your yu sheng and eat it too!
That's because The Ramen Stall has unveiled a special halal yu sheng for the coming Lunar New Year festivities. An establishment started by the same people behind The Ramen House, a popular ramen supper spot, The Ramen Stall has forged a name for itself as a supper spot with great halal-certified ramen and Japanese cuisine. In fact, they are the only spot for halal-certified ramen and Japanese cuisine along North Bridge Road.
It comprises some of the staple ingredients that you've come to expect from the dish: carrots, radish in a variety of colours and salmon. Condiments that go into the dish include white pepper, black and white sesame, as well as sweet and sour sauces – all of which lend a familiarity to the dish. 
But it's not all same ol', same ol'. The Ramen Stall has swapped out the usual crackers and introduced crispy fish skin in its place. The restaurant has also embellished their yu sheng with red and wasabi Tobiko – condiments seldom seen in the dish. 
They add creaminess, as well as a touch of opulence, to the dish. After all, for a dish meant to symbolise auspiciousness and prosperity, the more luxurious and decadent, the better!
And the ingredients carry a symbolism to them too: the salmon, for example, represents  "to have abundance year after year".
The sweet and sour sauce is meant to signify warmth and unity within your family, just as opposites like sweet and sour can come together and complement each other.
Eating something so thoughtfully put together makes the whole dining experience feel so much more meaningful.
The small yu sheng, fit for 2 to 6 pax, is going at a very affordable $28.80++. The big yu sheng, suitable for 8 to 12 pax, is only slightly more expensive at $48.80++. An add-on of about 100g of abalone is available at $38.80 (nett) if you want to further luxe up your yu sheng.
Besides yu sheng, The Ramen Stall is rolling out a series of CNY packages that are perfect for your reunion dinner.
Forget miserly portions — at The Ramen Stall, it's go big or go home. Package 1, fit for 5 to 7 diners, ($268+, U.P. $388++) comprises appetisers such as potato salad and seaweed salad; assorted sushi like Prawn Tempura Roll and Futomaki; seafood such as Hokkaido Scallop and Softshell crab; meats like teppanyaki beef and spicy garlic chicken; kushiyaki like prawn skewers and shiitake mushroom skewers; as well as a dessert of yoghurt soft serve.

Top up $30 to $268+ (U.P $388++), and you'll get a huge platter of sashimi which includes salmon sashimi, tuna sashimi, Mekajiki (swordfish) sashimi, and more. 
If you're bringing a larger group of between 8 to 10 diners, you can opt for package 2 ($298+, $338++ with sashimi platter). For every other individual portion that you want to add, you need only top up $38.80++.
Of course, the staples on the a la carte menu, like the Volcano Ramen, are still available.
Whether you are looking for somewhere other than the standard Chinese restaurant to celebrate CNY, or are looking for an eatery open during CNY hours to meet up with friends, The Ramen Stall makes for a great option.
Enjoy delightful and accessible Japanese food there, and remember to bring a huuuge appetite.
---
This archived article appeared in an earlier version of HungryGoWhere and may not be up-to-date. To alert us to outdated information, please contact us here.