[CLOSED] Small Potatoes Ice Creamery: Kinkaku soft-serve ice cream with gold leaf comes to Singapore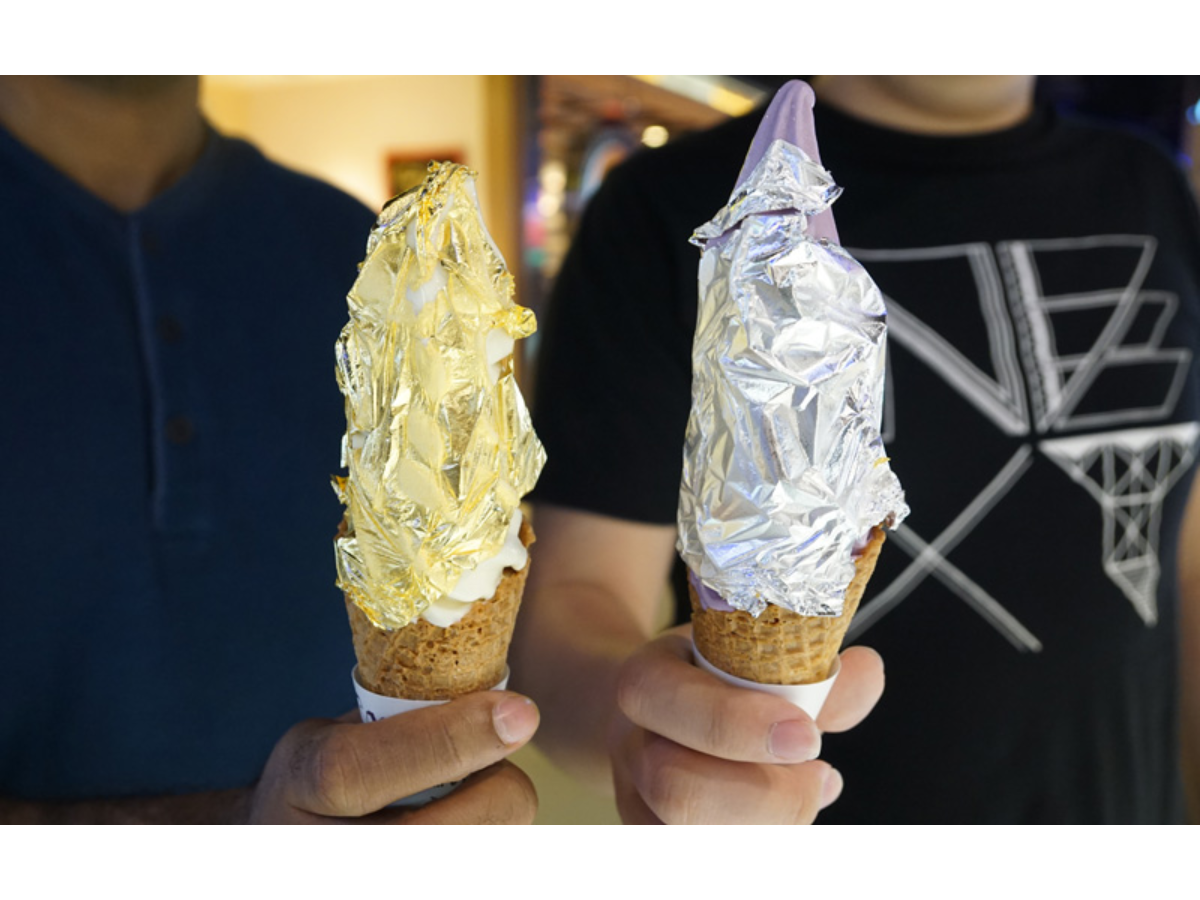 Have you ever eaten your ice cream with real gold before?
If you (like most of us) haven't, here's your chance: Small Potatoes Ice Creamery has recently introduced the famous Kinkaku Soft Ice Cream, which comes with a gold leaf.
The ice cream originates from Kinkakuji Temple, better known as "The Golden Pavilion", one of the iconic landmarks in Kyoto.
Small Potatoes Ice Creamery has launched the Kinkaku Soft Ice Cream in two flavours: Sea Salt Caramel with Gold Leaf ($12), and Purple Potato with Silver Leaf ($10).
Both flavours cost almost double that of the gold and silver leaf-less versions. According to the stall owners, it's because the gold leaf and silver leaf are made of real gold and silver respectively, and are hence very expensive.
In fact, the gold leaf is made with 24-carat gold.
That said, the gold and silver sheets/leaves are purely ornamental; they are flavourless, and since the sheets are so thin, do not add any texture to the ice cream. But they certain make the whole ice cream look more atas and luxurious.
And they're also 100% safe to eat, since they are biologically inert and are simply passed out from the body.
We prefer the sea salt caramel ice cream over the purple potato ice cream — it had a delicate salty-sweet flavour that was satisfying but not overly heavy.
When we first visited Small Potatoes Ice Creamery last year, we felt that their Purple Potato Ice Cream had a slightly too pronounced potato taste, which may put some off. They've since switched the purple potatoes they use for the ice cream, and the potato flavour is more subtle now.
Overall, we think Small Potatoes Ice Creamery's soft serve ice cream is one of the better ones we've had, especially their sea salt caramel. But paying a premium for a jazzed-up look to the ice cream? We say it's okay to do it just once for the novelty factor, but beyond that, we'd rather stick to the original flavours.
The Sea Salt Caramel with Gold Leaf and Purple Potato with Silver Leaf are available at Small Potato Ice Creamery's Square2 and 313@Somerset outlets.
---
This archived article appeared in an earlier version of HungryGoWhere and may not be up-to-date. To alert us to outdated information, please contact us here.