Must-tries at The Line @ Shangri-La's Seafood Buffet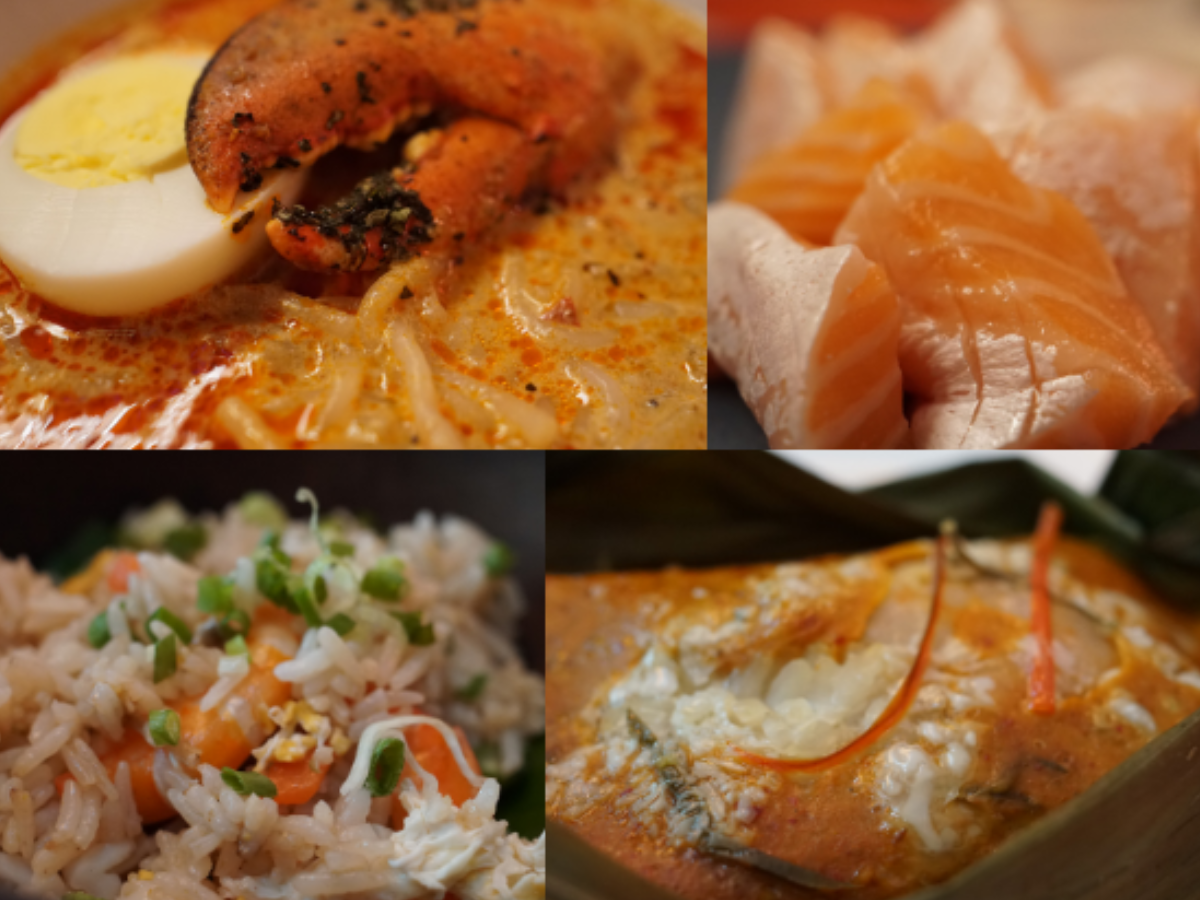 What we enjoyed most:
Grilled Prawn Caesar salad and Singapore Chilli Crab- Fresh produce and a good blend of flavours

Ambience and space to engage one another- not having to walk to the buffet area was actually better than we expected

Service by staff – promptly delivered our dishes
What we did not enjoy:
Chocolate Cremeux with Cocoa Streusel – a little too sweet for our liking
---
Named one of the top luxury hotels in Singapore, Shangri-la is home to not just beautiful rooms but also delicious food.
The hotel has five restaurants that you may have heard of before such as Origin Grill, NAMI and The Line.
While being grounded here in Singapore, many of you may be missing the thrill of travelling and exploring delicacies from different countries.
If so, make your way to The Line as they pride themselves for being able to serve over 88 different dishes from Asian, Western, Lebanese, Japanese and many other cuisines.
With such an exciting background, we were thrilled to try out The Line's Marine Harvest Night buffet – more importantly, their new 2021 additions.
Upon entering the restaurant, we were ushered to our seats and provided with a QR code that led us to The Line's new e-ordering page.
The site holds their newly curated menu and records your orders for the rest of the night.
We started off our buffet with the restaurant's starter recommendations- the Grill Prawn Caesar Salad and Vegetable Pakora.
While waiting for our orders, which took less than 5 minutes to prepare, one of the staff shared that the different cuisines at The Line are prepared by chefs from the respective countries.
Thus, we added authenticity to our many expectations for the dishes we were about to feast on.
The first dish we tasted was the Vegetable Pakora.
This traditional Indian savoury snack was flavourful. We felt that though the outside was slightly crispy, the contents of it were kept soft and fluffy.
Between both starters, we seemed to enjoy the Grill Prawn Caesar Salad best.
The first thing that we noticed was how juicy the prawns were.
There were thinly sliced cheese pieces as well that gave each bite something different to enjoy.
This in particular was a good start to our buffet.
The first main that we had was a Thai speciality- Hor Mok Talay (Thai Seafood Otah).
Crafted by putting together spices, seafood chunks and coconut cream, this seafood otah is slightly on the thicker side of otahs. It has chunks of squid and prawns too that makes it flavourful.
This will be best enjoyed with The Line's other Thai dish- Kao Chuk Kapi (Shrimp Paste Fried Rice).
The rice portion is just nice to enjoy and not too much where you feel surfeited with it. The rice has a strong shrimp taste which we particularly liked as major seafood lovers.
Next, we tried another Asian delight as well as an Indian dish- Singapore Chilli Crab and Kadai Prawn with Naan bread.
The sweet notes of the Chilli Crab gravy, the crispiness and the fluffiness of the Mantous all went perfectly well together.
We truly enjoyed this dish though feasting on the crab was not too pretty.
Another dish that we particularly liked was the Kadai Prawn.
But, this was a little too filling for us as the Naan bread was thick. Despite that, this dish is a must-try as it gives you the little spicy kick that the other dishes lack.
We did try many other dishes in between like the Singapore Laksa with Lobster Claw, Seafood Platter and Sashimi set.
Though they were all tasty, the next must-try that we had was actually their oldest crowd favourite- Durian Cake with Coconut flakes.
As a durian fan, if you have yet to try this, you are missing out. The cake texture is soft and the moistness of the cake goes really well with the rich taste of the durian. Interestingly, the coconut flakes gave the cake a bite to it that we loved.
For those non-durian lovers, another sweet yet delectable dessert you have to give a go would be their Salty Caramel Choux Puff. We noticed that this was flying off the dessert counter all night along with the Chocolate Cremeux with Cocoa Streusel.
The salty caramel dessert only has a slight note of creaminess and sweetness to it as the saltiness and puff's pastry cuts right through it.
Overall, it had a good balance.
We found the chocolate dessert a little too sweet but the kids seated at the tables near us seemed to love it.
At the end of the night, we felt that for the price point of the buffet, $98++ per adult, it was truly worth it.
Even if you are unable to enjoy every single item on the menu, the freshness of the ingredients and quality of the products made it worthwhile.
Do take note that this menu is exclusively available during the Marine Harvest Night dinner buffets, which are only on Thursdays.
If you are a meat lover, you could go for their Butcher's table which is held every Wednesday night.
Some of their highlights include Beef Kebab Ourfali Minced Beef (eggplant, tomatoes and sauce), Hainanese Pork Chop, Grilled Lamb leg.
For those of you who may be bringing along children aged 6 to 11 years old,  enjoy 50% of the adult's price.
Children below 6 years old can even dine free when accompanied by one paying adult.
---
This archived article appeared in an earlier version of HungryGoWhere and may not be up-to-date. To alert us to outdated information, please contact us here.