Review: September Coffee is pretty, but are good looks everything?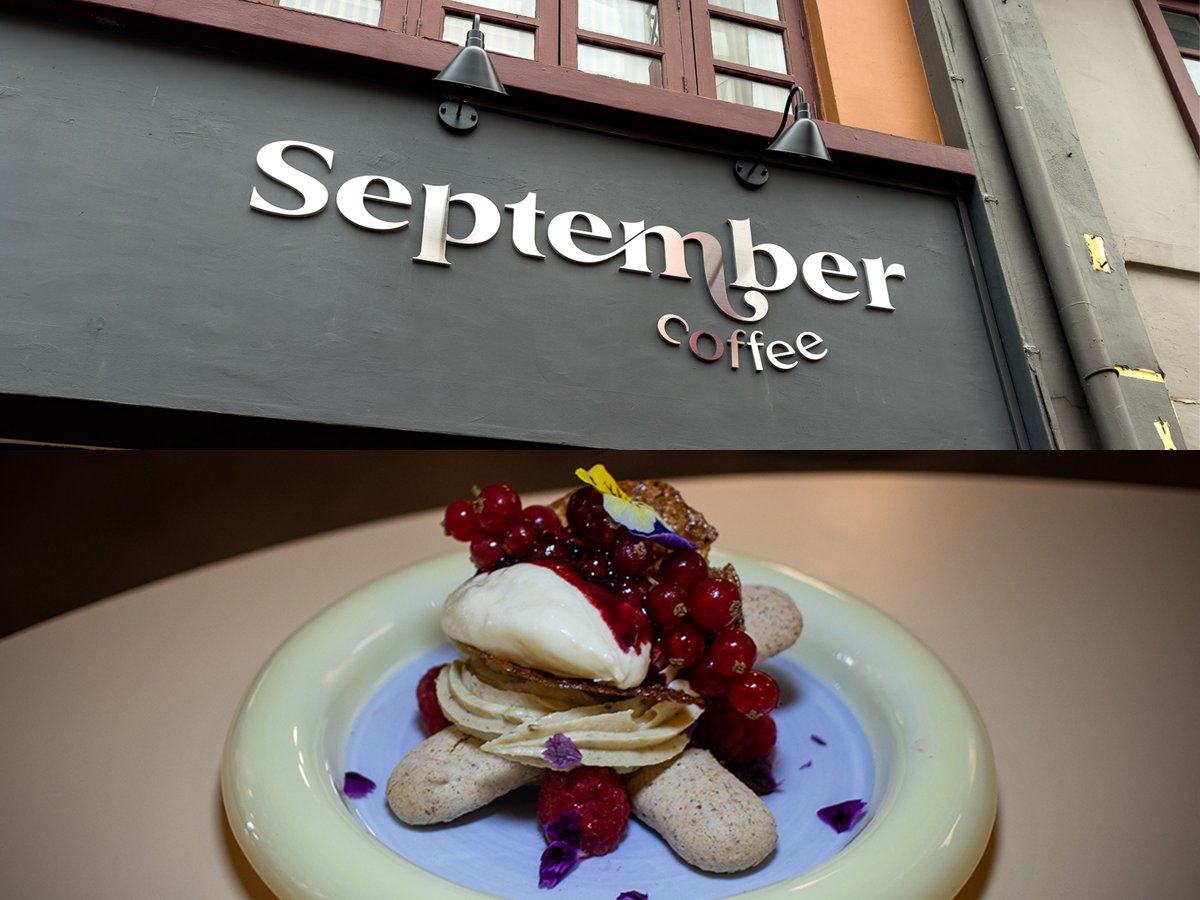 September Coffee is a new Chinatown cafe serving up food with a slight Korean slant, such as soy glazed wings
Service time can be greatly improved, though
Some of the flavours and textures could also do with a bit of refinement
I'm a little wary of restaurants and cafes that are too curated and too pretty to be true. You know the type — a well-designed logo, interiors decked out to maximum Instagram-worthy effect, and a blooming Monstera deliciosa because, well, plants. 
September Coffee at Chinatown is all that. But that's not to say it's not any good — that remains to be seen. But if first impressions are made to impress, then September Coffee has left little to the fertile imagination. 
The cafe's interior is an influencer's dream. 
Cream walls? Check. 
Tables with curves? Check. 
Globe lights? Check. 
Warm globe lights? Check.
There's also a dramatic curved entryway at the front that screams 2022 BTO-fancy. Like I said — curated. 
Still, I'm wary not because I don't appreciate such aesthetics. But I wonder if it could have put a greater focus on other more pertinent aspects of the eatery. 
Something has to give, I reckon. 
The backstory
Before September Coffee, the space was home to a run-of-the-mill, nondescript, functional 7-Eleven store. 
It makes the transformation of September Coffee all the more startling — from drab and dreary to dreamy and demure, all in one pandemic. 
And why September, you ask? Your guess is as good as mine, although other online reviews attribute it to the owner's birthday month.
Our verdict 
What this place is good for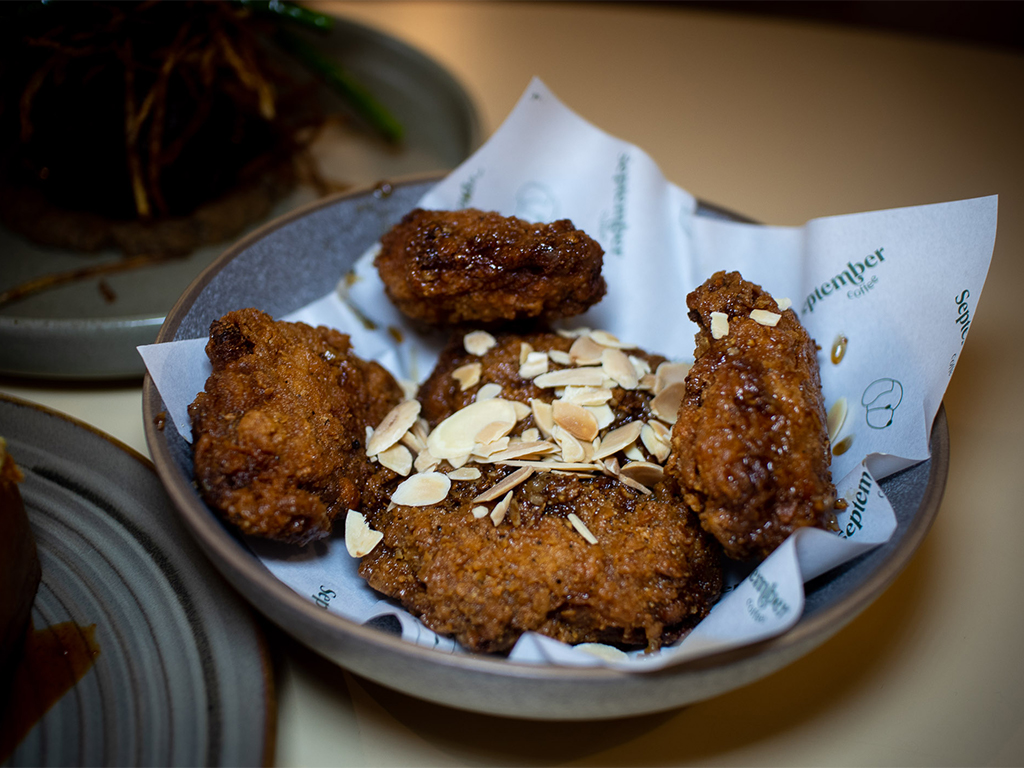 I remember breathing a sigh of relief when I arrive on a Tuesday, at noon, for lunch. The crowd was thin, and I had free rein over where to sit. 
Still, the food took a tad too long to arrive — around 35 minutes for three dishes and a further 15 minutes for an appetiser. 
At one point, confused and famished, I stopped a server to ask if I had placed my order online correctly. "Yes, you did," she assured me. "Your food is coming out very soon."
Surprisingly, the food I liked most was the delayed appetiser of soy glazed wings (S$12), which had the honour of being the last thing my dining partner and I ate. 
It was plump, juicy, and a delightful blend of savoury and sweet from the thick glaze that hugged the batter in a comforting embrace. If you're serving crispy midjoints, this is how you do it.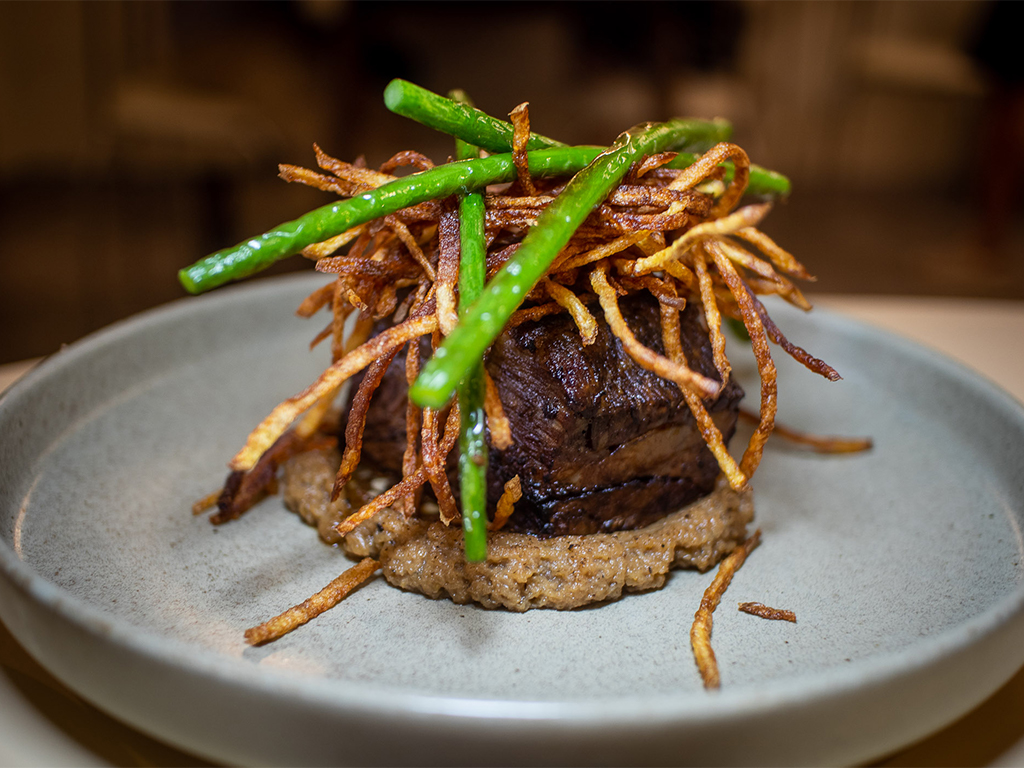 I'm also quite enamoured of the beef brisket (S$26), a thick square cut of beef that gives way easily when cut. Still, while tender to a fault, nearer the bottom, it did get a tad dry. 
But no matter. I loved that the asparagus it came with was sweet with a satisfying crunch. The potato strips also went a long way towards adding textural variance. There's some thought put into this plate. 
Dessert comes by way of a September Coffee-recommended Pistachio Raspberry (S$14), which would easily draw respectable gasps from those less acquainted with the food industry.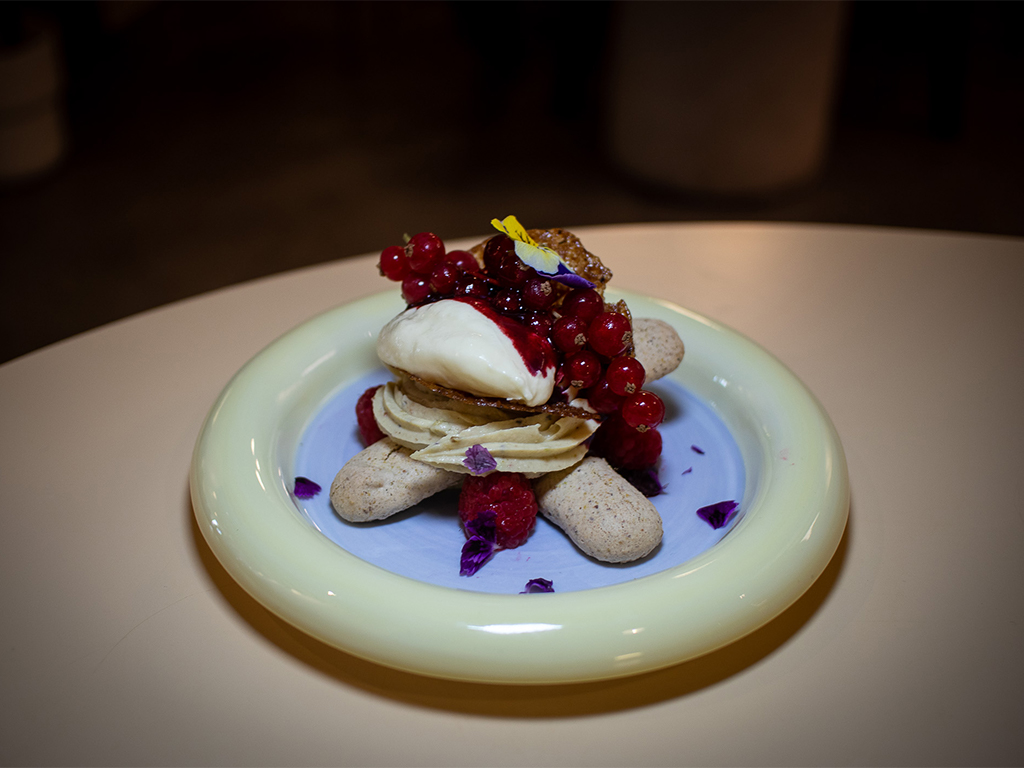 Taste-wise, it's an easy dessert to like. There's a pleasing tartness from the fruits (though the cranberry on the stem felt a little out of place) and a pleasant sweetness from the white chocolate ganache. The pistachio ladyfingers were a welcome surprise, since they weren't mentioned on the menu.
All in all, it's a perfectly acceptable, average dessert. 
And for all intents and purposes, that's exactly how I would describe September Coffee — perfectly acceptable. If you're hungry and happen to be around the area, you'll be adequately taken care of. Perhaps that would have to be good enough for now.
What it could improve on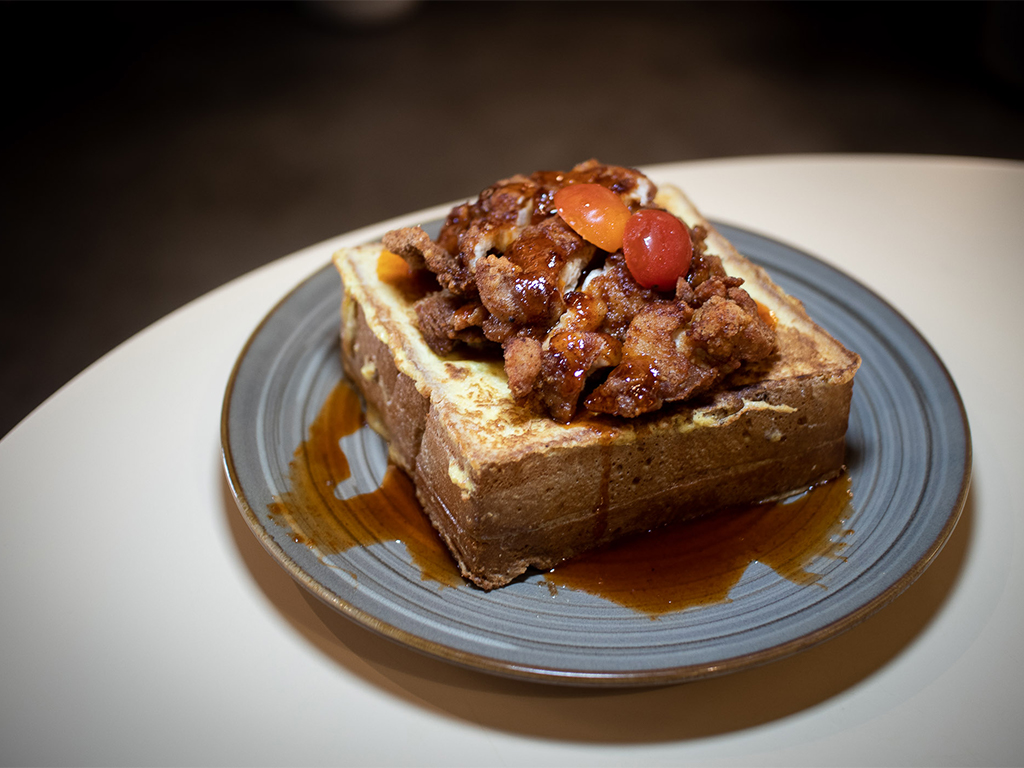 When I ordered the fried chicken French toast (S$18), I wasn't expecting it to be life-changing. I got it only because it was a September Coffee recommendation. 
It turned out to be noticeably lacking. The tour of disappointment starts with the thick French toast that's fluffy but also dry on the bottom half. 
It needs to soak up more egg mixture, and I would recommend using two thinner, stacked slices instead. 
Also, the fried chicken at the top isn't brined, so it's not as juicy as it should be. 
But at least the spicy honey — a delightful mix of spice and sweetness — was good, though I thought it could have been a tad spicier for a touch more heat. 
Also, the menu indicated pickled Japanese cabbage in its description. Alas, that was nowhere to be seen. It's perplexing. I wonder where it went.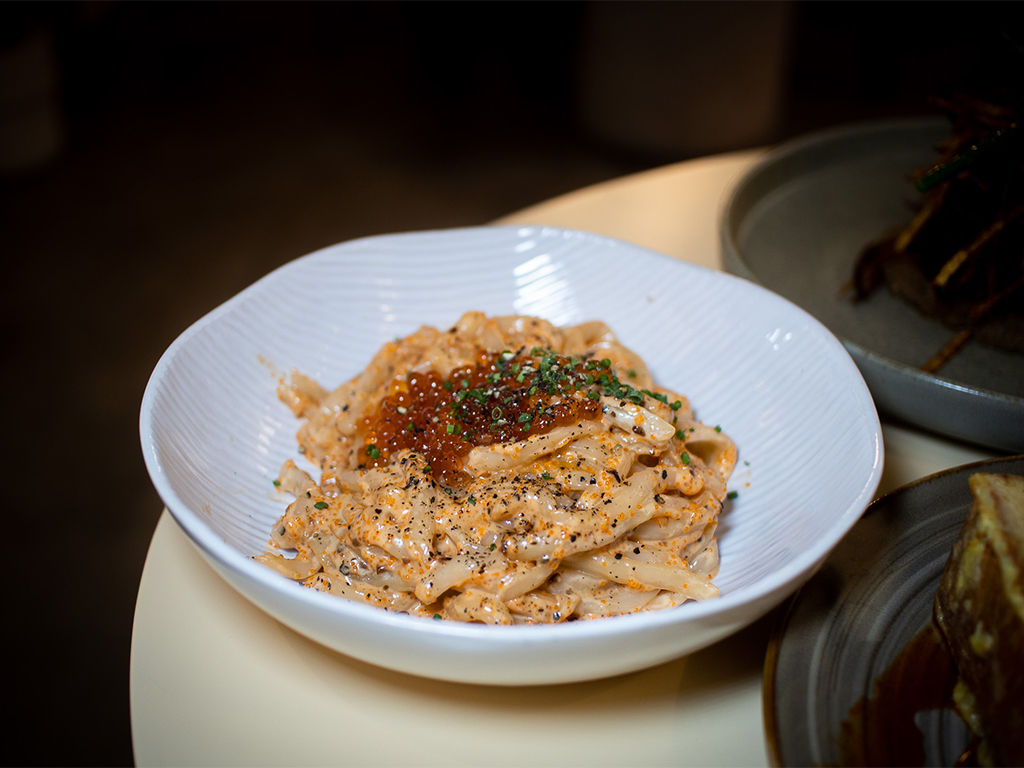 Elsewhere, the masago udon (S$23) would satisfy an undemanding Japanophile, which I'm not — a Japanophile, that is. 
This was one-note in texture and flavour, leaning too much on the cured ikura as a crutch for its savoury notes. It needs acidity and a crunch — pronto.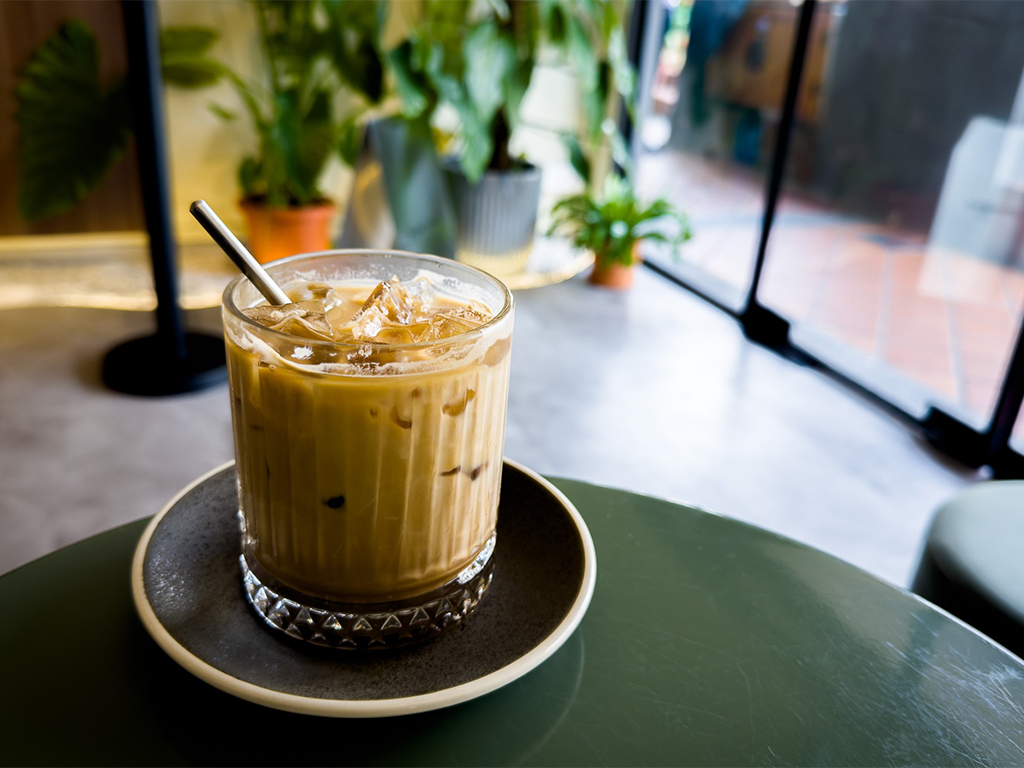 The prices for the coffees on the menu didn't impress me either. My first visit here before this review was just for drinks and I remember enjoying my iced French vanilla latte (S$6.50) but baulked later on at the final cost of the drink with service charge — S$8.15. 
For oat or soy milk, it's an extra S$1. I don't know about you, but S$9.15 feels like a steep price to pay for flavoured lattes. 
Still, the coffee here is reliable. September Coffee also has an extensive drinks menu, with an Iced Refreshers section that looks designed for the 'gram.
Our quick takes 
Is it conducive to conversation? Yes, though it gets rather buzzy as the restaurant fills up.
Is a reservation necessary? September Coffee accepts walk-ins only. The staff will put you on a waitlist if you arrive and there are no seats available.
How to get there? It's a short walk from Chinatown MRT station. When Maxwell MRT station along the Thomson-East Coast Line opens, it's faster to get to the restaurant from there.
HungryGoWhere paid for its meal at this cafe for this review. 
Book a ride to September Coffee.
258 South Bridge Road, 01-01
Open: Tuesday to Thursday (11.30am to 8.30pm), Friday and Saturday (11.30am to 9pm), and Sunday (11.30am to 5pm)
258 South Bridge Road, 01-01
Open: Tuesday to Thursday (11.30am to 8.30pm), Friday and Saturday (11.30am to 9pm), and Sunday (11.30am to 5pm)