Review: The meats are literally on fire at Roasted Story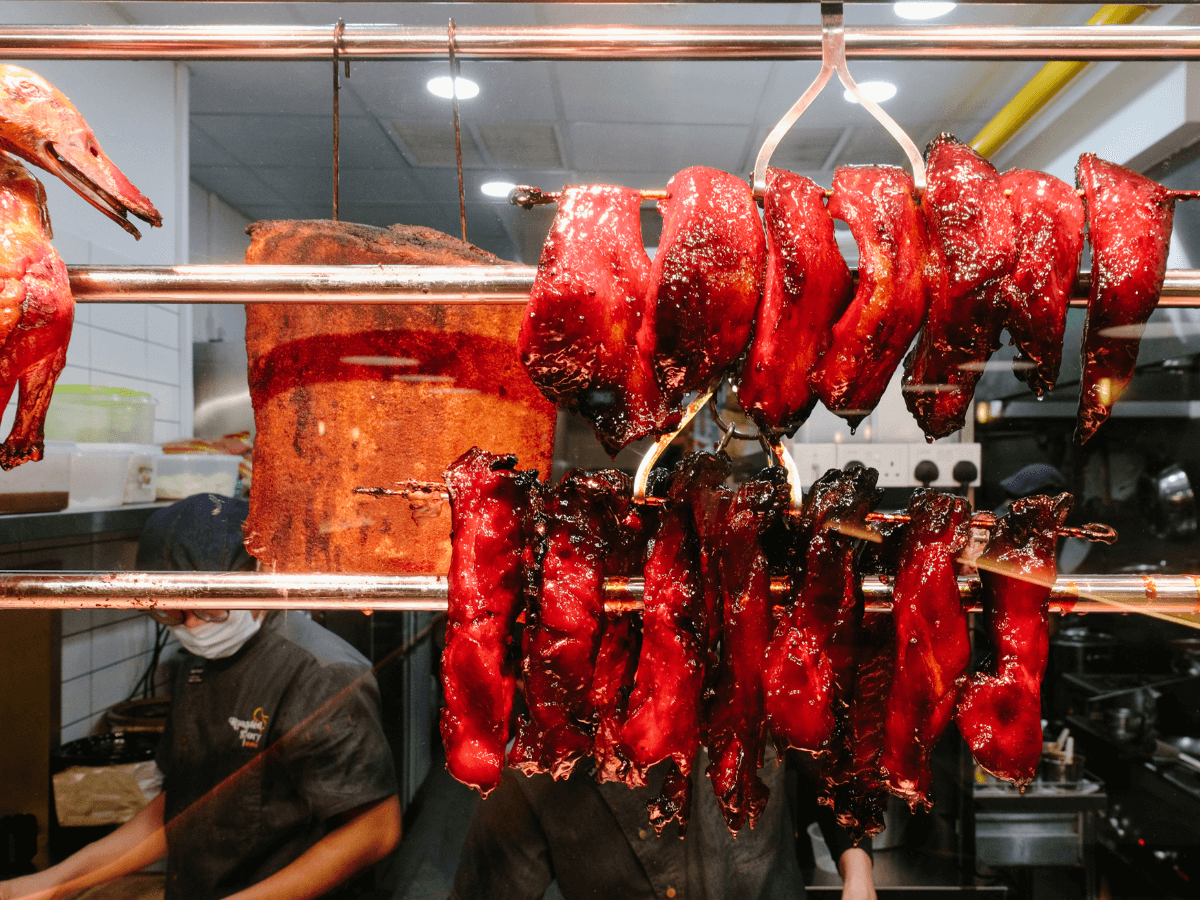 Roasted Story uses lychee and citron firewood to infuse aroma and enhance the taste of its roast meats
Order the "bu jian tian" char siew and watch it get set alight with brandy
Although the specialty here is roast meat, the eatery does fantastic zi char-style dishes such as salted egg French beans and claypot beancurd
As someone who occasionally writes about food for a pay cheque, I've tried a fair number of tasty things — from the nutty intricacies of top-shelf Iberico ham to soft mouthfuls of decadent A5 Kagoshima wagyu almost white with marbling. As a Singaporean, though, sometimes all I want is meat that doesn't make me baulk at the price.
Oh, there's excellent roast duck on Old Airport Road? Oh, there's pork belly with an insane crackling in Chinatown? No surprises there.
Roasted Story is, however, a tad fancier than most of them. On your way inside, you might spend a few seconds admiring the gilded gold door frames and tall ceilings — things you'd never find at the usual suspects.
Then your eyes focus on the glass display at the back that puts many regular joints to shame — there are plump birds, richly marbled meats and char siew glistening in sweet glaze. If meat is your thing, you may feel like it's Chinese New Year in here.
The backstory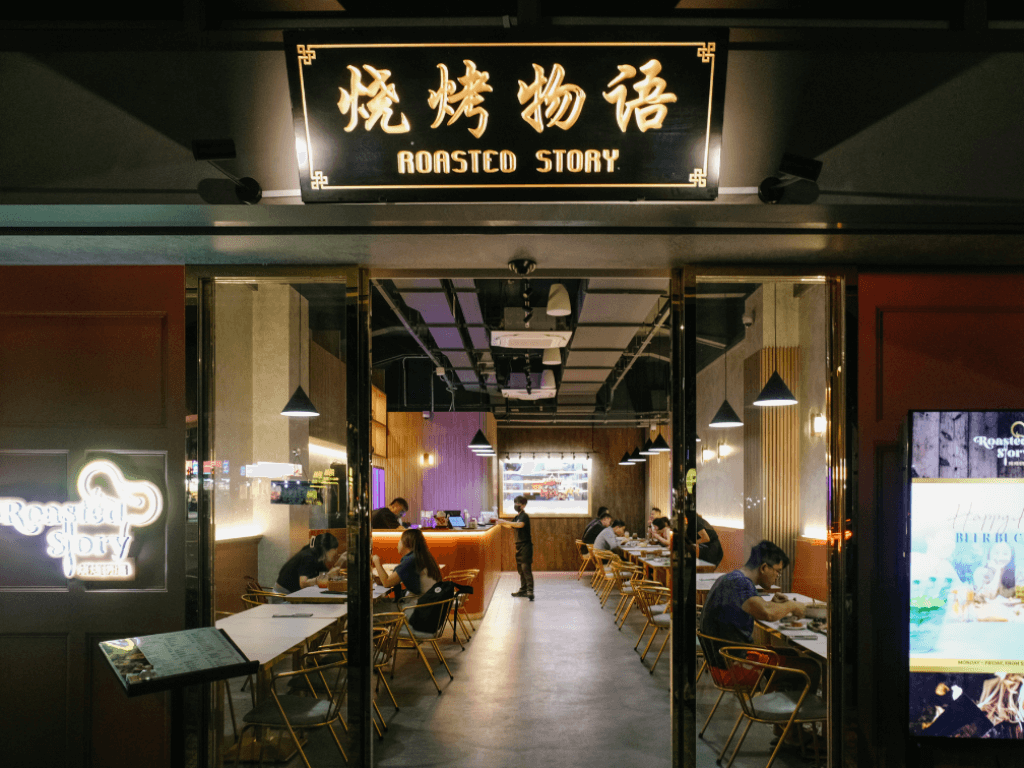 Launched in June, Roasted Story specialises in Chinese roast meats cooked over lychee and citron firewood — two hardwoods known for their exceptional aroma. The restaurant's chefs, I'm told, are highly trained in Chinese fare and have been cooking in Singapore for several years.
The menu here reads more like the offerings at a zi char restaurant, but that's a plus point as you can also get noodles and rice, soups, vegetables, seafood, and other sides.
Our verdict
Roasted Story seems to hit the jackpot of fairly priced, quality food that also throws good service and ambience into the mix. It's a great destination for a hearty family meal, but don't fret if you're dining alone — you can gobble up the generous set meals without judgement.
What it's good for
The fire "bu jian tian" char siew (S$21.80) is a rock star. "Bu jian tian" — also called "fei kay yok" in Hong Kong, or "secreto" in Spain — refers to a cut that's found on the underside of a pig, between the hock and bacon. It's prized for its unique distribution of fat and soft lean meat.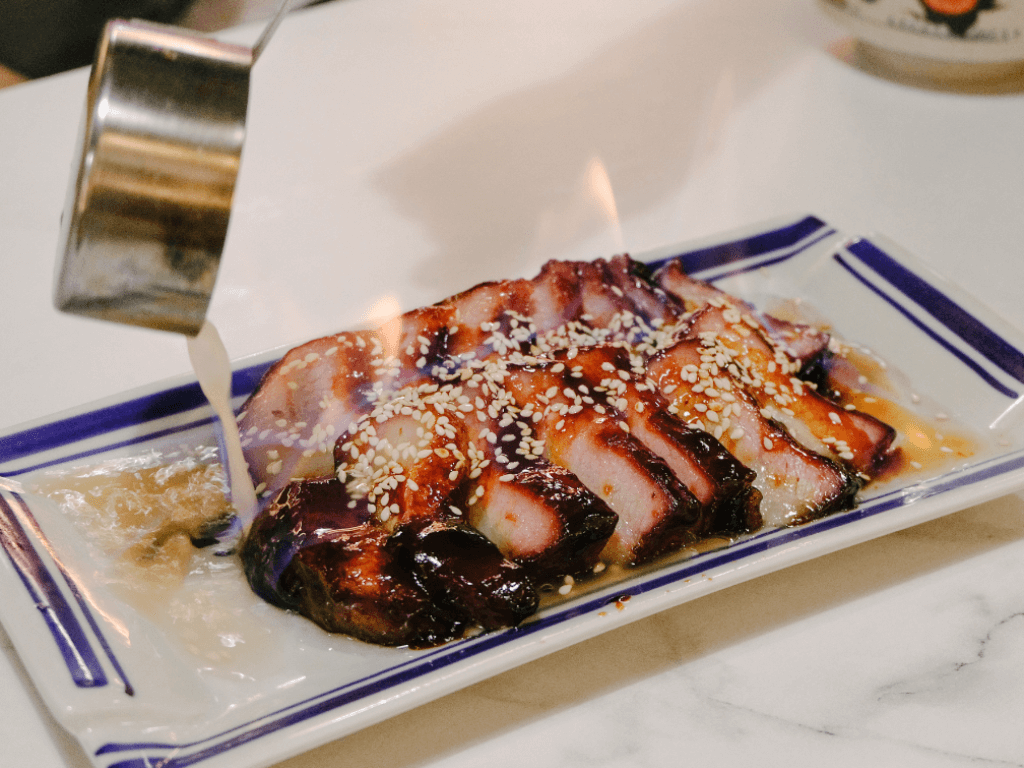 This is a fabulous dish that leans towards being more fatty, almost to the point of melting away on your tongue.
Char siew is about the texture, the charred surface of the meat, and sweetness from caramelised marinade, and this ticks all the boxes.
Here, a wait staff sets fire to a mixture of brandy and lemon essence before pouring it liberally over the pork. It's as intimidating as an entree can get, but the smokiness is unbeatable.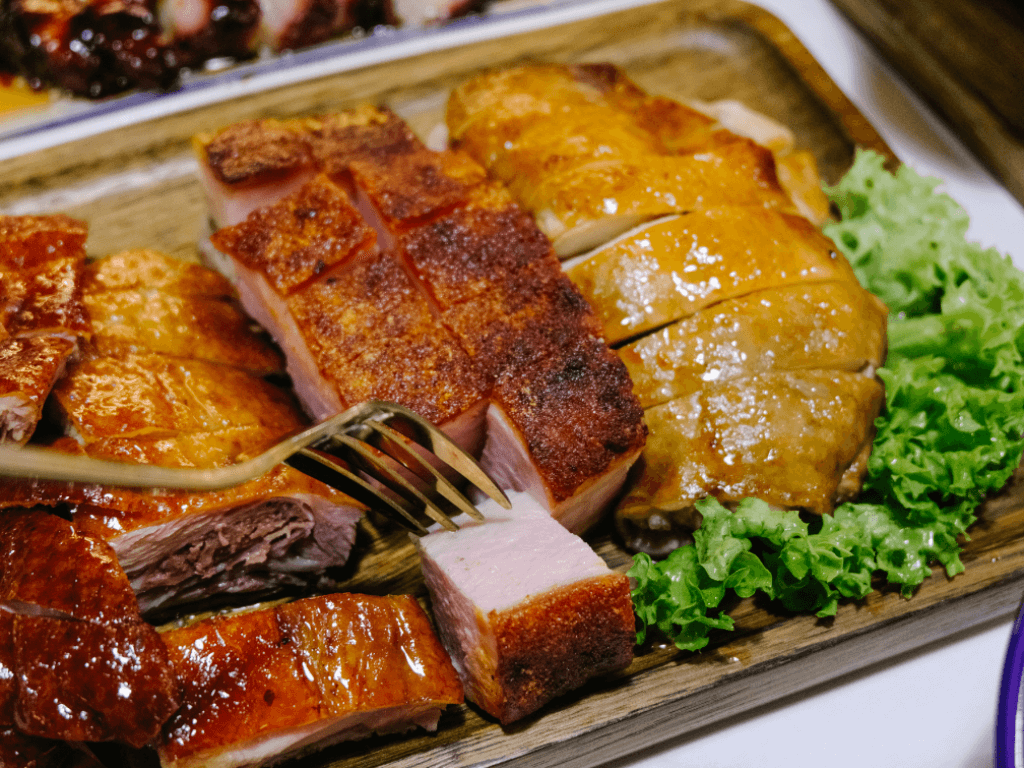 This is a roast meat place, so you must try the triple roast meat platter (S$21.80), which comes with roast pork belly, roast chicken and roast duck. You can opt for duck drumstick for an extra S$4 if you like a richer, slightly fattier cut.
See that irresistible crisp on the pork belly? Sliced chunky for a wholesome bite, the meat is moist and not overly fatty, which I prefer for its porky savouriness. The duck is just as tender, with a slight oiliness that leaves the lips smeared.
In comparison, the skin of the chicken leg doesn't get as crispy, but I still like how the meat tastes — slightly juicy and full of flavour.
Every roaster has a secret blend of sauces for their meats, and the ones here are pretty decent. There is a sweet one that's often served with roast meat, and another earthy herbal sauce made with Chinese herbs (I tasted a bit of dang gui, the dried root of Angelica sinensis, and goji berry). We liked it best with the duck.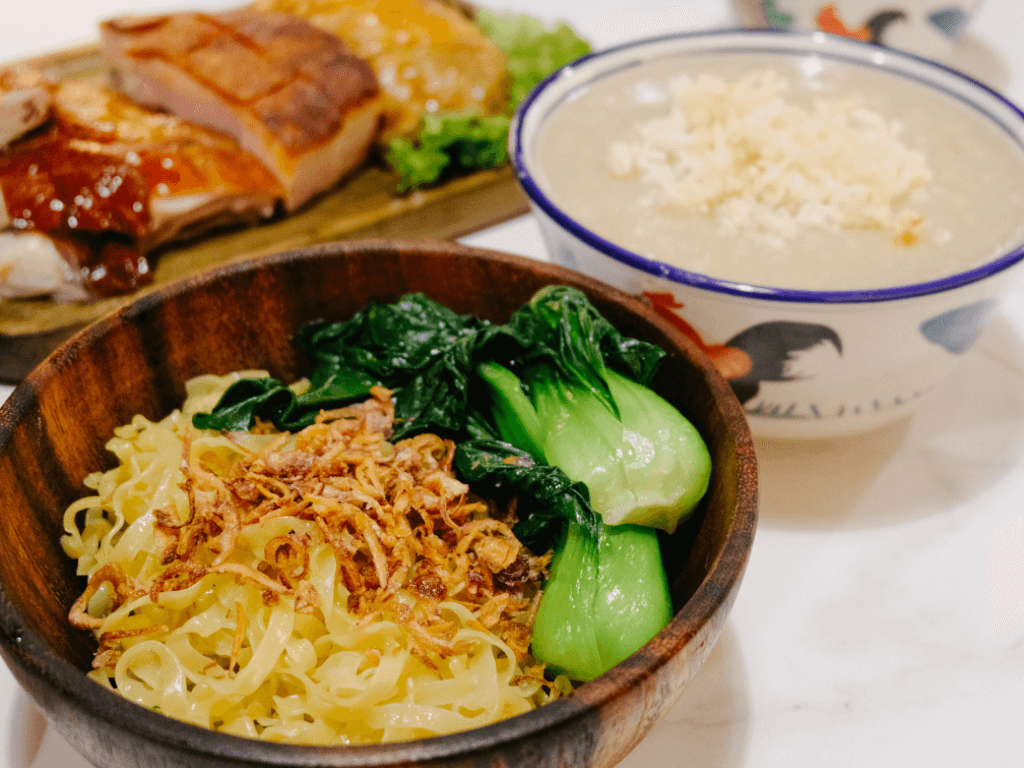 As for carbs, I'd recommend forgoing the usual steamed rice and opting for the mee pok (S$3), which despite its simplicity, is quite tasty. The flat egg noodles are firm with a soft touch of lye water, and come topped with shallots and lard.
Then there's the herbal porridge (S$2), boiled down to a glorious, fragrant and umami-rich congee with earthy herbaceousness.
Roasted Story also offers an array of zi char-style dishes. The salted egg yolk bean (S$12.80) sees French beans coated in aromatic salted egg crumbs — the slight crunch and saltiness are somewhat addictive.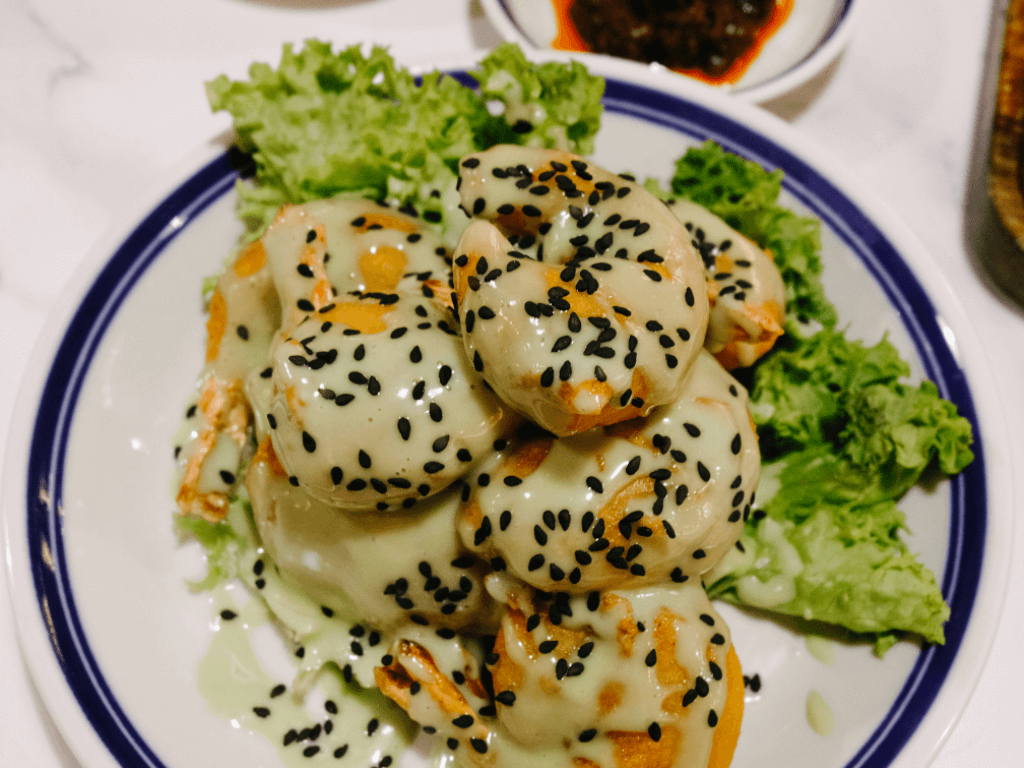 Or the wasabi prawn (S$18.80), fresh and plump things battered and wonderfully fried, before being dipped in a tangy wasabi mayo cream.
We'd order both dishes again.
What it could improve on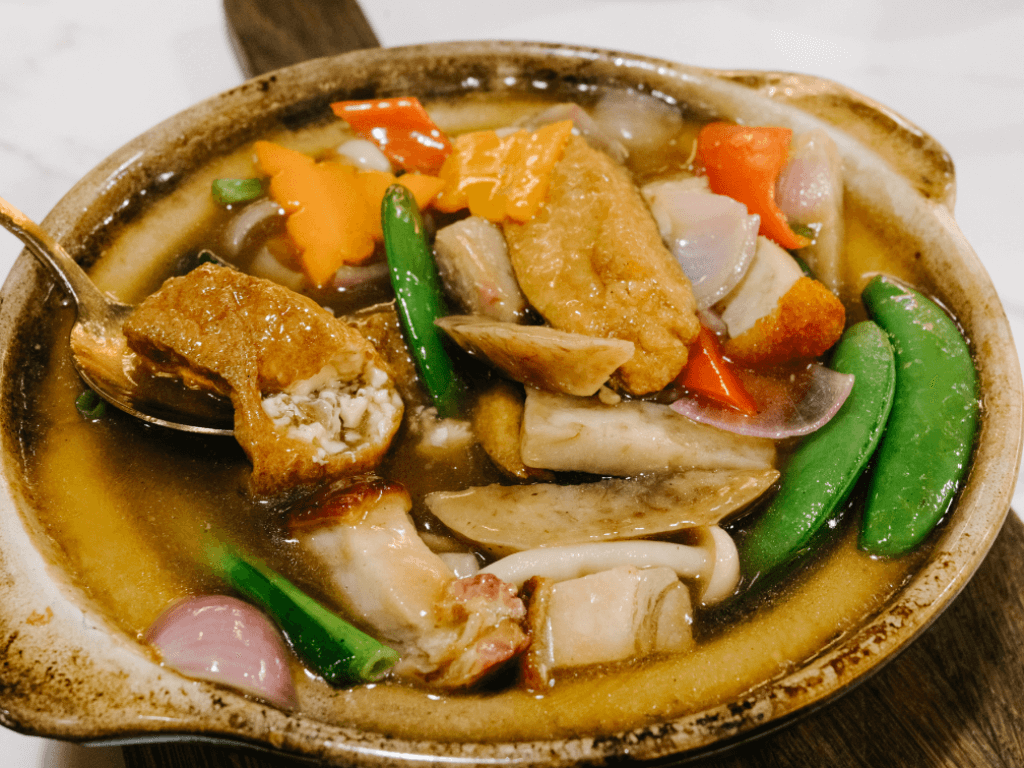 While I appreciate the amount of ingredients stuffed into the signature beancurd (S$13.80), the dish was mostly lacking in taste. That said, it's simple enough to fix with a few pinches of salt during the cooking process.
Otherwise, the heaping stew of yam, onions, carrots, chilli, peas, shimeji mushroom, pork belly, and of course, tofu, is rather nice.
Our quick takes 
Is it conducive to conversation? The proximity of the tables means you probably shouldn't speak badly about your boss, but otherwise, it's easy to talk here.
Is a reservation necessary? Weekday evenings are somewhat quiet, with only half the tables filled, though I'd recommend making a reservation if you have a bigger group.
How to get there? Take a five-minute stroll from Rochor or Bencoolen MRT stations.
Take note: 
If you like your char siew particularly lean or fatty, be sure to inform the staff when ordering.
HungryGoWhere paid for its meal at this restaurant for this review.
Roasted Story is on the GrabFood delivery service. You can also book a ride there.
Elias Building, 01-01, 264 Middle Road
Open: Monday to Sunday (11am to 10.30pm)
Elias Building, 01-01, 264 Middle Road
Open: Monday to Sunday (11am to 10.30pm)