[CLOSED] Popo and Nana's Delights: Eurasian food in a hawker setting!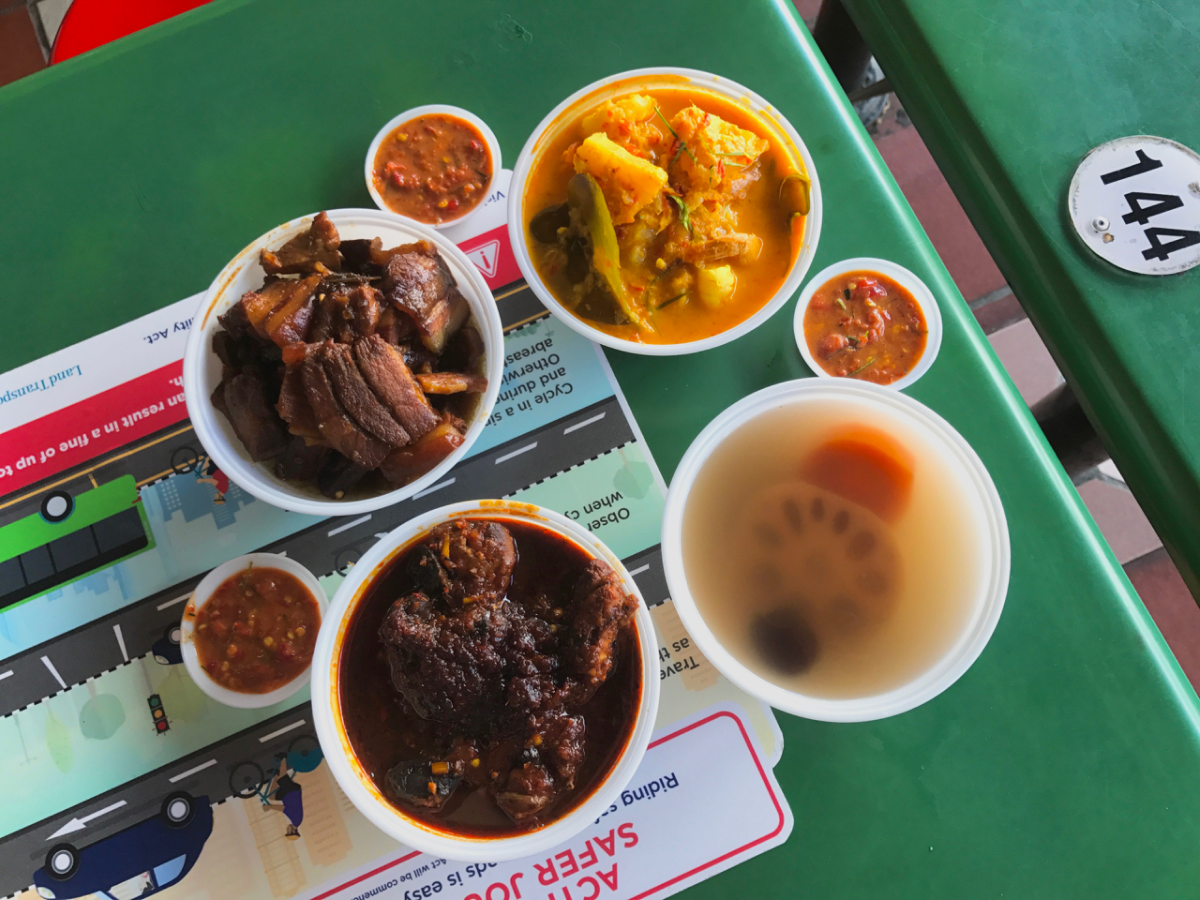 Even though Popo and Nana's Delights sells Peranakan dishes, the main attraction here are the Eurasian dishes which are incredibly hard to find outside of family homes. Aside from the odd one or two restaurants (Mary's Kafe and Quentin's), finding Eurasian food in a hawker setting in Singapore is virtually unheard of.
Opened by siblings Grace and Christopher Chin, they started this stall at Maxwell food centre in 2015 and they serve a mix of Eurasian and Peranakan dishes which are free of MSG and artificial colouring. They offer about 20 different dishes but only four will be on offer for the day and are often sold out by mid-afternoon. The menu is announced on their Facebook page about an hour before they open for business at 11.30am.
Named after Grace Chin's Indonesian Peranakan paternal grandmother (Popo) and her late Eurasian mother (Nana), they offer popular Eurasian dishes like Devil's curry, shepherd's pie and beef smore as well as some of the more unusual offerings like beef ball curry and zucchini pie. On the Peranakan side of things, buah keluak (Indonesian black nut; pangium edule) stew with chicken or pork and babi pongteh are popular here and they also offer some of their unique creations like smoked duck pasta and crab pasta.
Dishes are served as set meals ($6) which is on the higher side than what you would normally pay in a hawker centre but the portions are generous and every set includes rice, vegetable of the day and soup. On the day we ordered, achar, chap chye and a variation on the sambal lady's fingers with a simple powdery hae bee hiam (spicy dried shrimp sambal) was available.
The Eurasian dishes are what to aim for here. The fish mollie —a seafood-based stew with Portugese and Indian origins — is done differently with a thick tumeric and coconut gravy, loaded with lots of minced ginger, covering a crispy battered fish. If you like your curries strong and powerful, you will be disappointed as the flavours are deliberately light so that the flavour of the fish shines through.
The Chicken Shepherd's Pie is one of the few dishes that don't come as a set meal but what you get is incredible value. The portion is generous and could easily feed two small eaters. The lightly salted mashed potato covering is smooth with a delicate butter richness and the filling — a mix of minced chicken, chicken pieces, peas, carrots corn and onions, is thick and densely packed.
The Peranakan dishes like ayam buah keluak and babi tempra have a taste profile which will not appeal to everyone. The main focus of the flavours are on the sweet or sour flavours and the savouriness is very restrained — a big contrast to most hawker dish offerings. In short, you'll either love it or hate it.
The ayam buah keluak — a chicken stew made with the Indonesian black nut — comes with whole soft stewed nuts, soft chicken and leans towards a more tangy taste. The babi tempra, a soya sauce-based stew with fresh lime flavours, comes with a huge mountain of sliced pork belly, leans towards the sweeter side and has lots of pork fat richness.
---
This archived article appeared in an earlier version of HungryGoWhere and may not be up-to-date. To alert us to outdated information, please contact us here.