[CLOSED] Lotus Kitchen: Vegetarian Peking duck? That and more unique vegetarian food.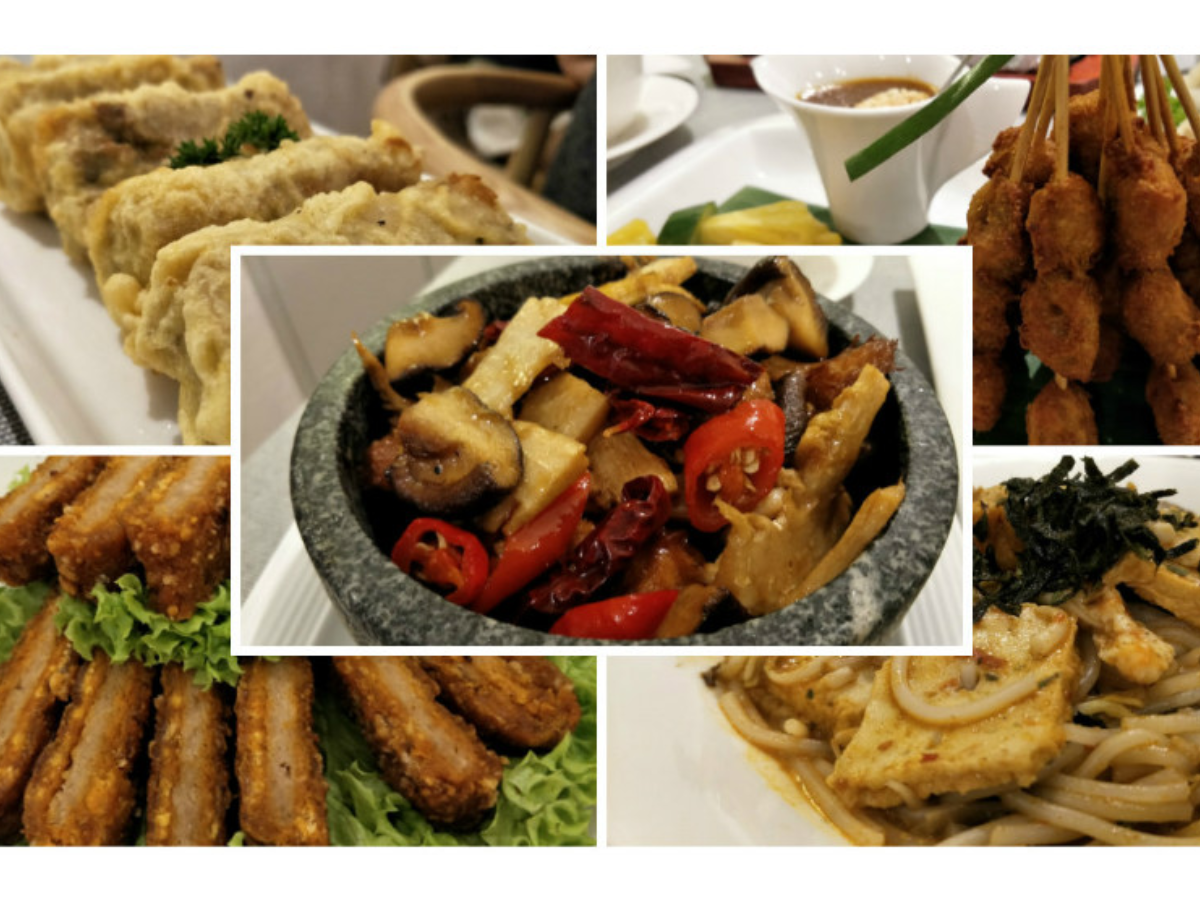 Nestled in the corner of Chinatown Point, just two restaurants down from Michelin restaurant, Song Fa Bak Kut Teh, is Lotus Kitchen which is quietly attracting a loyal crowd.
Lotus Kitchen is a new conceptual restaurant from Lotus Vegetarian Restaurant, which is at Quality Hotel Marlow.
They boast premium ingredients and herbs such as lion's mane mushrooms, which apparently only the emperor could eat back in the day.
However, what is most interesting about Lotus Kitchen are the unique takes on and impressions of classic dishes.
With inspirations from Peking Duck, Laksa and even Satay, Lotus Kitchen looks to provide a different dining experience.
When we first heard Vegetarian Peking Duck, we did a double take. Vegetarian Peking… what? Lo and behold, the dish was good and reminiscent of Peking Duck.
Named the Signature Summer Wrap with Passionfruit ($35.80), Lotus Kitchen uses crisp soya slices which are coated in batter to mimic the flavour and texture of Peking duck.
We wrapped up the soya slices along with carrots, cucumbers and passion fruit strips and dipped it with their homemade sweet bean paste sauce.
And boy was it bursting with layers of flavours.
The passion fruit strips gave it a nice tangy touch, but the star of the dish was certainly the soya slices.
The batter gave it a slight crunchiness, and surprisingly the taste and texture were similar to that of Peking duck.
The wrap along with the strips made it a cohesive dish with all the elements similar to that of the Peking duck, but just give us those soya slices with that sauce and we're good to go.
The next meat rendition is Lotus Kitchen's Spicy Grilled Oat Slices in Hotplate ($18.80).
If you love for your dishes to have that spicy kick, definitely look out for this "fish" when you're there.
The oat slices were very smooth, and Lotus Kitchen's blended chilli certainly had a kick to it.
Without an iota of doubt in my mind, Lotus Kitchen's Braised Mushroom in Hot Stone Pot ($18.80) has to be the best dish we tried that day.
Just hearing the sizzling of the stone pot when it was being served whetted our appetites.
Lion's mane and shiitake mushroom, along with bamboo shoots were stir-fried with chilli and ginger before added to the stone pot lined with basil leaves.
The mushrooms were juicy and bursting with natural umami, the chilli gave it a little spice, which is always good.
After having this dish, we understood why only the emperor could have it centuries ago.
Their Signature Double-boiled Herbal Tian Ma Soup ($8.80) was surprisingly very flavourful despite the broth base not being from chicken, pork or fish.
The herbal flavour was indeed pronounced as the soup is steamed and brewed with over ten herbs.
Lotus Kitchen is also doing their version of local favourites – laksa and satay.
Lotus Kitchen's Signature Stir Fried Laksa ($9.80) is definitely a rare dish in Singapore.
Usually enjoyed with soup, Lotus Kitchen has decided to stir fry their laksa with their in-house gravy, and it tasted like the real deal.
The addition of seaweed to the dish gave it a little crunch and saltiness.
The Signature Homemade Satay ($15.80) was really the only downer of the menu that we tried.
The satay was made with soya slices with more than ten fragrant spices, but it tasted sweet more than anything. When tacked on with pineapples on the side, there was just an overpowering of sweetness.
The gravy is usually what makes or breaks any satay dish, and unfortunately, their homemade satay sauce wasn't any good.
Compared to the other dishes, this was a letdown.
If you're looking for dim sum, the Taro Mee Sua Cake ($6.80) and Lion's Mane Mushroom Pan-fried Dumpling ($8.80 for six pieces) are two that are worth trying.
Overall, Lotus Kitchen doles out delicious vegetarian food, albeit at slightly higher prices.
If it's your pay day and you've decided to go green, give the new Lotus Kitchen a look.
---
This archived article appeared in an earlier version of HungryGoWhere and may not be up-to-date. To alert us to outdated information, please contact us here.