Lau Hong Ser Rojak: The BEST in Singapore!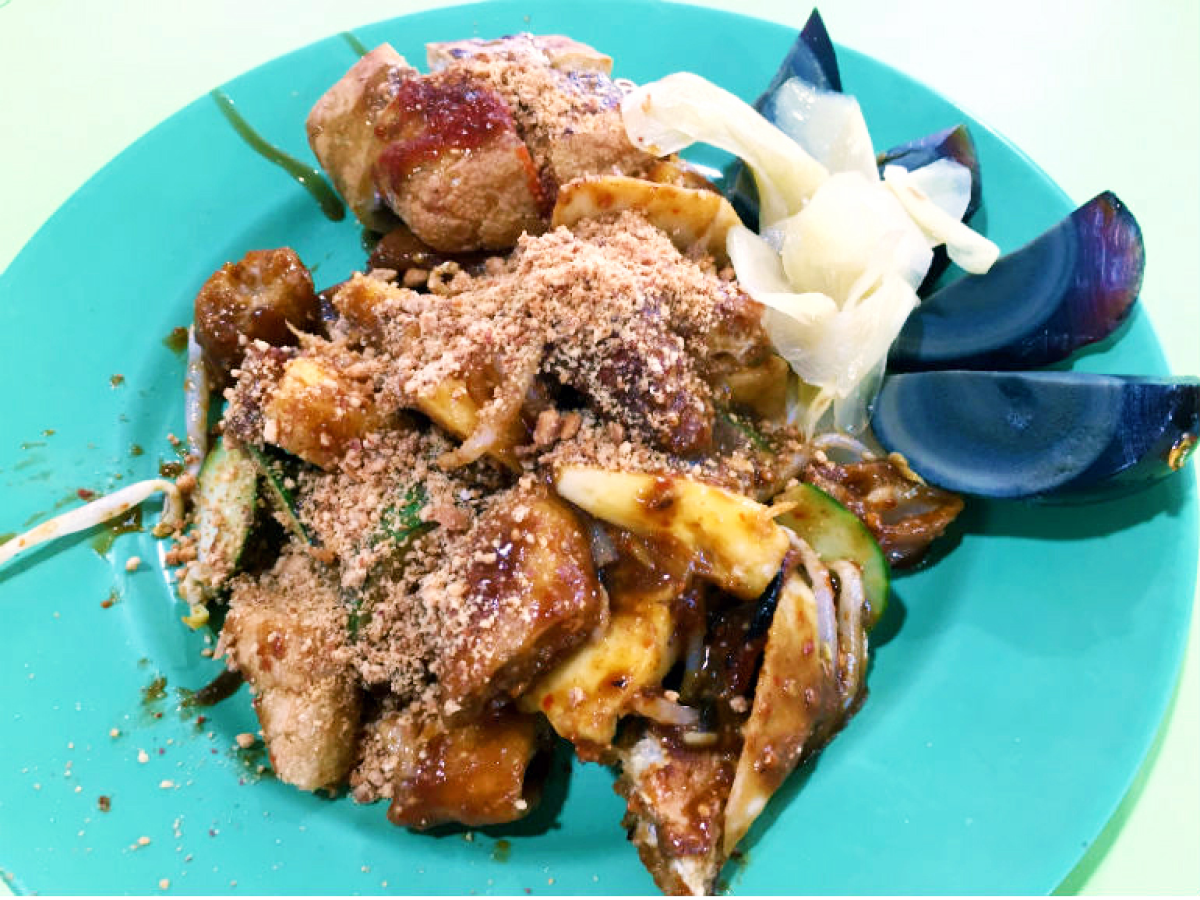 Have a bite of the rojak at this unassuming stall and you'll understand why there's often a waiting time of at least an hour of waiting during peak times.
Lau Hong Ser Rojak started in 1974 and second-generation owner Lim Khai Ngee — now 56-year-old — took over a year later in 1975.
He is an anal perfectionist and he even knows the exact date when he took over the stall from his Father: 25 December 1975.
He applies that same OCD attitude to his rojak ($2/3/4/5/6) and insists on using more premium ingredients than is usual for rojak — his hae ko (shrimp paste) comes from Penang, he uses higher grade dried cuttlefish from Vietnam and higher quality century eggs and pickled ginger from China.
Many aspects of his rojak are also made on in his stall — like the sambal chilli and he even toasts and hand-crushes the peanuts.
Items like the dried cuttlefish, you tiao (Chinese dough fritter) and tau pok (tofu puff) are toasted over charcoal, so there is a nice smoky aroma to the flavour.
All these little touches results in a rojak that is simply phenomenal and is arguably the best that you can buy in Singapore.
Rojak is a salad of chopped pineapples, cucumber, turnip, bean sprouts, tau pok and you tiao and Lim's dressing has a honey-like consistency, with a depth to the flavour that lingers long after you have finished the dish.
Along with the smoky aroma, the tau pok and you tiao have a light crispness and the vegetables a fresh crunchiness.
You can also order Fried Bean Curd (commonly known as stuffed tau pok; $0.80) which has cucumbers and bean sprouts stuffed inside a tau pok, then charcoal grilled to a smoky crispness.
It is dipped in a sweet chilli sauce that mixes hae ko and chopped peanuts for more of an earthy flavour and a little crunch.
A must-order is the Dried Cuttlefish ($2/3/4/5/6) which has a deeper and earthier flavour as compared to the dried cuttlefish varieties found at other rojak stalls.
Even the Century Egg ($1) is noteworthy as it a little more of a molten yolk and it is paired with ginger slices that are sliced thicker, a little darker in colour and have more of a ginger flavour to them.
---
This archived article appeared in an earlier version of HungryGoWhere and may not be up-to-date. To alert us to outdated information, please contact us here.