Kazo: Taiwanese bakery with salted egg yolk Danish polo buns at Chinatown Point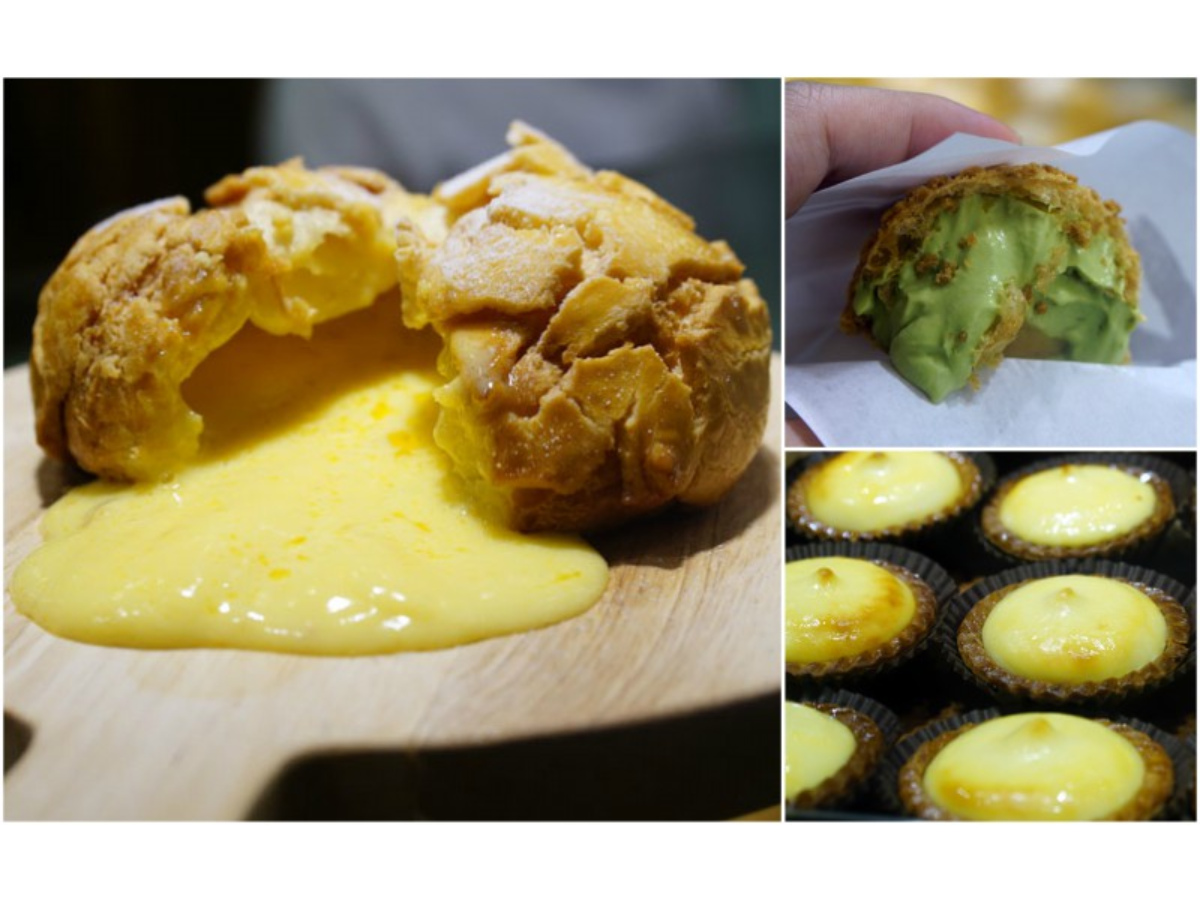 Part pillowy croissant, part crumbly polo (pineapple) bun, full-on salted egg yolk yumminess —say hi to the Golden Lava Polo.
The pastry is offered at Kazo, a bakery located in Chinatown Point that opened in January 2018.
Kazo is launched in partnership with Taiwanese brand Nichifu, which also offers the same pastry in Taiwan.

Ingredients here are imported from Taiwan to ensure quality is as close to that of the original version.
Judging by the salted egg craze that has swept over Singapore, it seems like a smart business move on the part of Kazo to capitalise on this trend, which still shows no signs of waning in popularity.
Kazo's Golden Polo Bun ($3 per piece) is very similar to a salted egg yolk croissant, except that the outermost layer of its shell is crumbly, just like a polo bun.
Underneath the polo bun-esque layer is the characteristically flaky layers of a croissant.
And at the core of the pastry is a pool of oozy salted egg yolk custard, whose subtle sweetness melds well with its savoury notes.
It didn't disappoint us.
Besides the Golden Polo Buns, Kazo also offers Japanese-inspired Hokkaido Cream Polo bun ($3) — think Hokkaido cream puffs with a crumbly polo bun exterior.
In keeping with the Japanese tradition, the Hokkaido Cream Polo contains cream that is not too sweet or cloying; its lightness makes downing a few at a go perfectly okay.
You can have the polo bun as a cool treat too – Kazo offers the Premium Ice Cream Polo ($5.50), which comes with two scoops of ice cream.
For something more bite-sized, turn to the Crispy Puff ($1.80), which is basically a crispy choux pastry.
Besides the fact that it sports a harder shell instead of the usual puffy, fluffy one, the Crispy Puff is also similarly airy and light inside.
You can have it in three flavours: original (cream), matcha, or milk.
The matcha flavour here is also pretty light, neither too sweet or bitter.
Similar to the Crispy Puff is the Kazu Kazu ($3.50 per piece), which comes in a churro-shaped body instead of a globe-shaped one.
Its exterior is embedded with almond bits for extra crunch and flavour.
According to Kyenne Lee, one of the founders of Kazo, the cream found in the Kazu Kazu is also more premium than the one in the Crispy Puff, thanks to the more laborious whipping method used.
You can also find cheese tarts ($3.20) here, which are simple but decently executed.
The cheese tarts come in original, matcha, and chocolate flavours.
The original and chocolate flavours are decent, if ordinary, though their matcha cheese tart took us by surprise.
It toes the balance between sweet and sour, and is far more cheesy than matcha-y — if you're a green tea purist, this one's definitely not for you.
But Kazo's matcha cheese tart is also a refreshing departure from the usual ones you can find at most Japanese bakeries.
Aside from snacks, Kazo will also offer the Kazo Man ($2.80 each).
This is basically Matcha Latte or Organic Soya Bean drink served in a more-funny-than-sexy collectible bottle.
The bottle is fashioned into the likeness of a human body (complete with abs and without the genitals… so definitely family-friendly).
The matcha latte is definitely the sweetest item we've had at Kazo, but it's still not too sugary.
Still, if you want your abs, you might want to stick to the organic soya bean drink, which they make daily in-house. Both taste good.
**
When we visited Kazo two weeks after it opened, there was already a steady stream of customers there.
We're not surprised. Kazo is not all style and no substance — while it does peddle many faddish items, the quality of its snacks is good.
Munching on their snacks is going to give you anything but a six-pack, but at least the calories are well spent.
Address: 133 New Bridge Road, #01-30, Chinatown Point, Singapore 059413
Opening hours: Mon-Sun — 10am to 9:30pm
---
This archived article appeared in an earlier version of HungryGoWhere and may not be up-to-date. To alert us to outdated information, please contact us here.