Review: Good Chai People makes delicious spiced black tea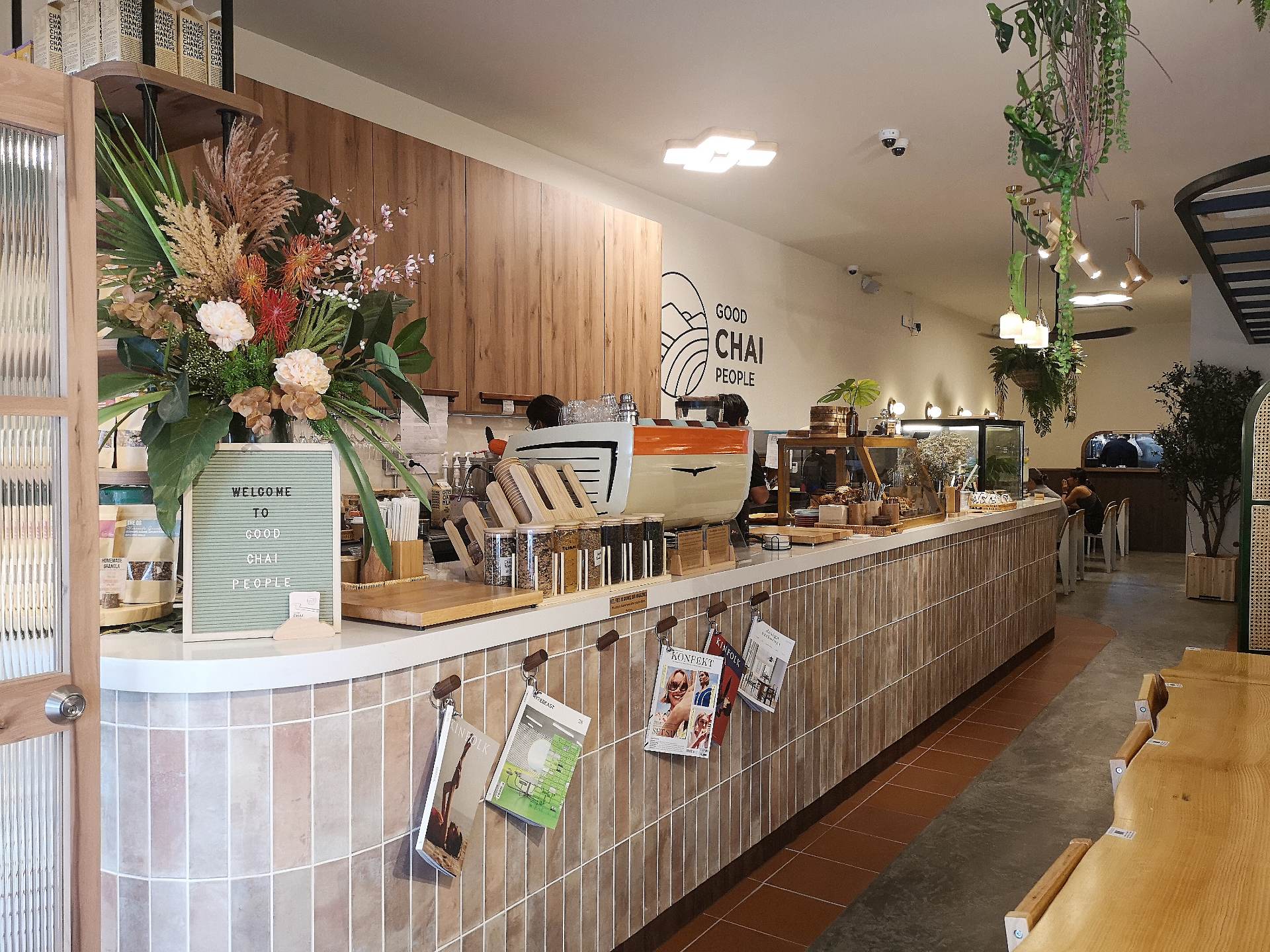 Katong is home to Singapore's first specialty chai cafe, Good Chai People
Its spiced black tea formula leans towards a milder flavour profile, similar to Australian-style chai
There are 11 types of chai, including a sweet and savoury salted maple chai
The food, however, leaves much to be desired
Not being a coffee drinker comes with many disadvantages, especially if you're looking to take on the brunch circuit. So I was pretty excited to try out Good Chai People, a Katong cafe that specialises in a beverage that's mildly caffeinated, which I could partake in. 
Chai, meaning "tea" in Hindi, is black tea spiced typically with black peppercorns, cardamom, cinnamon, cloves, and ginger. 
There are up to 11 versions of chai found on the menu here, with sticky chai latte (chai sweetened with, in this case, coconut sugar) being the cafe's signature drink. 
Aesthetically, Good Chai People has all the makings of the 'gram-conscious consumer's latest haunt, with a striking coral-coloured doorway and fluted glass windows on either side. Large communal wooden tables, indoor plants, arched entryways and a long tiled counter make the cafe fit right in with the rapidly gentrifying Katong area.
When my companion and I visited at 10am on a wet Thursday, I steeled myself for a queue of hungry brunchers. But it was, thankfully, peaceful. 
With only three other groups around when we were seated and jazz music playing over the speakers, it was a moment of tranquillity in which I could see myself hunkering down with a hot mug of chai, head buried in a good book.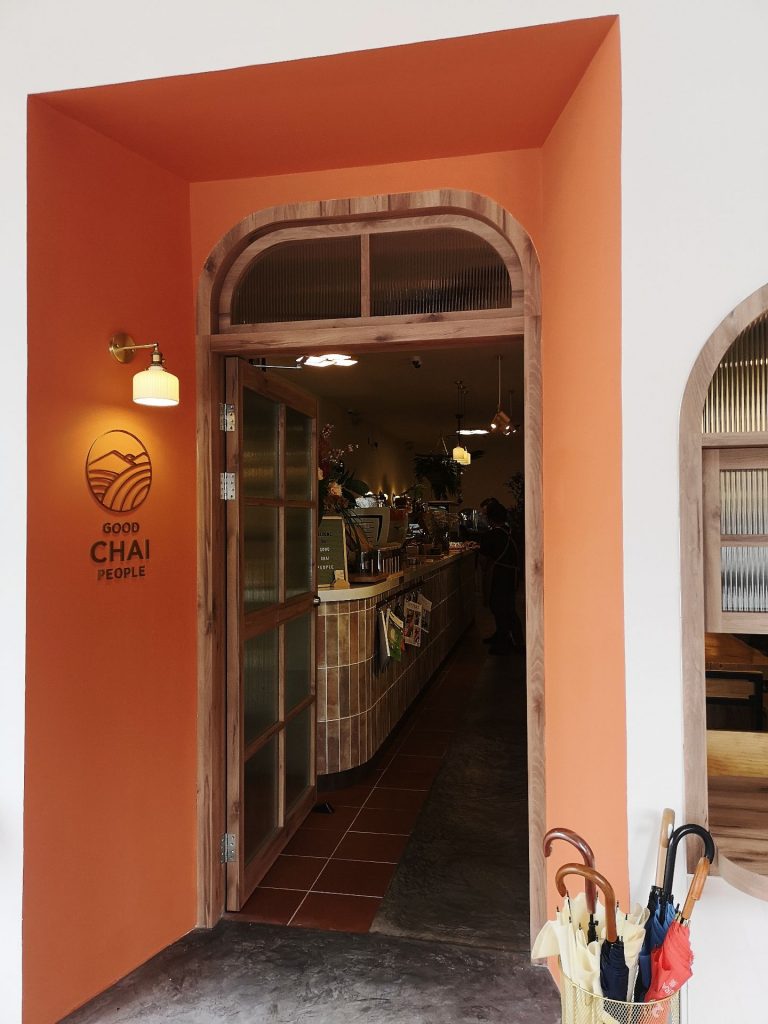 The backstory 
Opened by radio DJ Darren Wee in September, the cafe takes over Ampang Niang Tou Fu along East Coast Road. No stranger to the F&B industry, Wee intends to foster a sense of community with Good Chai People, including "host(ing) speakers and talks, with subjects related to wellness, health, environmental issues, etc". 
In keeping with that spirit, the cafe shares its space with Nine Wicker Avenue, a candle store. Apart from vegan hand-poured soy candles, the boutique offers a selection of wellness products including skincare, crystals and essential oils. 
But, of course, the tea is the highlight at Singapore's first chai specialty cafe. Concocting a milder iteration of Indian-style chai, its spiced black tea takes inspiration from its Australian counterpart, which is "less spicy (and) slightly less sweet". 
To get the right balance — one that would satiate chai lovers and, at the same time, be palatable to those trying chai for the first time — Wee spent a considerable amount of time in R&D. 
He tasted more than 12 black teas from four suppliers to decide on the organic Sri Lankan orange pekoe-a (a grade of Ceylon tea) that the store uses. Its chai is also vegan-friendly, using plant-based milk — mostly oat milk — and coconut sugar.  
And it's not just for black tea that Good Chai People goes to considerable lengths for. The other substitutes in the various types of chai are sourced with equal care. The organic green tea in the pink chai (S$8) comes from Jeju Island, a Unesco World Heritage site, and its hojicha in the hoji-chai latte (S$8) is made from premium kaga-boucha tea from Japan's Ishikawa prefecture. 
All its tea suppliers also support the Ethical Tea Partnership, an industry-wide initiative that aims to improve sustainability in the tea industry.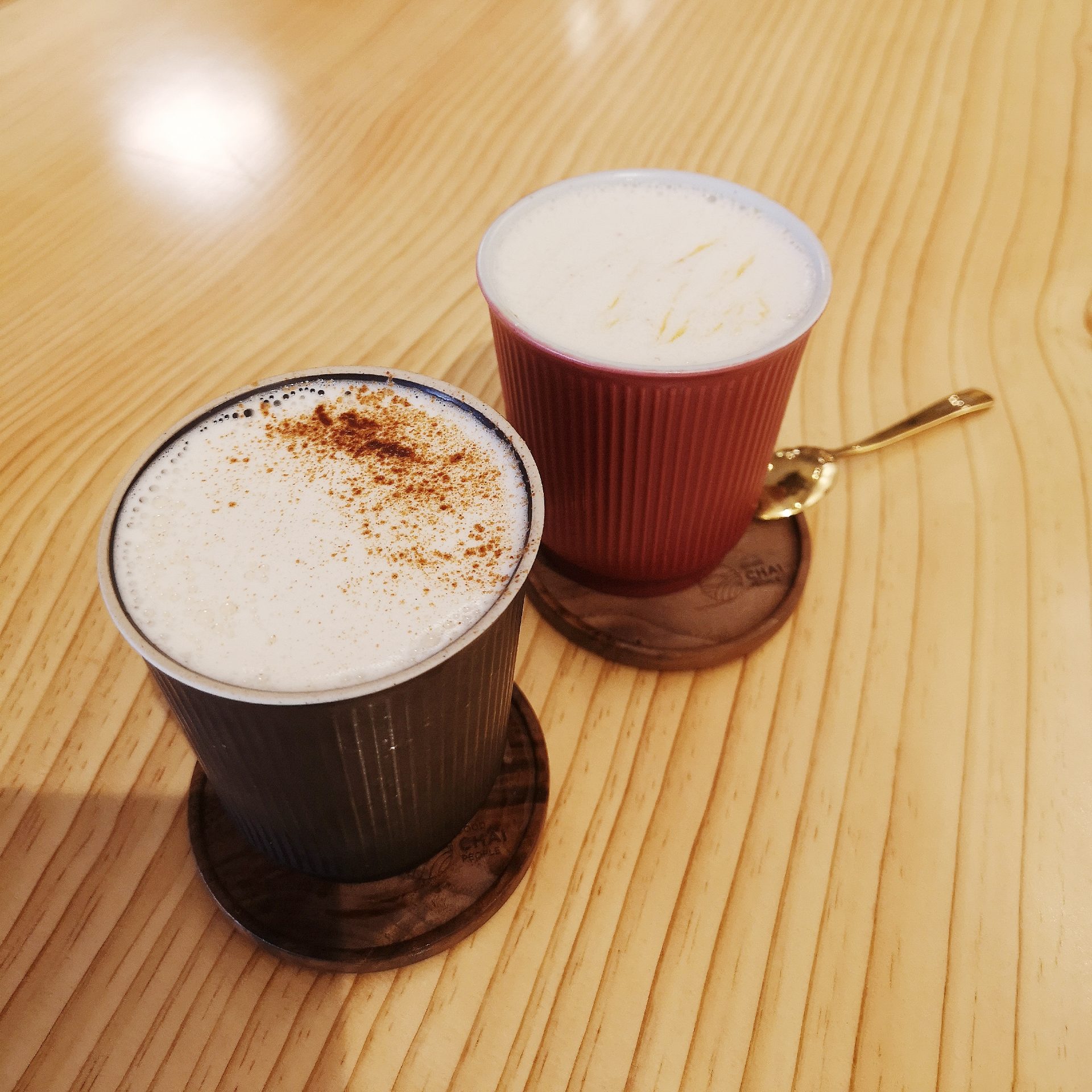 Our verdict
What it's good for 
Although its chai is milder than I'd prefer, Good Chai People makes up for it with a moderate variety of options. Even an experienced chai drinker like me was tempted to try them all. 
Exercising much restraint, I chose three from the menu. The cafe's signature sticky chai latte (S$7) was warm and milky, but surprisingly less sweet than the salted maple chai (S$6.50) — my favourite of the bunch. 
Mixed with Himalayan salt and drizzled with maple syrup, the salted maple chai was a delicious meeting of sweet and savoury. The tinge of salt accentuated the complexity of the spice blend and each sip of the tea was laced with the woody aroma and sweetness of maple syrup.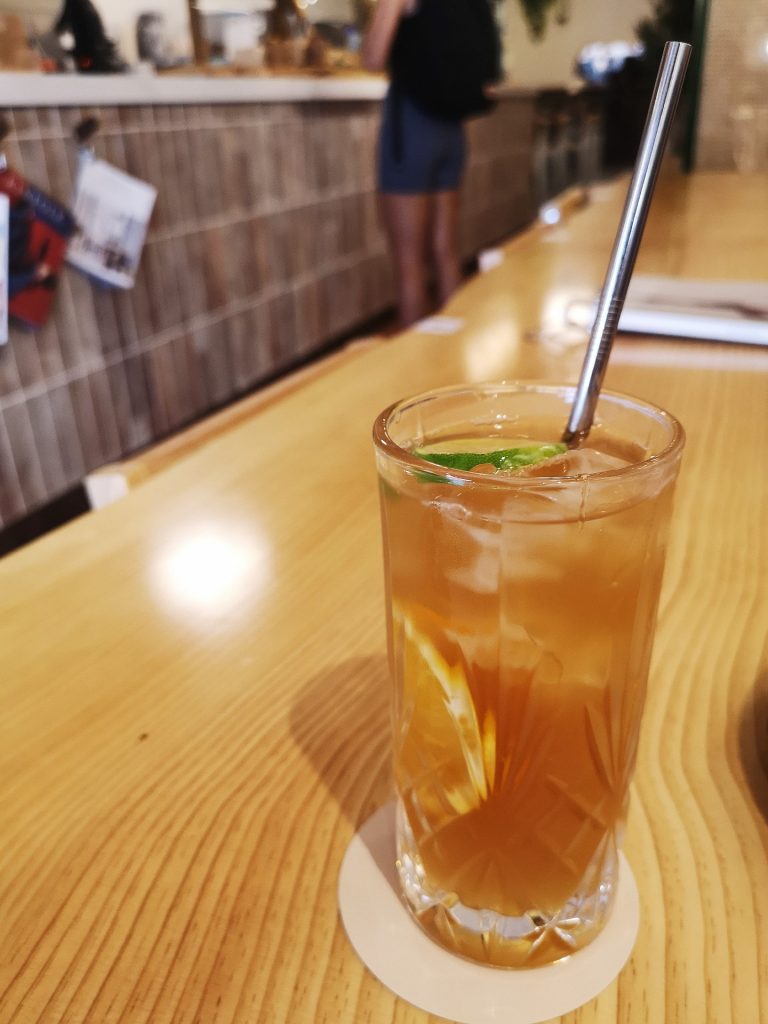 The drinks come in a hot or cold option, but they're mostly recommended to be drunk hot and freshly made. 
Only one chai is prepared cold — the triple citrus spiced chai (S$8), made with orange pekoe-a, pineapple juice, and orange and lime slices, then sweetened with coconut sugar. Served in a tall glass and metal straw, it reminded me of a non-fizzy kombucha. 
What it could improve on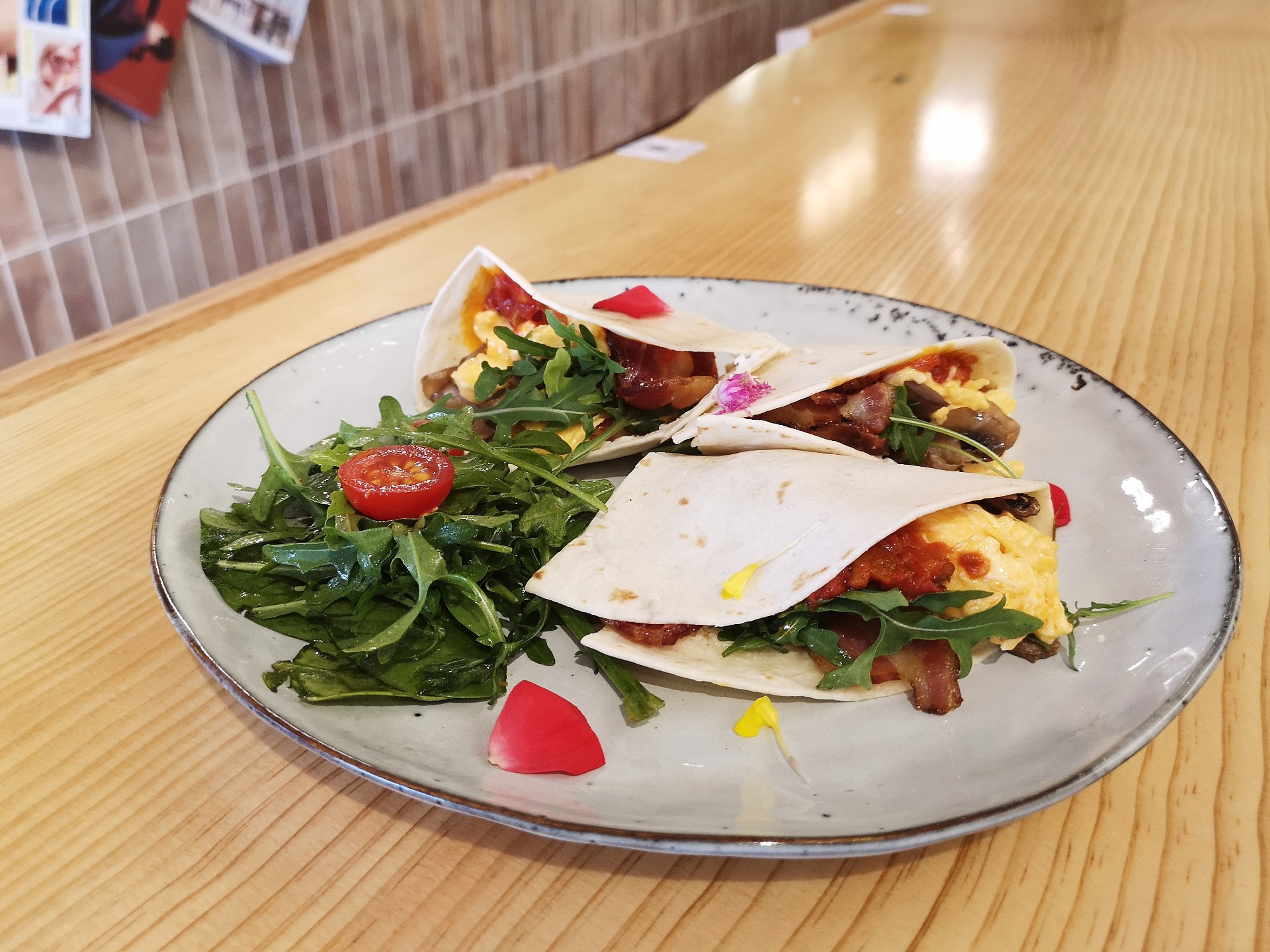 For food, we opted for the GCP bacon wrap roll (S$22), one of the four brunch items on the menu. While lacking in the looks department, the pockets of creamy scrambled eggs, herb cream cheese, streaky bacon and homemade chilli jam were enough to satiate the two of us. (The oat milk in the chai can fill you up fast.) 
Taste-wise, the eggs were done well, but nothing else stood out. All in all, the basic flavours and presentation didn't seem enough to justify its price. For that amount, I'd expect at least a premium ingredient or two in the mix. And no, the few edible petals don't count. 
To see how chai spices would translate in dishes, I also got the pumpkin salad (S$14). More generosity could have been afforded on the spice front with the chai lemon vinaigrette that, for all intents and purposes, was a tasty vinaigrette. Yet it did not taste like chai at all.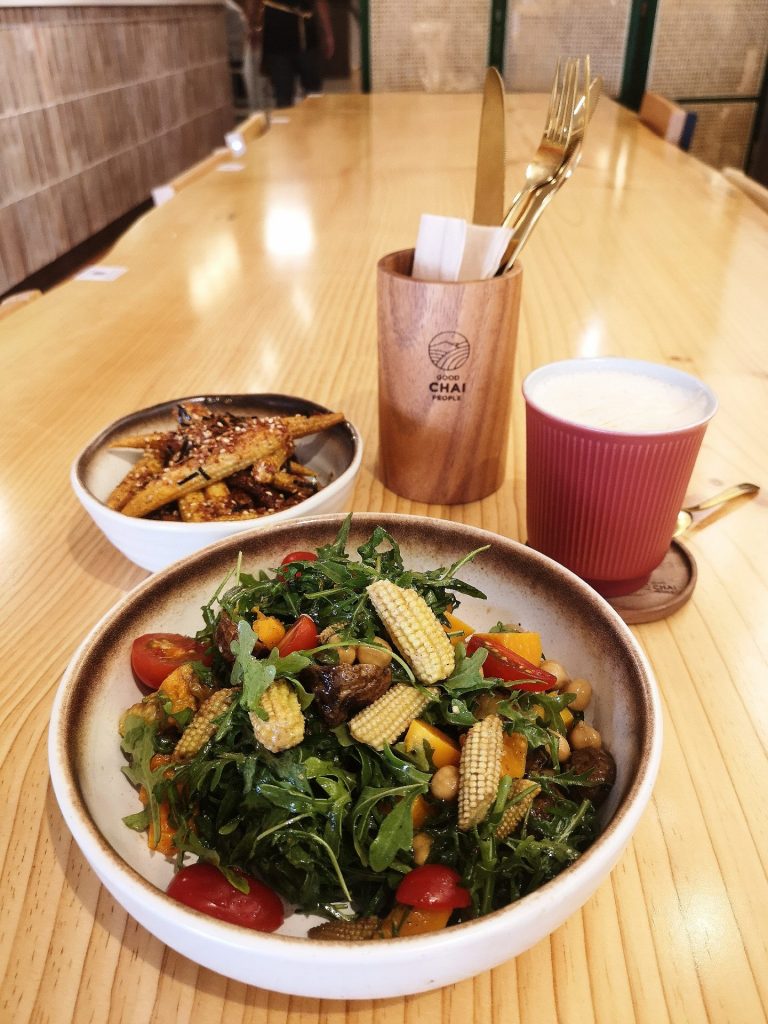 There were also some glaring omissions between what was listed on the menu and what arrived on the plate. The vegan-friendly pumpkin salad was missing balls of burratina and couscous, and the baby corn wasn't roasted.
Another item, the fried baby corn (S$12), was shown to come with a sriracha mayo dip, which didn't show up. Thankfully, the furikake-topped side dish was sufficiently flavoured.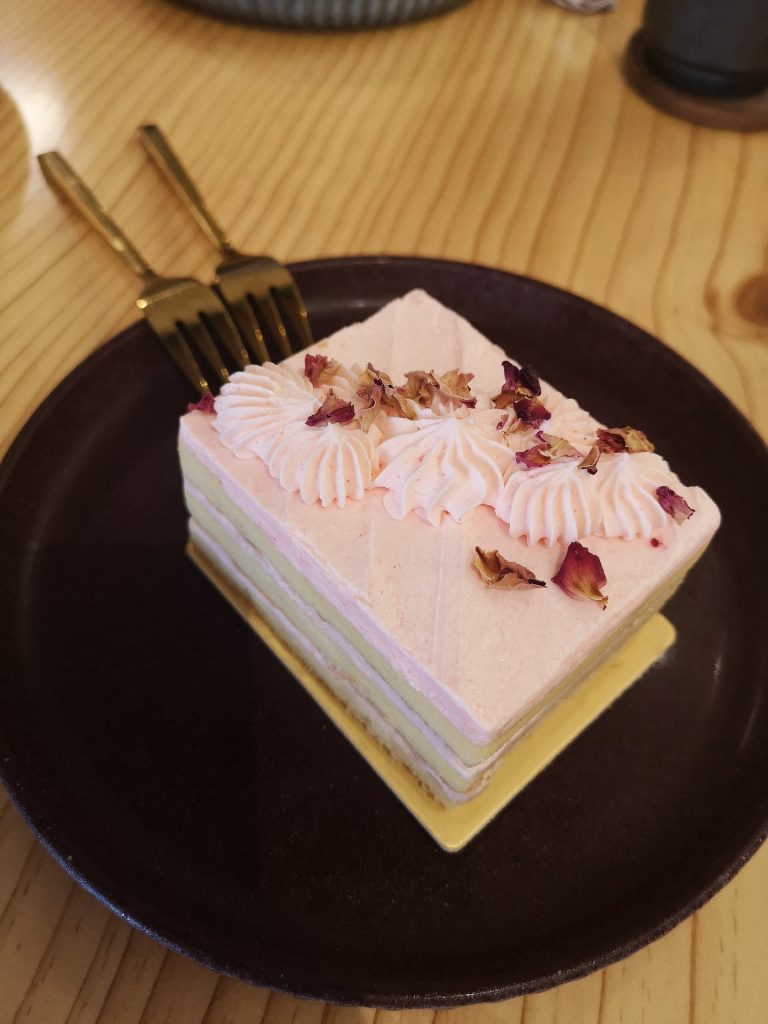 Like the pastries, Good Chai People's cakes, muffins and tarts are all baked beforehand and kept in a glass display cabinet by the counter. 
Note that you'll have to request in the comments box on the digital ordering page that you'd like your desserts to be served at the end of your meal.
The lychee rose cake (S$9) was sitting a little too long in the fridge. When it arrived at our table, the layers of cream in between were too hard. 
It softened after five to 10 minutes in the open, but that was too much time to wait for a mediocre slice of cake that could do with a stronger rose fragrance and fresher bits of lychee.
Our quick takes
Is it conducive to conversation? Yes. The space is divided into various configurations, such as communal tables, window seats and sofa seats for small and larger groups.
Is a reservation necessary? It should be fairly quiet on weekdays, but you might want to make a booking if you're coming on a weekend in a bigger group.
Takeaway recommendations? Absolutely take away the chai, and bring your own sippy cup. 
How to get there? There are three bus services from Kallang MRT station: 12, 32 and 13.
Take note: 
You'll need a dine-in code to start ordering via a QR code. Approach the wait staff for help if you're not given one.
HungryGoWhere paid for its meal at this cafe for this review.
Good Chai People is on the GrabFood delivery service. You can also book a ride there.  
225 East Coast Road
Open: Monday to Sunday (8am to 6pm)
225 East Coast Road
Open: Monday to Sunday (8am to 6pm)