Chao Ji Shao La: Roasted meats stall is a hidden gem at Chinatown Complex!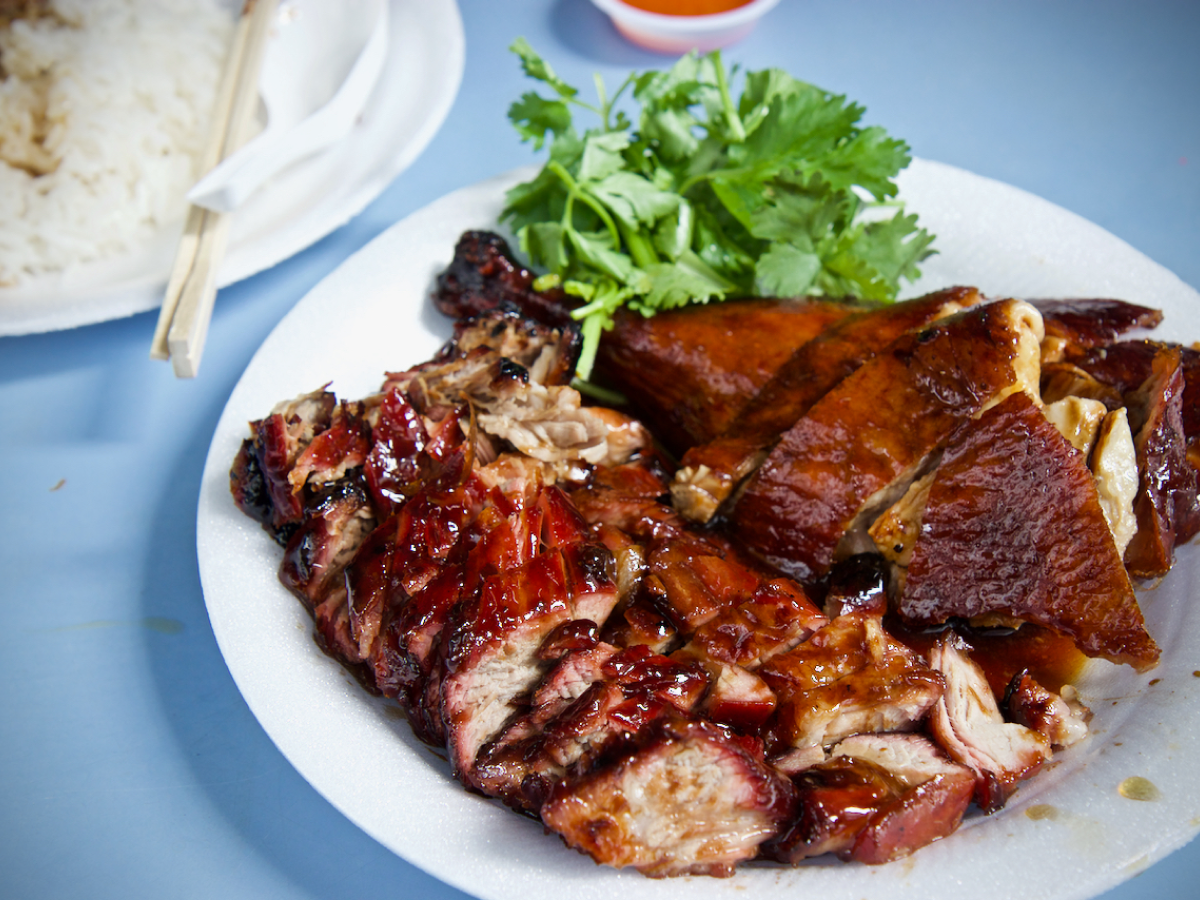 Among the many roast meat stalls at Chinatown Complex, there are two sorts of stalls you will usually see — the highly popular Michelin type frequented by many tourists and some locals or stalls which only sees the occasional traffic  — usually by locals who work in offices nearby and who are in search of a quick meal.
Then there is the third option, the rarest of them all —stalls which get a lot of foot traffic by a mainly local crowd of nearby residents and seasoned foodies because the food is seriously good, or good for the price, as it sometimes turns out to be.
Chao Ji Shao La (Chao Ji Roasted Meats) falls into the third category because all three of its roasted meat options — roast duck, Char Siu and roasted pork — are very well executed in a traditional style.
A business which began in the 1980s, this roast meat stall is run by 63-year-old Charence Leong who has been in the business for 30 years and will likely not continue the trade as none of his children are interested in taking over.
His roasted ducks come very nicely roasted with crispy skin depending on which part of the duck you opt for. The texture of the meat is generally speaking nicely moist and tender but tends to have more of a meaty chew.
The marinade is also scaled back with no herbal accents as it relies on the traditional Cantonese sauce comprised on meat drippings, Hoi Sin and dark soy sauce which they drizzle on top.
The char siu (barbecued pork) is also the other highlight because it relies on pure roasting technique. Instead of the recent trend of using slightly fattier cuts of pork to keep the Char Siu "moist" or meat tenderiser, Chao Ji uses the very traditional shoulder meat which has relatively little fat.
Leong employs a low fire roasting technique to yield a soft-textured meat and caramelised bits on the outside. Char Siu lovers will rejoice as the texture is reminiscent of a more old-school char siu texture where the meat has an almost moist but chewy tenderness.
The Char Siu marinade is sweet and savoury but leans more towards the savoury side.
The other big highlight is oddly enough, the rice itself. Steamed a little underdone, you can still see whole pearls of the rice and they are bouncy and slightly firm.
Also on the menu is roasted chicken and roasted pork belly, of which the latter comes with the requisite crispy skin and moist meat.
---
This archived article appeared in an earlier version of HungryGoWhere and may not be up-to-date. To alert us to outdated information, please contact us here.