[CLOSED] Worth it or not? We try CARNE's burgers, shakes and fries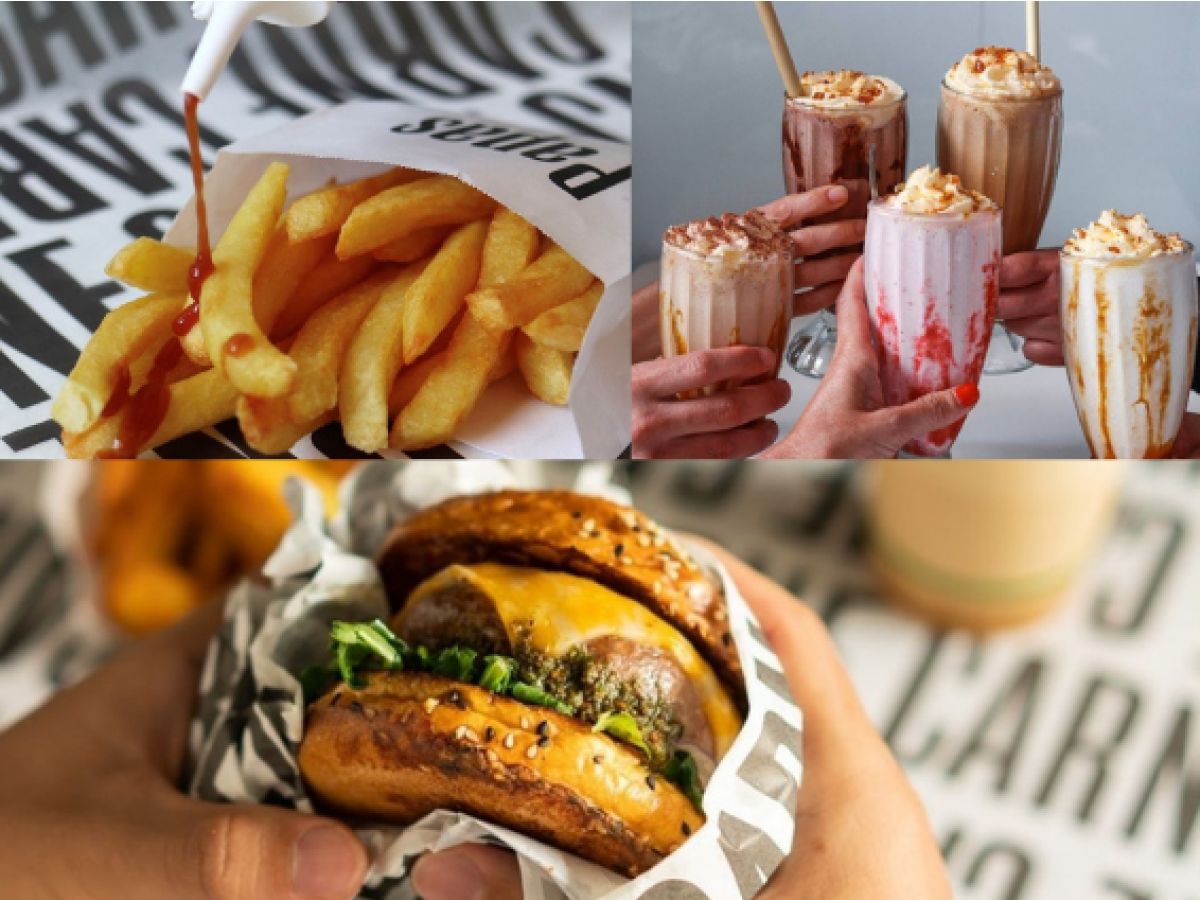 What we liked:
The Veggie Burger- it was tasty, and each ingredient has attention to detail.
The Crispy Chicken burger- delicious, crunchy, and had all the right textures.
The Salted Caramel Milkshake – well-balanced sweetness.
Eco-friendly products.
Customer service – the staff were really welcoming, even though the place was crowded.
What we did not like:
If you do not like sharp citrus notes, the Orange and Chocolate Sacher Torte may not be suitable for you.
The food is a little pricey (read on to find out if it's worth it!).
There is a new burger stop in Singapore, and it's quite different from the other burger joints around. Opened by Mauro Colagreco, a top-notch Italian-Argentine chef, CARNE spots a tight menu of beef, chicken, bacon and veggie options. All their products are created with quality ingredients, from 100% Grass-fed meat to 100% organic vegetables and even seasonal fruits.
Perched on the busy Amoy Street, it is just 3 minutes away from Telok Ayer MRT station. The store can be easy to miss as their big CARNE signboard is blocked from street view.  But, we stepped in and gave some of their highlights a go.
The moment you walk in, the first thing you will see is their clean industrial set up. We visited the store in the evening, so it was packed with the after-work crowd. But, there is sufficient space between the seating areas, so it is not too noisy even when packed.
They have an easy online ordering system in place, and you can take as much time as you want to decide on your choices. After scanning a QR code and placing our orders, we were quite surprised when our pagers went off within just 5 to 10 minutes.
We were first served our burgers: Crispy Chicken ($20.90 with cheese) and Veggie ($18.90 with cheese). These came with our chosen side, the Triple-cooked Agria fries ($8.90).
Starting with the Crispy Chicken, we decided to try it along with the fries. The crispy chicken burger is an adequate size and comes with a rather juicy slab of chicken. The chicken is fried till crisp, yet the insides are still juicy and tender. We liked how the chicken was very lightly seasoned and how thin the batter was.
The chicken tasted really fresh, and the flavours went well with the other components- the vegetable, buttered buns and sauces. To get the individual ingredients' full flavour, we sampled them separately and were really impressed with how the chef had paid attention to detail. You could tell that they had tried out different combinations to settle on the right proportions.
The triple cooked fries were somewhat in between what you would expect out of wedges and fries. Though the fries were rather large, the potatoes were well mashed up, and there were no chunks when we bit into the fries.
The skin was crispy and slightly salted. Thus we could enjoy the organic flavour of the potatoes.
Next, we indulged in the Veggie burger. Since it was a vegetarian rendition, we did not expect much. However, we were pleasantly surprised by how much the entire dish tasted like a pizza.
The dish was well thought out as they had used the right amount of chilli paste to pair well with the huge portobello mushroom. Their two cheese ingredients further elevated the natural flavour of the mushroom.
The cheese was easy to bite into and had a little resistance to it as it had been melted and seared. We enjoyed the bite that came with it as well.
Overall, it left us feeling full yet wanting more.
No matter what, having a dessert after such a savoury spread is a must. We chose their Salted Caramel milkshake ($10) and the Orange and chocolate sacher torte ($12).
The milkshake had bits of peanut on their whipped cream topping that sent us down the memory lane as it tasted so much like the filling in our favourite traditional peanut pancakes.
Though the amount of whipped cream was quite a lot, the drink did not disappoint. It had a strong butterscotch taste that was not overly sweet but just nice. You may find a bit of the salted caramel residue at the drink's base, and that was just the perfect end to the milkshake.
To end our night on a refreshing yet sweet note, we went for dessert. It contained a rich serving of orange slices, peels, orange gelato scoop and chocolate brownie chunks at the base of it all.
Almond slices hiding in the bowl, and it gave each mouthful a delightful crunch.
The brownie was thick yet rich in chocolate flavour, so you will enjoy this, especially if you are a chocolate fan. The authentic flavour of it was cut through by the citrus taste from the orange slices.
The gelato was creamy and light on the taste buds. It ensured that our palate was not too overwhelmed and that we had a good balance.
In all, we enjoyed the balance of the flavours, and it was obvious that these dishes had lots of attention to details.
While these were our picks, you can try some of their other signatures, like the beef burger as well. It holds butter buns, natural grass-fed beef, local oak lettuce, organic tomato and organic red onion.
The burgers and other dishes are slightly pricey, but after trying them out, we can see why. So, be ready for your wallet to empty after eating here.
Most of their materials are also sustainable and eco-friendly, so that was a huge plus for us.
If you are in a mood for fast food but would like to try a different take on it, CARNE would be the place for you.
For more information on what CARNE's offerings are, visit https://www.carneburgers.sg/.
---