[CLOSED] Hot New Restaurant: Captain K Seafood Tower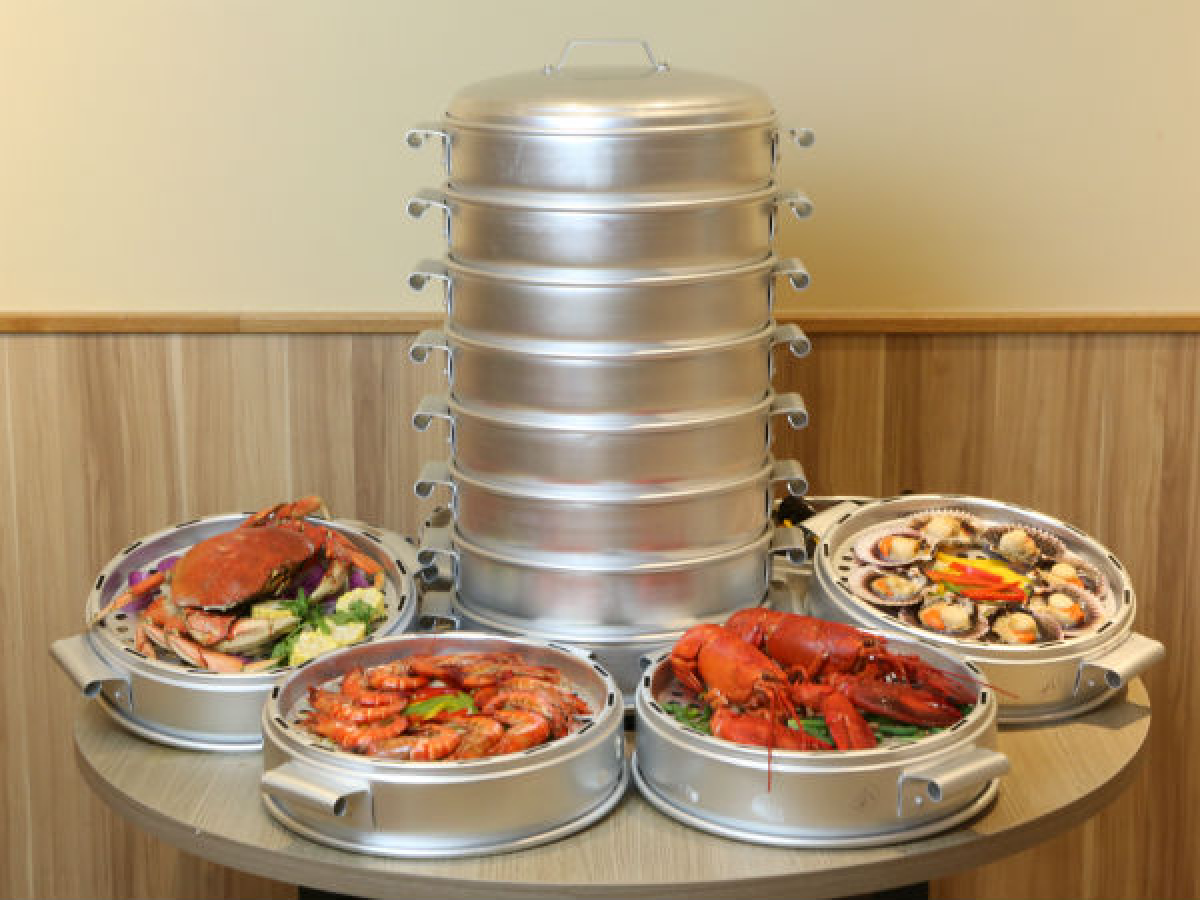 While the craze for Korean bingsu, Korean fried chicken, and Korean barbecue rages on in Singapore right now, and everyone is busy clambering onto the bandwagon of the latest hallyu (Korean wave) trend, you've got to ask yourself: what's next?
The answer is the nine-tier seafood tower at Captain K Seafood Tower. Unlike the Louisiana seafood boil where you get a mixed bag of crustaceans, the great thing about these Nine Layers of Steamed Shells (as it is known in some parts of Asia) is that each tier is cooked somewhat separately so you get to relish all the shelled seafood in its orginal natural flavour.
Opened a few days ago at Prinsep Street (near Rendezvous Hotel), the 120-seater restaurant is airy, spacious, and modern with a few TV's on the premises screening K-Pop music videos, in case you had any doubt that this is a Korean food concept. For the more privacy, there's a 12 pax private room where you can enjoy your seafood feast away from the crowd.
A typical feast includes scallops, prawns, squid, shellfish, and crustaceans (the offerings are not fixed and depend on seasonal availability) individually stacked but collectively steamed with the seafood juices dribbling down to the last layer where the soup base is. You are supposed to eat the seafood layer by layer, starting from the top and working your way down the tiers until you reach the soup at the bottom.
Currently, The Punggol Settlement is only other place in Singapore we know of that offers the Korean seafood tower but unlike Captain K they bring the ingredients to the table raw and cook it from scratch which may result in overcooked and chewy seafood. At Captain K, the fresh ocean catch is steamed in the kitchen until they are almost ready to eat before it is moved to the induction cooker at the table and finished off at a low heat. A timer set at 5 minutes ensures the seafood doesn't overcook.
The 9-layer seafood tower ($288.90) looked impressive when it arrived at the table; the set feeds 8 pax comfortably. They cater to smaller groups too—3 layers ($52.90) is good for 2 pax; 5 layers ($98.90) is good for 4 pax; and 7 layers ($188.90) is good for 6 pax. Each set comes complete with a free flow of barley tea and five banchan dishes like kimchi, soya bean sprouts and spinach, depending on the day.
Layer 1: The live prawns from a local kelong were sweet and fresh. Prawns are usually put on the top tier because once overcooked the flesh becomes mushy. The recommended condiment is a tangy yuzu Doenjang dip but we preferred ours with the homemade Korean soy sauce.
Layer 2: Scampi flown in from France. We cracked open the shells to reveal succulent and firm flesh. Although they recommend you eat it with fiesty sambal belacan, it really didn't need other sauces except for its own natural juices.
Layer 3: Rock lobster from the Dominican Republic. Lobsters are usually on the top few layers as overcooking could turn its meat into an unappetising mush.
Layer 4: White clams that arrived from Thailand on that day.
Layer 5: Half shell Hokkaido scallops were steamed with chopped garlic and spools of rice vermicelli. The big and meaty scallops tasted great unadorned but you could also add some zesty Thai chilli sauce. The vermicelli was delicious, having soaked up all the tasty juices from the scallops. This is, by far, our favourite tier.
Layer 6: Local green mussels to be eaten with the spicy Korean bean paste for best results.
Layer 7: Most Singaporeans like their oysters raw but they may change their minds after tasting these babies. These U.S oysters were fat and plump — ripe for the picking. After the 'sauna' session in the steamer, the flesh became creamier; to the taste and bite.
Layer 8: The last layer will always be the crab as these hardy crustaceans can withstand a longer cooking time. You can overcook these a little and it will still be good. The Sri Lanka crabs were steamed with strips of ginger and tasted incredible with just a little Korean soy sauce.
Layer 9: Saving the best for last. The kimchi soup tasted like no other we had. Free of MSG, it was brewed from kombu, vegetables, miso, and bean paste. Then, it was flavoured and naturally sweetened with cooked seafood drippings.
There are also less spicy soup bases like the nourishing ginseng chicken broth (additional $15) and the classic kombu dashi.
We were close to bursting at the seams after all that seafood but if you still feel hungry, you can have add-on ingredients like vegetables, corn, mushrooms etc ($2-$ 4 per plate) to throw into the soup a la shabu shabu hotpot style. Add some Korean Maggie noodles so you can round up your meal with some carbs.
[UPDATED] Captain K Seafood Tower has just obtained its liquor license and is planning to roll out Korean beers, soju bombs, and refreshing watermelon soju in the coming weeks.
Menu credit : Captain K Seafood Tower 
---
This archived article appeared in an earlier version of HungryGoWhere and may not be up-to-date. To alert us to outdated information, please contact us here.