Bismillah Biryani: Refreshingly different and value for money!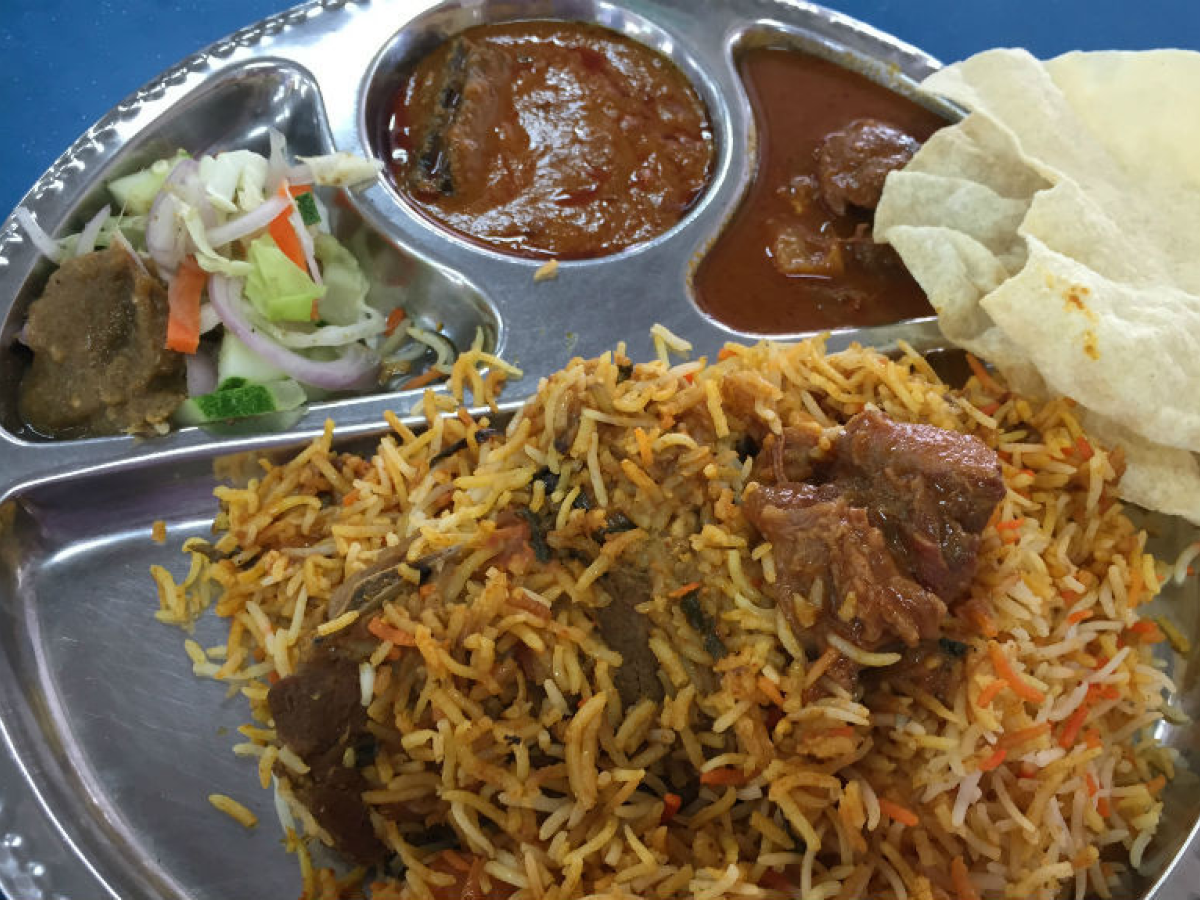 When Bismillah Biryani first burst onto the scene in 2001, it caused quite a stir among foodies because it sold the same style of biryanis only found in high-end North Indian restaurants but for much cheaper.
Bismillah is the brainchild of Arif Salahuddin, now 41. Originally from Pakistan, he immigrated to Singapore a few decades ago.
He was inspired to open Bismillah Biryani because he couldn't find the sort of biryanis he was used to anywhere in Singapore.
Cheap biryanis in Singapore are normally one of two styles: the Indian biryanis from south and central India and the local Indian muslim/Malay street "nasi" style of biryanis.
At Bismillah, the biryanis are more "central Asian" in style — the area where the Middle East and South Asia meet (Afghanistan/Pakistan/Delhi).
There is no curry gravy or dalcha on the side and the flavour comes from the meat, rice and masala spices. It is also cooked dum-style, where the meat and rice are steamed together.
He opened a small shop in Dunlop Street and his cheaper-than-restaurant biryanis were an instant hit.
Fast forward to 2019 and he has expanded to three more outlets — One North, Sixth Avenue and another at Shenton Way.
When you tuck into a biryani at Bismillah, it's clear why his food is so coveted.
Only top grade long grain basmati rice is used and it comes wonderfully fluffy with no broken pieces. However, unlike other biryanis, the aroma is not as intense due to much less ghee used in the rice.
Bismillah Biryani is marketed as a "healthier biryani" where supposedly no ghee is used but that's strictly not true.
While sunflower oil is used as the main oil for cooking, a few dollops of ghee is in fact spooned over every 14 portions of rice as an aromatic.
The rice also has a complex flavour to it. On one level, there is a delicate savoury stock taste.
But on top of that is a powerful taste of spices in the rice and in the highly savoury masala that is spread throughout the rice and the meat.
The spice presence is much more prominent here as compared to the other biryanis in our best-of list.
Examine the rice and you'll see lots of peppercorns, star anise, cloves, dried chillies and the like.
Every other spoonful of rice will contain a black peppercorn but it is okay to chew on them. There won't be any sharp peppery burst as the flavour has gone into the rice.
The fried onions sprinkled on top are especially nice as they add a nice herb sweetness to the dish.
While Bismillah Biryani have seven biryani options listed, they will only have three or four on offer at any one time.
Always on offer is the kid goat biryani and this is the main reason to go to Bismillah Biryani ($10/15/20). It uses young goat meat which means very tender and soft meat.
The marinade has penetrated right through such that even the inner bits of meat are nicely flavoured.
However, what you won't get is the strong flavour of mutton, only found in older goats — a good or bad thing depending on your preference.
They also do not debone the meat in the belief that it adds more flavour, so you will have to pick out small broken bones while you eat. A nuisance for some.
There are also generous fatty bits thrown in and that helps with the richness of the rice especially as there is less ghee used.
Portion wise, the $10 option is perfect for a small eater, but you'll have to pay more if you have a large appetite.
The other popular chicken option ($6/9/14) was much less appealing to us.
While the dish is still nicely flavourful, the chicken meat always comes a bit dry as the skin is taken off the meat. The rice is not as oil-rich and far less compelling as a result.
---
This archived article appeared in an earlier version of HungryGoWhere and may not be up-to-date. To alert us to outdated information, please contact us here.