10 bars in and around South Bridge Road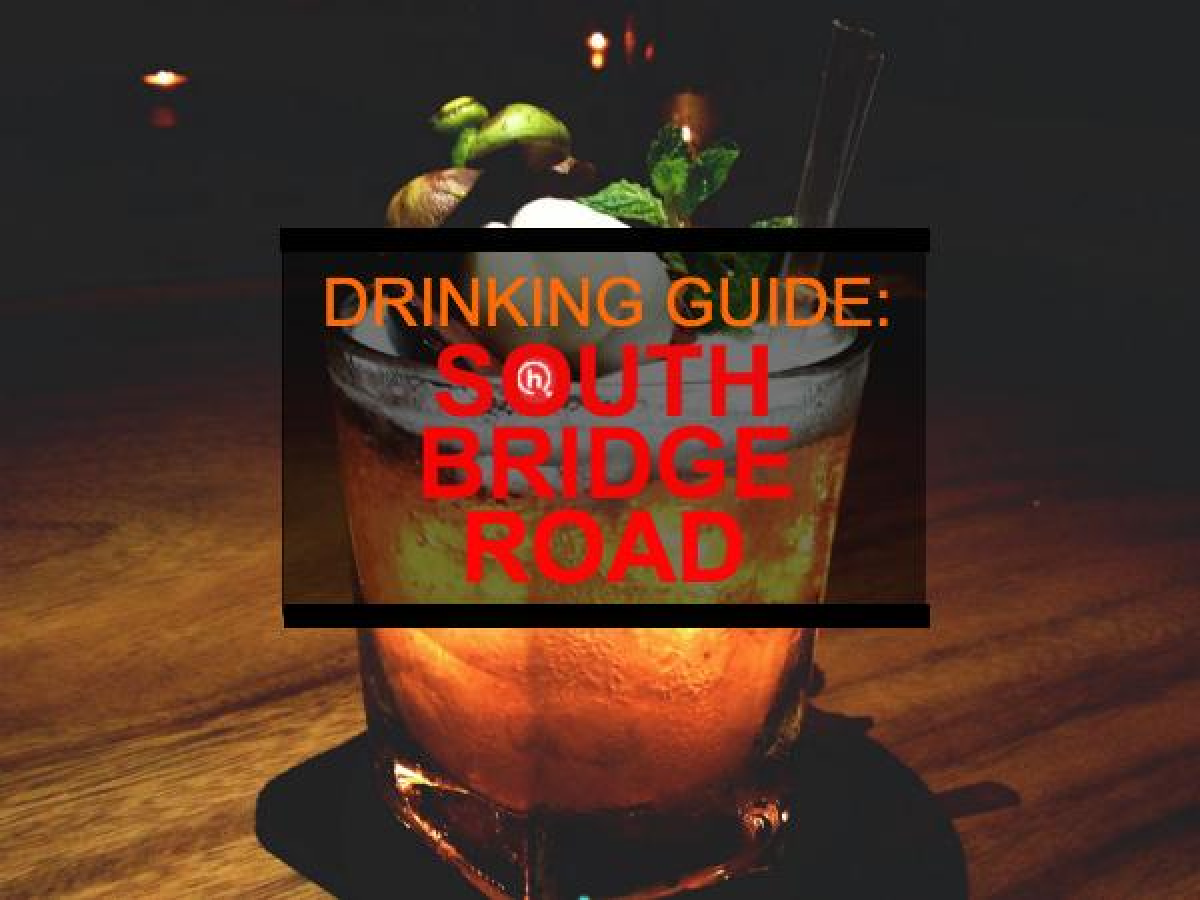 Tucked away in shophouses and alleys on the outskirts of Chinatown are some of Singapore's best cocktail bars. Regardless of your poison of choice, you'll find it where the crowds thin out:
28 HongKong Street
The original secret bar
What hasn't been said about the tenth best bar in the world? It's a deceptively simple space that channels the Prohibition era more effectively than anywhere else in Singapore; dark and airy, with decor limited to marble table tops, wooden furnishings and gold-rimmed mirrors. The staff too make the place what it is and their detailed order-taking routine wouldn't be out of place at a Michelin-starred restaurant. Cocktails here are split into categories: The Fountain (fizzy), Barrel Aged (made on the premises and stored in French and American oak barrels), Old Familiar Friends (classics) and New Kids on the Block (creations from founder Michael Callahan and company). Essential choices include the Hard to Port (rye whiskey, allspice dram, porter reduction, lemon juice, egg white and bitters, $20) and Slip Me a Mickey (Brooklyn Gin, ginger-infused cognac, Fernet Branca and lemon, $20). Bar bites such as the mac and cheese balls ($12) and the po' boy sliders ($16) are almost worth the trip on their own.
28 HongKong Street | Address: 28 HongKong Street | Tel: 65332001| Opening hours: Mon-Thu 5.30pm-1am, Fri & Sat 5.30pm-3am
The Mad Men Attic Bar
The rooftop bar with affordable spirits
You might expect Mad Men to be a recreation of a New York institutions P. J. Clarke's or Sardi's. Instead, it's more like industrial chic gone completely wild (as designed by graffiti collective RSCLS). There's enough roofing material and piping here to build a functioning shanty town. To be fair, they do an Old Fashioned ($16) that would satisfy any would-be Don Draper, and their spirits are reasonably priced ($12 for basics and $16 for many premiums). Being on a rooftop is always a draw too, and their luncheon meat fries with sambal chilli ($12) and marmite pork belly ($16) are addictive.
The Mad Men Attic Bar | Address: 11 North Canal Road, #03-02 | Tel: 91919722 | Opening hours: Mon-Thu 5pm-1am, Fri & Sat 5pm-3am

Bitters & Love
For bespoke cocktails
With the kind of names cocktails tend to have, one imagines it takes more time to come up with a catchy sobriquet than it does to create the actual recipe. Bitters & Love is a place that proves names don't really matter. While you can most certainly order what you're familiar with, it's much more fun to pick a spirit and a flavour profile and let the mixologists, led by Din Hassan, do the rest. The nameless Ron Zacapa and passion fruit ($25) and Wild Turkey and kiwi fruit cocktails ($19) for example are refreshing, perfectly balanced and come with enough mint leaves and fruit slices to make a decent dessert salad. Check in also for their regular events, for December, Tuesdays are BYOB tasting sessions.
Bitters & Love | Address: 36 North Canal Road | Tel: 64381938 | Opening hours: Mon-Thu 6pm-midnight, Fri & Sat 6pm-2am
The Flying Squirrel
Japanese cocktails and bar bites
Set up by local musicians Jack & Rai, and Jack's wife Angelina, The Flying Squirrel specialises in Japanese and Japanese fusion cuisine like the truffled ebi fry ($15), salmon belly carpaccio ($16) and foie gras aglio olio made with ramen noodles ($29). The drinks follow suit with the usual Japanese beer suspects such as Asahi (from $12) and Suntory ($15) on tap, five different sakes (from $10 a shot and $98 a bottle) and a few surprises like the Saketini ($16) and the Japanese Bloody Mary (made with Japanese tomato liqueur, $17).
Address: 92 Amoy Street, #01-02 | Opening hours: Mon-Thu 11am-11pm, Fri & Sat 11am-midnight
CRITIC'S PICK Jigger & Pony
Top notch cocktails and excellent service
Named after the ubiquitous liquor measuring tool (jiggers holding 30ml-45ml; ponies holding up to 60ml), Jigger & Pony offers around 40 cocktails, organised by Pre-Dinner ($14 before 8pm, $20 after), Classic ($20), Vintage ($20), Signature ($22) and Punch Bowls (serves 15 to 20 cups, $210). Highlights from each include the Moscow Mule (ginger-infused Ketel One Vodka, lime and ginger beer), Pisco Sour (Barsol Pisco, lemon, sugar syrup and Angostura bitters), the Godfather (Johnnie Walker Black Label, Luxardo Amaretto and chocolate bitters), the Bitter Gimlet (Tanqueray Ten Gin, Fever Tree tonic reduction and bergamot essence) and the Zombie (a rum blend, apricot brandy, orange, pineapple and lime). This is one of the more spacious bars on the cocktail scene with top class service.
Jigger & Pony | Address: 101 Amoy Street | Tel: 62239101 | Opening hours: Mon-Thu 6pm-1am, Fri & Sat 6pm-3am
Bartini Kitchen
More than just bar bites
If you find yourself on Boon Tat Street and feel a craving for Bartini's cocktails, you can save yourself the 400m walk to Club Street thanks to Bartini Kitchen. All your favourite Bartini drops are here: Planter's Punch (Myer's and Captain Morgan spiced rums with lime, pomegranate and pineapple foam, $20) and Pornstar Martini (Wyborowa Vodka, framboise raspberry liqueur and passion fruit juice, $22), along with their range of top-shelf spirits (from $13). On top of that, you have the added bonus of a full kitchen which makes burgers (from $26) and pizzas ($20).
Address: 29 Boon Tat Street | Tel: 62200629 | Opening hours: Mon-Fri 11am-midnight, Sat 10am-3pm, 6pm-midnight
Jekyll & Hyde
Nail bar by day, bar by night
Ever been in the middle of a manicure when you were hit by a burning desire to have a proper drink? Well, after 6pm from Mondays to Saturdays you can turn to Jekyll & Hyde. The hybrid nail salon and bar is a collaboration between the team behind Manicurious and mixologist Jeff Ho, formerly of Bar Stories. From a bar made with wood from sherry barrels, they serve more than 30 gins, and cocktails built around ingredients such as kaya, Japanese ginger and Belgian beer ($18-25). It's all still a bit hush-hush and enigmatic so there's still time to get in on this place early, but not too early – coffee is all you get before 6pm.
Jekyll & Hyde | Address: 49 Tras Street | Tel: 62223349 | Opening hours: bar Mon-Thu 6pm-midnight, Fri & Sat 6pm-1am; Nail salon Mon-Sat 11am-6pm
Café & Bar Gavroche
For wine flights and champagne cocktails
This classy establishment is quite literally a piece of France transplanted to Singapore; its bar counter was shipped over from Normandy and dates back to the 1920s. Gavroche's specialties are the anise-flavoured liqueur, pastis (35 varieties in stock; $6 for 20ml and $10 for 40ml), and champagne cocktails ($18). Of course, their extensive wine list features producers who employ sustainable and biodynamic practices. Sample the wines in flights of three (from $16) or five (from $32) 50ml glasses. The kitchen is managed by Parisian chef Frédéric Colin and in contrast to sister outlet Brasserie Gavroche across the street, the Café & Bar presents lighter fare like cold cuts ($25) and cheese ($26) platters, and a hearty Croque Monsieur ($16).
Cafe & Bar Gavroche | Address: 69 Tras Street | Tel: 62254869 | Opening hours: Tue-Fri noon-2pm, 5pm till late; Sat 10.30am-2.30pm, 5pm till late; Sun 10.30am-2.30pm
Moosehead Kitchen – Bar
For Spanish beers and wine
One doesn't naturally associate the majestic moose with the Mediterranean, but what do you know? Moosehead focuses on small plates such as bacon-wrapped chargrilled dates with roast garlic aioli and pine nuts ($8), hand-shaved bonito with tomato and charred spring onions ($14) and Iberian pork presa (shoulder cut) with pickled portobello mushrooms and shishito peppers ($34). Suitably, the drinks here have a Spanish bent, with beers like 1906 Reserva Especial ($13) and Estrella Galicia ($10) which are one-for-one from 5 to 7pm, and wines from the regions of Catalonia, Castilla La Mancha and Rioja as well as from neighbouring Portugal (from $10 a glass and $46 a bottle).
Moosehead Kitchen – Bar | Address: 110 Telok Ayer Street | Tel: 66368055 | Opening hours: Mon-Sat noon-midnight
Bar-Roque Grill
For Caribbean rum and an impressive wine cellar
Bar-Roque is the coming together of France and New Zealand in more ways than one. First, there are the owners and partners, French chef Stephane Istel, (formerly of db Bistro Moderne) and Kiwi Kori Millar (who previously managed OSIA at Resorts World Sentosa and Sky on 57 at Marina Bay Sands). Then there is the cuisine – hearty, wholesome French made with the best ingredients the two countries (plus Australia) have to offer. Then there are the drinks – chef Istel's selection of Caribbean rums infused with a variety of fruits and spices ($14) and a 90-label wine cellar that leans towards France, New Zealand and Australia with most other major wine producing countries covered (from $15 a glass and $55 a bottle). There is also a range of contemporary cocktails based on time-honoured traditionals like the Rhum L'ancienne (plantation rum with plum and cherrywood bitters, $18) and the Pimm's Panache (Pimm's No. 1, ginger, strawberry and white beer, $16).
Bar-Roque Grill | Address: Amara Hotel, 165 Tanjong Pagar Road #01-00 | Tel: 64449672 | Opening hours: Tue-Sun noon-2.30pm, 6-10pm.
---
This archived article appeared in an earlier version of HungryGoWhere and may not be up-to-date. To alert us to outdated information, please contact us here.