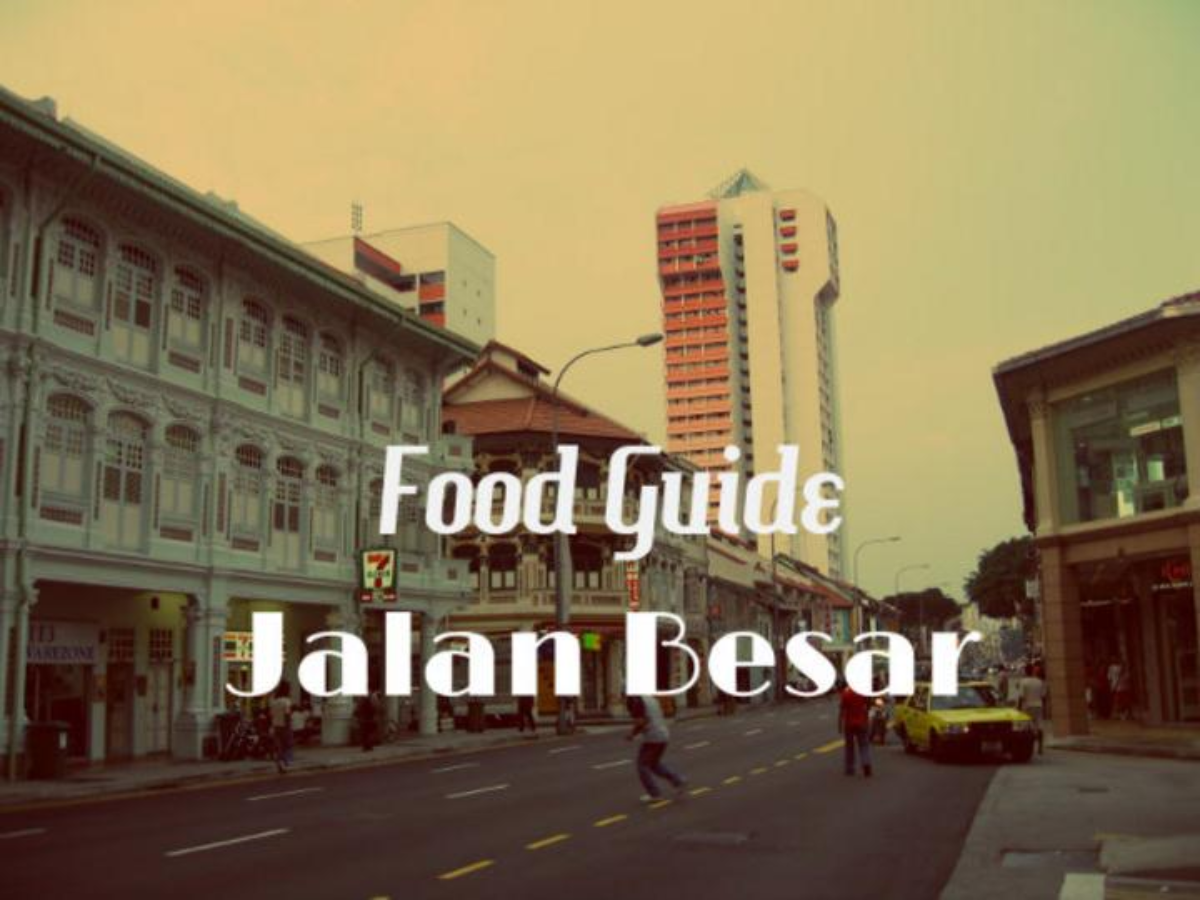 You have to be a hardcore foodie to eat in Jalan Besar.
Not only is there no MRT station close enough for it to claim, it takes a good ten minutes from the station to the main jalan (Malay for "road") besar ("big"). Drivers are made to go in loops on one-way streets and parking is horrendous to secure. Your best bet would be to hop on an Eastside bus.
An official conservation area – with some 540 preserved buildings – Jalan Besar's protected status has resulted in hawkers and restaurateurs being allowed to develop and hone their craft without disruption for many decades. Now boutique shops have started to spring in the nearby Little India area; coffee joint Chye Seng Huat Hardware set up shop along Tyrwhitt Road and modern diner Suprette in boutique hotel Kam Leng Hotel across the road to name a few.
Before the Downtown Line's Jalan Besar MRT station's launch in 2017 – a move that will likely open the neighbourhood up to higher rental prices and more boutique and brand names in spanking new shopping malls – pull into Jalan Besar's culinary gems. As it stands, there is such tremendous diversity of good food concentrated in such a small area that our top picks for the area cannot do the area justice. We'd be losers for not trying though.
The Beef House
For Hakka delicacies
Hakka delicacies like beef ball bee hoon, yong tau foo, soon kueh (a big steamed dumpling typically filled with chopped turnips, carrots and black fungus) and suan pan zi (Hakka "abacus" seeds) can be found here, though the palm-sized soon kueh ($1 each) and abacus seeds ($2 a plate) regularly sell out by lunchtime. It is clear why when you manage to get orders: instead of a dominance of bang kuang (turnip), more expensive ingredients like bean curd, dried prawns, minced meat, mushrooms, black fungus and onions can be found in the soon kueh that has complex flavour and texture. The soon kueh's semi-translucent skin, made with tapioca flour and yam, has perhaps gotten thicker over the years but the springy chewy texture still makes for addictive eating. The soft-textured abacus seeds ($2 a plate) meanwhile, are made with a little more yam but still has a springy feel and comes with a generous serving of bean curd, mushrooms and dried prawns.
The Beef House | Address: Gar Lok Eating House, 217 Syed Alwi Road | Opening hours: Mon-Thu, Sat & Sun 8am-5.30pm or until sold out
Cambridge Deli
For classic Nyonya kuehs
Here lies some of the best classic Nyonya kuehs in this part of town. Their ondeh-ondeh (gula Melaka-filled glutinous rice balls rolled in shredded coconut, five for $2) is our pick; though not perfectly shaped, the slightly firm texture of the glutinous rice dough is soft to the bite, the coconut is freshly grated and unseasoned, and a generous amount of gula Melaka liquid comes flowing out when bitten into. Tip: arrive early as not many are available for sale – a majority of Cambridge Deli's kuehs are reserved for pre-orders.
Cambridge Deli | Address: Blk 216G, Syed Alwi Road #01-06 | Opening hours: Daily 7am to 5pm
Coffee Hut
For kopi-o kosong
It is only when you drink Coffee Hut's kopi o kosong (Malay for "coffee with no milk or sugar") and compare it with other kaya toast and coffee sellers' that you get why this stall is held in high regard: there is less of the bitter and sour overtones that is common in local coffee because Coffee Hut uses a higher grade of coffee. Where kopitiam coffees rank, this version can be a bit on the light side, so order the coffee "kao" (strong) for more of that coffee oomph. Also try their kaya baguette which comes light, fluffy and crisp.
Coffee Hut | Address: 166 Jalan Besar #02-43, Berseh Food Centre | Opening hours: Mon-Fri 7am-3pm; Sat & Sun 7am-1pm; Public holidays closed
Ye Zhi Mei Handmade Dim Sum
For Malaysia-style big buns 
The "Amy Yip Pau" ($3) has been around for more than two decades and can be had at this corner coffeeshop off the main Jalan Besar. Named after the popular Hong Kong Category Three actress Amy Yip (Ye Zhi Mei) – popular in the 1990s and was known for her slim figure and large breasts – the 500g Malaysia-style is a complete meal in itself: it is filled with an assortment of ingredients like turnip, mushrooms, chicken, pork and a whole egg. Johor also adds Chinese sausage, which is unusual for big pau in Singapore. The slightly sweet marination is rich and dark and is not too oily, not when compared to the buns of other pau stalls.
Ye Zhi Mei Handmade Dim Sum | Address: 208 Jalan Besar (at the corner of Maude Road) | Tel: 62942210 | Opening hours: Tue-Sun 24 hours
Lao Liang Cold Trotters & Shark's Meat
For the whole shark, and other cold Teochew dishes
We're not talking about the fin (that's not the kind of boat we float on) – we prefer the whole shark, and we prefer them cold. Lao Liang Cold Trotters & Shark's Meat is possibly the only stall left in Singapore selling boiled shark parts. For starters, $5 gets you a basic plate of boiled shark parts; ask also for the shark cartilage, skin and insides and the price bumps up to a whopping $20, but this plate is more impressive: fresh, lovely gelatinous bits and complex mix of textures, is served with homemade plum, chilli and peanut sauce. The plum sauce is made with preserved plums which take up to three years to make. Tip for the adventurous: if they have shark liver and shark head for sale, order them – these parts are available once in a very rare blue moon. And those, we know, are rare enough.
Lao Liang Cold Trotters & Shark's Meat | Address: 166 Jln Besar #02-37 Berseh Food Centre | Opening hours: Tue-Sun 11am-3pm
Mei Xiang Black & White Fish Soup
For robust, cloudy fish soup
If you like your fish soup clear and unadulterated, skip this place. This stall makes a gutsy stock ($5), with added fried shallots and pickled vegetables. The soup comes with thick slices of fried or boiled fresh Spanish mackerel (or a mixture of both) whose taste only comes through when you eat the fish without the soup. Take note however, this stall draws a long queue during lunchtimes, usually selling out shortly after 1pm; takeaway is not allowed; and extra servings of their spicy chilli will cost you extra.
Mei Xiang Black & White Fish Soup | Address: 166 Jalan Besar, #02-44, Berseh Food Centre | Opening hours: Mon-Fri, except public holidays 11am-2pm
Sungei Road Laksa
For laksa with a lot of "hum"
This stall's headlining dish is one of the last few – if not the only – places in Singapore that still keeps their laksa gravy gently heated in an aluminum pot over charcoal fire. Some say this results in a smokier aroma; we reckon that the spread of charcoal results in more even heat. The laksa isn't visually impressive – it comes in a small bowl, with merely a few slices of fishcake, and isn't rich and creamy as there isn't much coconut milk. What it does have is a lovely fragrance and a generous amount of fresh hum (Chinese dialect for "blood cockles"). All of these for $2.
Sungei Road Laksa | Address: Blk 27 Jln Berseh #01-100 Jin Shui Kopitiam | Opening hours: Daily 9am-6pm, except first & third Wednesdays of the month
Very Lucky Turtle Soup
For ginger turtle soup
Yes, we know the ethics on turtle rearing for soup is fuzzy in Singapore, but that does not alter the fact that Berseh Food Centre has three turtle soup stalls and is known as the "turtle soup" hawker centre. Of the three, the portions at Very Lucky Turtle Soup are the smallest, but it stands out because it offers a version which is not the usual tonic-like soup: instead of packing it with herbs and brandy, this business of over 50 years do a Teochew version which is simply stock flavoured with ginger. The meat is soft and comes with the usual gelatinous insides and soft shell at $10-12 a bowl. 
Very Lucky Turtle Soup | Address: 166 Jalan Besar, #02-38/49 Berseh Food Centre | Opening hours: Thu-Tue 11am-8.30pm
---
This archived article appeared in an earlier version of HungryGoWhere and may not be up-to-date. To alert us to outdated information, please contact us here.