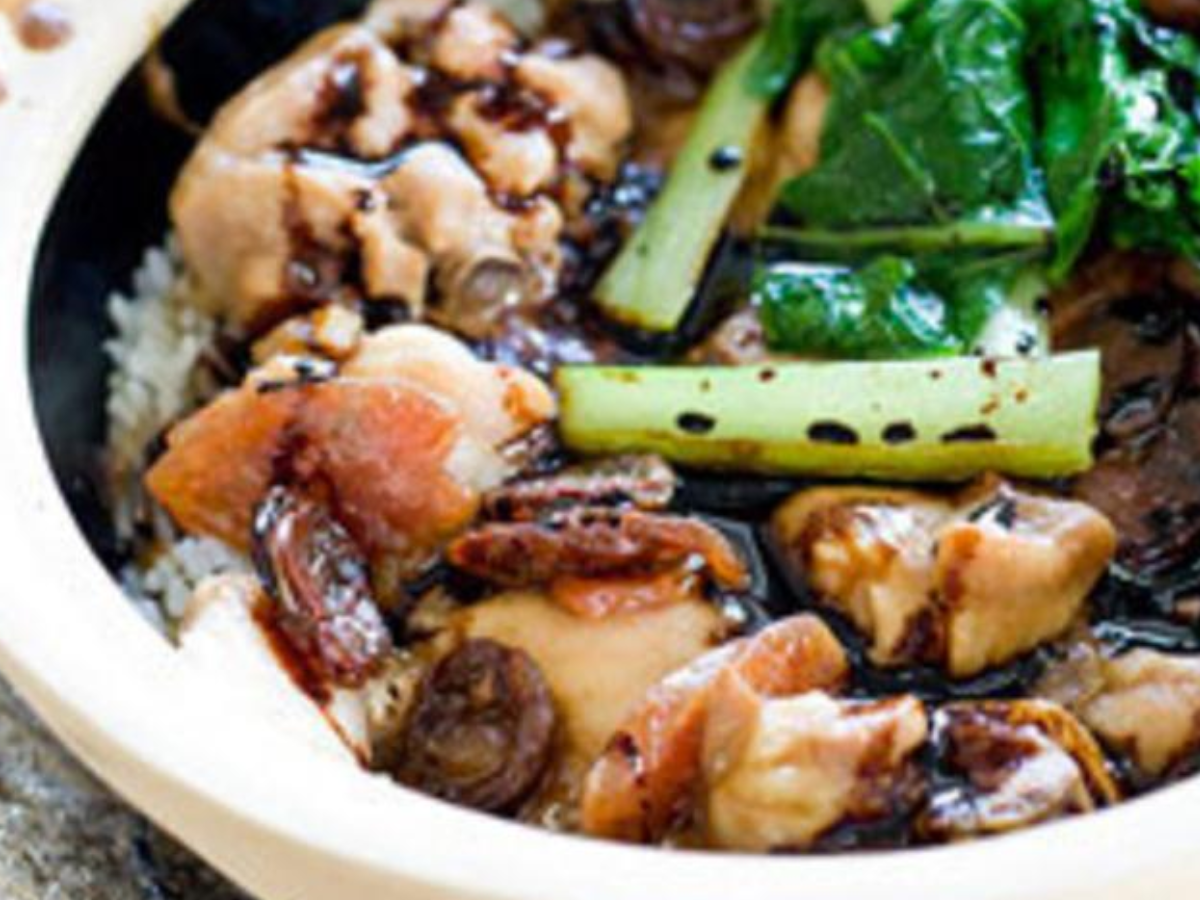 Claypot rice is a classic Cantonese one-pot meal that's no mean feat to master. It's a slow process involving precision and patience so as to evenly cook the rice grains and create a charred crust at the bottom to infuse the entire pot with that characteristic smoky flavour.
Before the grains are fully cooked, a mixture of marinated chicken pieces, lup cheong (Chinese sausages) and salted fish are placed on top of the rice. As steam in the pot cooks these ingredients, the rice absorbs all the luscious juices and aromas that are released.
Little wonder then, that there are numerous fans who won't hesitate to travel from Jurong to Geylang for a delicious pot of claypot rice. Here at inSing.com, we taste-test five established claypot joints. Are they truly worth the 30-minute wait?
Geylang Clay Pot Rice
639 Geylang Road (Lorong 33)
Tel: 6744 4574 (call for advance orders)
Opening hours: Tue-Sun: 11.30am-4pm, 5pm-12am
Price: from $8.00 (serves two)
Rating: 4.5/5
The rice here is first cooked on gas, then finished on charcoal fire. While we didn't detect any additional "charcoal-fire" fragrance, the rice was still top-notch. It was firm to the bite and evenly cooked. Separate and airy, the texture was excellent, although we'd have preferred a stronger smoky flavour.
Like the rice, the pork and liver lup cheong, and salted fish were of premium quality. We also loved the succulent chicken pieces which were the perfect size. They were well-marinated, with pleasant notes of wine and sweet-savoury seasoning.
Even without the requisite dark soy sauce and oil, the rice was sufficiently tasty with the robust flavours of the toppings. It's definitely worth the wait for this near-flawless pot of rice!
Old Mother Hen Traditional Herbal Soup
136 Sims Ave (off Lorong 17)
Tel: 6841 8789
Opening hours: Daily: 11am-2.30pm, 5pm-1.30am
Price: from $6.00 (serves one)
Rating: 4/5
This was another excellent claypot discovery. Like Geylang Clay Pot Rice, the rice grains were evenly cooked, plump and firm. But the smoky aroma was more apparent here.
Indeed, the flavours here were bigger and bolder, but controlled. The rice was served pre-drizzled with a very tasty dark soy sauce. This was balanced out with lightly seasoned chicken that was tender and succulent.
They used a relatively good grade of lup cheong and salted fish, with an unusual addition of salted egg yolk. A great choice if you prefer your claypot rice with bolder flavours.
Zhao Ji Claypot Rice
#02-253 Chinatown Complex Food Centre
Opening hours: Thu-Tue: 12pm-2pm, 4pm-8pm
Price: from $8.00
Rating: 3.5/5
From the chunky chicken pieces to the over-scorched crust, everything here screams old-school. For those who like their rice extra smoky with lots of burnt crust, you'll like it here. Indeed, the charred aroma of the firm rice here was intoxicating.
Besides the usual lup cheong, there were bits of smoked pork belly. The chicken pieces were chopped thickly. They were too heavy-handed with the starch to smoothen the chicken, but the result was very tender meat.
Eating here felt like eating at grandma's. They were very generous with the toppings. When everything was mixed together, the dish was light and not oily, but still flavourful.
New Lucky Claypot Chicken Rice
328 Clementi Ave 2, #01-220 Rong Li Eating House
Tel: 6778 7808 (call for advance orders)
Opening hours: Thu-Tue: 12pm-1.30pm, 5pm-8.30pm
Price: from $10.00
Rating: 3/5
Waiting time here can stretch as long as 45 minutes during peak hours, but this place is always packed.
The main draw here has got to be the rice! Once the lid was lifted, an irresistible waft of smokiness hit our senses and triggered our salivating tastebuds.
Round and moist, the rice here was rather more-ish, especially when enhanced with dark soy sauce and lard. The usual toppings of chicken, sausages and salted fish were skimpy in portion. Taste-wise, they were decent but didn't stand out.
Overall, the rice here was superb, but the toppings were too mild to elevate this claypot from good to great.
Golden Mile Claypot Rice
#01-65 Golden Mile Food Centre
Tel: 6295 8234
Opening hours: Thu-Tue: 5pm-10pm
Price: from $5.00
Rating: 2.5/5
If you prefer your grains more moist, then you'll like the rice here. But for claypot rice, we prefer the characteristically firm and separate grains. Also, we felt it wasn't smoky enough. In short, the rice here lacked character.
As for the toppings, the chicken was chopped into small pieces. This made eating more convenient. However, the meat was a tad too salty. The lup cheong was rather pedestrian, which reduced the overall flavour-o-meter of the dish.
Overall, it was a decent but unmemorable pot of rice.
---
This archived article appeared in an earlier version of HungryGoWhere and may not be up-to-date. To alert us to outdated information, please contact us here.