10 bars at Clarke Quay and Robertson Quay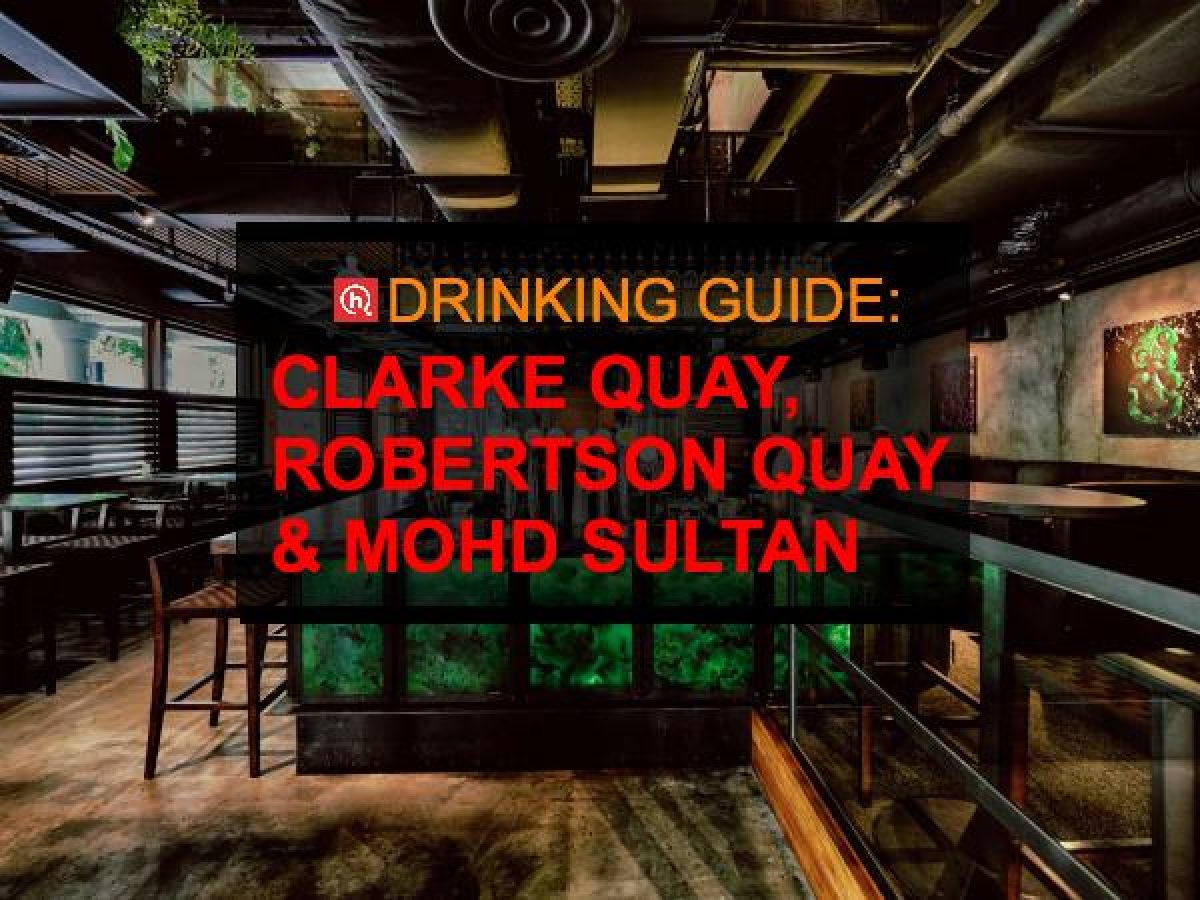 Just 10? We see your eyebrows raising.
Yes, the area encompassing Clarke Quay, Robertson Quay and Mohamed Sultan Road is home to one of the highest concentration of bars and clubs on the island, so picking out the ones that are really worth visiting is no easy feat. We're here to lead the way into this complex area:
At Clarke Quay

Brewerkz Riverside Point
The stalwart for beers at Clarke Quay
Sixteen-going-on-17, yet the years have not wearied this brewery one bit. Fresh from expanding, with a new outlet in Dempsey, and giving its 12 bottled beers (signature and draught beers, $8-$40 per bottle for drink-in) a snazzy makeover, the brewery continue to launch new brews that are happily imbibed by its regulars. The latest is the Brewerkz Saison, a Belgian-style farmhouse ale (medium hop bitterness, earthy, with and a bit of spice to finish, at $8-$17 per pint depending on time of day and Beer of the Week promotion). There's really nowhere else a drinking session at Clarke Quay should begin.
Address: 30 Merchant Road, #01-05/06 | Tel: 64387438 | Opening hours: Mon-Thu & Sun noon-midnight; Fri, Sat & eve of public holidays noon-1am
The Chupitos Bar
Shots, shots, shots… more than 130 of them
We think it's good that Chupitos did not veer too far from its original location at Clarke Quay: the shots-only bar re-opened in February 2013 at a location within a short, staggering distance of the taxi rank at Liang Court. Chupitos lends a bit of irresponsibility to any occasion with a menu of more than 130 different shots, which are sorted into "Yummy", "Fruity", "Dares" and "Deadly" categories. Pick your level of poison: "Yummy" (which holds the likes of cotton candy and chocolate cake); "Fruity" the Lychee Lambada; "Dares" the Baconator; and, as if that wasn't pushing the envelope enough, the "Deadly" has the Flatliner. Not to leave out the drop shots and specialty shots, including the lethal Gas Chamber. For efficiency, buy 10 shots and get two free here.
Address: 3B River Valley Road, #01-05 | Tel: 63334513 | Opening hours: Mon, Tue, Thu & Sun 6.30pm-1.30am; Wed, Fri & Sat 6.30pm-3.30am
Cuba Libre Cafe & Bar
Grande mojitos on a grande drinks menu
The ever reliable place for a Caribbean night out, Cuba Libre has been serving up good times for seven years, outlasting almost every other establishment in its vicinity. How did this bar do it? The potent mojitos, mai tais, caipirinhas, caipiroskas, pina coladas, margaritas, daiquiris and eponymous Cuba Libres just might have played a part. And what we've listed is not even a quarter of its extensive drinks menu.
Address: 3B River Valley Road, #01-13 | Tel: 63388982 | Opening hours: Sun-Thu 6pm-2am; Fri, Sat & eve of public holidays 6pm-3am
Fern & Kiwi
Live music and $7 nightcaps 
If there is a type of bar that defines Clarke Quay, it is the live band venue. Fern & Kiwi's resident band Jive Talkin' is among the best in the business, and the bar has a great selection of New Zealand beverages on tap, including beers such as Mac's, Speight's and Steinlager ($16.50 per pint each), Revolution's Sauvignon Blanc ($16.50) and Pinot Noir ($18.80); you read that right – draught wine. There are also New Zealand-themed cocktails, the aptly named Kiwi (42 Below Kiwi, Midori, kiwi puree, lime juice and basil, $22.36) is a favourite. It is also the best place for a nightcap: house pour drinks drop to $7 nett after 2am on weekends.
Address: 3C River Valley Road, #01-02 | Tel: 63362271 | Opening hours: Sun-Mon 5pm-midnight; Tue, Thu 5pm-2am; Wed 5pm-3am; Fri-Sat 5pm-5am
Robertson Quay
Fine Spirits by La Maison du Whisky
A treasure chest of whiskey and world class spirits 
With The Auld Alliance closed until January 2014 while it relocates to Hotel Rendezvous, the time has come for Fine Spirits by La Maison du Whisky to reclaim the title of Singapore's best place for whiskey, in drams (from $12) or bottles. Part-bar and part-retail-space, it stocks more than 600 whiskies from around the world, ranging from the ancient 1939 Linkwood ($5,495 per bottle) to reliable younger expressions of whiskey from equally independent makers. Rare bottles from closed Japanese distilleries such as Hanyu (Five of Diamonds, $40-$50 per dram) can also be found here. This place also boasts extensive selections of Bourbon, rum, cognac, armagnac, tequila, gin, and vodka, and is very underrated for its quality cocktails.
Address: The Pier @ Robertson Quay, 80 Mohamed Sultan Road, #01-10 |  Tel: 67330059 | Opening hours: (Retail) Daily noon-midnight; (Bar) Daily 6pm-late
FoodBar DaDa
Bold, extravagant cocktails
While its singular interpretations of Spanish tapas are its main selling point, FoodBar DaDa isn't shy about mixology. Some of the extravagant cocktails it has are Bloody Hell (thyme, ginger, cherry tomatoes, lemon juice, vodka and Port wine, served in a capsicum) and Out of This World (egg white, ginger, thyme, white rum, spiced rum, orgeat syrup, lime juice and Angostura bitters) together with timeless tipples such as the Old Fashioned, Vesper and Bramble.
Address: The Quayside, 60 Robertson Quay, #01-12 | Tel: 67357788 | Opening hours: Mon-Sat 6pm-midnight
Ginza Lion Beer Hall
Tokyo beer hall chain
The Ginza Lion Beer Hall is an iconic part of Tokyo nightlife with a history dating back to 1899, and a slice of its intoxicating after-work buzz now exists in Singapore. The beer is fresh, crisp, draught Sapporo ($8.50/$14.50/$16)  served in 430ml pilsner-style glasses, 760ml boot-shaped glasses or 800ml mugs. They also serve the Konig Ludwig Dunkel ($8.50 per 300ml glass / $14 per 430ml glass / $45 per jug) on tap. Beyond beer, there are eight types of shochu ($9 per serving/$70 bottles) and six types of sake ($75-$95 per bottle), which make up a modest but quality selection.
Address: 8 Rodyk Street, #01-01/02 | Tel: 66349113 | Opening hours: Mon-Fri 5pm-midnight; Sat & Sun 11am-midnight
Verre Wine Bar
More than 700 labels and vintages of wine
When you think of the area between Robertson Quay and Zouk, you think of drunken debauchery, yet, along this bank is one of Singapore's best wine bars. Specialising in French wine with more than 700 different labels and vintages, it stocks everything from First Growth Bordeaux to small, artisanal Burgundies, sweet Sauternes to champagne. A flexible by-the-glass list ($15-$19 per glass) also gives guests the opportunity to expand their horizons without too much of an investment.
Address: 8 Rodyk Street, #01-05/06 | Tel: 65091917 | Opening hours: Mon-Thu 5pm-midnight; Fri 5pm-1am; Sat 3pm-1am; Sun 3pm-11pm
Mohamed Sultan Road
Spathe Public House
Single and communal cocktails, and Baird beers
Mohamed Sultan is long overdue for a revival of fortunes. The once thriving nightlife capital has seen its life slowly ebb away, but with establishments such as Spathe Public House, it just might be on the verge of a comeback. The place serves contemporary European food in sharing portions, and in keeping with the communal spirit, the cocktails here range in size from single glasses ($16-$18) to 5L social pitchers (for three to four persons, $55-$58). Try the vodka-based Watermelon Lemonade ($18) and the classic Garden Pimms ($18). There is also a full range of the Japanese craft beer, Baird ($17).
Address: 8 Mohamed Sultan Road, #01-01 | Tel: 67351035 | Opening hours: Mon-Fri 11am-11pm; Sat 10am-11pm; Sun 10am-5pm
The Locker Room
A genuine sports bar
Since the demise of Turn: Styles Sports Bar Cafe on Circular Road, genuine sports bars have been hard to find. The concept received fresh life with the opening of The Locker Room in early 2013. Styled after a locker room, the bar is the home ground of Manchester City fans in Singapore and screens football matches from three leagues, rugby matches, Formula One races and mixed martial arts contests on five 50-inch televisions. Drinks are simple: affordable beers by the bucket (five for $45) and spirits by the bottle (from litre Belvedere Vodka bottles, $211 each, to 18-year-old Japanese whiskey, $211-$411). Note: It is changing its name to "Eleven by The Locker Room", and price-endings have been changed as well.
Address: 11 Mohamed Sultan Road | Tel: 67331959 | Opening hours: Tue-Thu 11:30am-1am; Fri, Sat 11:30am-2am; Sun 11:30am-midnight
---
A beer enthusiast first and a writer second, Kurt Ganapathy has tried more than 1,000 brews from 80 countries. Some of his most memorable exploits include tackling the one-time world's strongest beer – BrewDog's 41 per cent abv Sink The Bismarck! – and getting his name on the wall of an Irish pub in Melbourne for drinking 100 pints of Guinness (not in one sitting, of course).
---
This archived article appeared in an earlier version of HungryGoWhere and may not be up-to-date. To alert us to outdated information, please contact us here.