Modern Thai restaurant Hue is a feast for the eyes and stomach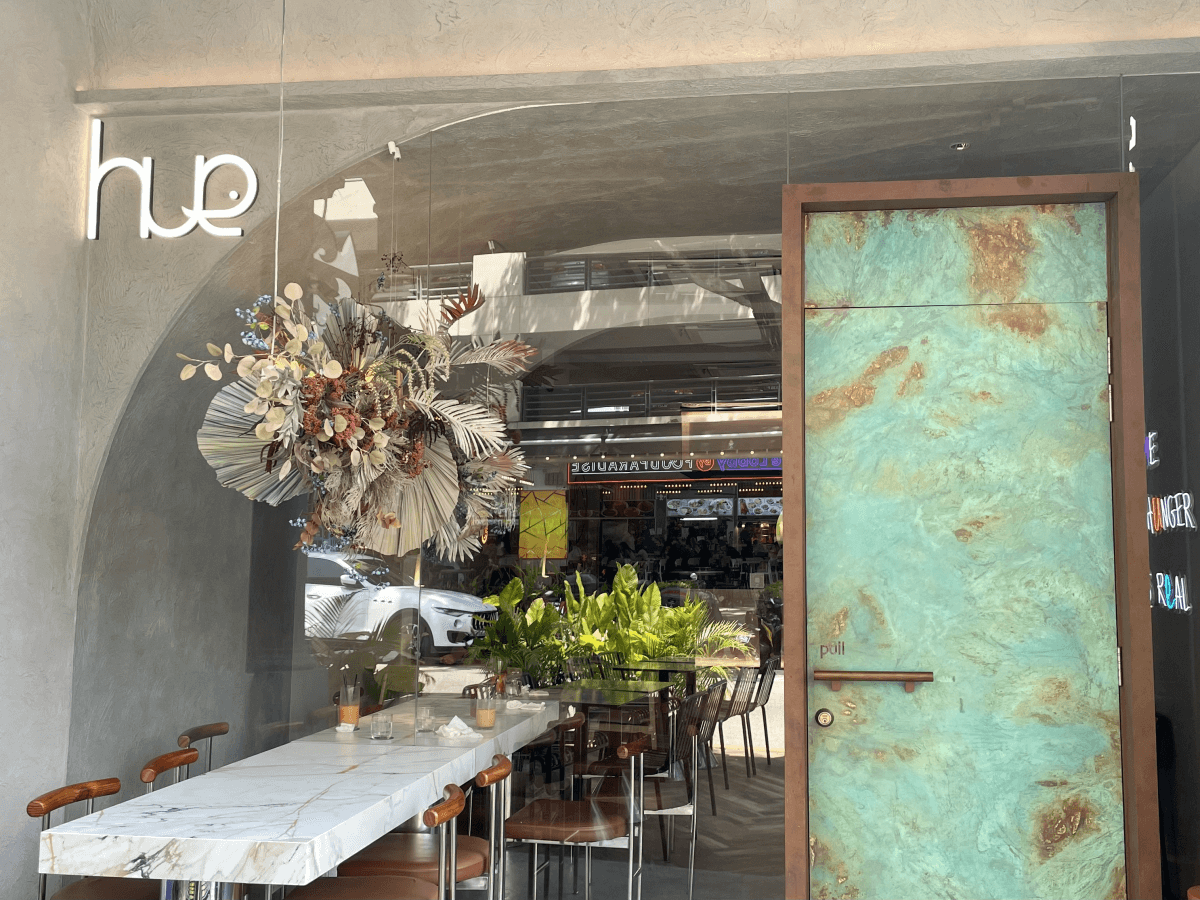 Hipster Jalan Besar teems with third-wave coffee shops, cafes and restaurants. Against this busy backdrop stands Hue, a fairly new addition to the cafe stretch of Tyrwhitt Road.
A passion project of seven friends — a mixture of Thai nationals, a chef, interior designers and a financial controller aged between 28 and 40, who all enjoy visiting Instagram-worthy eateries — the restaurant is easy on the eyes and incorporates some elements of Thai culture.
Pattiya Ariyasakul, one of Hue's owners, says: "There was a lack of nice and cool Thai food places with great ambience and food, and we took this opportunity to inject vibrancy and creativity to the Thai food scene in Singapore."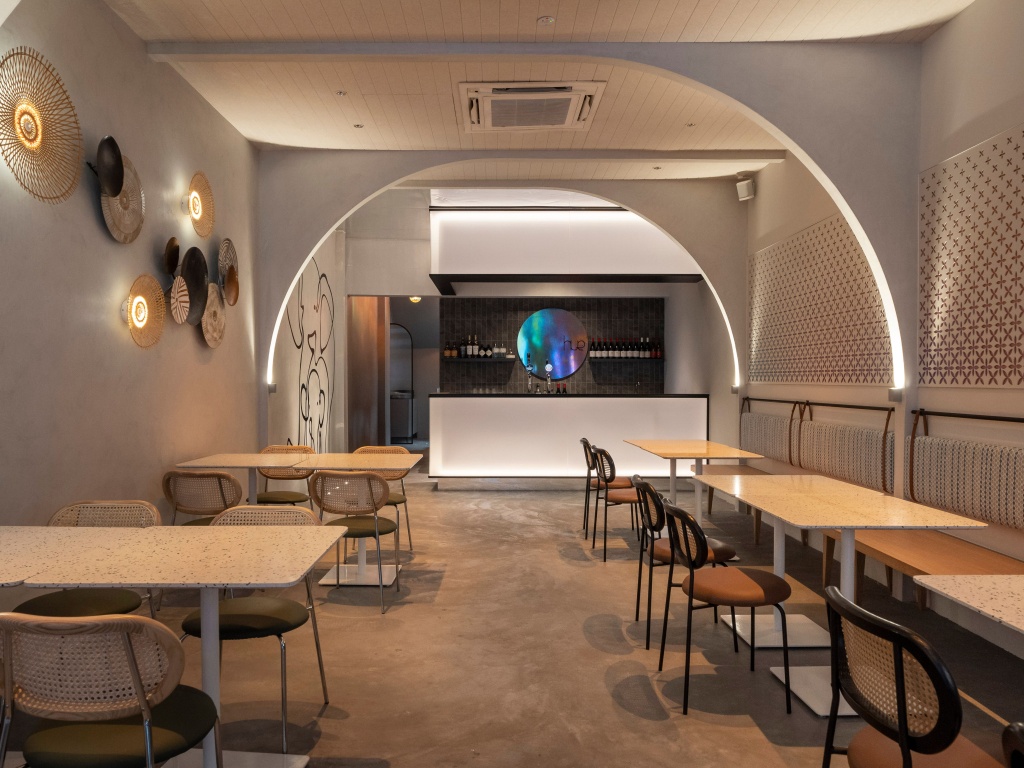 The first thing you'll notice is its blue facade that stands in stark contrast to the neighbouring buildings. It's meant to resemble a waterfall — a reference to water being the symbol of life in Thai culture.
Upon entering the restaurant, you'll see a neon sign that reads "The Hunger is Real" — a clever way of conveying its brand name. Hue means hungry in Thai.
It also depicts the English meaning of "hue" — a colour or shade — by way of coloured light illuminating the sleek bar counter. Changing daily, it is inspired by the Thai custom of assigning a lucky colour to a different day of the week to receive blessings from god. The rest of the restaurant is designed with archways to mimic a cave.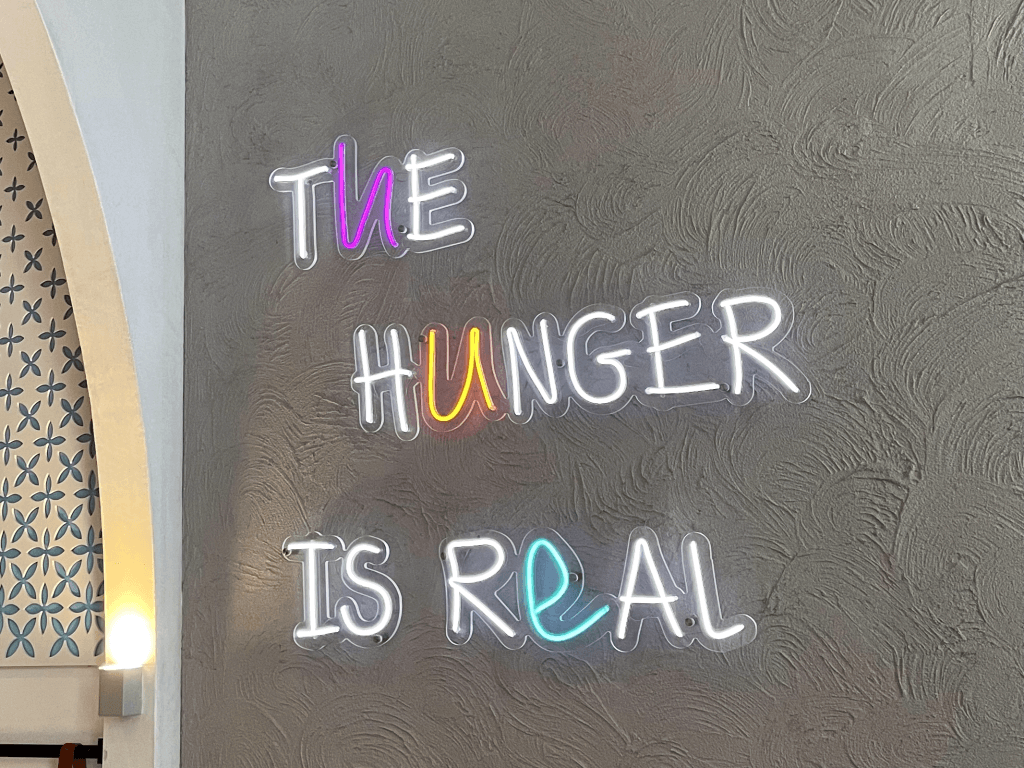 Leading the kitchen is chef Neo Jun Hao, who takes inspiration from the royal Thai recipe book. Using a variety of modern techniques, the 28-year-old translates comforting flavours into contemporary dishes that even those unfamiliar with Thai food can appreciate.
All diners start with a complimentary dish called Melon First. Served in bite-sized pieces, cubes of watermelon brined with salted fish are topped with fried shallots and a sprinkle of sugar, reminiscent of the sweet and savoury way Thais enjoy their fruit.
We sampled a variety of dishes such as Three Little Pigs (S$19), oven-roasted crispy pork belly stir-fried with three herbs and spices used in Thai cooking: Garlic, coriander and white pepper. Although covered in the green paste, the taste of coriander wasn't overpowering.
For soup, there's Not a Tom Yum (S$19), a Hue original hot-and-spicy prawn broth that's meant to be a tongue-in-cheek dig at the ubiquitous spicy soup offered at most Thai restaurants here. (No, Hue does not have tom yum on the menu.) It comes with grilled prawns and large chunks of deep-fried omelette.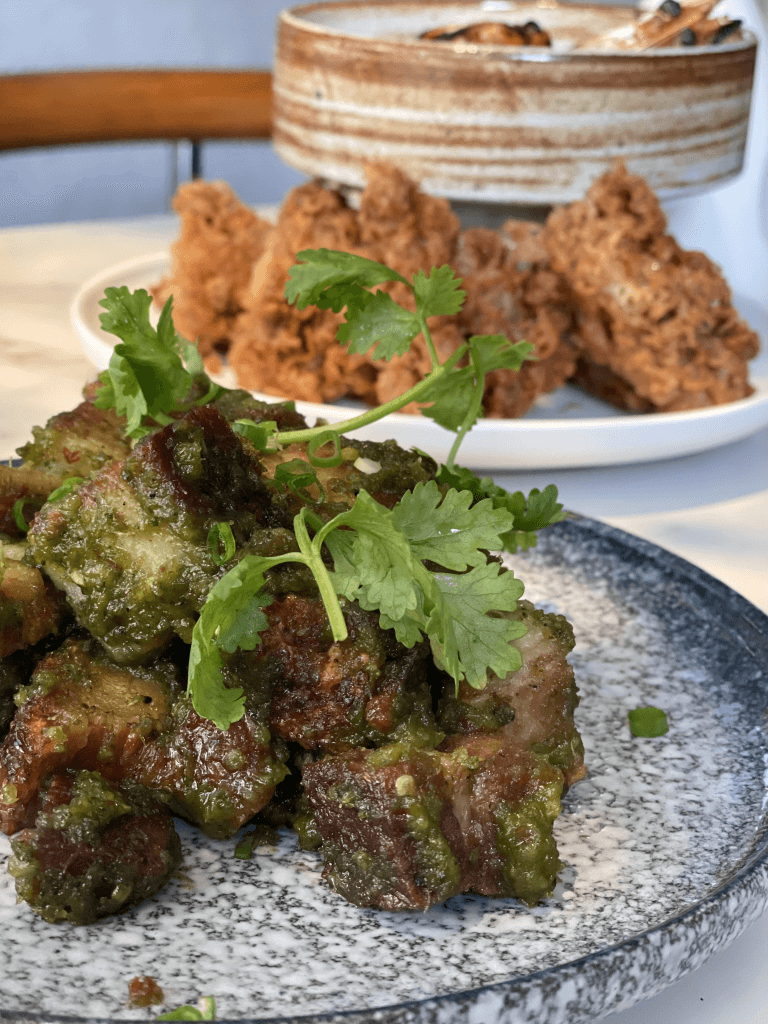 Hue's take on the popular kor moo yang (grilled pork neck) is a delicious, lightly charred fatty pork collar with a sweet glaze, resting on a bed of sticky glutinous rice. The Moocano (S$23) comes with a spicy sour sauce that cuts through all the flavours perfectly and a dark-brown sweet sauce, which we advise against drizzling over the meat. Use it sparingly as a dip.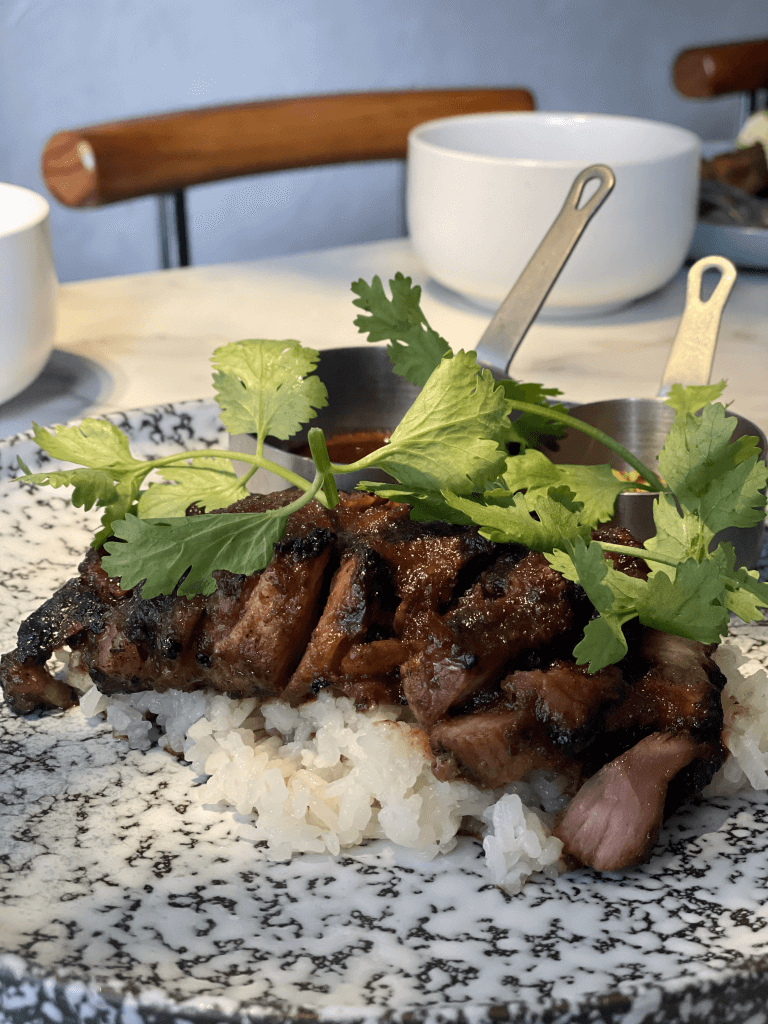 Hue has also put a new spin on a classic dessert with the Tea-ramisu (S$14). Instead of an espresso shot, the sponge fingers are saturated with Thai milk tea.
More tea powder is sprinkled over the large cloud of mascarpone, while the chocolate tuiles lend the dish a slight bitterness to offset the sweetness.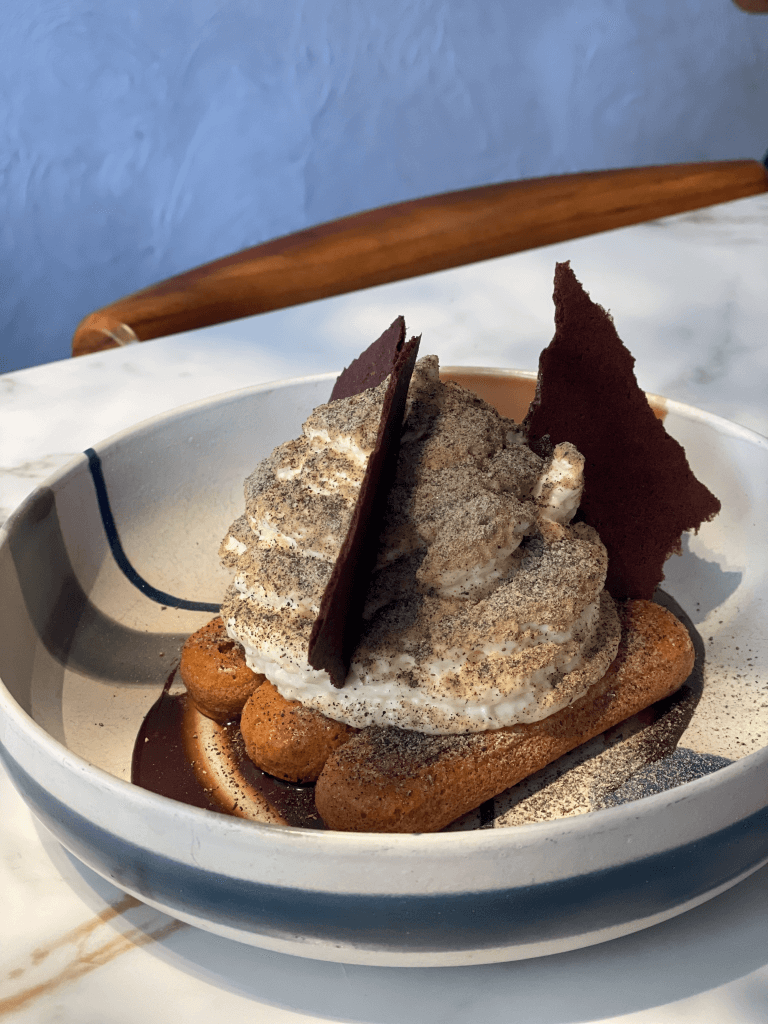 If you are feeling a little more adventurous, give Hue's Ong Lai (S$15) a go.
The deconstructed pineapple tart is presented as a foolproof combination of a slightly charred pineapple ring atop a layer of crumbly pastry and a side of gula melaka (palm sugar) syrup.
Pour the syrup into the centre of the ring, then take a scoop of everything, including the Thai chilli vanilla ice cream, to get all the flavours in one bite.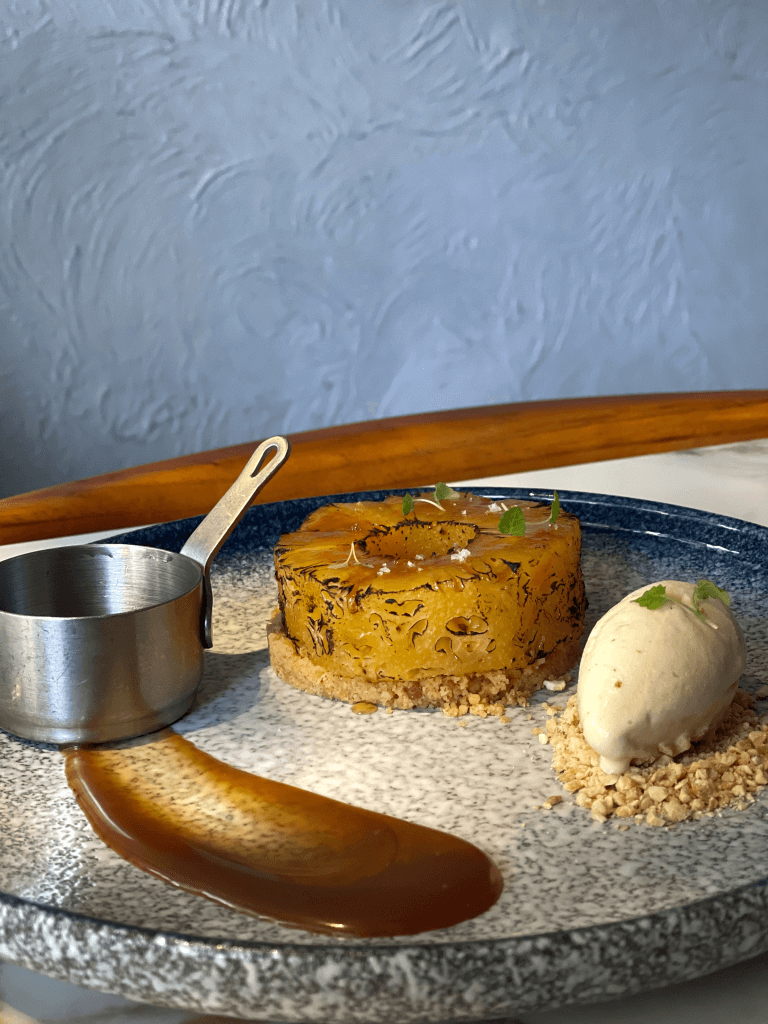 Although the fare here is pricier than your average no-frills Thai eatery, Hue is a place you can check out for a special treat. There are plenty of corners to pose for photos and all its dishes are plated up for the camera, too.
Most important, the restaurant has not compromised on flavour in favour of looking pretty, as some of its contemporaries do. This is one 'gram-approved joint where you can be satisfied with the grub.
Hue is on the GrabFood delivery service. You can also book a ride there.
123 Tyrwhitt Road
Nearest MRT station: Farrer Park
Open: Tuesday and Wednesday (6pm to 10pm); Thursday and Sunday (12pm to 3pm, 6pm to 10.30pm); Friday and Saturday (12pm to 3pm, 6pm to 11pm)
123 Tyrwhitt Road
Nearest MRT station: Farrer Park
Open: Tuesday and Wednesday (6pm to 10pm); Thursday and Sunday (12pm to 3pm, 6pm to 10.30pm); Friday and Saturday (12pm to 3pm, 6pm to 11pm)
---