Seng Kee 119 Steamed Fish Head: Thriving on a food trend for almost four decades!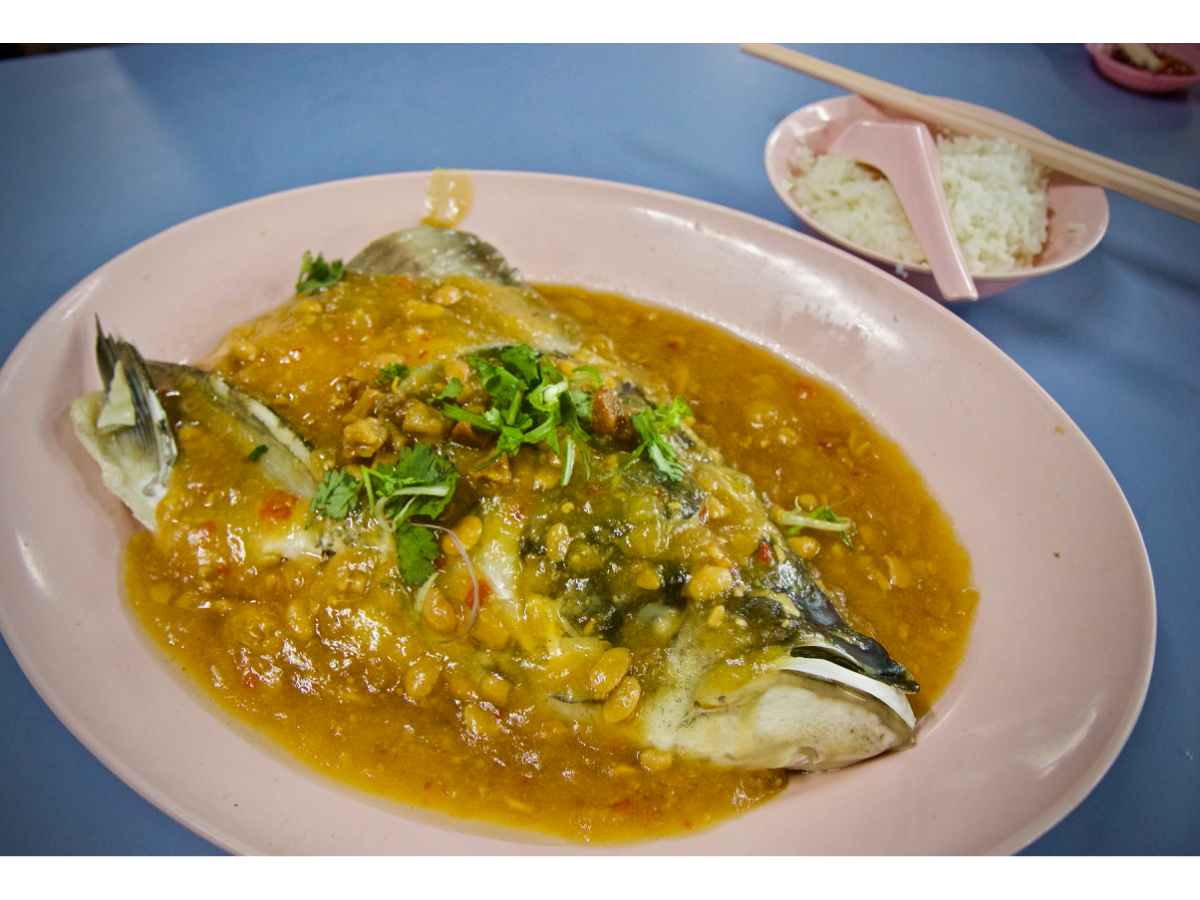 If fish head curry is Singapore's national dish, steamed fish head with hot sauce is arguably Chinatown's.
Located in the blue zone of Chinatown Complex, Seng Kee 119 Steamed Fish Head is a two-stall cze char eatery that has been serving its unique creation of steamed fish head with hot sauce for a whopping 35 years — it's the hawker equivalent of an almost four decade bubble tea trend.
In business since 1983, the owner who goes by the nickname "Kai Zhai" (Chicken son in Cantonese) used to sell chicken rice but business was not good.
All that changed after a visit to Thailand where he learnt how to make a Thai sweet and spicy sauce. That formed the heart of his steamed fish head dish which he sold instead of chicken rice and that has proven immensely popular with the Chinatown crowd.
The stall is always busy during the lunch and dinner periods when they are open — expect to wait 30 to 45 minutes for your order if you come any later than 5.30pm.
The dish is so popular that it has spawned at least seven or eight copycats in the food centre alone.
Priced at just $15, you get half of a huge song fish head (Big Head Asian Carp), which includes not just the head but the fish collar as well. Many customers just eat the fish head with rice and the portion is big enough that it can easily feed two people.
The steamed fish head is covered in the stall's unique thick hot sauce, which is comprised of a myriad of ingredients like preserved beans, chillies, ginger, tomato and sour plum.
The resultant taste is an addictive power-packed flavour, which is a mix between Thai and Chinese flavours — spicy, sour, slightly sweet, with ginger and garlic spices. The addition of tau Cheo (preserved beans) filling out the savoury middle adds that Chinese influence.
The song fish is nicely steamed and the meat has no muddy taste, evidence of it being fresh, thanks to the Chinatown market located below the food centre. If you know your way through a fish head, there is lots of fish fat and gelatinous bits to be had.
Along with the crunchy fried pork lard on top, the dish is wonderfully sinful.
It's perfect for fish head addicts, but its almost too much of a good thing as the dish does get a little too rich as there is so much fish fat to be had.
Still, there are people who demand for more fried pork lard and the stall will refuse you. A heaped spoonful of fried pork lard is all that you'll get. No more, no less.
Additional note: if you're coming here for dinner and you want to avoid the crowds, 4.30pm is an optimal time. Any later and you'll have to wait for your order or worse still, wait around for a table.
---