Ratio: Where robots make coffee and cocktails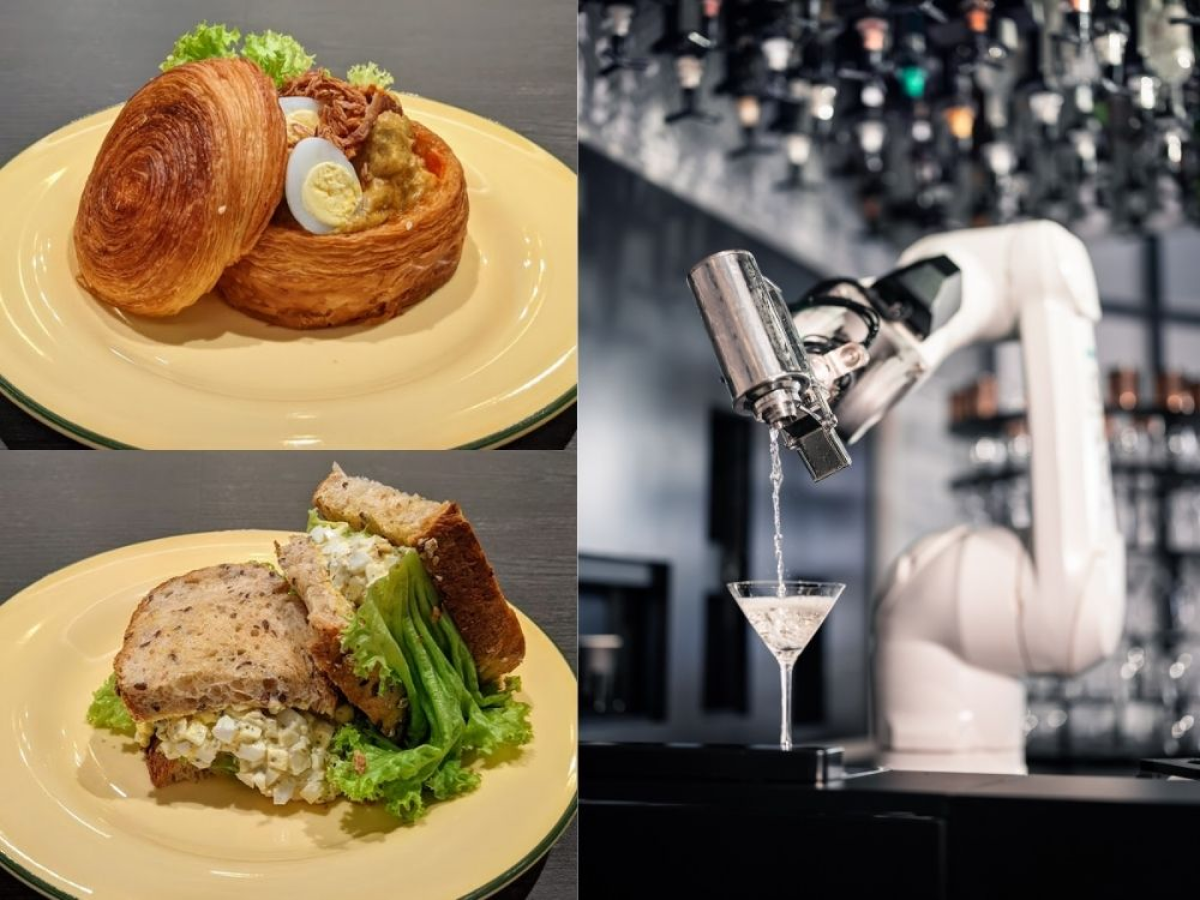 Brewing a cup of coffee may not come across as a very high-tech affair, but a cafe by day, lounge by night establishment is hoping to change that perception. Ratio, located at Centrepoint in the heart of Orchard Road, proudly serves up coffee and cocktails prepared by robots.
Ratio is home to three robots, all of which are visible even before you step through the entrance. One serves as the cafe's barista, able to brew local-style Nanyang coffee using a coffee sock. Another robot serves as the barista's assistant, pouring coffee and serving up cups of beer. The third robot is the lounge's bartender, serving up cocktails including the Tom Yum Maritini, one of Ratio's signature drinks.
Anyone who enjoys using an electronic ordering system will feel right at home in this place: orders can be made via the electronic board at the entrance, while regulars may want to consider downloading an app that lets customers customize their drinks.
After a drink order is made, the robots get to work. It was pretty fun to watch the robots as they pour, mix, and serve the drinks. The barista robot was particularly fascinating to watch, as it was programmed to mimic the actions of a master Nanyang coffee brewer, complete with the "tarik" motion as it pours the coffee from pot to pot.
You'd imagine that a cocktail made by a machine would taste different, but we are happy to report that Ratio's high-tech cocktails tasted just as good as if they were prepared by a human bartender. The lounge offers a small selection of speciality cocktails, with the Pink Mule (vodka, ginger beer, grapefruit juice, and lime), as well as the Tom Yum Martini (Tom Yum vodka, Malibu, pineapple, and lime), being amongst the most popular.
We loved how refreshing the Pink Mule was, with the slight bitterness of the grapefruit complimented nicely by the ginger beer and lime. The Tom Yum Martini was also a pleasant surprise. Even though we were initially hesitant to try a savoury cocktail, we were very impressed by how well the Tom Yum flavours mixed so well with the tartness of the pineapple and zesty lime.
If you're looking for a mid-day pick-me-up instead, Ratio's local-style Nanyang coffee starts from $1 for a cop of Kopi O, with every drink prepared by its resident robots. We liked how well-balanced the coffee was: aromatic and robust, and free of any sour notes. For people who prefer Espresso coffee, the Banana Latte ($5), which can be served hot or iced, is a fun, delicious drink.
Aside from its high-tech drinks, Ratio also serves a small all-day menu of some very tasty cafe bites too. While these are not prepared by the robot staff, they are certainly just as delicious. Our favourite was the Chicken Lemak, Sambal In Cruffin, which is essentially the cruffin (muffin-croissant hybrid) version of a plate of Nasi Lemak.
We loved how the flaky, crispy cruffin pastry goes so well with the Lemak Chicken filling that is bursting with a rich, satisfying coconut flavour. The filling is topped with a bit of sambal that adds a much-appreciated fiery kick to the entire dish.
People who are looking for something with more European flavours may want to check out the Signature Truffled Egg in Multi-grain Loaf. This egg sandwich, which is enough for a satisfying meal, boasts delicious filling that has a good balance of truffle flavours. At just $3.90, this is a pretty good deal.
For a healthier food option, try the Pesto Chicken Farfalle Salad ($6.90). We liked how the refreshing pesto blended so well with the farfalle pasta, with plenty of veggies to provide an extra crunch in each bite.
The Verdict
Boasting an extensive and customizable drinks menu as well as a very tasty all-day food menu, Ratio is certainly worth a visit. With its resident robots and its high-tech approach to dining out, visiting this cafe/lounge establishment is also an all-new digital experience in itself as well.
---
Ratio
176 Orchard Road, #05-06 Centrepoint
---
This archived article appeared in an earlier version of HungryGoWhere and may not be up-to-date. To alert us to outdated information, please contact us here.