Review: Go to Koal for affordable flame-grilled meats in the heart of Orchard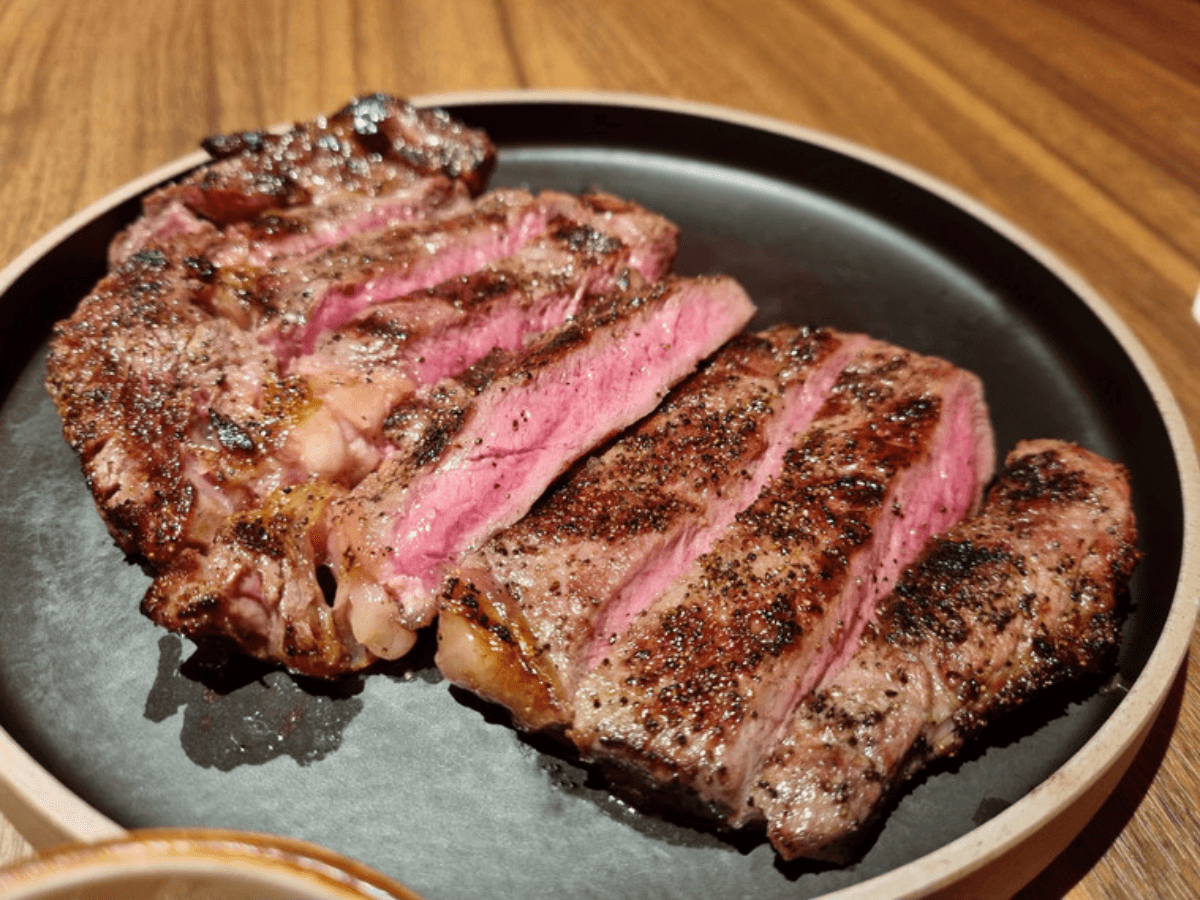 Koal, at Shaw Centre in the heart of Orchard, is the Les Amis Group's latest foray into affordable dining
Grilled meats take centre stage here
We enjoyed its Australian grass-fed ribeye and Iberico pork chop, which came with two exceptional sauces
Its grilled prawns and dearth of dessert options were a letdown 
We're just eight months into 2022, and we've already seen plenty of fine-dining and premium restaurants mushrooming in Singapore. Yet it seems the Les Amis Group has done things a tad differently. 
Koal is the group's latest foray into affordable dining on an open-flame grill. Nestled in the heart of Orchard Road at Shaw Centre, and taking over the space that used to be Peranakan eatery Indigo Blue Kitchen, the restaurant first greets us with an eclectic mix of bold, earthy tones and cheeky neon signs, bathed in the intimate glow of warm red lighting.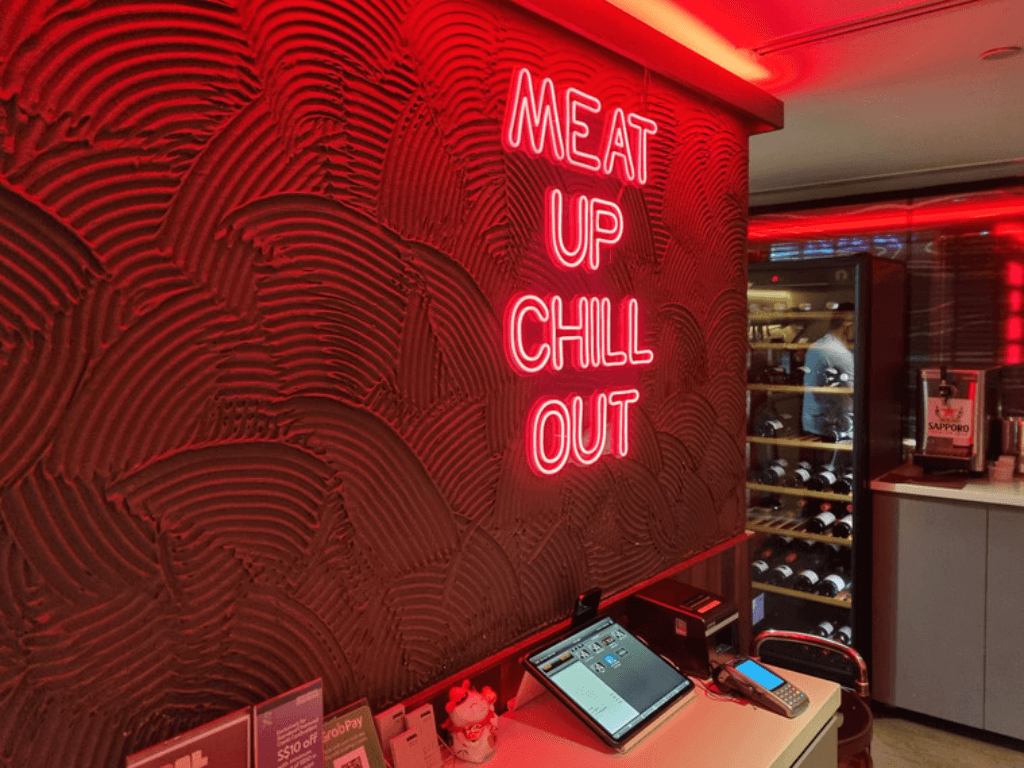 The menu is kept relatively simple, with meats such as Iberico pork chop, chicken leg and grass-fed ribeye, as well as side dishes designed to complement the meats, such as charred broccoli and red skin potato salad. 
If you're having dinner there, there are also seafood options such as grilled tiger prawns and grilled sashimi-grade salmon fillet. 
All meats are served with your choice of sauce: Yakiniku no tare with confit garlic, pickled green peppercorn sauce, or sesame chimichurri.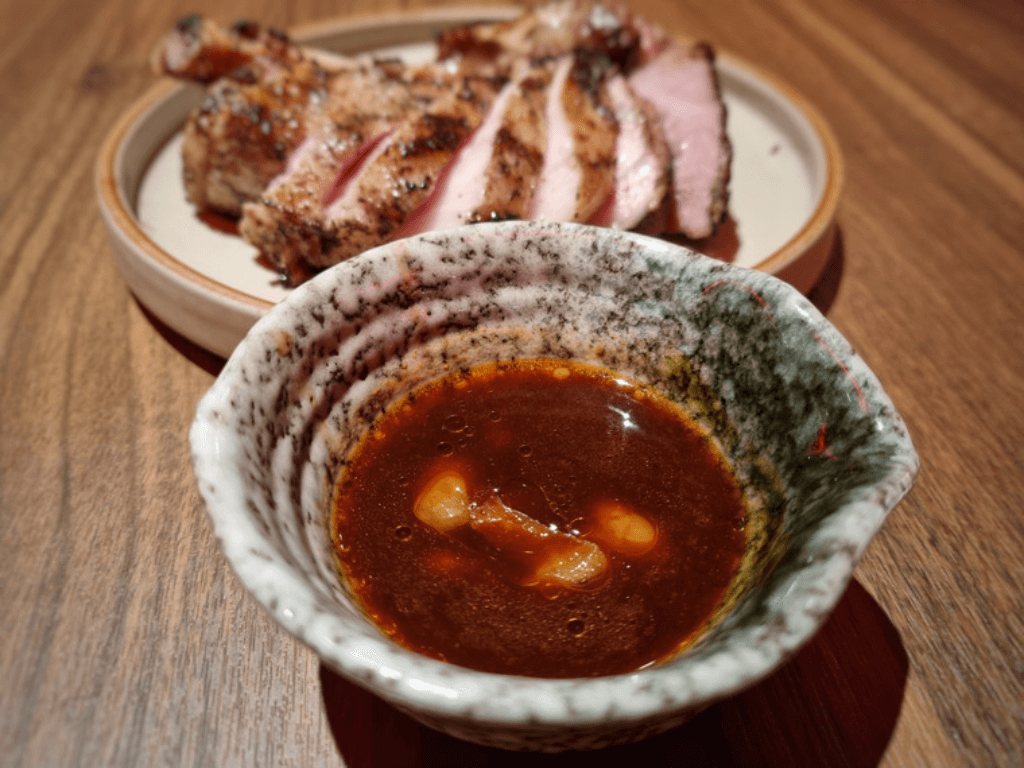 Finish off your meal with a choice of dessert, such as hojicha and whisky tiramisu, or makgeolli and strawberries.
The backstory
Head chef Chong Jun Xiang is no stranger to the Les Amis Group. He's built an impressive repertoire at the likes of one-Michelin-starred Alma by Juan Amador, Gattopardo (a Michelin Guide restaurant), Lemak Boys, and the private member's club 1880 — all before turning 35. But it was his most recent gig as head chef of Indigo Blue Kitchen that exposed him to Les Amis founder Desmond Lim's vision. 
Lim has said that fine dining is not a money-making industry. Koal — which opened in December last year — was created as part of the Les Amis founder's vision to expand the group's mid-market concepts such as Lino and Peperoni Pizzeria. Chong was chosen to helm the restaurant as part of another passion project of Lim's — nurturing a new generation of chefs in Singapore. 
And it appears this has, indeed, benefited Chong. Last year, Chong, along with his classmates Daniel Gan and Martin Tan from the Culinary Institute of America's Singapore campus, set up Lemak Boys. It was a pet project that ran within the grounds of Indigo Blue Kitchen, selling local favourites such as nasi lemak and laksa. 
But we digress. Back to Koal.

Our verdict
What this place is good for
Skimming the menu, it's obvious that the restaurant specialises in two main meats — Iberico pork and steak. 
We plumped for the Australian grass-fed ribeye (200g, S$30) first, which came out tender and charred to medium-rare perfection, with a sprinkling of salt flakes and cracked black pepper.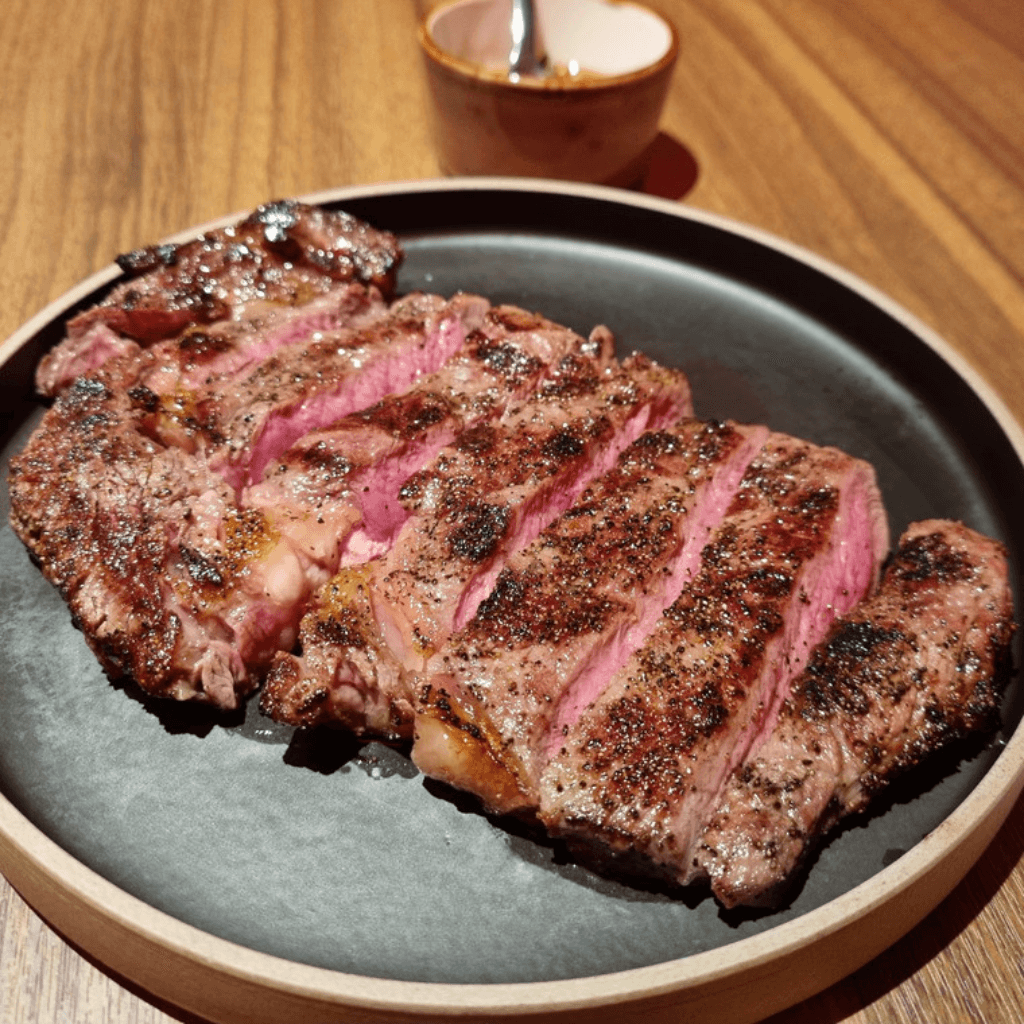 Next, we chose the restaurant's recommendation for pork, the Iberico pork chop, bone-in (230g, S$28). This was served fresh off the grill, beautifully pink on the inside, and with a delightfully smoked exterior. 
Both meats were served pre-sliced, so we could pop the bite-sized morsels straight in, without the hassle of cutting anything up.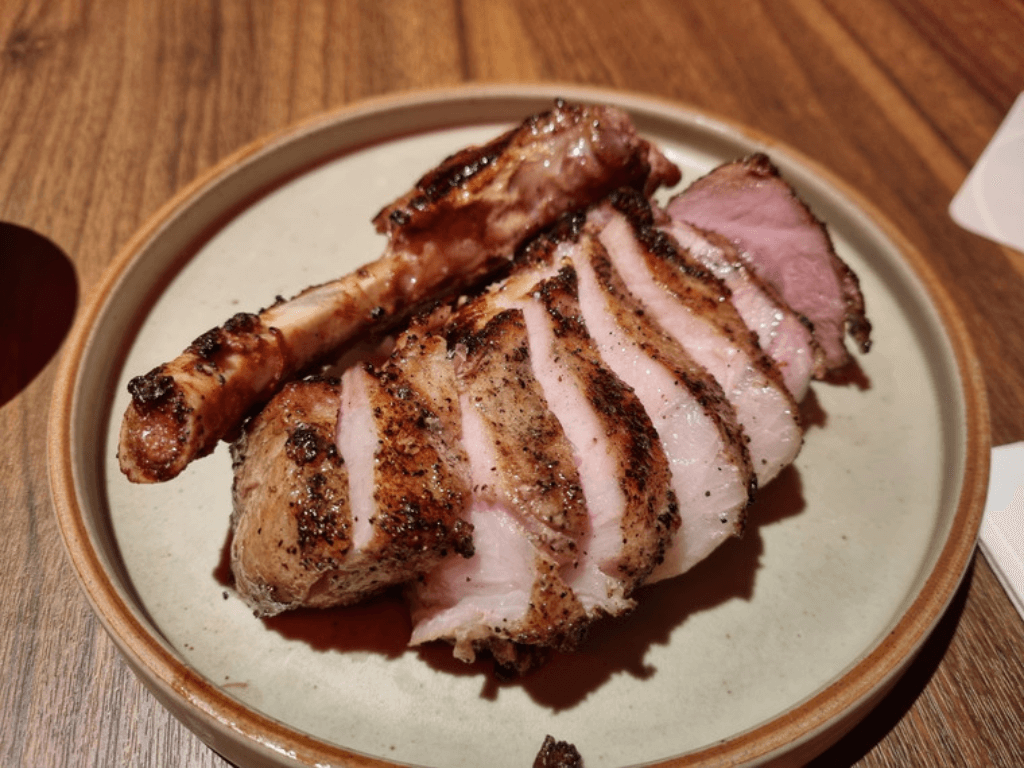 A surprising win for the restaurant are the two sauces that were served complimentary with the meats.
The yakiniku no tare sauce was exquisite and lent a sweet dimension to the pork, with its dash of aromatic confit garlic.
But the real winner of the night was the sesame chimichurri sauce. The freshly chopped parsley, mixed with lemon and olive, added a nice touch of zest and spice to the steak, and we scraped the saucer to wipe out every drop of it at the end of our dinner.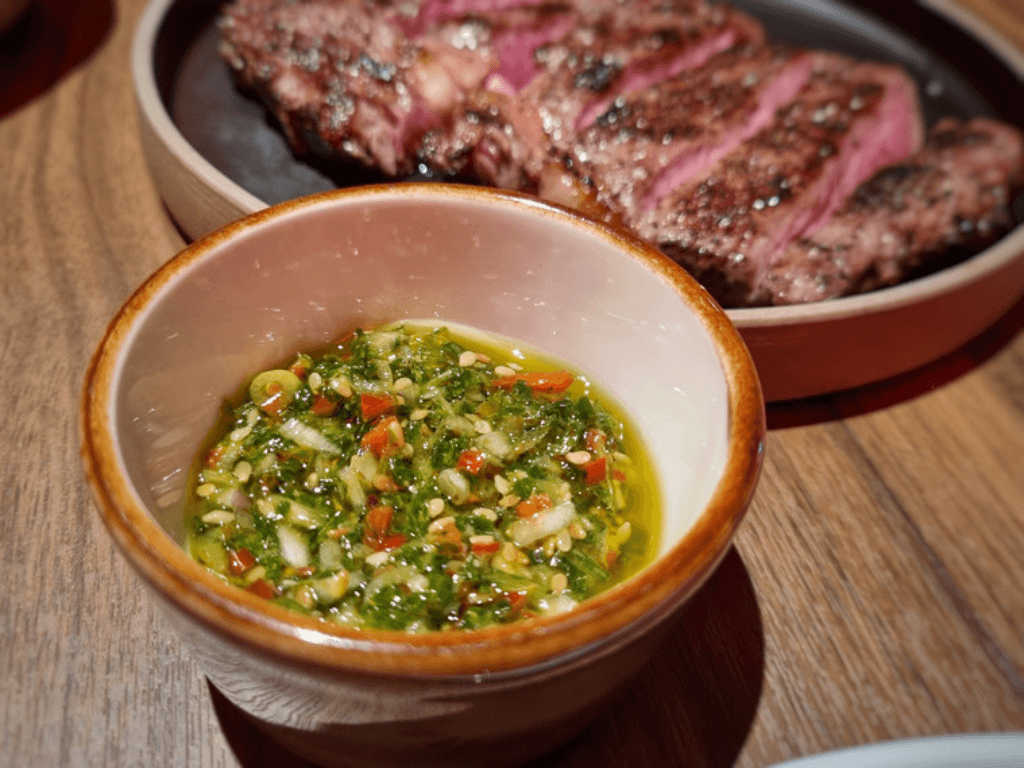 Overall, my companion and I were unanimous in our view that Koal has its main courses down pat. 
And at S$30 or less for most cuts of meat, its affordability can't be ignored. Combine that with the quality of the meat, and it's a no-brainer that we'd definitely be back soon to try the other cuts on the menu.
Apart from the meats, the charred broccoli (S$8) was a pleasant and affordable side dish. Served grilled with soy pickled onions, sesame dressing and bonito flakes, it put an Asian-inspired twist on our meal with the perfect hint of spice.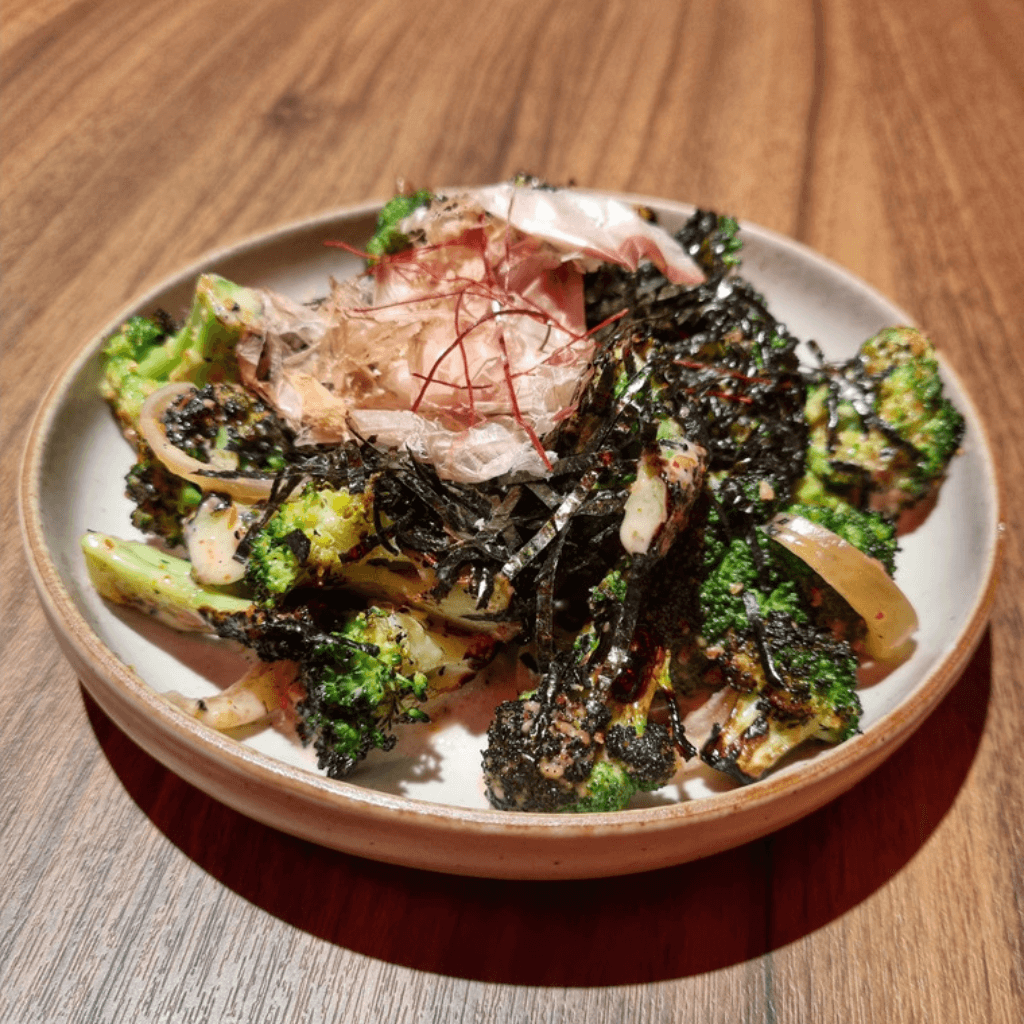 We also liked the general ambience of the restaurant. The tables are well-spaced for privacy, and the dim, warm red lighting added a splash of romanticism to the experience.
The wait staff were also friendly and attentive, and the food arrived promptly.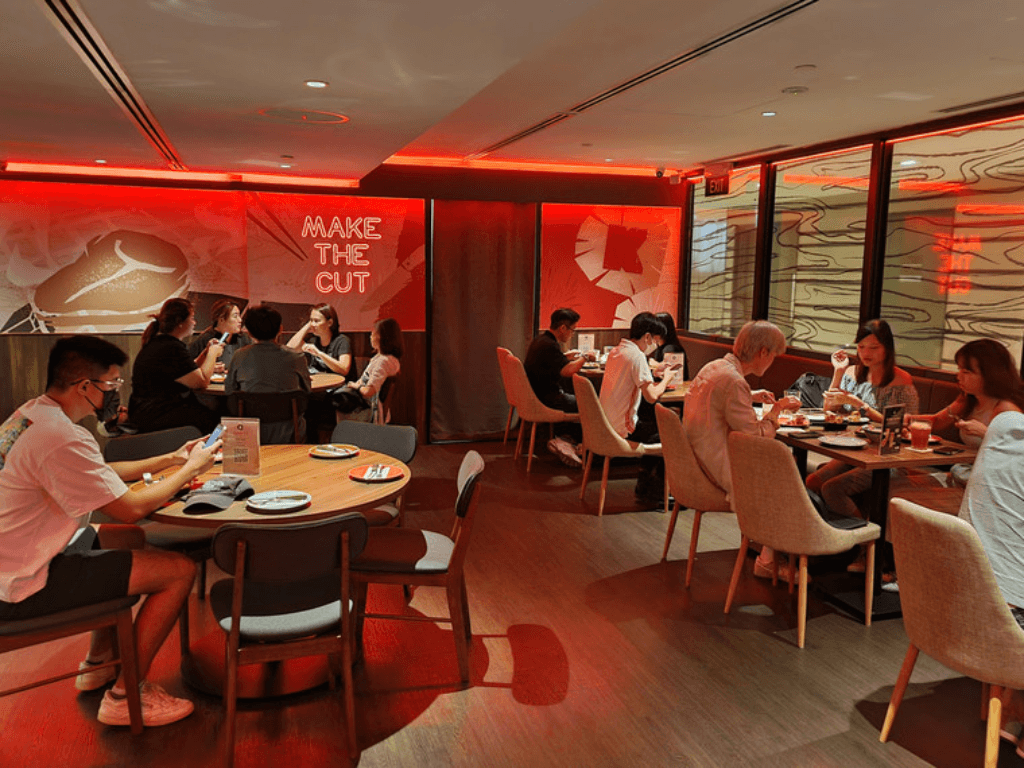 What it could improve on
Although the meats were cooked to perfection, we felt the seafood paled in comparison.
The grilled tiger prawns (S$20), though beautifully plated, were unfortunately overcooked and rubbery.
The white wine butter sauce was too heavy on cream and butter, overwhelming the dish. The bed of grilled lettuce, fresh tomatoes and marinated ikura gave the dish a nice texture and crunch, but were also smothered by the sauce. We ended up having to scrape the sauce off the ingredients, so that they'd not be overpowered.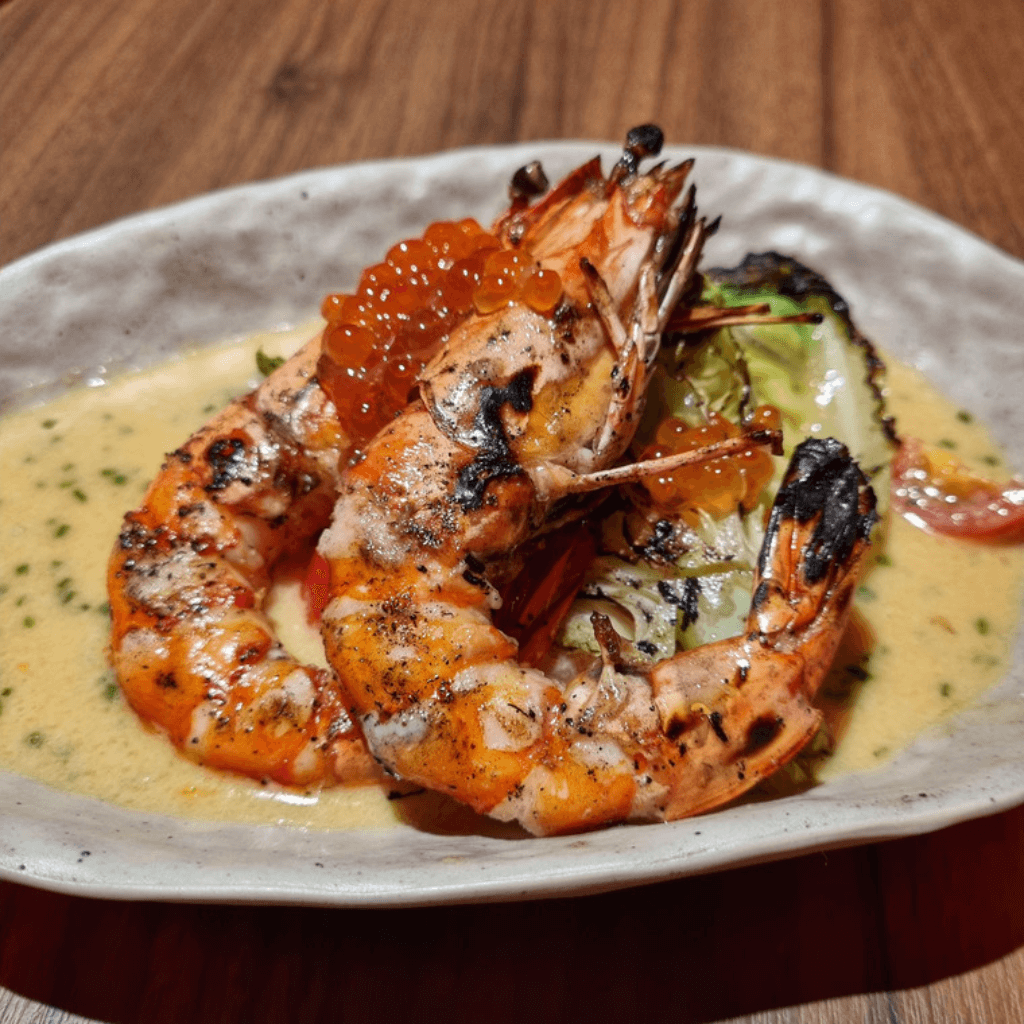 We were also a tad disappointed that the restaurant's most popular dessert, the freshly fried donuts, seemed to have been removed from the menu.
Our next option, the makgeolli and strawberries (S$12), was sold out as well, and we ended up forgoing dessert entirely. (A colleague who visited the eatery after we did, however, had the white chocolate and wasabi tarts — S$9 — which were a delightful marriage of moderate sweetness with aromatic whiffs of wasabi.) 
Though the seafood and (lack of) desserts were a letdown, Koal is a place we'd revisit for its main draw: The cuts of meat. And we can vouch that it doesn't compromise on the quality of the cuts, and the flavour pairings with the sauces were exceptional.
The next time, though, we'd definitely skip the seafood and go straight for the meats. 
Our quick takes
Is it conducive to conversation? Yes. We'd highly recommend it as a date spot, as the tables are well-spaced for private conversation and music plays softly in the background.
How to get there? Shaw Centre is a short, sheltered underground walk from Orchard MRT station. If you're taking the bus, there are plenty of bus stops in the area, next to nearby shopping complexes Ion Orchard and Wheelock Place.
Things to note:
It's not a large restaurant. So if you're thinking of heading there, make sure you reserve a table, especially if you're going in a big group. 

At lunchtime, you've the option of a set lunch, which consists of grain bowls topped with its signature meats, such as grass-fed ribeye and Iberico pork collar. 
HungryGoWhere paid for its meal at this restaurant for this review.
Book a ride to Koal.
Shaw Centre, 03-09/10/11, 1 Scotts Road 
Open: Tuesday to Sunday (11.30am to 2.30pm, 6pm to 10pm)
Shaw Centre, 03-09/10/11, 1 Scotts Road 
Open: Tuesday to Sunday (11.30am to 2.30pm, 6pm to 10pm)