Coba Coba: Hipster nasi padang in the heart of Yishun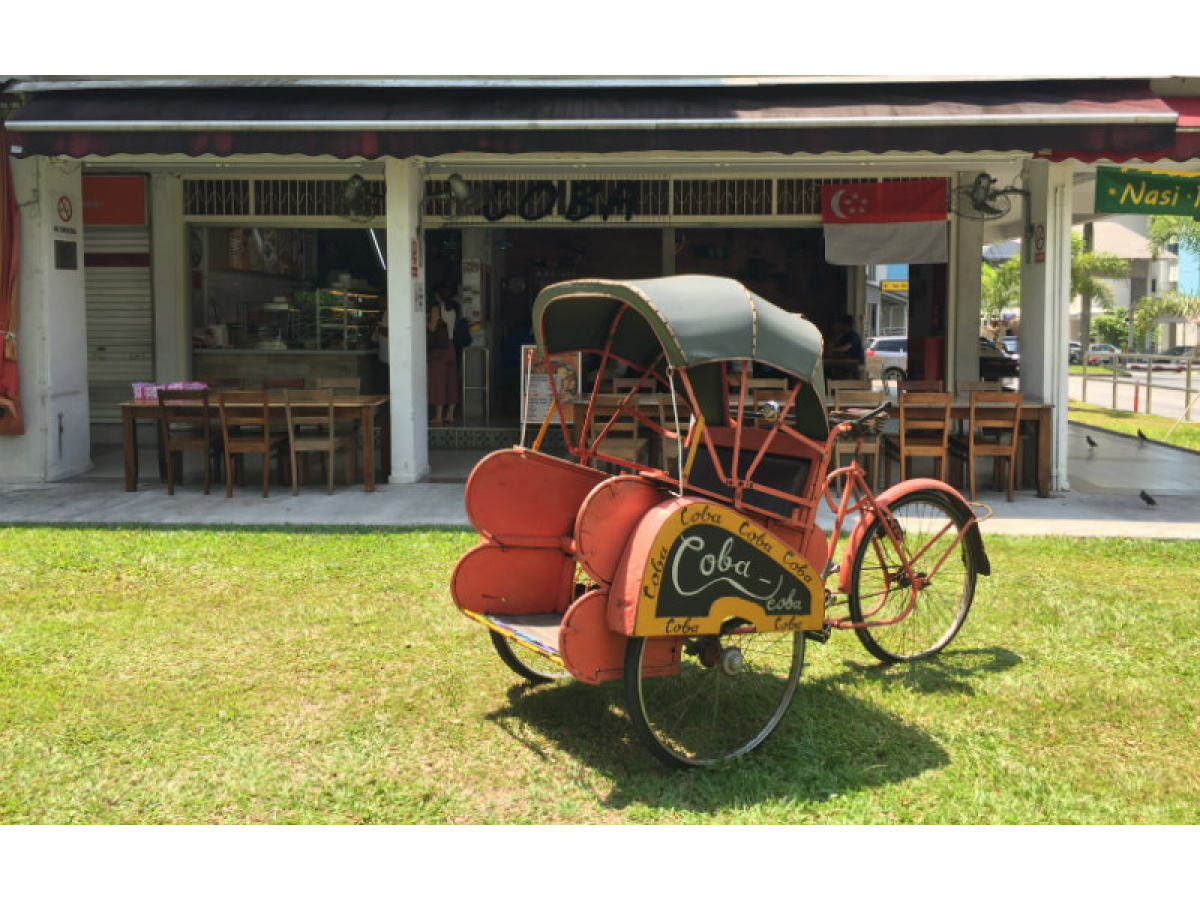 For a neighbourhood that's come to be somewhat of a joke (with worms in durians, cat abuse, brothel raids, and cows roaming around lift landings being de rigueur), Yishun is doing pretty well for itself in the way of food.
Apart from the old-school favourites, such as the Chong Pang Nasi Lemak and 928 Yishun Laksa, there's also Coba Coba, a hipster halal eatery that is (relatively!) new to the scene.
At Coba Coba, which is a family-run establishment, they've spared no expense in decking out the place.
Sitting proudly on the patch of grass in front of the eatery is a trishaw with the eatery's name emblazoned all over it.
Inside, you'll find vintage display shelves and cabinets lined with relics of the past, including gramophones, sewing machines, radios, and more.
Bless their hearts; there's even a brick wall which makes us feel like we're visiting our new homeowner friends in their hipster BTO flats.
While the decor is very firmly in the territory of "hipster", we're glad to report that the menu and accompanying prices aren't.
You won't find cafe grub here – instead, they serve nasi padang (veg, $1; meat, $3-$3.50, seafood, $3-$5) as well as nasi lemak sets ($3-$4.90).
Also available is a variety of noodles and other dishes including mee siam ($3), mee rebus ($3), mee soto ($3.20) and lontong ($3.20).
Then there are their Nasi Ambeng sets (classic, $23.90 for 2 or $32.90 for 3; deluxe, $32.90 for 2 or $43.90 for 3) which contain a bit of everything.
We ordered a Classic Nasi Ambeng for 2 – given the large portion, this can be shared pretty comfortably amongst three unless you're ravenous.
Starting with what we liked – the telur belado (hard boiled eggs with chilli sauce) is a simple dish, but one that proved to be exceptionally tasty.
Same goes for the sambal terung (sambal eggplant) – which scored extra points for not being overly oily.
There's also the beef rendang, which is a relatively rich and flavourful, and the milky ayam kalio (chicken rendang cooked "halfway" in a red curry).
Last but not least, the paru (cow lung) took us a while to place. While some nasi padang places serve it crispy, however, this version that we tried at Coba Coba was chewier, and bore a slight resemblance to beef jerky.
Others though were forgettable – the begedel (deep fried potato patty) is pretty standard, and we couldn't get too excited about the urap (steamed vegetable salad) consisting of bean sprouts, long beans, and spicy grated coconut.
The sambal goreng (stir-fried tofu and long beans in sambal), which is commonly found at Malay stalls throughout Singapore, is also nothing to shout about.
While there isn't any air-conditioning at Coba Coba, there is an assortment of mismatched fans turning lazily overhead, rewarding patrons with a cool breeze at all times.
Because of the large and roomy interior, it doesn't get too crowded, even during peak hours.
They're located just 5 minutes from Yishun MRT station, so don't fret – chances of you getting lost in Yishun are slim.
---
This archived article appeared in an earlier version of HungryGoWhere and may not be up-to-date. To alert us to outdated information, please contact us here.