16 great Singapore-brewed beers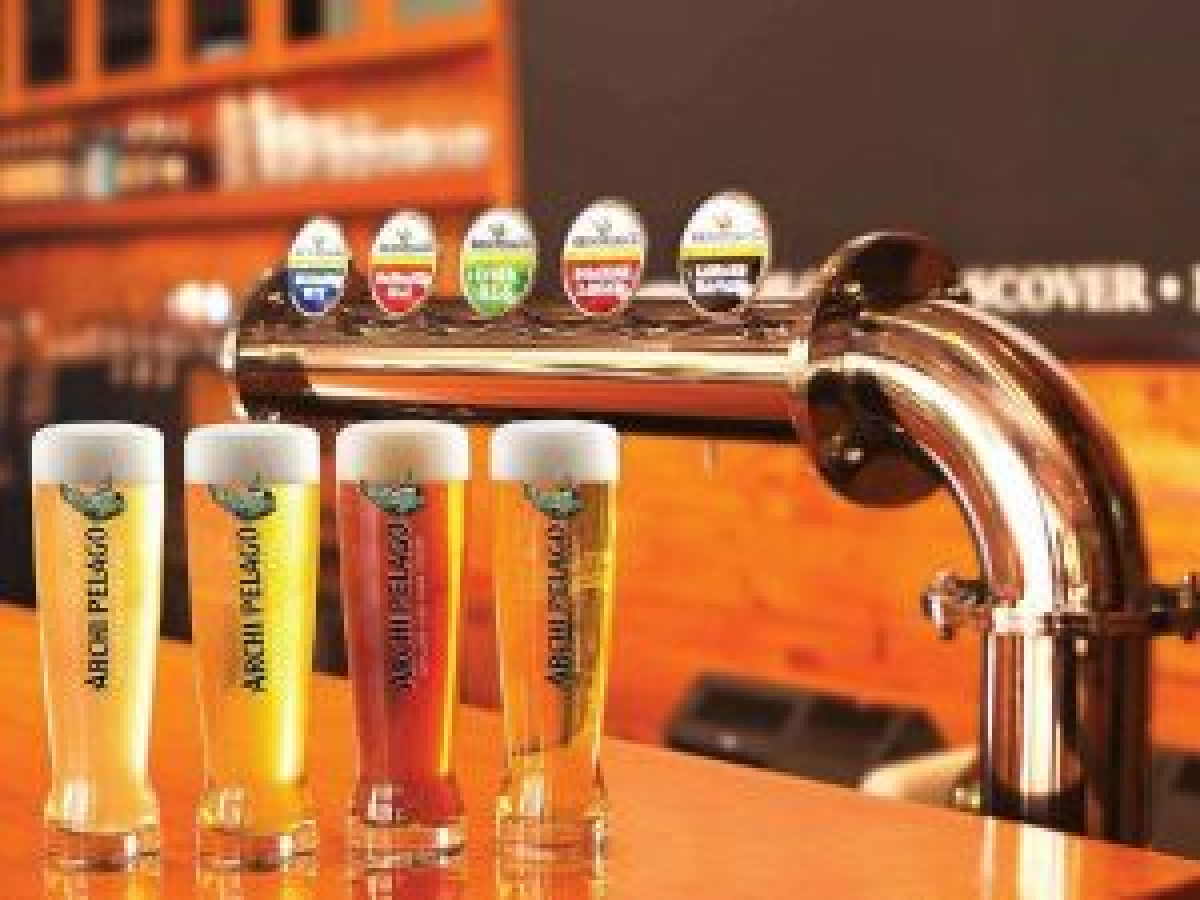 Taking place from 4 to 6 March, Craft Singapore is Singapore's first festival dedicated to microbrews, homebrews and specialty brews. To gear up for the event, we decided to revisit every microbrewery in Singapore to sample some of the finest beers the country has to offer. From iconic mainstays to new arrivals in far-flung districts here's the rundown on the 16 microbreweries around the island and the best beers at each of them.
The 1925 Microbrewery & Restaurant
Best beer with a story – Blk 6.22 Dark Ale
If you like your drinks to come with a unique story, The 1925 Microbrewery & Restaurant is happy to oblige. Started by two brothers and their uncle, the name of the brewery is a tribute to their grandfather/father who was born in, you guessed it, 1925. This homage continues with their beers including the Blk 6.22 Dark Ale (from $7 a half pint), named after Block 622 Ang Mo Kio Avenue 9, the patriarch's home where the whole family would gather. Stories aside, the beer actually does weigh in at 6.2 per cent abv, but you wouldn't guess it. It's sneakily smooth with slightly sweet, chocolatey flavours.
The 1925 Microbrewery & Restaurant | Address: 369 Jalan Besar | Tel: 62949215 | Opening hours: Mon-Sat 10am-midnight; Sun 10am-10pm
Adstragold Microbrewery
Best cider – Adstrapple Cider
As much as we love our cider in Singapore, there haven't been many inroads made in terms of anything locally-produced. The most peculiar microbrewery in town has taken care of that since 2013, however. Available at Adstragold's main Katong outlet and their new craft beer and oyster bar at PasarBella, Adstrapple Cider (from $10.90 for 300ml) is a fresh and sweet sort of cider which puts some English labels to shame.
AdstraGold Microbrewery | Address: 417/419 East Coast Road | Tel: 63453378 | Opening hours: Daily 2pm–1am
The Alpine Restaurant & Microbrewery
Best beer in the heartlands – Dark
If you're a 90s kid, you're probably gripped by nostalgia whenever you pass by the Science Centre and Snow City. Now you have a pretty good reason to go back – The Alpine Restaurant & Microbrewery. Quietly operating on the second floor of Snow City, they have a line-up of five beers including a green beer brewed with seaweed. Our favourite is the Dark ($10), a smooth, malty beast weighing in at 8% abv. It shows the untapped potential of well-made dark lagers.
The Alpine Restaurant & Microbrewery | Address: 2F Snow City, 21 Jurong Town Hall Road | Tel: 65668389 | Opening hours: Tue-Sun 3:30pm-midnight
Archipelago Brewery
Best limited edition beer – X-Bock
From our all-time favourite Archipresso to their caramel apple ale and cherry wheat beer, Asia Pacific Breweries offshoot Archipelago has constantly delivered with its wild and wonderful limited edition brews. The beer currently pouring is X-Bock (from $10 for 300ml), a local take on a German beer style traditionally enjoyed in springtime. Made with ingredients imported from Munich, the X-Bock spent three months ageing in Archipelago's "brewing cave" before release. Available at an ever-growing number of showcase bars across the island, Archipelago also has a home at Parkland Green's Full Pint Microbrewery
Archipelago Brewery | Address: Various including The Pit, 21 Lorong Liput| Tel: 64683468 | Opening hours: Mon-Fri 3pm-1am; Sat & Sun noon-1am
Beerfest
Best beer cocktail – Beerfest
If two trends have taken over the drinks scene in Singapore in recent years, they're craft beer and cocktails – so why not combine the two? Beerfest at Rochester Park has a stable of six beers and some of them are used in house specialty cocktails. The eponymous Beerfest ($18) is a concoction with a base of vodka and Bols Cacao Brown which they top up with their Cherry Ruby – a lager brewed with fresh cherries. It's essentially like a Cherry Ripe bar or Black Forest cake in liquid form. And no, they're not affiliated with Beerfest Asia; Beerfest the microbrewery is a Russian import that opened its first outlet in the Far Eastern city of Khabarovsk back in 2006.
Beerfest | Address: 4 Rochester Park | Tel: 97227446 | Opening hours: Mon-Thu 10:30am-2:30pm and 5-11pm; Sat noon-1am; Sun noon-11pm
Blue Bali Brewhaus
Best fruit beer – Pink Mamba
We've heard all about microbreweries, but Blue Bali is an even smaller nanobrewery – the only one of its kind in Singapore. They might be lacking in size, but their beers are big on flavour. Their Pink Mamba ($14 for a hefty 680ml glass) is a wheat beer brewed with red dragon fruit and is the ideal beverage to enjoy in their chilled out, incense-filled back garden.
Blue Bali Brewhaus | Address: 1D Cluny Road | Tel: 67330185 | Opening hours: Tue-Fri 4pm-midnight; Sat & Sun 11am-midnight 
Brewerkz
Most comfortable beer – Golden Ale
Expansion has been the order of the day for Brewerkz in recent times – the elder statesman of brewpub culture in Singapore now has outlets at the Orchard Parade Hotel and the Sentosa Boardwalk as well as an outpost at Senayan City, Jakarta. While they've been dishing out boozy education with their Single Hop Series, Brewerkz is still all about long beer sessions that start at midday, and there really is only one beer for that. The timeless Golden Ale (from $6 for 375ml) is that old flame you always go back to; its easy drinkability provides comfort with the familiar.
Brewerkz | Address: Various including #01-05/06 Riverside Point, 30 Merchant Road | Tel: 64382311 | Opening hours: Mon–Thu & Sun noon–midnight; Fri & Sat noon-1am
Hospoda Microbrewery
Best beer for keeping things simple and clean – Mixed Beer
The go-to place for drinkers of pure and simple Czech-style beer, Hospoda – which means "inn" or "pub" in Czech – serves just two types of beer, light and dark (from $10 for 330ml). They can also pour you a mixed beer "float" with the two brews (from $12 for 330ml). The menu here features some quality drinking food – sausages, grilled duck and prime baby pork ribs.
Hospoda Microbrewery | Address: #01-09 Albert Court, 180 Albert Street | Tel: 81184677 | Opening hours: Daily 4pm-midnight
LeVeL33
Best beer with a view — 33.3 Stout
The world's highest urban craft brewery (still), LeVeL33 specialises in authentic European beers with one tap left over for a seasonal special (currently the 33.15 IPA). While good food has always been a part of the LeVeL33 concept, it's become a bona fide fine dining venue featuring the cuisine of Chef James "Jimi" Tegerdine. It can get a little chilly up on the windy balcony, so it's fortuitous that they have a top-notch stout on the menu. The 33.3 (from $9.33 for 300ml) is a dark beer with Irish roots and Singaporean sensibilities. The stout is light-bodied with just enough roasted malt to warm you when the wind picks up.
LeVeL33 | Address: #33-01 Marina Bay Financial Centre Tower 1, 8 Marina Boulevard | Tel: 68343133 | Opening hours: Mon-Wed 11:30am-midnight; Thu-Sat 11:30am-2am; Sun noon-midnight
Little Island Brewing Co
Best beer off the beaten trail – Islay Porter
Nasi lemak, chalets, haunted hospitals – Changi Village is home to many famous attractions. Now you can add one of the newest microbreweries in Singapore to the list. Opened in 2015, Little Island makes brilliantly-branded numbers like That Old Black Magic dry Irish stout, A Whiter Shade of Pale pale ale and Oh Yeah Singapore pale ale. We really like their innovative self-service Drink Command system which allows you to pour as much or as little beer as you like. Their best beer so far is their limited edition Islay Porter (100ml for $3), a big bold beer infused with the flavours of smoky single malt whisky.
Little Island Brewing Co | Address: #01-01/02 Blk 6 Changi Village Road | Tel: 65439100 | Opening hours: Mon-Thu & Sun noon-11pm; Fri & Sat noon-midnight
On Tap
Best beer on a budget – English Bitter
When On Tap first popped up around the corner from The Good Beer Company and Smith Street Taps, it was easy to think of them as a piggybacking competitor. However, they've very much taken their own path with some of the cheapest beers anywhere (from $5.50 for 330ml) packed with flavour. Their English Bitter ($6) is a heavily hoppy incarnation of an underappreciated beer style. Despite having a limited online presence, word of mouth has brought success and they now have an additional stall at Chomp Chomp, a showcase bar on Tras Street and a restaurant bar at their brewery on Bukit Batok Crescent.
On Tap | Address: Various including #02-075 Chinatown Complex Market and Food Centre, Blk 335 Smith Street | Tel: 87221230 | Opening hours: Daily 4:30pm-midnight
RedDot Brewhouse
Best beer for your health — Monster Green Lager
Going strong with their outlets at Boat Quay and Dempsey is this local brewhouse. For all you competitive drinkers, they host a speed drinking competition at their Boat Quay outlet on Friday nights with the current record holder taking just 2.06 seconds to down a pint. Our favourite here remains the Monster Green lager (from $6 for a half pint). RedDot's crisp, lightly bitter and coconut candy-sweet Monster might even be good for you: it's brewed with the dietary supplement spirulina. To quote the menu: "Preliminary studies have shown that spirulina is able to inhibit viral speciation in vitro, strengthen the immune system and may cause regression & elimination of AIDS virus." Drink what you will with that.
RedDot Brewhouse | Address: 33/34 Boat Quay | Tel: 65354500 | Opening hours: Mon–Thu noon–midnight; Fri noon–2am; Sat 3pm-1am
Paulaner Brauhaus
Best traditional beer — Paulaner Munich Lager
German beers have taken a back seat to modern day craft beer in recent years, but there's no denying the centuries of tradition in German beer-making. Paulaner's Munich Lager (from $13.30 for 300ml) is a great example of what beer used to be like in the old days, before the dominance of drab pale lagers. Using only water, hops, malt and yeast as set down by the German Beer Purity Law, the Munich is not very different from the average German lager—smooth, simple and lightly hopped. Since it's brewed onsite — not poured out of a bottle after a journey halfway round the world — it is also lively and fresh.
Paulaner Brauhaus | Address: #01-01 Millenia Walk, 9 Raffles Boulevard | Tel: 68832572 | Opening hours: Sun–Thu noon–1am; Fri & Sat noon-2am
The Pump Room
Best beer to get grooving —India Pale Ale
Forget overpriced, tasteless beers with wedges of lime in the way — dance all night with an Asian Beer Awards medal winner. The Pump Room India Pale Ale ($10) is as hoppy as the best IPAs, and is suitably inebriating at 6.2% abv. You won't find a better beer to take to a Clarke Quay dance floor at 3am.
The Pump Room | Address: #01-09 Clarke Quay, 3B River Valley Road | Tel: 63342628 | Opening hours: Sun–Fri 5pm-3am; Sat 5pm–4am
Starker Fresh Beer
Best offbeat beer – Charcoal
Starker is a bit of an oddity. Their beers began appearing at outlets of the OverTime chain of bars in Malaysia and a bottled version could even be found at coffee shops. All but gone across the Causeway, Starker continues to thrive in Singapore with three outlets around town. Their beers are brewed to be enjoyed fresh with a shelf life of just seven days and you can pour them yourself from their signature two- and five-litre wooden kegs. The Charcoal (from $6.90 a half pint) is perhaps their most interesting beer. Brewed with roasted malt and noble hops, it has a kick of coffee flavour.
Starker Fresh Beer | Address: Various including 25 Lorong Mambong | Tel: 64658368 | Opening hours: Sun-Thu 3pm-1am; Fri & Sat 3pm-2am
Tawandang Microbrewery
Best beer to beat the heat — Tawandang Lager Beer
This German brewery that serves Thai cuisine is an unusual blend of East and West. Known more as a place for seafood and live entertainment than as a straight up microbrewery, they also carry some decent beers: the lager (from $12 for 300ml) is proper, with subtle floral hop notes and enough body for it to function as a palate cleanser. It refreshes and helps fight off the heat, whether from a walk around Dempsey Hill or a spicy prawn tom yum soup.
Tawandang Microbrewery | Address: 26 Dempsey Road | Tel: 64766743 | Opening hours: Sun-Thu 11:30am–midnight; Fri & Sat 11:30am-1am
Coming Soon: Innocence Brewing
Innocence Brewing is so new that they're still an entirely unknown commodity. They'll be showcasing their beers for the first time at Craft Singapore so stay tuned!
Archipelago, Beerfest, Brewerkz, Innocence, Little Island, On Tap and Paulaner will be showcasing their brews at Craft Singapore.
---
This archived article appeared in an earlier version of HungryGoWhere and may not be up-to-date. To alert us to outdated information, please contact us here.